Creamy, crispy and full of flavor in every bite! These party favorites only take 20 minutes and a handful of ingredients, and you have the perfect brunch or party appetizer. Whip up these delicious deviled eggs for your next get together!
When it comes to deviled eggs, there is something about this classic appetizer I can never resist! That combination of creamy, tangy filling and soft egg white, topped with crispy bacon and fragrant chives, just keeps me grabbing for more… and as yummy snacks go, these protein-packed bites rank pretty high! They are awesomely easy to make, too, with a simple technique for the perfect hardboiled egg included in my recipe below.
If you're searching for the best-ever Thanksgiving appetizer, look no further than these delicious deviled eggs! All you need is 8 ingredients and 20 minutes to put together a pretty platter of easy, elegant eggs that everyone will enjoy. No need to feel limited by these toppings – you can get creative with whatever you like! Like it spicy? Try a Sriracha, cilantro and sesame seed topping. Need more crispy? Crush some BBQ potato chips on top. How about going Mediterranean? I love the idea of topping deviled eggs with feta, lemon and smoked salmon, or sundried tomatoes and olives.
Traditionally, deviled eggs are made with mayonnaise in the filling. However, since I live with an extremely mayonnaise-adverse man, I've gotten creative with swapping out the spread with creamier, healthier additives like Greek yogurt, and my personal favorite, sour cream.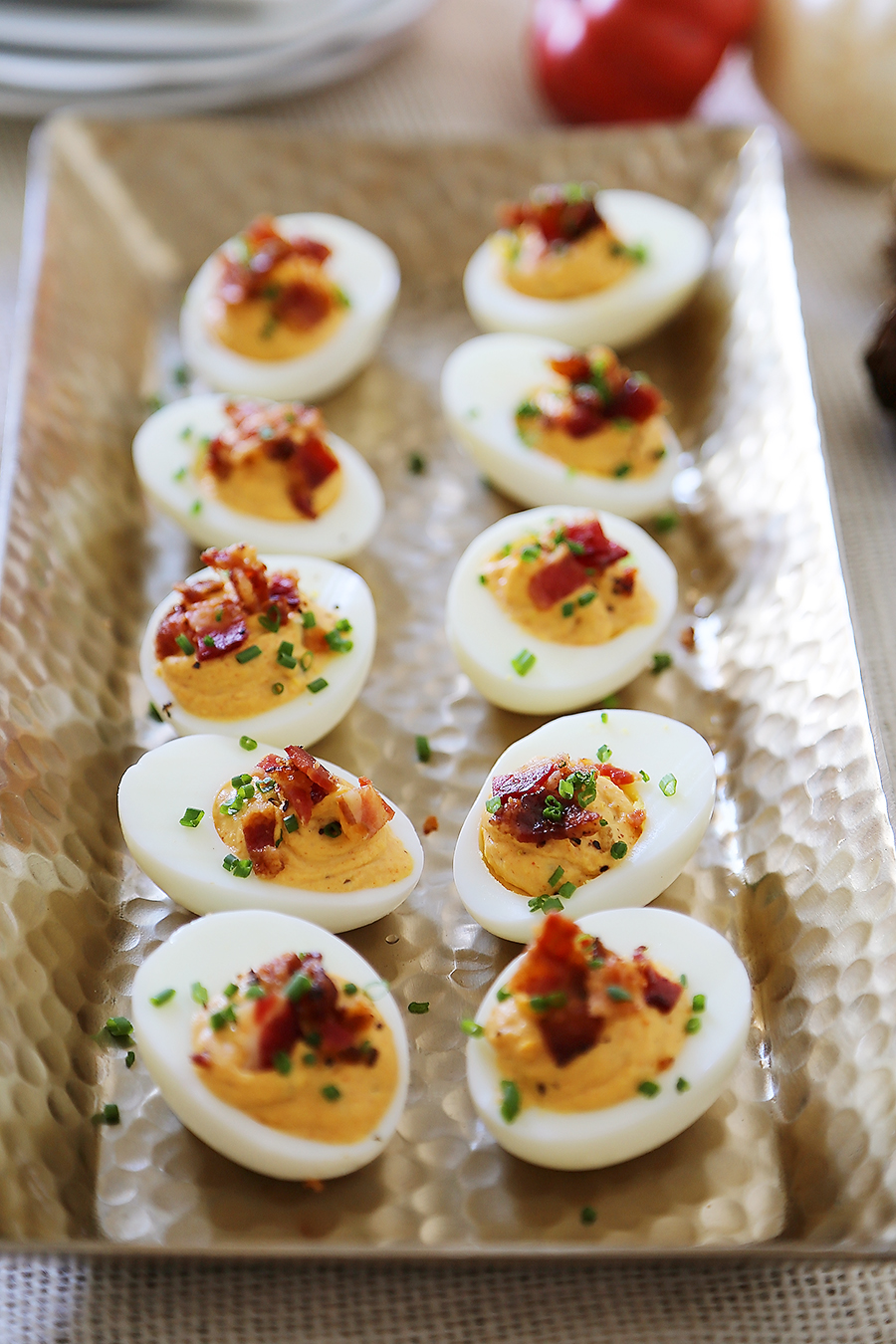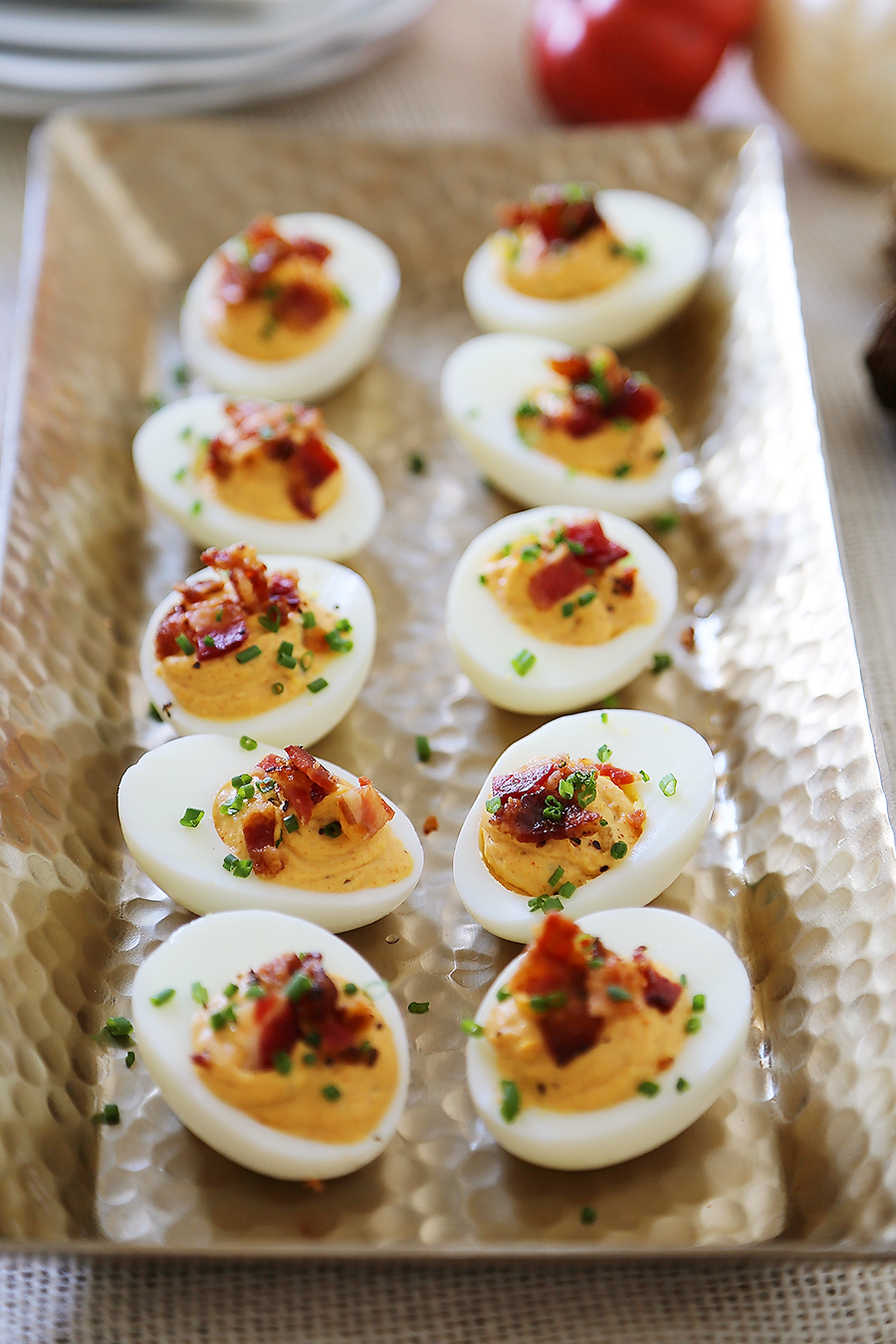 I have been using Daisy Sour Cream since I first learned to cook – mixing it into creamy casseroles and fluffy cakes, scooping dollops on bowls of chili, whipping up dips and dressings – the list goes on. I have (reluctantly) tried other brands, but keep coming back to Daisy every time for its perfectly smooth, silky texture that melts effortlessly into sauces, but holds up against a hearty taco… among its many other talents! The container has been a staple in my fridge for as long as I can remember.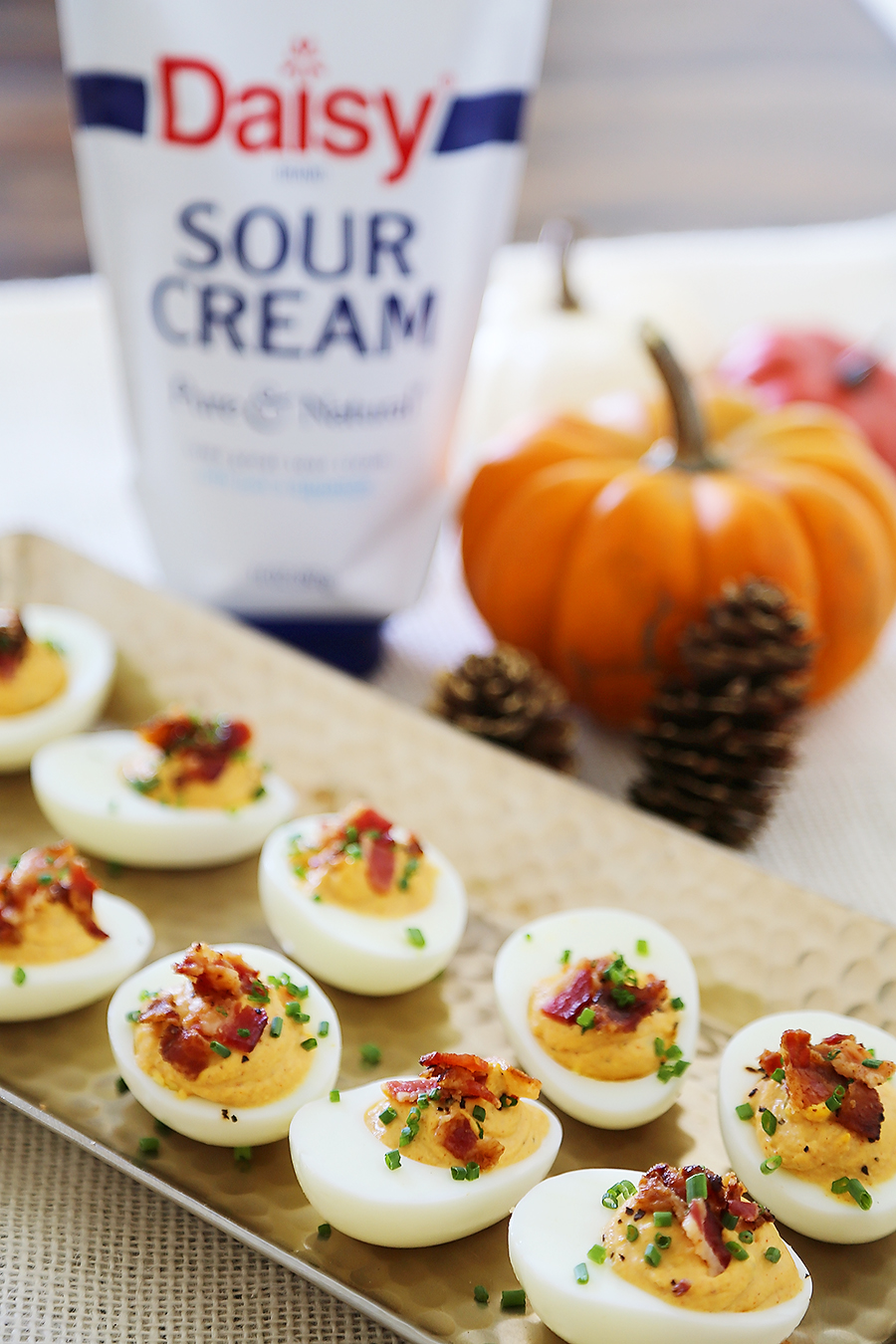 The sour cream adds a wonderfully tangy, smooth element to these bacon and chive deviled eggs, too! Since we have the crispy, salty bacon, there's no need for more oil with mayonnaise – so why not add a dollop of sour cream instead? Combined with the cooked egg yolks, spicy brown mustard, relish, paprika, fresh lemon juice, and a pinch of salt and pepper, the super-creamy sour cream sings in this recipe!
You won't find a more perfect, crowd-pleasing appetizer for your holiday party, so give these scrumptious deviled eggs a spin. They are absolutely addictive, and so deliciously simple for feeding friends and family. I guarantee you will love them, and everyone will be asking you for the recipe!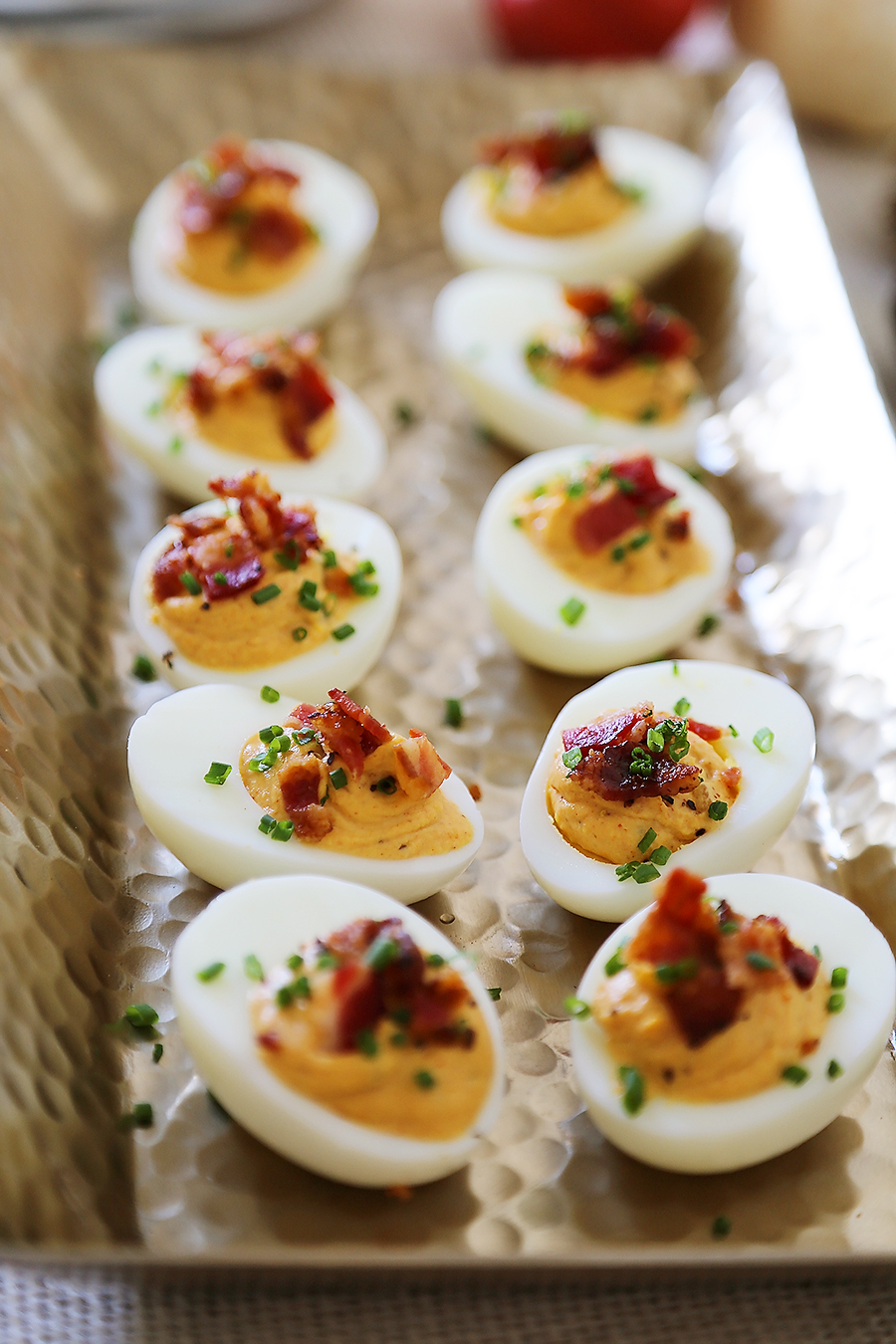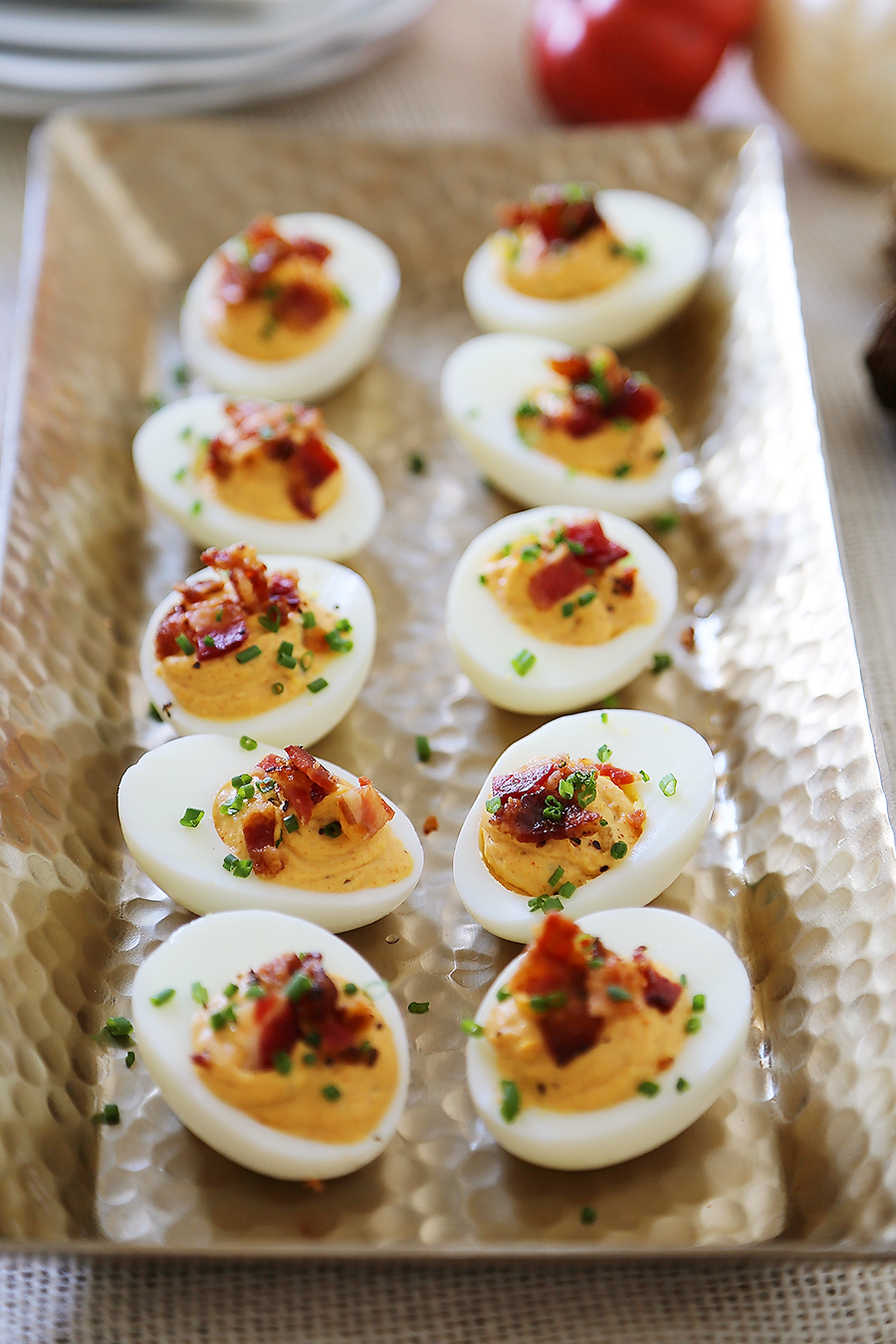 Bacon, Chive + Sour Cream Deviled Eggs
Ingredients
8 large or extra-large eggs
2 Tablespoons Daisy Light Sour Cream
1 1/2 teaspoons spicy mustard
1/2 teaspoon fresh lemon juice
1 teaspoon pickle relish
1/2 teaspoon paprika
Pinch of kosher salt and freshly ground black pepper
6-8 fresh chives, chopped
6 slices bacon, cooked 'til crisp
Instructions
To make hardboiled eggs:
Place eggs in a medium pot. Fill with cold water, just until the water covers the eggs. Set on your stovetop and turn to high. Bring to a boil. Once boiling, cover the pot and remove from heat. Set timer for 15 minutes. After 15 minutes, drain water from pot; fill with ice cubes and cold water. This prevents the eggs from further cooking and helps loosen them from their shell. To remove the shell, gently tap egg all over and peel back shell. Rinse under cold water. Place on a cutting board.
To make deviled eggs:
Slice eggs in half lengthwise. Remove cooked yolks to a medium bowl. Add sour cream, spicy mustard, lemon juice, relish and paprika. Stir until smooth and well combined. Spoon mixture into egg halves until full.
Top with chopped chives and crumbled cooked bacon.
Enjoy!