These easy, 6-ingredient cornflake crusted chicken tenders make a delish weeknight dinner that kids and adults will love! Serve with a homemade honey mustard dipping sauce (recipe included) and a simple green salad for a healthy, balanced meal.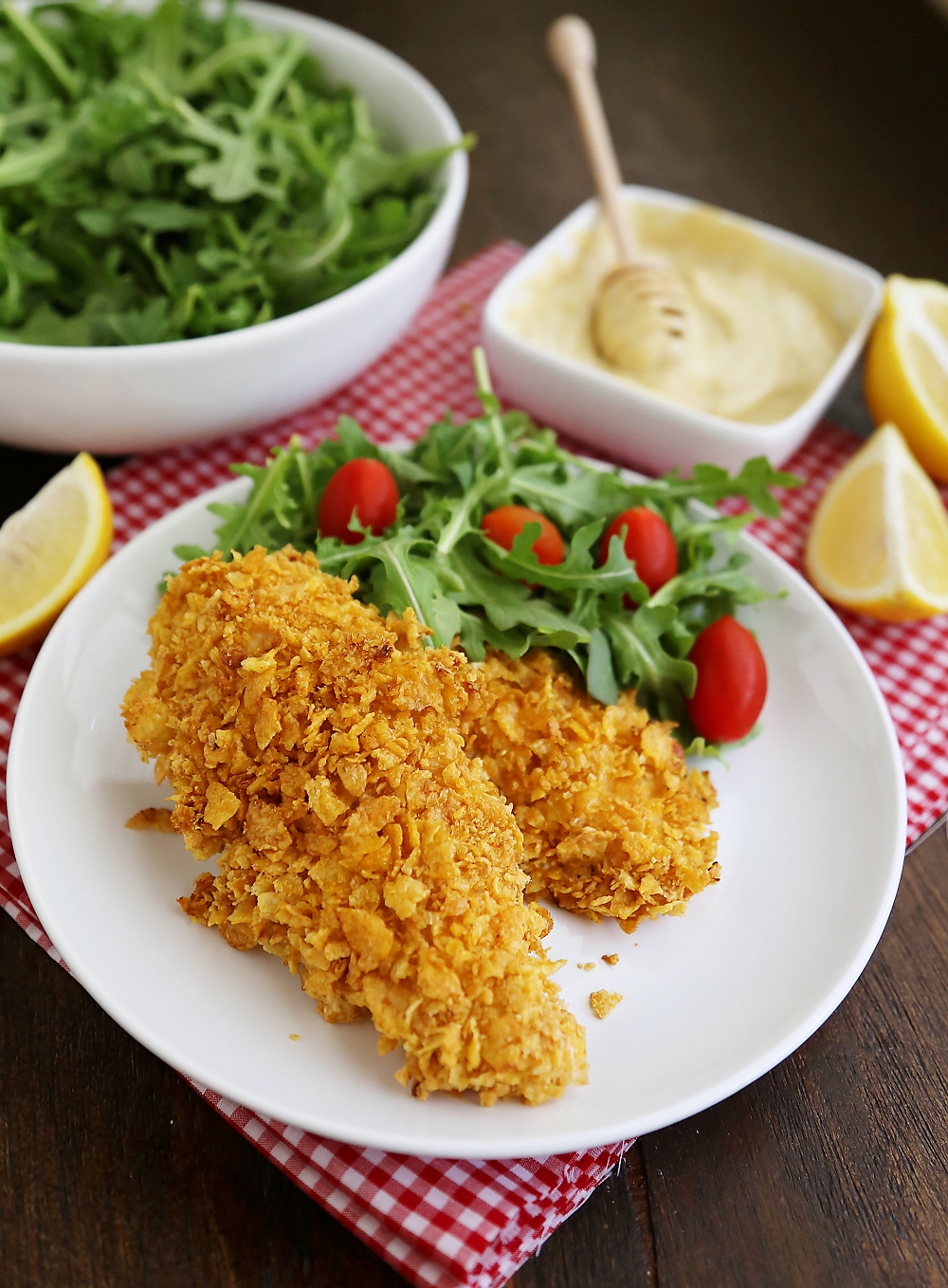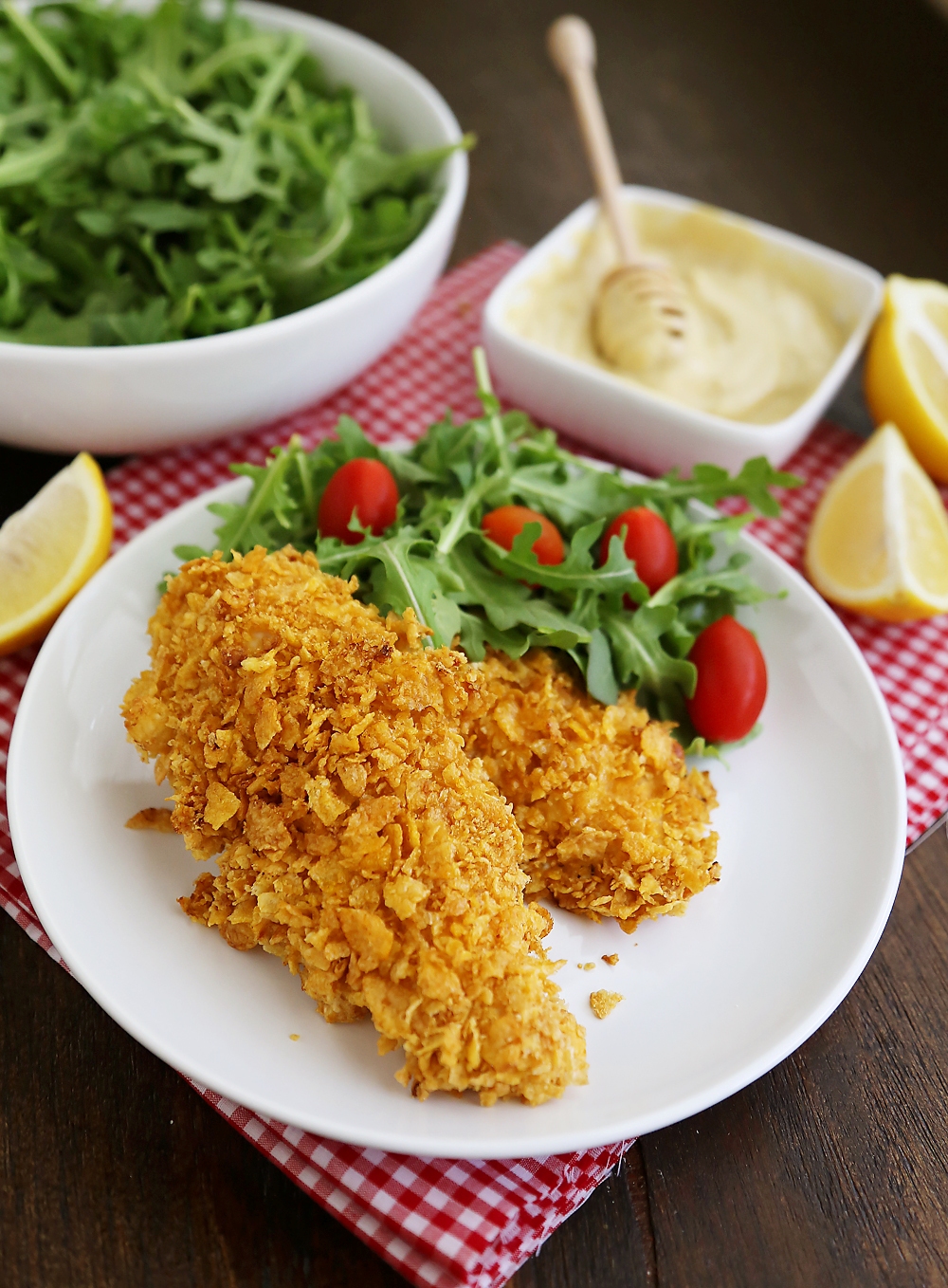 I enjoyed these chicken tenders before I had a kid, but I do even more now! Why? Because they make for a delicious, well-balanced meal we can both enjoy. I'm not usually in the business of cooking two dinners a day, so the more often my daughter and I can eat the same scrumptious meal (and BOTH like it), the better! And she loves this crispy, tender baked chicken with a sweet and tangy honey mustard sauce.
She may always be grabbing for what's on my plate, but oddly she never touches the salad I serve on the side of these tenders – ha! Maybe one day she'll go towards the green stuff. Or am I just dreaming?
Right, thought so.
When she's a bit older, I can't wait for her to have an actual hand in the cooking process. These tenders are super easy and fun for kids to make! They have great flavor, bake up quickly, and you can even chop them into smaller pieces to make baked nuggets.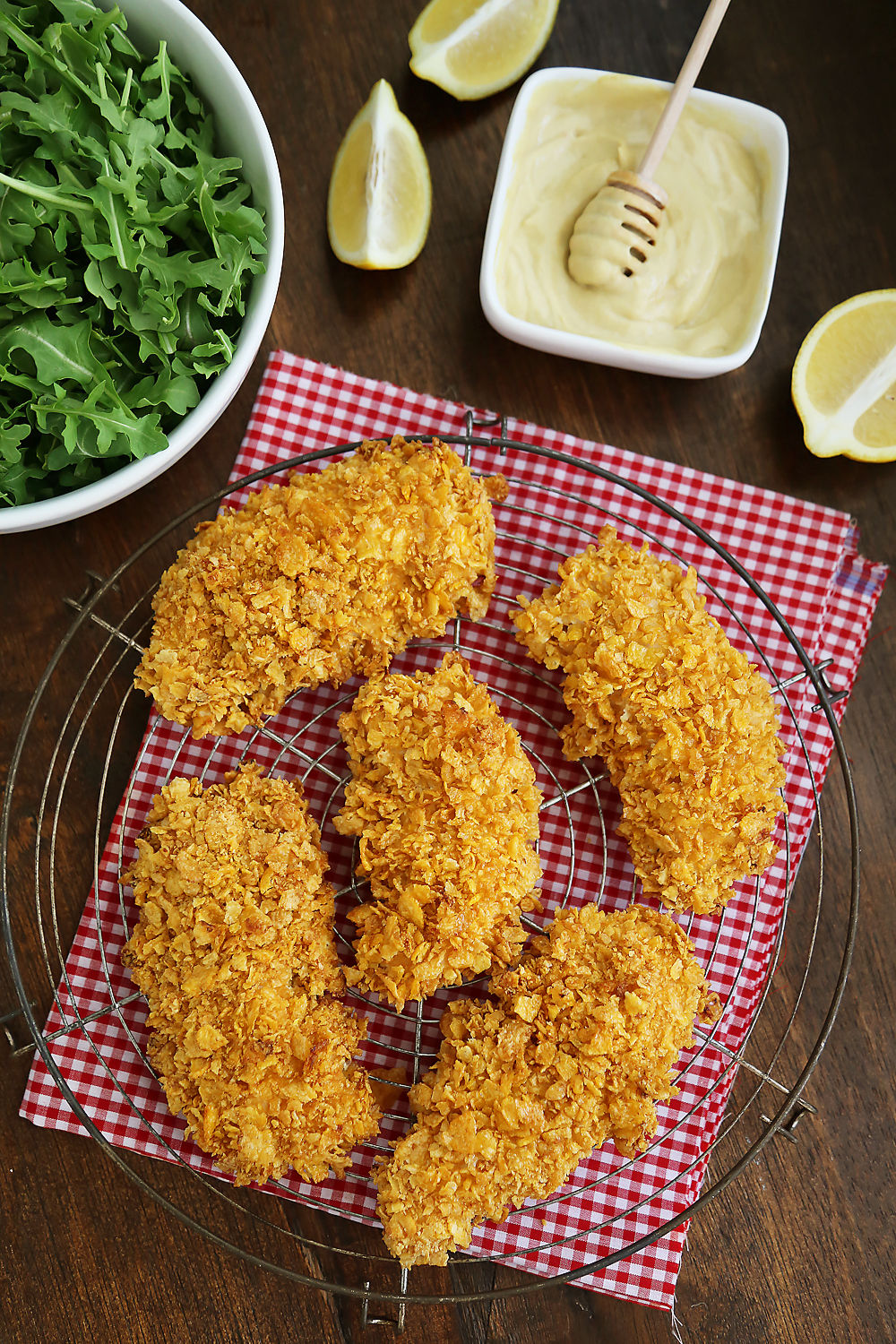 Simply cut up a couple of raw, boneless skinless chicken breasts, or buy them as pre-cut tenders (about 1-1/2 to 2 lbs.). Coat them in a mixture of Greek yogurt, Dijon mustard, honey and a pinch of salt. After about 30 minutes, remove the chicken from the marinade and dip into your crushed cornflakes. Place your tenders onto a baking sheet, and listen to them crisp and sizzle until they turn a gorgeous golden brown! Meanwhile, you can make a simple homemade honey mustard by combining mayonnaise, Dijon and honey in a small bowl.
Toss together a simple green salad with your favorite ingredients and a light vinaigrette, and dinner is done!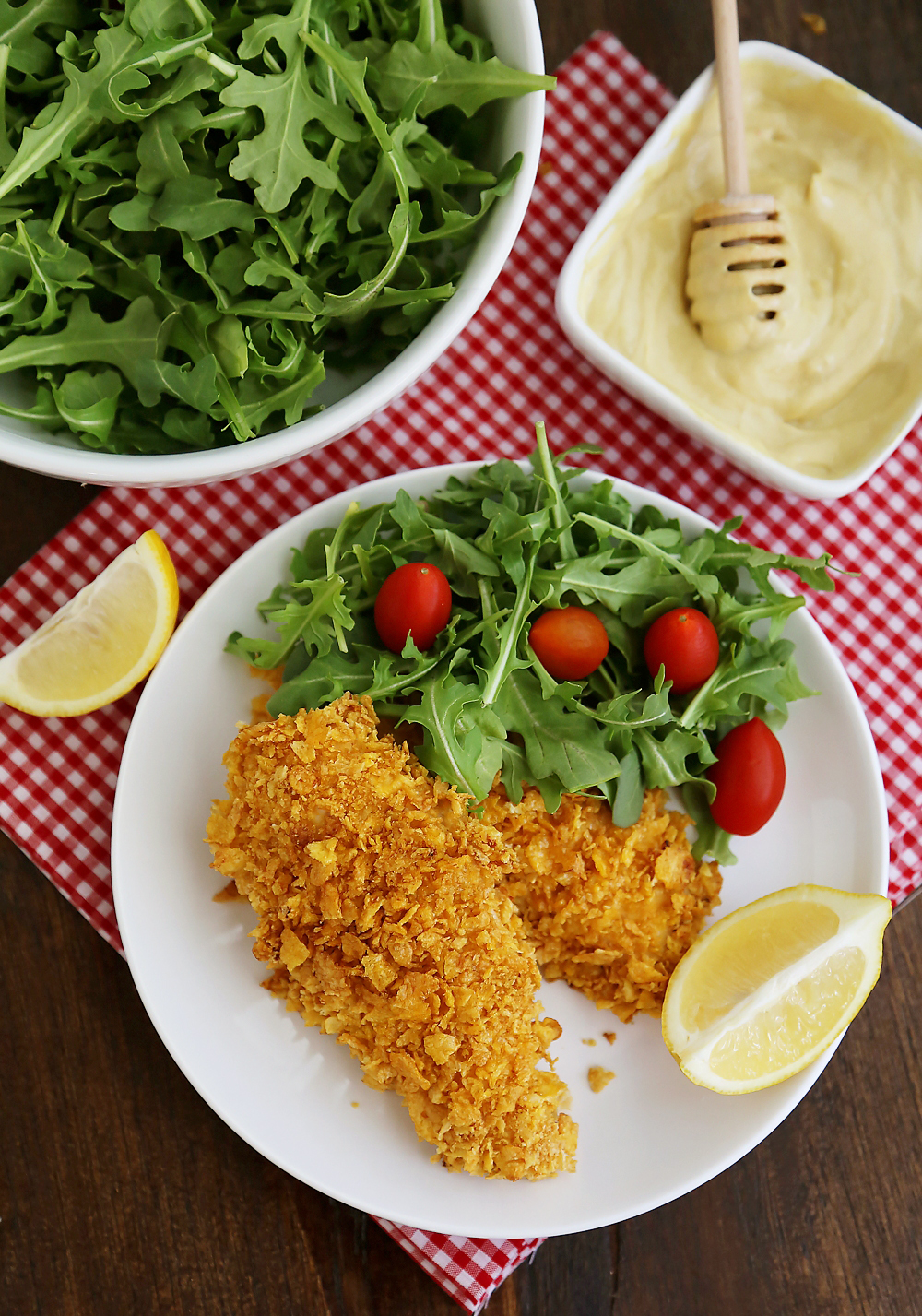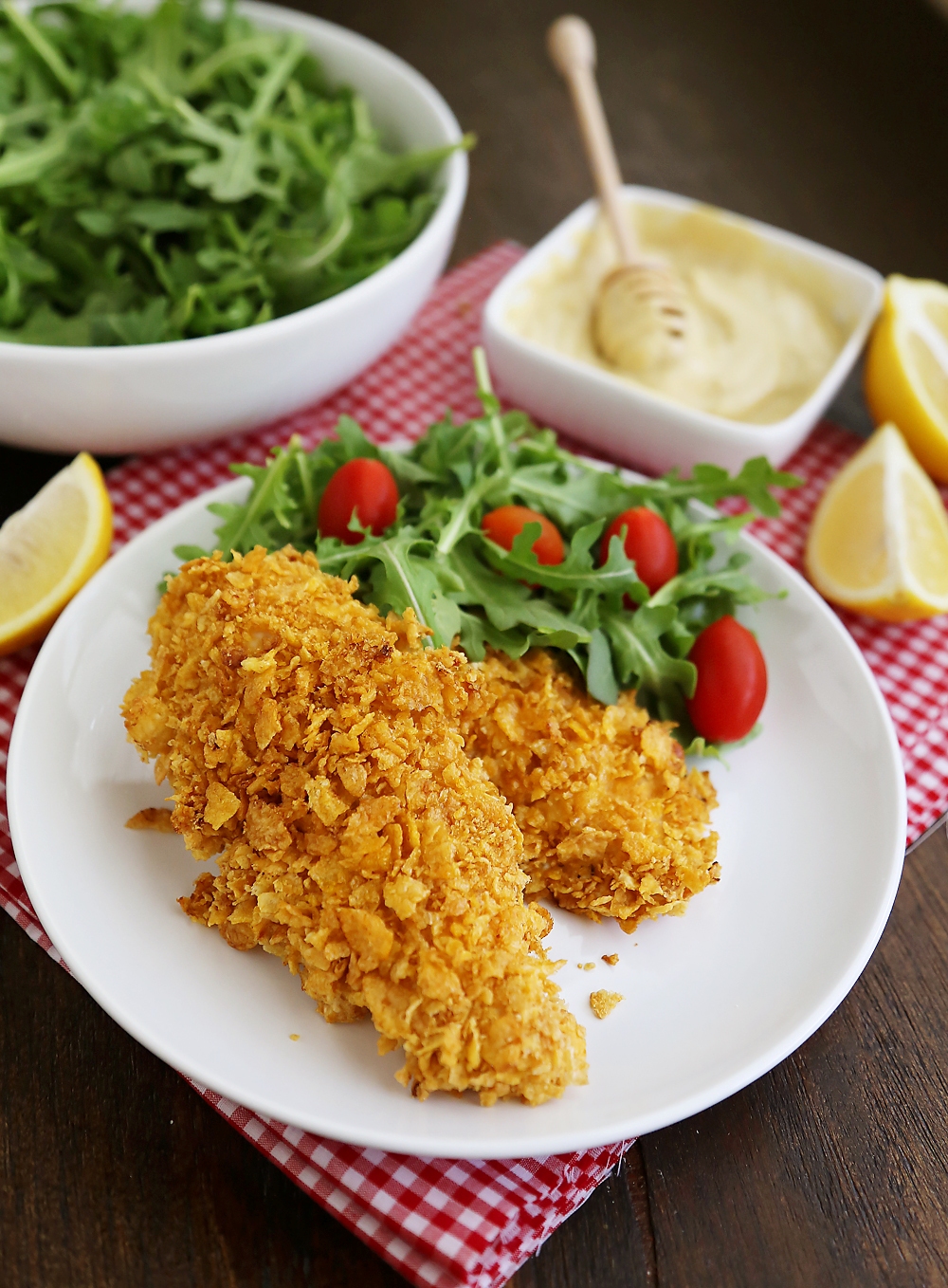 Crispy Honey-Dijon Baked Chicken Tenders
Ingredients
For the Chicken Tenders:
Nonstick cooking spray , 2 1/2 cups cornflakes cereal, crushed
2 boneless skinless chicken breasts, cut into 4-5 vertical strips each
1-1/2 cups plain nonfat Greek yogurt
2 Tablespoons honey
2 Tablespoons Dijon mustard
1/2 teaspoon kosher salt
2 1/2 cups cornflakes cereal, crushed
For the Honey Mustard:
3 Tablespoons Dijon mustard
2 Tablespoons mayonnaise
2 Tablespoons honey
Instructions
For the Chicken Tenders: Preheat oven to 350 degrees F. Line a large baking sheet with parchment paper or aluminum foil. Coat with nonstick cooking spray.
Cut chicken into strips and pat dry with a paper towel; set aside.
In a large bowl, combine yogurt, honey, Dijon and salt, blending well. Place chicken into bowl and toss to coat tenders. Cover bowl and refrigerate for at least 30 minutes, up to 1 day.
When ready to bake, place crushed cornflakes in a shallow dish. Toss tenders in cornflake mixture, pressing to coat on all sides. Place on prepared baking sheet and spray tenders with cooking spray.
Bake for 20-25 minutes, or until chicken is thoroughly cooked. Serve with honey mustard (recipe below) if desired.
For the Honey Mustard: Combine Dijon, mayonnaise and honey in a small bowl. Stir until well blended. For more zesty flavor (my preference), add 1 teaspoon of your favorite hot sauce, or to taste. Serve with chicken tenders, or refrigerate until ready to serve.
Enjoy!