Besides the complete and total disaster that was Thanksgiving dinner of 2007, in which we tried to roast a twelve-pound turkey on a cookie sheet, I don't recall ever cooking many meats in my kitchen besides chicken, beef or pork. I mean, those are pretty all-encompassing meats… you can do a lot with them. But, as I've grown up, my palate has also done a little growing up, and I decided it was about time to leave my comfort zone and introduce a new meat to our dinner table. So, I went on a quest to the store looking for something, but not sure what. I guess it was just my luck that, yesterday only, a package of four lamb chops was on sale for four dollars. Bingo!
I had never cooked lamb, so I was a little nervous that I wouldn't get it right the first time. Much to my surprise, though, it couldn't have been easier! The lamb was perfectly pink and tender after only six minutes of pan-searing, and the garlic-rosemary butter sauce drizzled over the meat made it ever more moist and mouthwateringly "mmm."
Similar to when you're pan-searing beef, you should always pat the lamb dry to soak up excess moisture and get that nice brown color. I served it with some roasted potatoes and sautéed zucchini. Otherwise, the photo pretty much speaks for itself – Look at what you can do with a few chops, some basic ingredients, and just six minutes!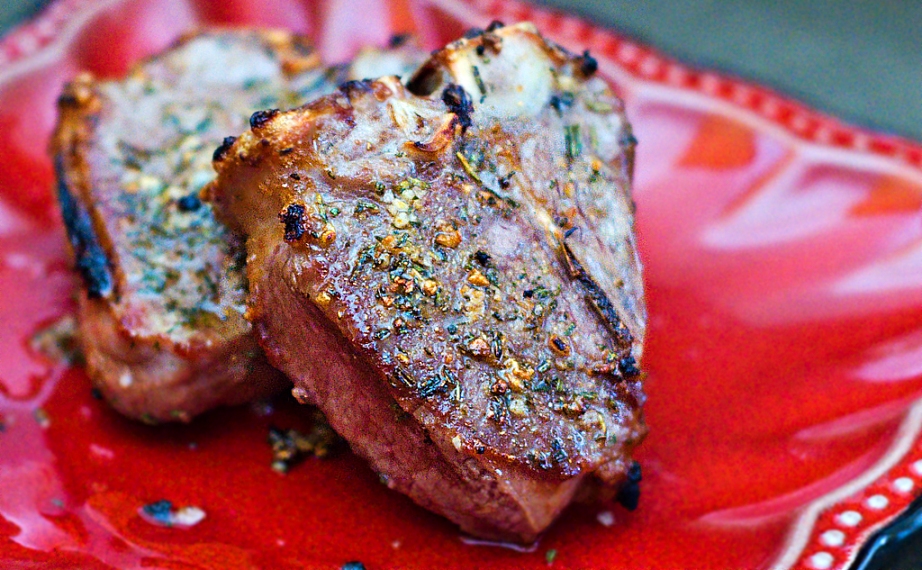 Lamb Chops with Garlic-Rosemary Sauce
Ingredients
4 lamb loin chops
Salt and freshly ground pepper, to taste
2 tablespoons olive oil
2 garlic cloves, chopped
3 tablespoons crushed rosemary, divided
2 tablespoons fresh lemon juice
½ cup chicken stock
1 tablespoon butter
Instructions
Pat lamb dry and season with salt, pepper and 1 tbsp. crushed rosemary. In a large skillet or cast iron pot, heat oil over medium-high heat until hot but not smoking, and sear lamb 3 minutes. Turn lamb over and sear 2 minutes more for medium-rare. Transfer lamb to 4 plates.
Add garlic, 2 tbsp. rosemary, lemon juice, and stock to skillet and deglaze over high heat, stirring and scraping up brown bits for 2 minutes. Whisk in butter. Pour sauce over lamb, or serve on the side in small individual bowls.
Serve with roasted potatoes and a sautéed vegetable, such as asparagus or zucchini.
Enjoy!