Super soft, buttery cinnamon-sugar cookies with a tangy coconut cream cheese frosting make the perfect holiday treat! Whip up a batch of these easy and elegant homemade cookies for your next get together. They are fun to make and addictively delish!
This is a sponsored post written by me on behalf of KraftRecipes.com. As always, all opinions are my own.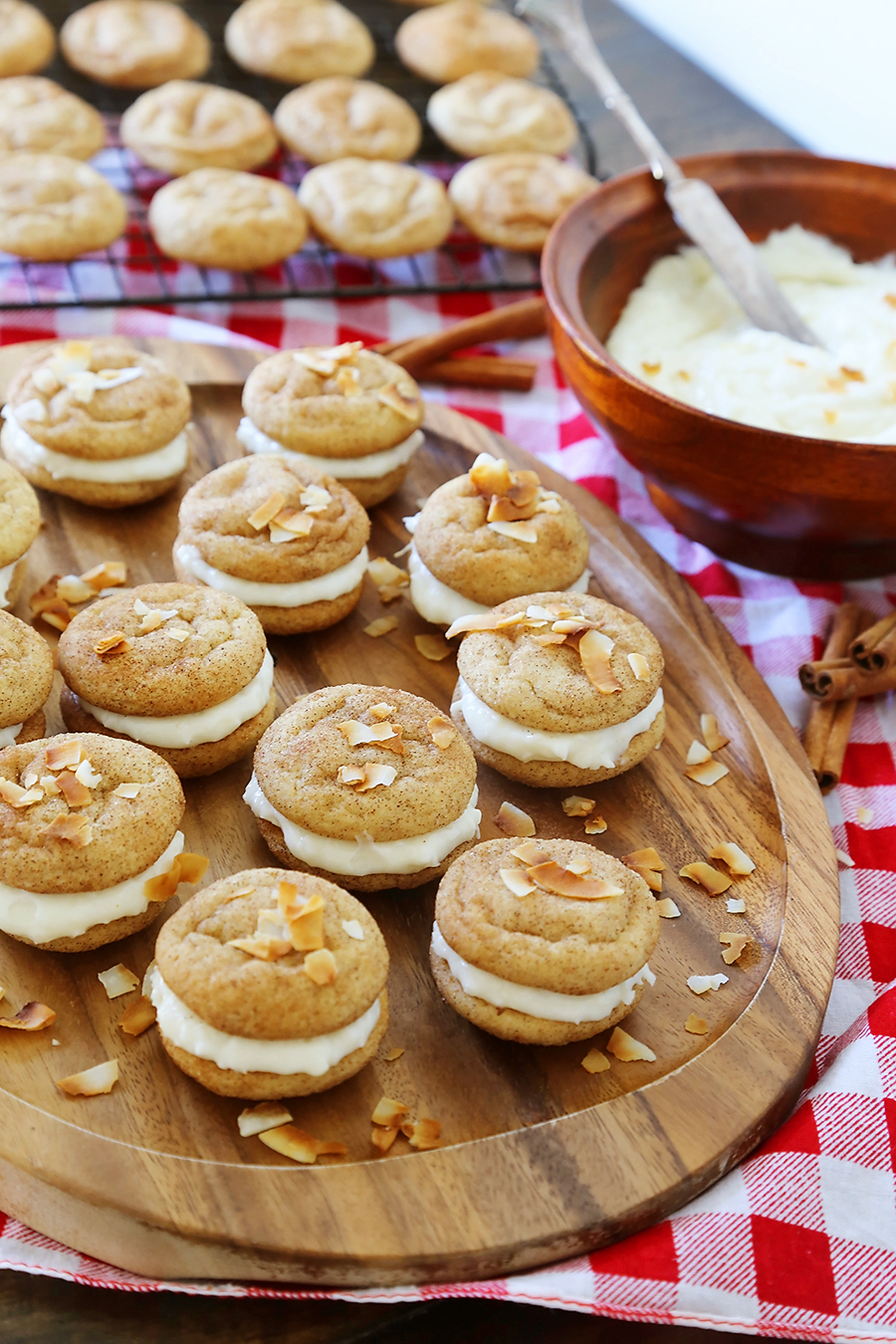 Snickerdoodles are among my absolute favorite holiday cookie. They have the perfect balance of buttery-softness, with slightly crisp edges and a warm cinnamon-sugar aroma that draws me in every time. I share these cookies often with family and friends this time of year, which means my oven is often pumping out a fresh batch of snickerdoodles. This is especially handy for last-minute guests coming over for dinner and dessert!
However, until recently, I didn't consider how to invent this irresistible treat into something even better – a scrumptious sandwich cookie! Of course, what is better than one snickerdoodle? Two! Sandwiched together, in happy matrimony, with a dollop of deliciously creamy Philadelphia Cream Cheese whipped with coconut flakes and fragrant vanilla. Does that sound good to you?
I thought so.
I want you to bake a batch of these cookies for someone you love, a teacher or a new pal, or share them with your family. Especially think of someone who might need a reason to smile, or a pep in their step. A visit or phone call, and something sweet, will surely cheer them up. What's not to love about a nice hello and a batch of cookies?
You will absolutely fall for this recipe, and your lucky recipient will fall for you right back! Keep reading for more on how to easily create these cookies at home.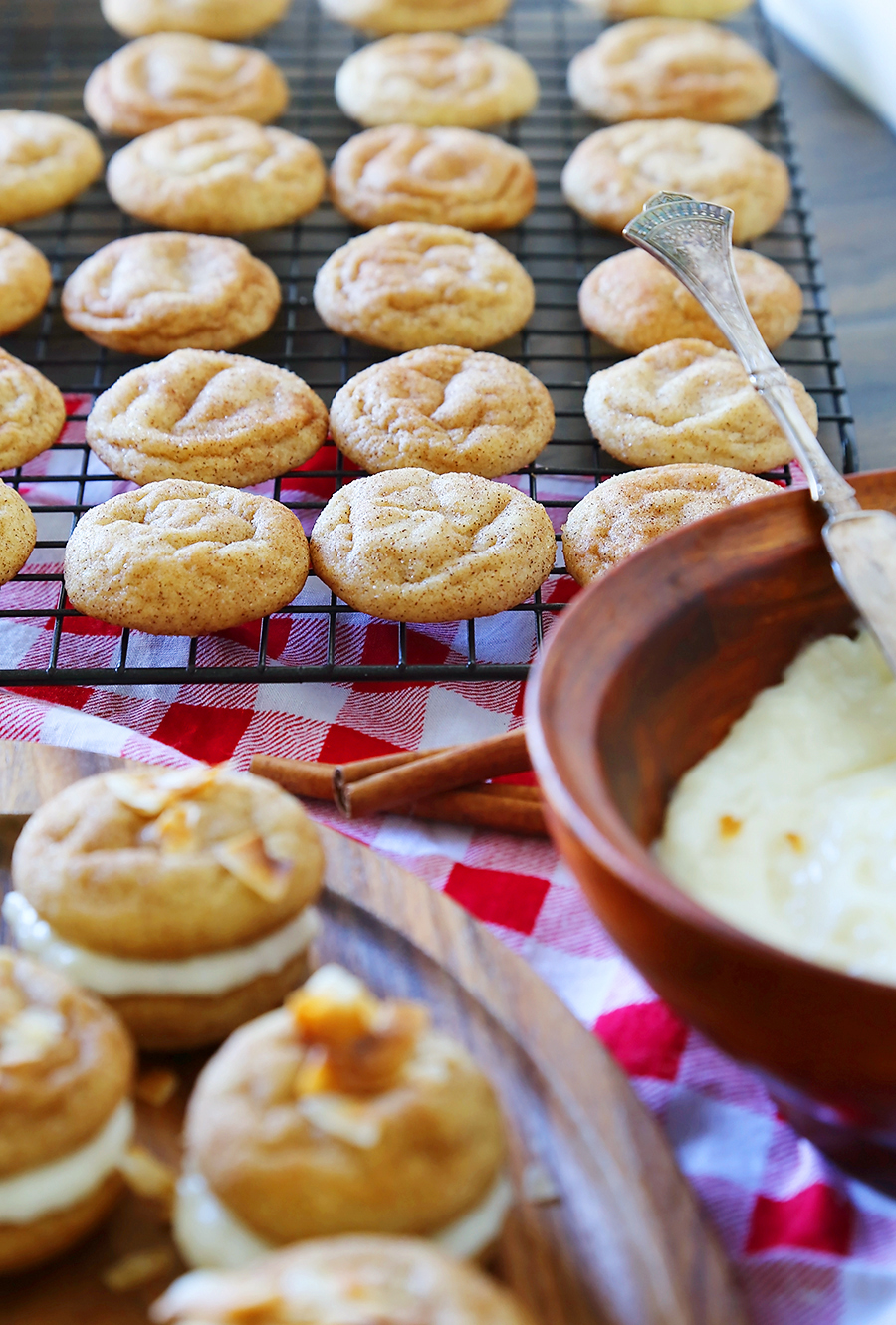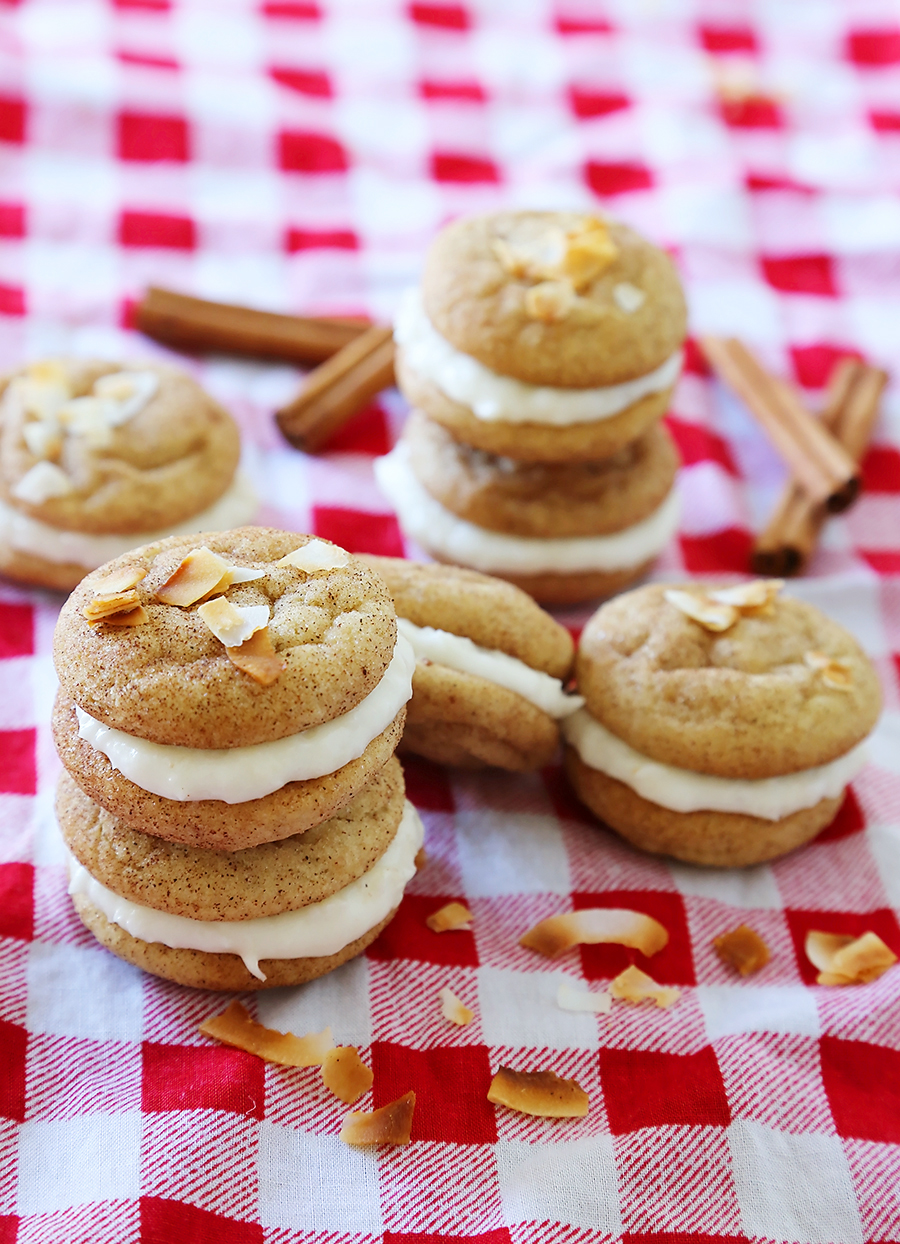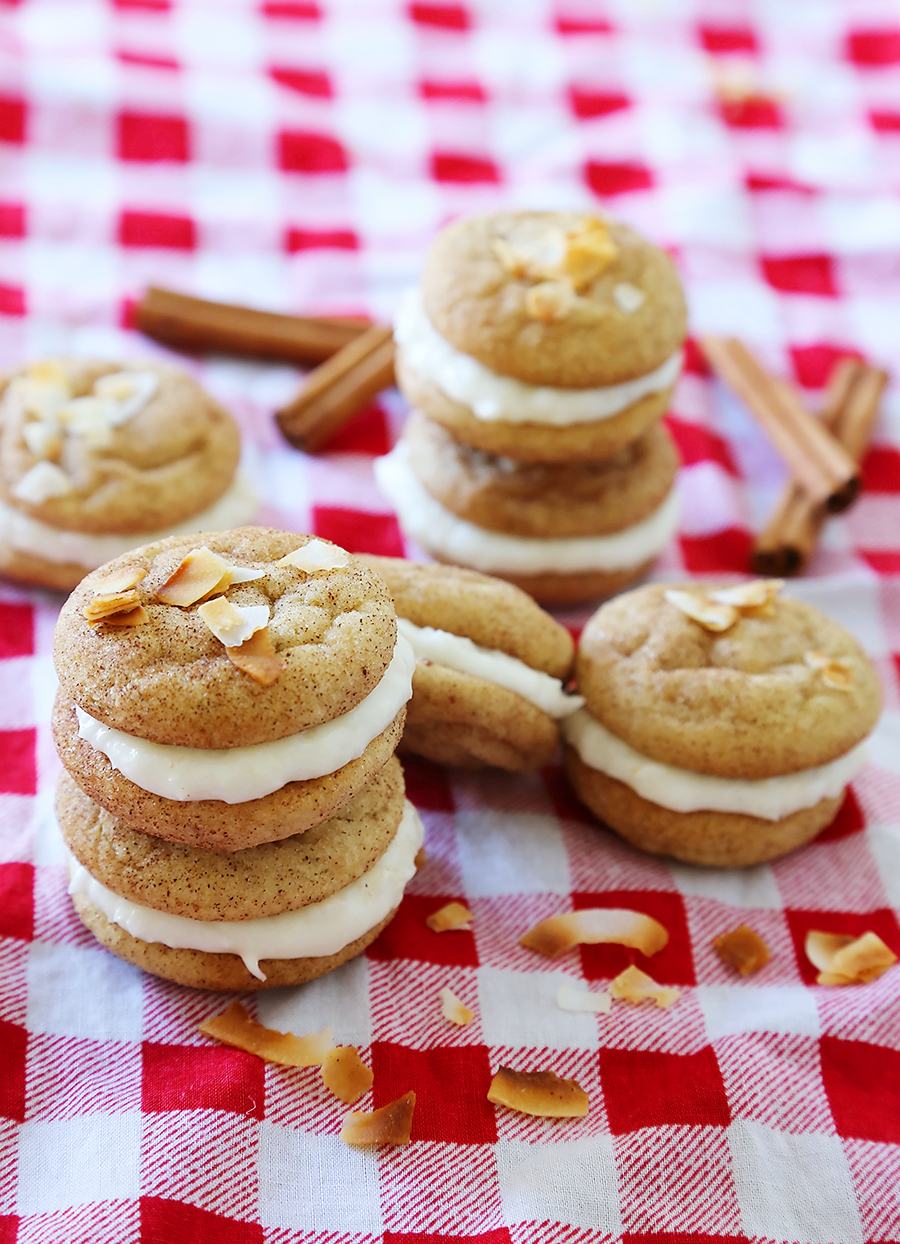 The absolute best part of these cookies isn't even the cookie – it's the cream cheese frosting! I have never been talented with whipping up fabulous frostings from scratch, but I truly love using Philadelphia Cream Cheese in my frostings. Since it is made with fresh milk and real cream, this cream cheese lends the most perfectly smooth, tangy texture to my dessert toppings – I never worry about the texture turning gloppy or stiff when I whip in this cream cheese. It is heavenly light and luscious every time! I also enjoy using it for adding a little oomph to my savory cream sauce dishes.
Now, let's get back to talking cookies!
These snickerdoodle cookies are so simple to make, and you can even get the kids involved! Let them mix together a combination of cinnamon and sugar in a small bowl. Then, they can roll the cookie dough balls in the cinnamon-sugar before placing them on the pan. These cookies are full of homemade goodness and basic ingredients like butter, flour, brown sugar, and eggs, so you most likely already have all of the ingredients at home!
When the cookies are fully baked, let them cool on a wire rack. Meanwhile, you can whip up the coconut cream cheese frosting (an electric mixer keeps this easy), but if you don't like coconut, feel free to omit it. When the frosting is ready, scoop it into a small plastic bag, snip off a small tip, and you have an easy piping bag for spreading the frosting on the cookies. Or, just let the kids try their hand at spreading it with a blunt knife.
Voila! You have an easy, awesomely elegant treat that would be a unique additional to any get-together or holiday table.
Want to share your own Kraft Holiday Recipe on social media? We would love to see your festive savory dishes, desserts, side dishes and more. Include the hashtag #KraftYourHoliday, and let's see what delicious creations you come up with!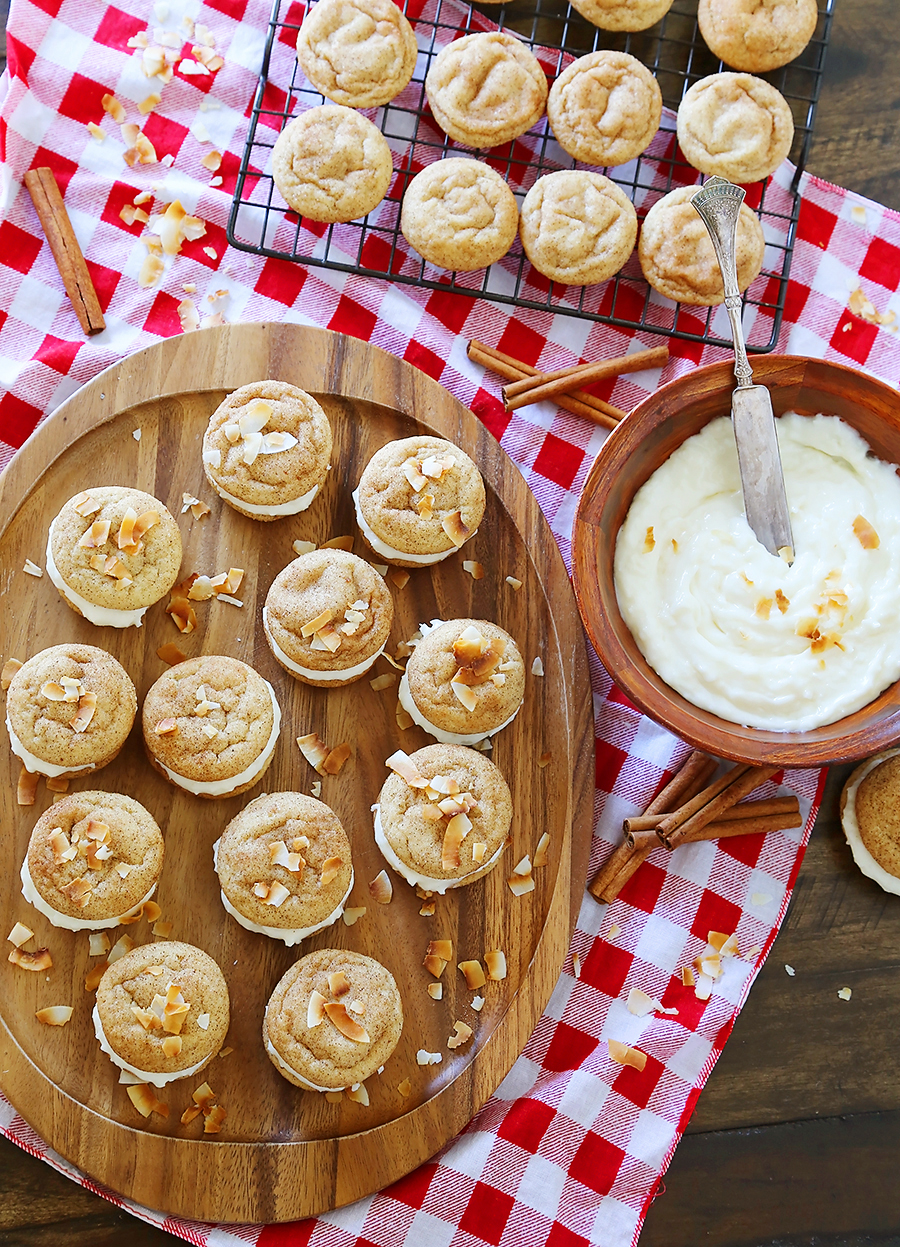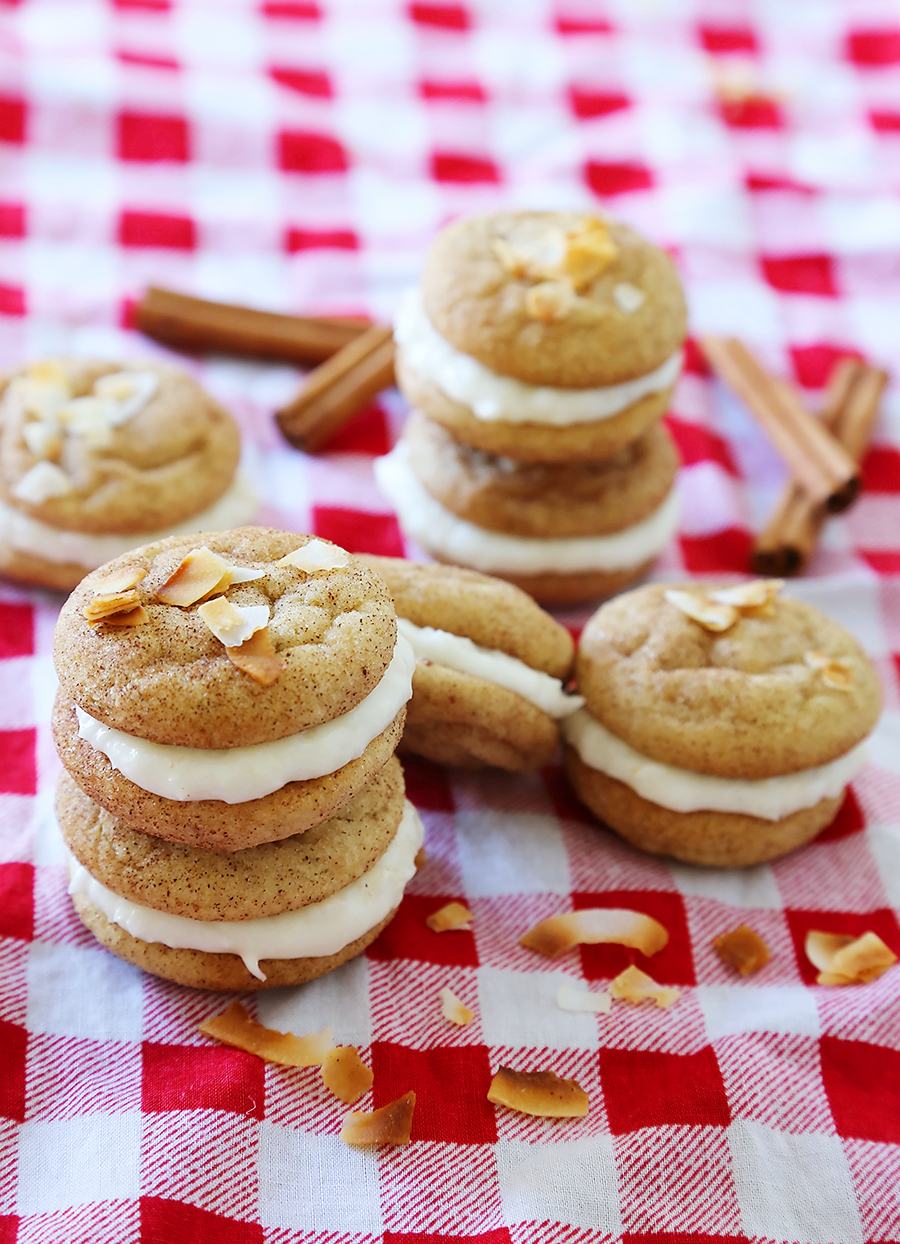 Snickerdoodle Sandwich Cookies
Ingredients
For the Cinnamon-Sugar:
1/3 cup granulated sugar
1-1/2 Tbsp. ground cinnamon
For the Snickerdoodle Cookies:
3 cups all-purpose flour
1 teaspoon baking soda
1/2 teaspoon ground cinnamon
1/2 teaspoon cream of tartar
1/2 teaspoon salt
1 cup (2 sticks) unsalted butter, softened
1 cup granulated sugar
1/2 cup firmly packed light brown sugar
2 large eggs
1 teaspoon vanilla extract
For the Coconut Cream Cheese Frosting:
6 oz. (3/4 of 8 oz. pkg) PHILADELPHIA Cream Cheese, softened
6 tablespoons unsalted butter
1/2 teaspoon vanilla extract
3 cups powdered sugar, sifted
3/4 cup shredded unsweetened coconut flakes
Instructions
Heat oven to 350°F.
For the Cinnamon-Sugar:
Mix the granulated sugar and cinnamon together in a small bowl. Set aside.
For the Snickerdoodle Cookies:
Line a large baking sheet with parchment paper.
In a medium bowl, whisk together flour, baking soda, cinnamon, cream of tartar and salt.
In a separate large mixing bowl, with an electric mixer, beat butter, granulated sugar, and brown sugar on medium speed until light and fluffy. Add eggs one at a time, mixing well after each addition. Add vanilla. On low speed, gradually add flour mixture, mixing just until combined.
Using a 1/2-inch cookie scoop, scoop cookie dough and roll into balls. Roll in cinnamon-sugar, then place on the prepared baking sheets. Bake for 8-10 minutes, or until lightly browned. Allow to cool on baking sheet for 5 minutes, then transfer cookies to a wire rack to cool completely.
For the Coconut Cream Cheese Frosting:
In a medium bowl, beat cream cheese, butter, and vanilla together with an electric mixer on medium speed, until smooth. Gradually add powdered sugar; beat until thoroughly combined and smooth. Stir in coconut.
Spread frosting on the bottom of half of the cookies. Top with the remaining cookies, pressing together gently, so that the frosting spreads to the edges.