The BEST quick and easy appetizer ever! These perfect party bites only need 3 ingredients, plus whatever coating you crave! Roll in finely chopped chives, bacon, jalapeno, scallions, cranberries, nuts, or any fresh vegetable. Many more ideas in the post! Top with pita chips, and you have a crowd pleasing party food!

My friends and family often assume I'm chugging out gourmet dinners every night, but, to be honest? There has been a lot of breakfast for dinner and meat-and-cheese plates around my house lately. What I'm making more of than anything has been delicious bite-sized appetizers for Christmas parties! And these little guys are an absolute crowd pleaser.
For a spin on the traditional cheese ball, I thought something a bit more portable was in order. What is better than a grab-and-go snack, so you can get back to sipping and mingling? Instead of breaking off your cracker in the ball, messy fingers, and being accused of double dipping, these minis are a mouthwatering alternative to that large-and-in-charge holiday favorite. You can also make them in many different flavors, so party guests will have to go back for seconds. Lesson here: Make enough! This recipe makes 30, but you can easily double the batch for a hungry bunch.
Want to make your own for your next wintertime (or any time) get-together? The steps are simple, the ingredients versatile, and the end result is gorgeous and delicious. Keep reading for the recipe!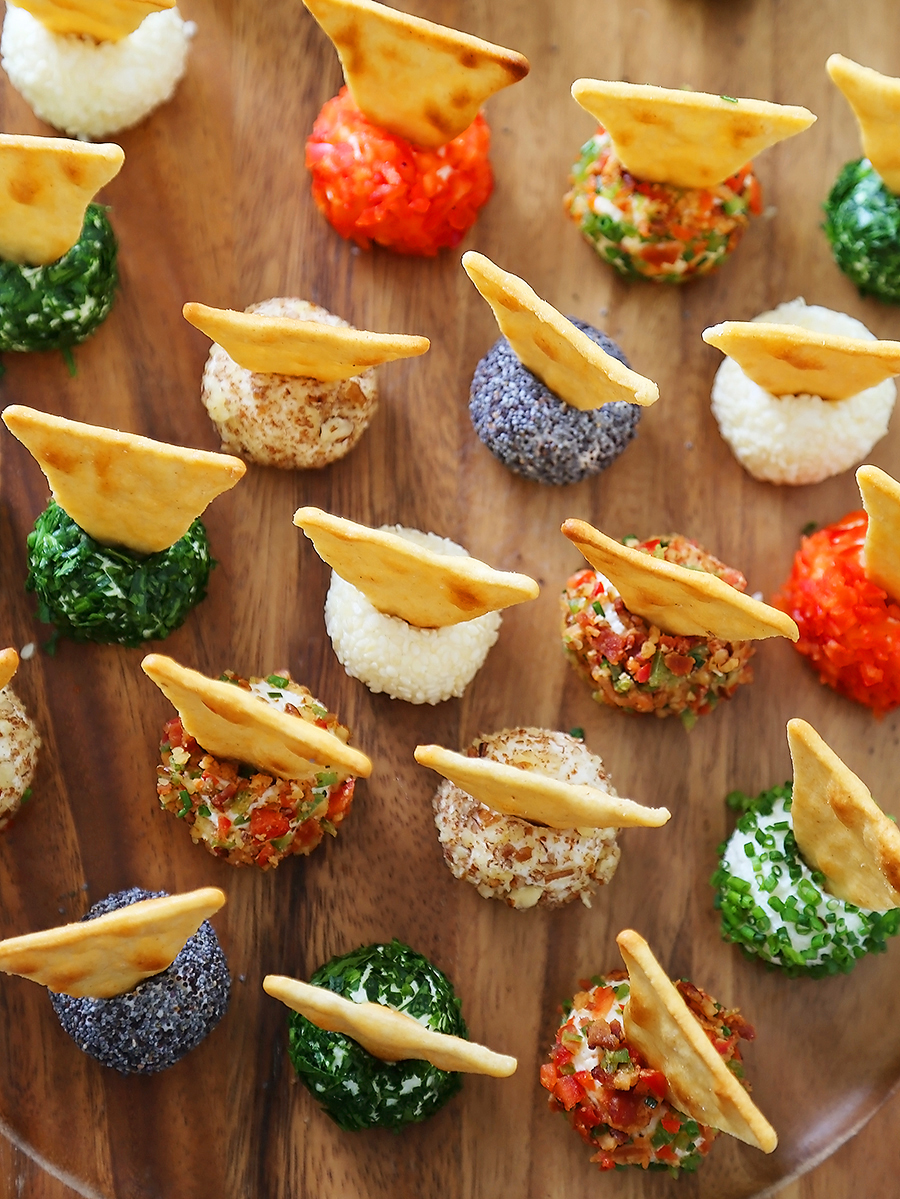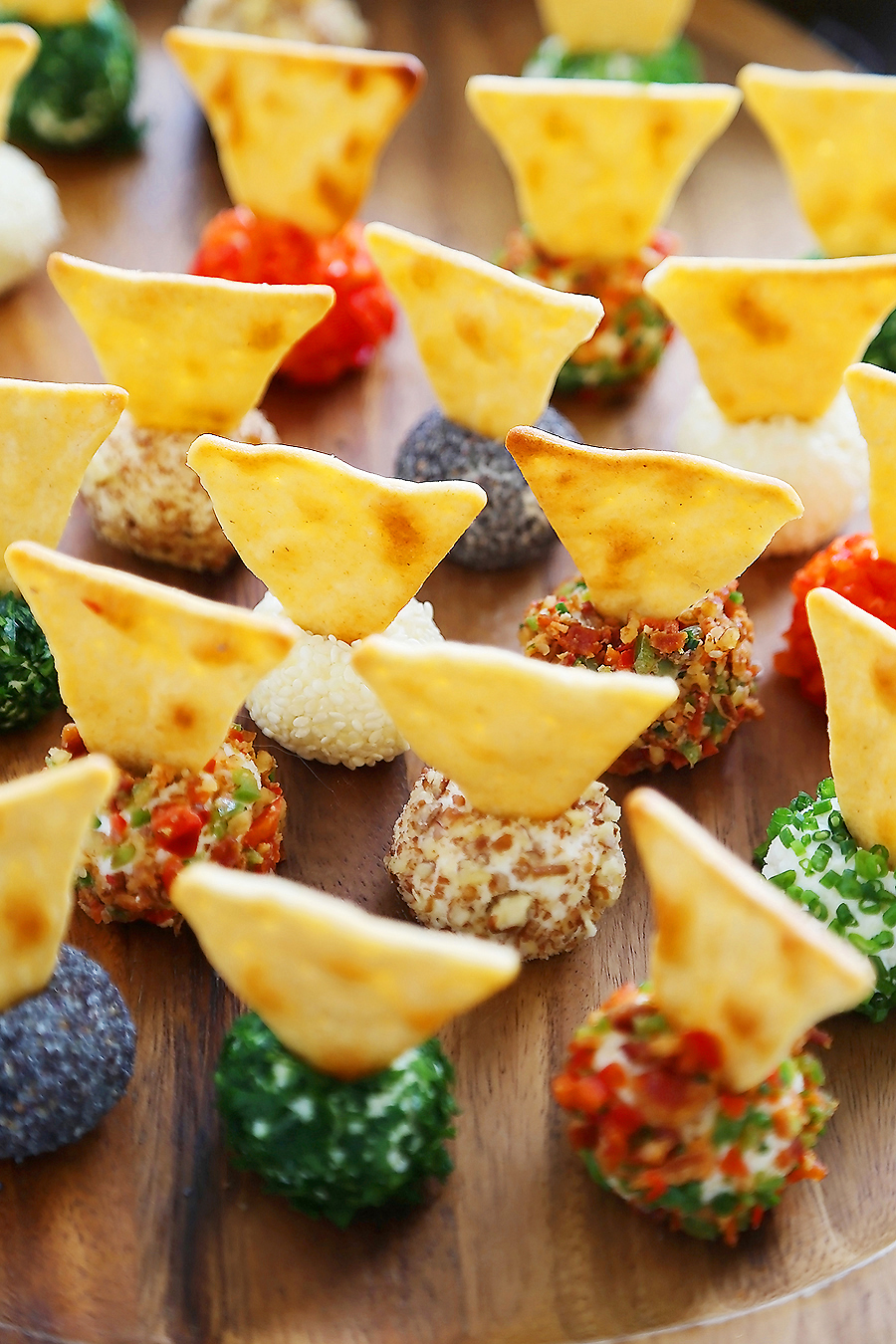 The combination of these two cheeses is outrageously delicious. Creamy, smooth and just enough flavor to make you ask, "What IS that?" The perfect canvas for your favorite crunchy, spicy, sweet or herbaceous topping. For these, I used bacon, jalapeno and red pepper, chives, parsley, poppy seeds, sesame seeds, and finely chopped pecans. All delicious, but the bacon takes the cake. See if you can spy which is which!
To create your own easy, two-bite appetizers, simply whip up a block of cream cheese and a wheel of creamy La Vaquita Queso Fresco in a large bowl. Whip it with an electric mixer until very smooth (it should easily roll into a slightly sticky ball), and voila!
I've been using this queso fresco ever since I was lucky enough to discover it, and use it on my chicken fajita salad, last month. Ever since, it's been a staple in my fridge, and I love crumbling it over salads, chilis, tacos and roasted potatoes. It adds the perfect light, fresh and creamy texture and authentic Mexican flavor to any meal or side dish. My toddler also loves to help crumble this queso over top, and any chance I can get her to help out in the kitchen, I take! It's so rewarding to create those memorable moments in the kitchen with family and friends.
Not familiar with queso fresco? Let me educate you a little! La Vaquita Queso Fresco is a Mexican crumbling cheese, and began with a family recipe created in a quaint Houston home in 1971. It was then handed down through generations of cheese makers, and has become a family favorite in households craving a touch of Hispanic influence in their everyday cooking. Queso fresco has a milky, mild flavor that is the perfect complement to just about any dish. Similar to goat cheese, queso fresco has a smoother flavor that makes it a favorite for family-friendly dishes.
You can find these versatile, high-quality cheeses in most local Texas grocers like H-E-B, Walmart, Kroger and Fiesta. I easily spied mine in my local Texas grocer's cheese section, but they may also be located near your store's deli department.
Grab a wheel of queso fresco, or their equally delicious range of cremas, today!
Once you have formed your mini queso balls, simply roll them in your desired toppings! It helps if you prep these ahead of blending your cheese mixture, but you can always roll the cheese balls, then prep toppings.
The rolling was really fun for my daughter and I both – she enjoyed getting her (clean) hands dirty, and I loved that we could create something delicious together in the kitchen! As a fellow cheese lover, she also enjoyed the taste testing segment of the process. Quality control is alive and well in my kitchen, people!
Make sure all your toppings are very finely chopped, since this will make rolling much simpler. The smaller your bits of bacon, vegetable, nut, etc. for rolling, the easier it will stick to the cheese, and the more uniformly round your cheese balls will be.
Once you're finished rolling, just stick a hearty chip or cracker into the top of each. I love the triangular shape of a pita chip for this! Then, pop them into your refrigerator until ready to serve. If you're making these 1-2 days ahead of serving, just add your chip or cracker closer to the time of serving. You want a crisp, not soggy, chip to balance with this creamy treat!
I know you will love these for your next girls' night, baby shower, office party, whatever is coming up! 'Tis the season of needing to be creative with what's on the table, so try these! Your friends and family will flip for them, and it's your secret that you only needed a handful of ingredients!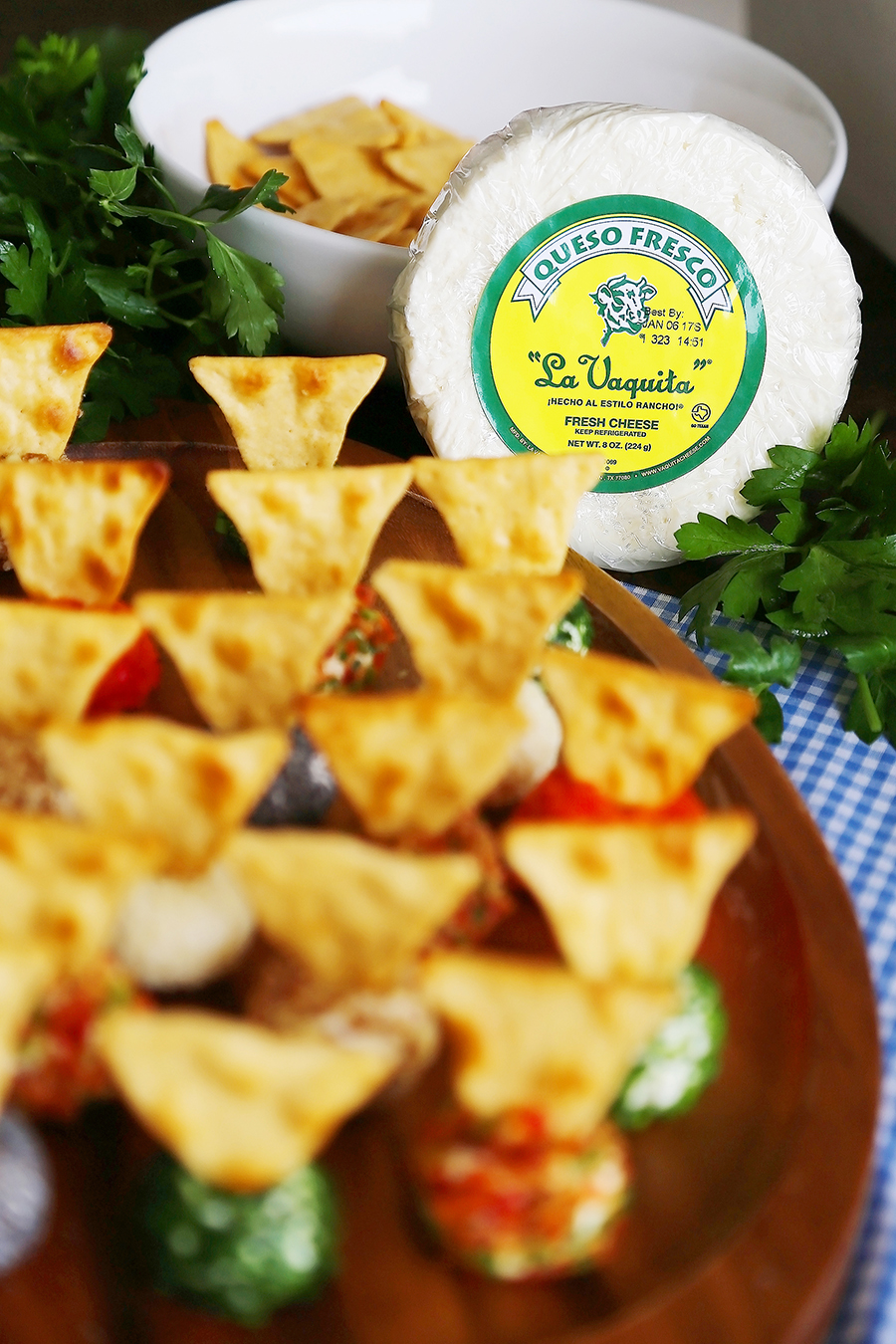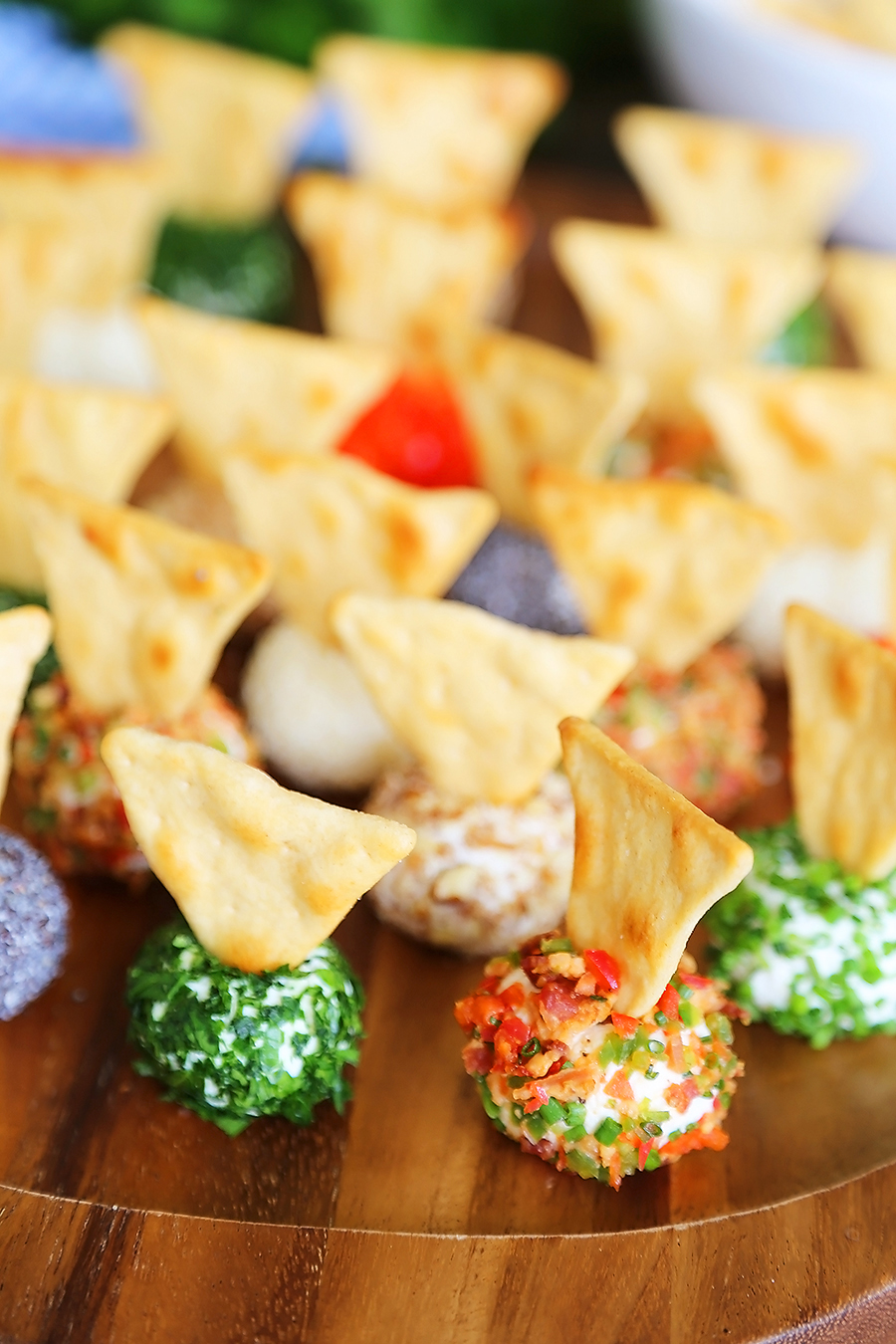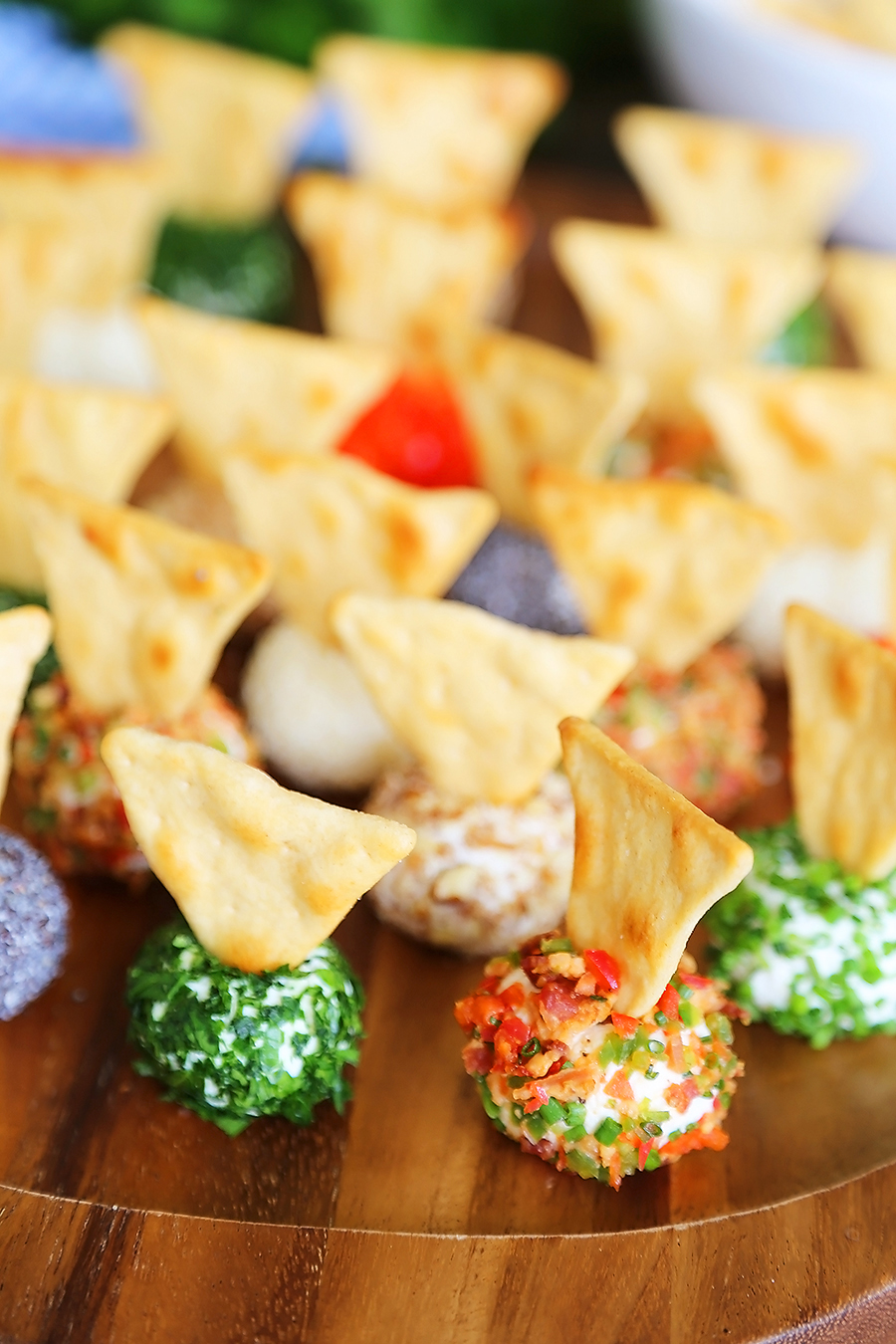 3-Ingredient Mini Queso Cheese Balls
Yield:
30 small cheese balls
Ingredients
For the Mini Cheese Balls:
1 (8 oz.) La Vaquita Queso Fresco
1 (8 oz.) cream cheese, regular or 1/3 less fat
30 small pita chips, or your favorite hearty chip/cracker
Rolling Ideas: (all should be finely chopped/minced)
Fresh chives
Scallions
Parsley, dill or cilantro
Crispy bacon bits
Jalapenos
Crushed pretzels or potato chips
Nuts, such as pecans, walnuts, pistachios
Dried fruits, such as cranberries, apples, apricots
Poppy seeds, sunflower seeds, sesame seeds
Vegetables, such as bell peppers, broccoli, carrots
Pomegranate seeds
Instructions
In a large bowl, combine queso fresco and cream cheese. With an electric mixer fitted with the paddle attachment, or a handheld electric mixer, blend cheeses on medium speed until smooth and creamy. The mixture should easily roll into a ball. If too sticky, refrigerate for about 20 minutes, until cheese is easily rolled.
With a small cookie scoop or 1/2 Tbsp. measuring spoon, roll cheese into bite-sized balls. Place on a wax paper-lined baking sheet or cutting board; set aside.
Meanwhile, prepare your desired ingredients for rolling. Place in a bowl or small dish for maximum coating and easy rolling.
One at a time, roll cheese balls in desired coating, covering and patting gently on all sides. Place on a serving platter. Press a pita chip or cracker into the top of each.
Refrigerate until ready to serve. (If refrigerating overnight, do not place your chip/cracker in the cheese until next-day.)
Enjoy!
Notes
Disclosure: This recipe was created for La Vaquita Cheese. All opinions are my own.