This recipe was created for Holland House Cooking Wines. All opinions are my own.
Need an easy, elegant meal for weeknights, holidays or a special occasion? You will love this spicy, crispy roasted chicken with tender potatoes and carrots! All you need is one pan and a handful of basic ingredients for this all-in-one nutritious chicken dinner. It is so simple and scrumptious!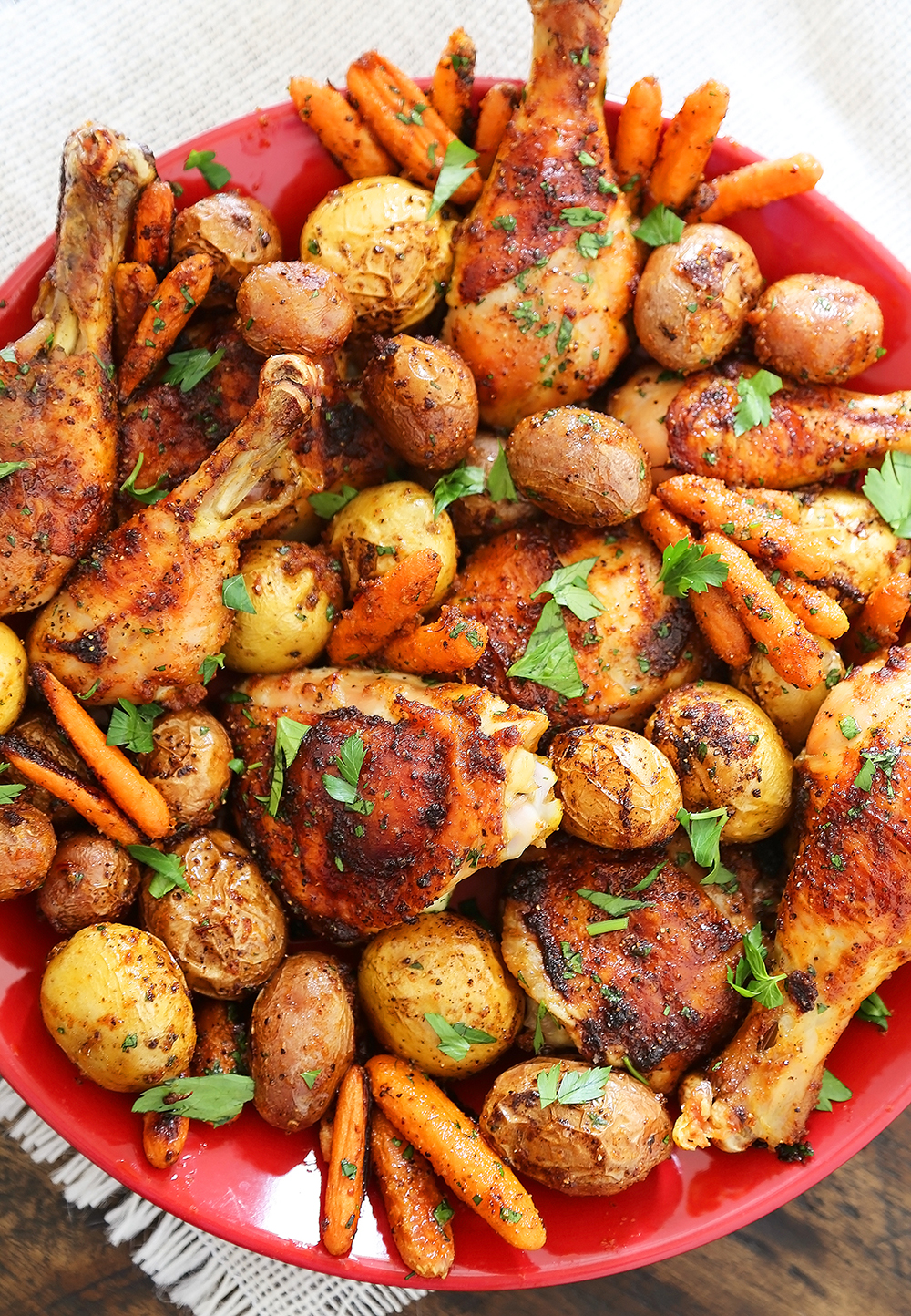 With Christmas now in our back pockets, my attention has shifted to cooking more healthy dinners and fewer filling appetizers. When your waistline and budget are both tightening in the wake of holiday spending, you need a recipe like this! Easy, affordable and minimal effort after the busiest season of the year.
The best thing about this chicken dish is that you can prepare it with whatever spices, aromatics and fresh vegetables you have on hand. We absolutely love making variations of this hearty, healthy meal on weeknights, and it's fit to impress guests for a comfy yet classy dinner at home.
My favorite part of a one-pan dinner is the minimal clean-up, which allows more time with my family and less scrubbing away at the sink. With your protein, starch and veggies all on one pan, and hardly a dish to clean, you absolutely can't beat it. It's a win in my book!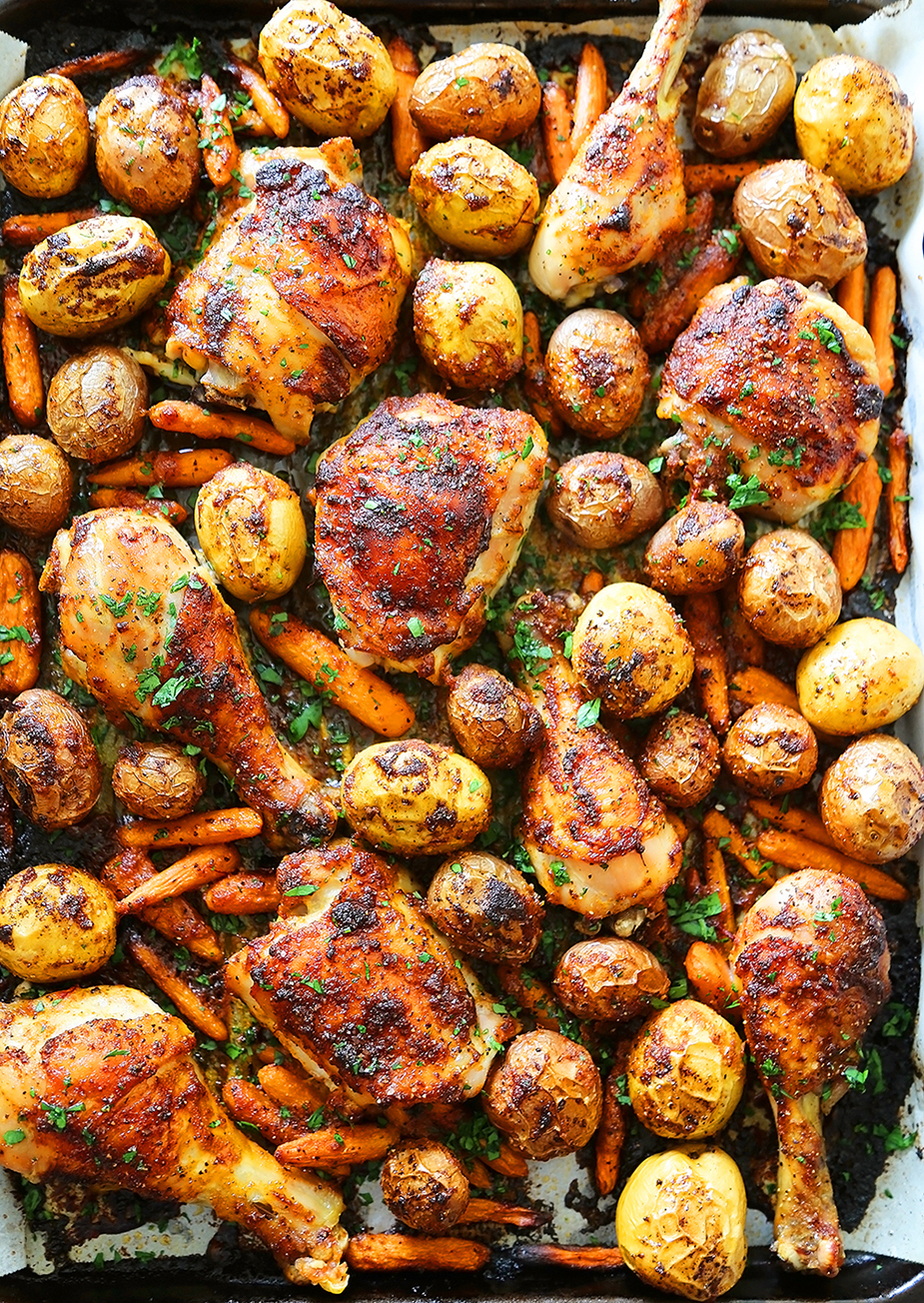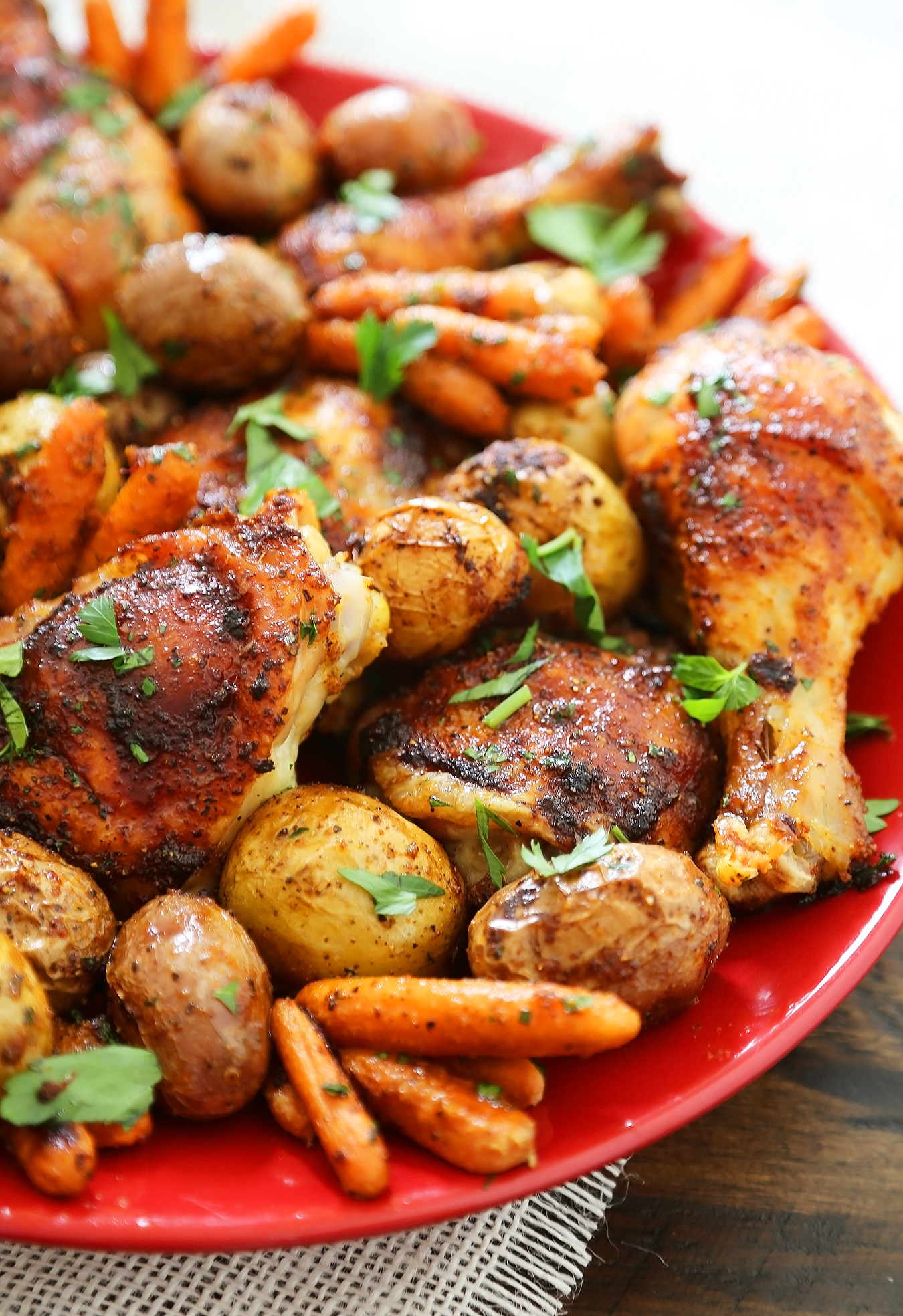 Oh, crispy chicken, you give me life.
I just can't go on enough about the fabulous flavors and aromas going on here. You have tender, melt-in-your-mouth chicken with crackling seasoned skin, warm salty potatoes, sweet herbaceous carrots, and a pretty sprinkle of parsley. Did I mention no cleanup? I mean… what is not to love!
This time, I added a nontraditional ingredient to my usual roasted chicken roundup of seasonings. You have your olive oil, garlic powder, onion powder, salt and pepper. But, have you ever tried adding a cooking wine to really kick up the flavor goodness? If you haven't, you must! Specifically, for this recipe, I used the Holland House Sherry Cooking Wine. It adds the most INCREDIBLE sweet, nutty flavor to this savory chicken dish, but you can also use it in rice dishes, sauces, soups, stir-fries, and even desserts! Where had this cooking wine been all my life?
Thanks to this flavor boost from Holland House, we were able to create a unique yet classically delicious meal for our holiday guests! It's meals like this that get me excited about the holidays, and sharing something yummy with cherished friends and family. They don't mind being my guinea pigs, either!
Try this one-pan wonder tonight – it's easy, hearty and super nutritious as a family or fancy meal. I know you will absolutely love it!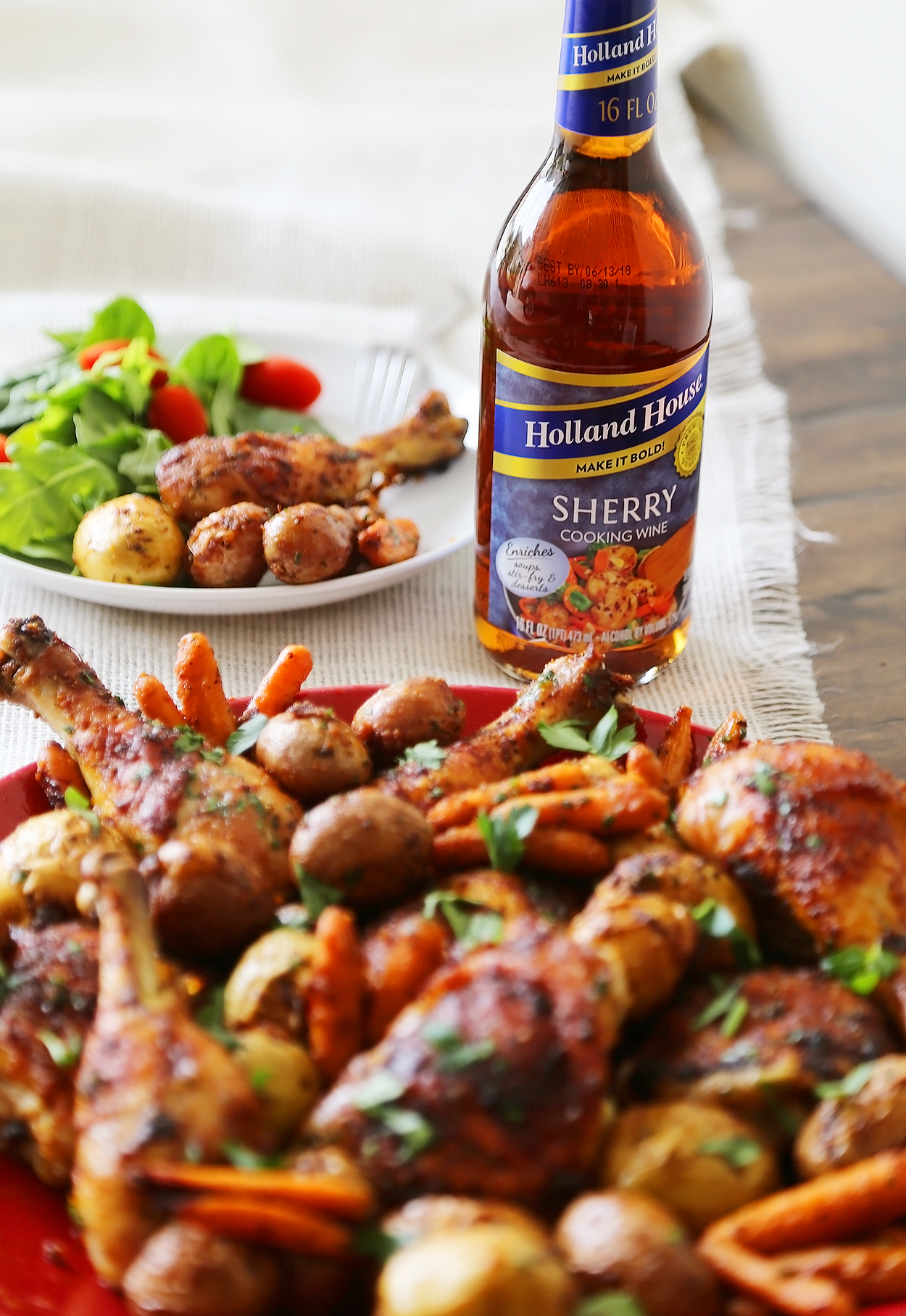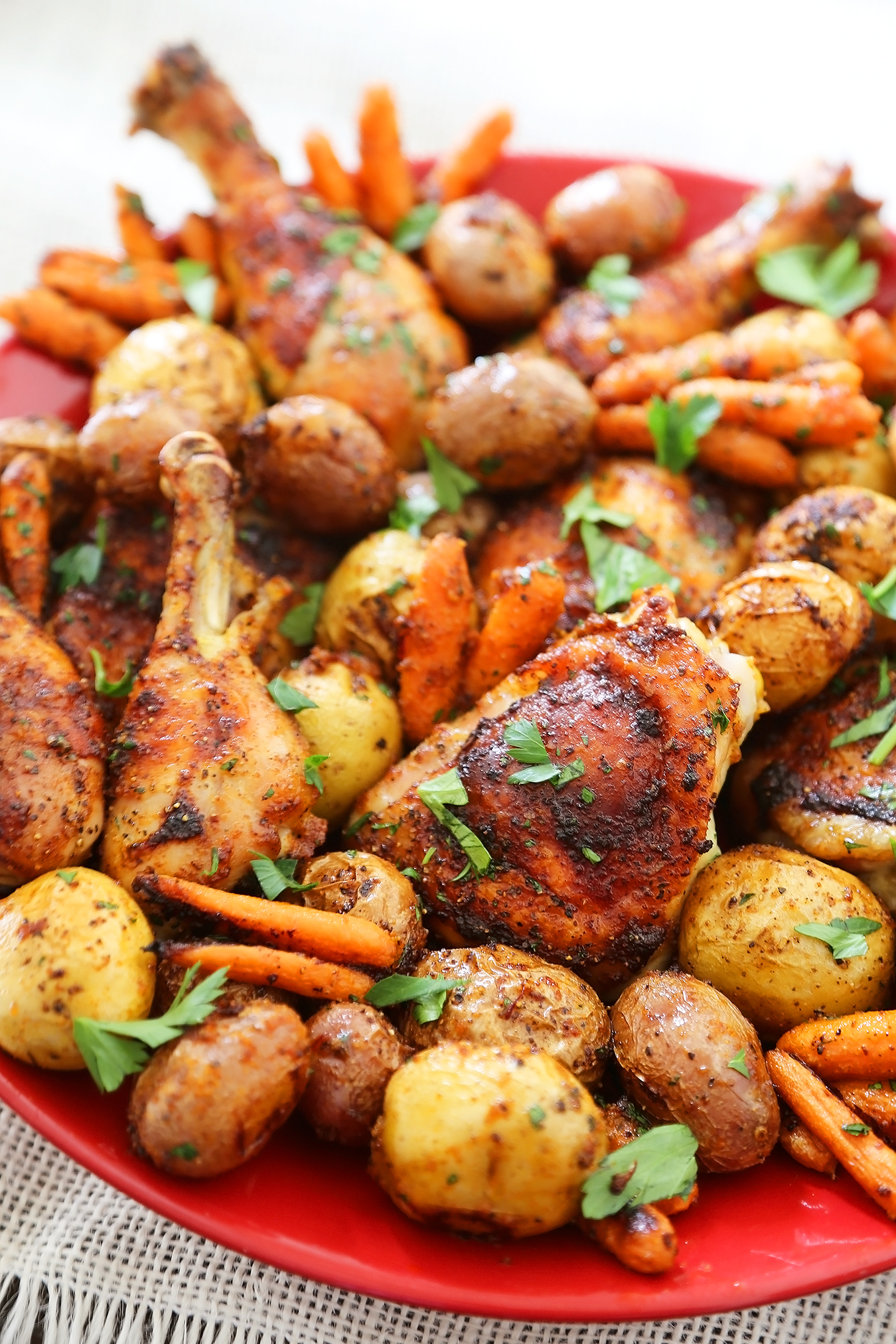 Click here to see more flavor boost recipes from Holland House.
Click here to receive the Holland House Newsletter with great recipes, tips, and coupons.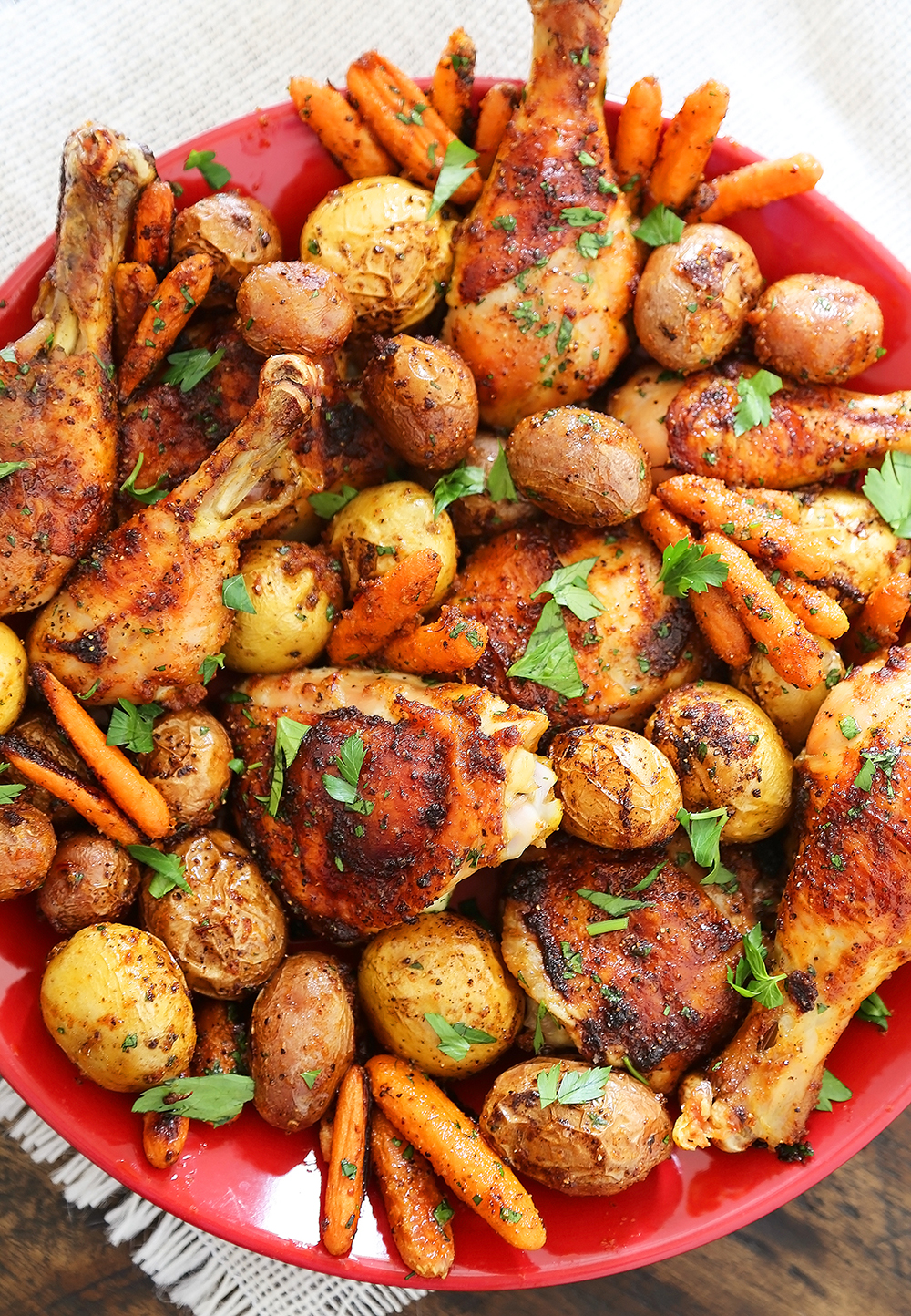 Chili-Garlic Roasted Chicken with Potatoes & Carrots
Ingredients
1-1/2 lb. chicken drumsticks (about 4), bone-in, skin-on
1-1/2 lb. to 2 lb. chicken thighs (about 4), bone-in, skin-on
1 lb. whole baby red potatoes
1 lb. whole baby yellow potatoes
1 cup baby carrots
1/2 cup olive oil
1/4 cup Holland House Sherry Cooking Wine
1 teaspoon garlic powder
1/2 teaspoon chili powder
1/2 teaspoon onion powder
1/2 teaspoon kosher salt
1/4 teaspoon freshly cracked black pepper
Chopped fresh parsley or cilantro, for garnish, optional
Instructions
Preheat oven to 400 degrees F. Line a large baking sheet with parchment paper or foil. Coat generously with nonstick cooking spray, or additional olive oil.
Arrange chicken pieces, potatoes and carrots together in the pan.
In a small bowl, combine olive oil, sherry, garlic powder, onion powder, salt and pepper. Whisk to blend thoroughly. Pour over the chicken and vegetables, rubbing in to coat evenly.
Bake for 1 hour, or until chicken is fully cooked and juices run clear, and vegetables are tender. Once cooked, remove chicken and vegetables to a serving platter.
Enjoy!
Notes
Disclosure: This is a recipe created for Holland House Cooking Wines and Vinegars. I was compensated for my time but all opinions are my own.