My husband may be a savory breakfast person, but on my side of the table there's got to be a little sweetness. Whether with fresh fruit or muffins, or even just a flavorful cinnamon tea, I love to wake up to a weekend breakfast on the sweet side.
One of my favorite indulgences is quick bread. It's just that – quick! Not to mention easy and always delicious. Some of my favorites have been my Mini Gingerbread Loaves and Lemon-Blueberry Breakfast Bread but this marbled bread, my first ever, really takes the cake. Er… bread.
All it involves is making a simple vanilla cake batter, then pouring half into another bowl and whisking in melted chocolate. The marbling effect is the result of spooning the batters into a loaf pan alternately, then swirling a skewer through the batter to achieve ribbons of chocolate and vanilla wonderfulness.
Enjoy this easy and mouthwateringly moist bread some slow morning, or as an after-dinner treat with some fruit, cream or powdered sugar. It's sure to be delicious any way you devour it!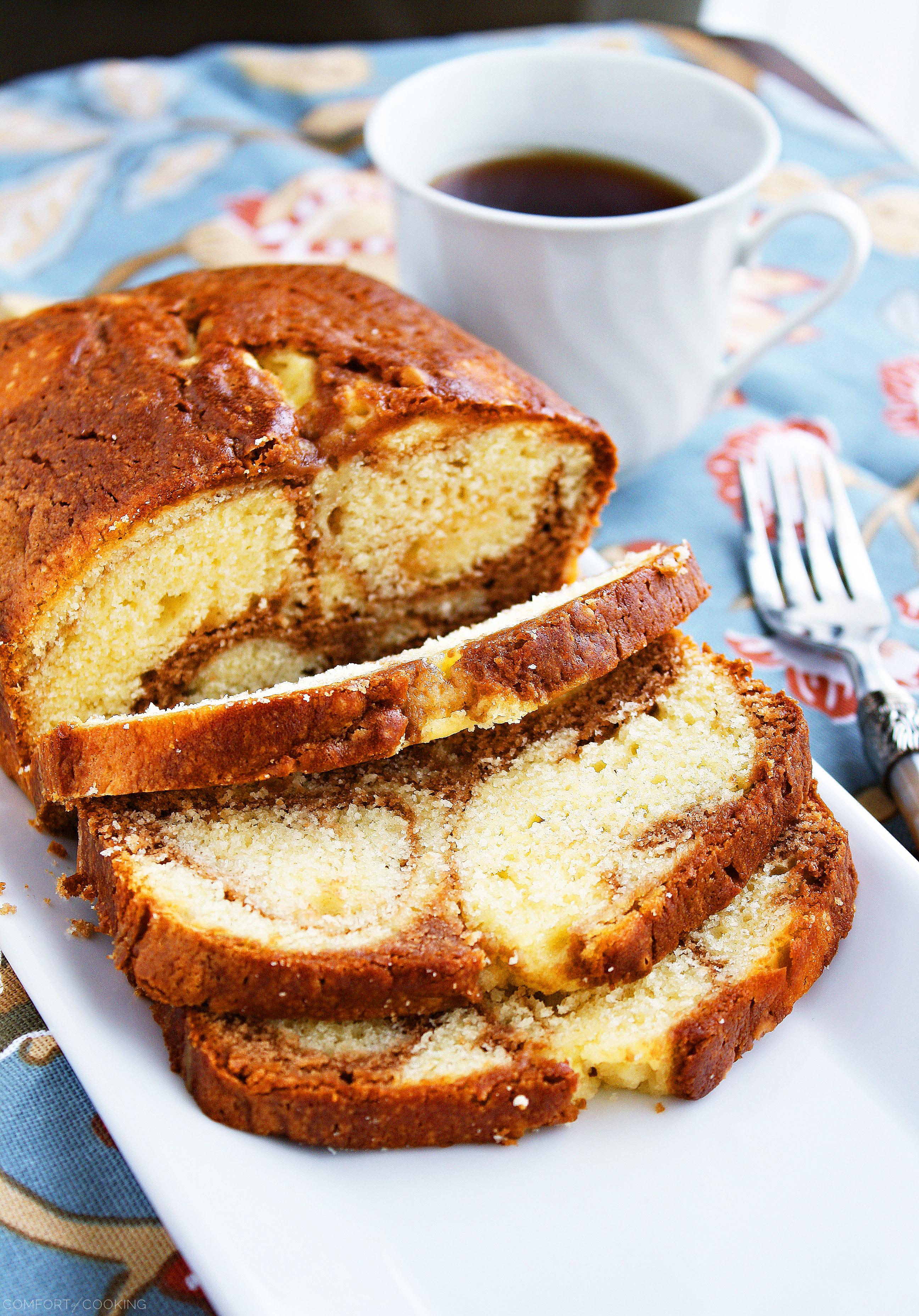 Chocolate-Vanilla Marbled Bread
Ingredients
4 ounces semisweet or bittersweet chocolate, chopped
1/2 cup milk, divided
1 1/2 cups all purpose flour
2 teaspoons baking powder
1/4 teaspoon salt
1/4 cup sour cream or plain yogurt
1/2 cup unsalted butter, room temperature
3/4 cup plus 2 tablespoons granulated white sugar
2 large eggs
1 teaspoon pure vanilla extract
Instructions
Preheat oven to 325 degrees F and place rack in the center of the oven. Butter and lightly flour a 9 x 5 x 3 inch loaf pan. Line the bottom of the pan with a strip of parchment paper.
Melt the chocolate with 1/4 cup of the milk in the microwave, on high, stirring every 15 seconds until smooth. Set aside.
In a separate bowl, whisk the flour with the baking powder and salt.
In a small bowl, whisk the sour cream with the remaining 1/4 cup milk, and the vanilla extract.
With an electric or hand mixer, beat butter and sugar until light and fluffy. Beat in eggs one at a time. On low speed, alternately add the flour mixture and sour cream/milk mixture. Spoon half of the batter into a separate bowl. Add the melted chocolate mixture to one half of the batter and fold in.
With two spoons, place spoonfuls of the two mixtures into the prepared loaf pan alternately (chocolate, white, chocolate, etc.). Run a wooden skewer or knife through the two batters to achieve a marbled effect. Don't over mix.
Bake for about 50 - 55 minutes or until a toothpick inserted in the center comes out clean.
Remove from oven and place on a wire rack to cool for 10 minutes before removing from pan.
Enjoy!