Usually, I just have some cereal and fruit for breakfast, but on mornings when I want something warm and sweet, I'll bake up a batch of cinnamon rolls, muffins, or a danish pastry like this one. It's fluffy, super flavorful with a mixture of ricotta and orange zest, and a cinch to whip up for a delicious morning meal… especially if you're feeding a crowd!
The recipe for this decadent and yummy cheese danish is originally from Sargento, but I have also included it below.

After whisking together a combination of egg, sugar, butter, flour, vanilla and Sargento Part-Skim Ricotta Cheese, the filling was ready in no time. Plus, with some shiny new, commercial-grade kitchen tools provided to me by Smart & Final, the process of putting the pastry together was easier than I imagined. Who knew that their First Street line carried such nice kitchen equipment?
The heavy, sturdy whisk was really quick at combining all of the ingredients, and I found a good use for the sharp, sturdy pastry scraper…

… Cutting the puff pastry dough!
Exciting stuff. Are you on the edge of your seat?
I had also been needing a mini sieve like this one, which is nice for little jobs like sifting powdered sugar. I could easily rest this sieve over a small bowl and sift the sugar into orange juice to create an orange glaze for the top of the pastry.
After baking for 25 minutes, the danish was puffed up and gorgeous golden brown. Topped with the orange glaze and a sprinkle of chopped walnuts, it was a little slice of heaven to start the day right! When I have family and friends visit this summer, I will definitely want to make this for them, and I know your family and friends would enjoy it, too.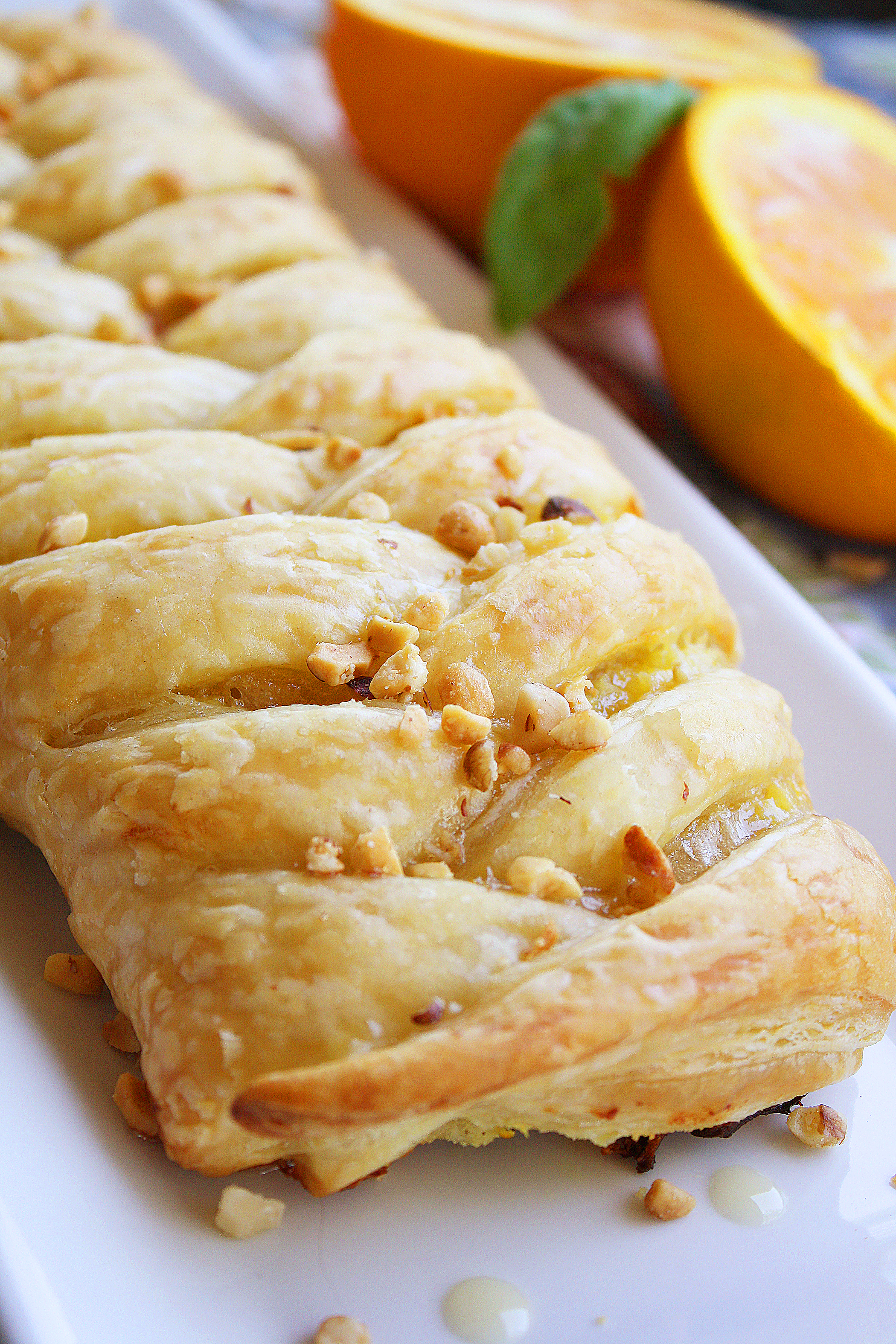 Orange Cheese Danish Pastry
Yield:
2 danish pastries; Serves 10
Ingredients
1 cup 8 oz. Sargento® Part-Skim Ricotta Cheese
1/3 cup sugar
1 egg
2 Tbsp. butter, softened
1 Tbsp. all-purpose flour
2 tsp. grated orange rind
1/2 tsp. vanilla
2 sheets (1 lb.) frozen puff pastry dough, thawed
1/2 cup confectioners sugar
1 Tbsp. orange juice
2 Tbsp. chopped walnuts or sliced almonds, optional
Instructions
Combine cheese, sugar, egg, butter, flour, orange rind and vanilla in large bowl. Beat with a whisk, or an electric mixer on medium speed, until well blended.
Unfold pastry into rectangle; place on baking sheet. With a sharp knife or pastry scraper, make 2-inch-deep cuts at 1-inch intervals on long sides of pastry. Spread cheese mixture down center 3 inches of pastry. Crisscross strips over filling, alternating sides and bringing strips all the way across filling.
Bake in preheated 400°F oven 25 minutes or until bottom is golden brown.
Cool on wire rack. With a sieve, sift confectioners sugar over a bowl of orange juice and mix until smooth. Drizzle mixture over pastry; sprinkle with almonds or walnuts (optional).
Enjoy!