This delicious deep dish pizza is one of my favorite weeknight and weekend meals to make, because with my pizza dough made ahead of time, it's so quick and easy! And who wants to spend more time than necessary slaving over the stove any day of the week?
Once every few weeks, I'll make a big batch of pizza dough and store individual portions in the freezer for later. Then, later in the week I'll be fishing through there for some meat or whatever, and oh, would you look at that! It's a little surprise bundle of pizza dough all wrapped up and ready to be ravaged with toppings. Dinner is decided!
All you need to do is stretch out the dough a little, top it with diced tomatoes and freshly grated mozzarella, and go wild with whatever toppings you like. I used crumbled sautéed sausage and Italian spices, but feel free to use what you like – ham, green peppers, chicken, olives, proscuitto, pineapple. The options are endless!
After baking for just half an hour, the pizza crust is perfectly crisp, the cheese is gooey, and the sausage and herbs are melted all together in a medley of deliciousness. Served with a little spinach and tomato salad (or if you're feeling a little naughty, no salad. I won't tell) with a balsamic dressing, this simple and scrumptious meal will have you going back for seconds!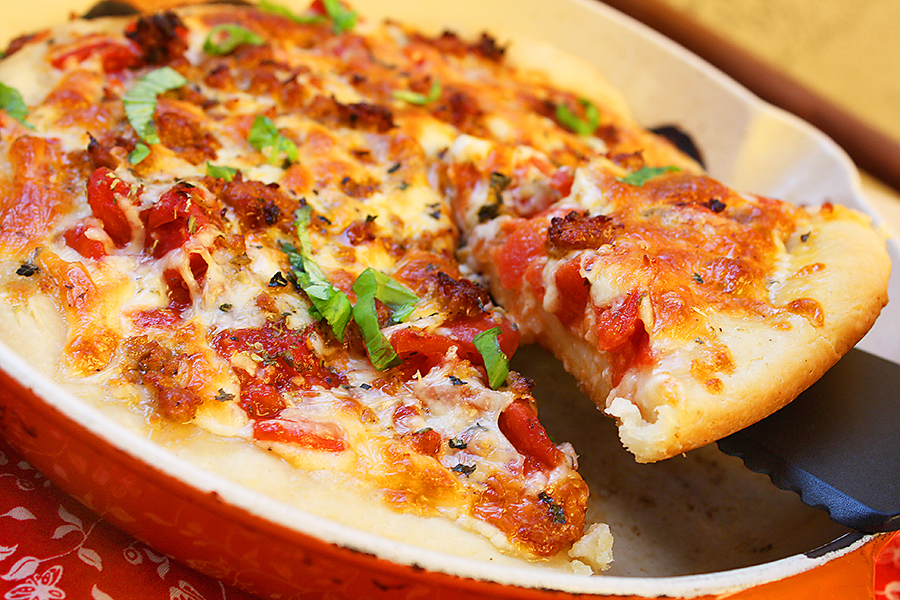 Deep Dish Sausage Pizza with Spinach Salad
Ingredients
3 1/2 tablespoons olive oil, divided
6 ounces Italian sausage, casings removed
12 ounces pizza dough, homemade or store bought, room temp
1/2 pound mozzarella, grated (2 cups)
1 14.5- ounce can diced tomatoes, drained
1/2 teaspoon dried oregano
2 bunches spinach, about 8 cups
2 large tomatoes, cut into small chunks
1 tablespoon balsamic vinegar
Salt and black pepper
Instructions
Add 1 tablespoon olive oil to a pan and cook sausage over medium heat until browned, 6-7 minutes. As it cooks, break the sausage into crumbles with a potato masher (this makes it much easier!) or large spoon. Drain on a paper towel-lined plate and set aside.
Heat oven to 400° F. Coat a 9-inch oven-proof skillet or cake pan with 1 ½ tablespoons of the oil. Stretch and press the dough into the pan, covering the bottom and sides. Top with half the mozzarella, then the tomatoes, oregano, and remaining mozzarella.
Scatter the crumbled sausage over the pizza. Bake until the crust is golden brown, 30 to 35 minutes.
Meanwhile, in a large bowl, toss the spinach with the tomatoes, vinegar, the remaining tablespoon of oil, ½ teaspoon salt, and ¼ teaspoon pepper. Serve with the pizza.
Enjoy!