Did you have a nice weekend? We did. It was a mix of fun, strange and just plain laughable. Saturday was spent packing boxes in pajamas for our move in three weeks… and later, Mark rescuing me from THIS:
This was the actual size of the terrifying, deathly creature.
To recover from this traumatizing event, Sunday was a nice day at the beach, splashing around in the freezing cold Pacific and eating strawberries in the sand. Then, Mark dumped half a bucket of white paint on our carpet, my desk chair and my clothes (Way to go, honey). But I just couldn't forget about that spider and its satisfying but untimely death…
So, for his bravery, I made my darling hero a cupcake. His very own.
And, of course, one for me too. You know, for surviving through the whole thing without collapsing in fear onto the floor.
This recipe from Jessica at How Sweet It Is grabbed my attention a while ago, and I was saving it for a special occasion. That is, one where I was only craving one cupcake and not a dozen, and actually wanted to share. Good for my husband, that moment finally arrived!
With much smaller measurements of your standard cupcake ingredients (flour, sugar, butter, egg, etc.) and 15 minutes, your cupcake cravings can be completely quenched! These little guys were perfectly fluffy, sweet, and full of delicious vanilla flavor. Oh, and also GONE in under a minute. We don't waste time in this household.
These "his and hers" cakes were a sweet celebration for one of life's little victories, and I highly recommend them to satisfy a quick craving or toast to a two-person occasion of your own.
…Now to make him do something else brave so we can celebrate again!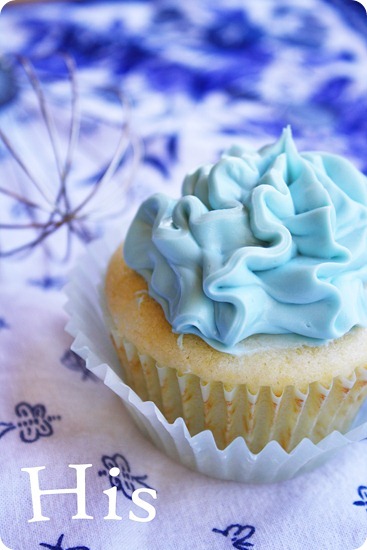 One Bowl Vanilla Cupcakes for Two
Ingredients
Nonstick cooking spray
1 egg white
2 tablespoons sugar
1 teaspoon vanilla
2 tablespoons butter, melted
1/4 cup flour
1/4 teaspoon baking powder
pinch of salt
1 1/2 tablespoons milk
Instructions
Preheat oven to 350 degrees. Line a muffin pan with 2 liners and spray with nonstick cooking spray.
In a bowl, add egg white and sugar and whisk until combined. Add in vanilla and melted butter and stir until mixed. Add flour, baking powder and salt and stir until smooth. Stir in milk. Divide batter equally between the 2 cupcake liners.
Bake at 350 for 12-15 minutes, or until cake is set. Let cool completely, then frost as desired. I used vanilla frosting mixed with blue and pink food coloring, and piped it on with a Wilton 1M tip.
Enjoy!