I've never been one to jump at the pecan tarts or pumpkin pie for Thanksgiving dessert. They're not for me. However, if there's one thing I can't resist, it's cake.
Oh, cake. Sigh.
It may just be the holiday spirit igniting inside me, but this cake has given my favorite flavor (yellow cake – I know, it's boring) a swift kick to the curb. The texture is moist and perfectly crumbly, the flavor subtly pumpkin and a bit of gingerbread, and topped with homemade cream cheese frosting the cake just melts in your mouth. Then, before you know it, you've gone back for seconds, and thirds, and… well, let's just skip to sevenths.
Best of all, this isn't complicated. All you need is a box of spiced cake mix, a packet of vanilla pudding mix, pumpkin puree, oil, water, eggs and spices. The dry and wet ingredients go all into one bowl, and once it starts baking your home is filled with the aroma of warm cinnamon, cloves and pumpkin oozing together to create one marvelous and festive cake!
Now, excuse me while I go devour a slice for breakfast…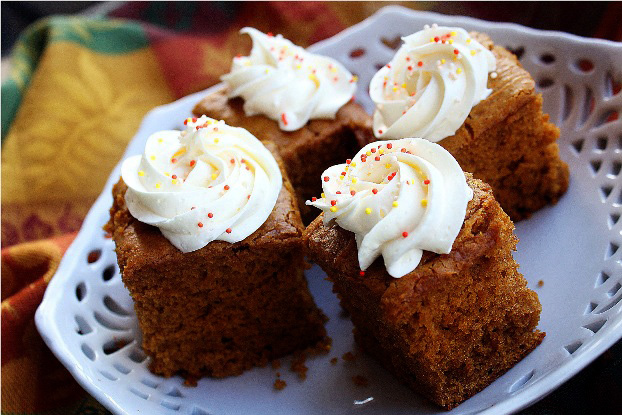 Pumpkin Gingerbread Cake with Spiced Cream Cheese Frosting
Ingredients
Spiced Pumpkin Cupcakes:
1 package (18 1/4 ounces) yellow or spiced cake mix
1 package (4-serving size) vanilla instant pudding mix
1 cup pumpkin puree
1/2 cup oil
1/2 cup water
3 eggs
1 1/2 teaspoons cinnamon, ground
1 teaspoon ground ginger
1 teaspoon cloves, ground
1 teaspoon pure vanilla extract
Spiced Cream Cheese Frosting:
1 package (8 ounces) cream cheese, softened
1/4 cup (1/2 stick) butter, softened
1 teaspoon vanilla extract
1/4 teaspoon ground cloves
2 cups confectioners' sugar
Instructions
Spiced Pumpkin Cupcakes:
Preheat oven to 350°F. Beat all ingredients, except Spiced Cream Cheese Frosting, in large bowl with electric mixer on low speed just until moistened, scraping side of bowl frequently. Beat on medium speed 2 minutes or until well blended.
Pour into greased and floured 13x9-inch baking pan.
Bake 30 to 35 minutes, or until toothpick inserted in center comes out clean. Cool in pan on wire rack. Spread with Spiced Cream Cheese Frosting (recipe follows).
Spiced Cream Cheese Frosting:
Beat cream cheese, butter, vanilla extract, and ground cloves in large bowl until light and fluffy. Gradually beat in confectioners' sugar until smooth.
Enjoy!