I think it's funny that food plays a big part of so many important occasions in the world. Take, for example, ham for Easter, cakes on birthdays, turkey on Thanksgiving. There's nothing better than sharing a big meal around a table with your family and friends. However, I like to commemorate the everyday occasions in life with a little celebratory something, too; in this case, peanut brittle for my mom and stepfather. They just moved to Tampa. They're filled with stress and constant decision-making, and frankly, they could use some candy.
I just recently learned that this is one her favorite treats that she only rarely indulges in, and there's nothing I like more than spoiling the people I love! So, off to Florida went a big bag of this homemade candy, along with a quirky antique store find, to welcome them into their new home.
So, for those of you interested in making this sweet treat, you'll be happy to know that it is so ridiculously easy. This stuff also has the power to turn unsure peanut brittle novices into peanut brittle lovers. It sure did for me!
All it takes is a cookie sheet and a saucepan; no candy thermometer necessary (I just used a regular old kitchen thermometer). You are essentially making caramel with sugar, corn syrup, salt, and water, then adding the peanuts, butter and baking soda towards the end. Once it's got a nice, warm color to it, onto the sheet and into the fridge it goes. Give it about half an hour to harden, then munch on your delicious candy confection, or share it with someone you love!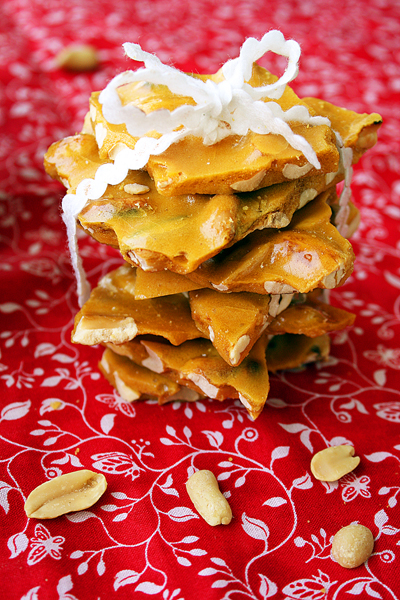 Peanut Brittle
Ingredients
1 cup white sugar
1/2 cup light corn syrup
1/4 teaspoon salt
1/4 cup water
1 cup peanuts
2 tablespoons butter, softened
1 teaspoon baking soda
Instructions
Grease a large cookie sheet. Set aside.
In a heavy 2 quart saucepan, over medium heat, bring to a boil sugar, corn syrup, salt, and water. Stir until sugar is dissolved. Stir in peanuts. Set candy thermometer in place, and continue cooking. Stir frequently until temperature reaches 300 degrees F (150 degrees C), or until a small amount of mixture dropped into very cold water separates into hard and brittle threads.
Remove from heat; immediately stir in butter and baking soda; pour at once onto cookie sheet. With 2 forks, lift and pull peanut mixture into rectangle about 14x12 inches; cool. Snap candy into pieces.
Enjoy!