Because it was warming up in Los Angeles recently after a week of wind-whipping cold, I started craving an apple dessert to make me feel like it was fall again. In my mind, I pretended the fireplace was roaring and I was wrapped in a big, soft blanket. But, inside, I begged for the weather to give me snow or hail, or something besides sunny!
Then again, I liked having a casual breakfast of eggs benedict and coffee on an outdoor restaurant patio last Saturday morning. So, forget the hail.
But, let's stay on point. Fall is the best season ever, and eating apples is the best way to celebrate it. Especially when the apples are embedded between layers of flaky, buttery pie crust.
I whipped this up in, literally, ten minutes, and you can too. Take one 9-inch pie crust, roll it out, cut up an apple, toss the slices in a bowl with a little brown sugar, cinnamon and nutmeg, and give it about five minutes to sit. Dump the apples in the center of the pie crust and fold it up. Brush with egg wash, sprinkle with sugar and bake.
After about 20 minutes, you have yourself a warm, gooey apple galette that goes great with a scoop of vanilla ice cream. And it was even easier than your typical apple pie, but it tastes the same.
Even if it isn't cold where you are quite yet, consider having a fake fall night like I did! Crank the air conditioning, wrap yourself in a blanket and cozy up with a delicious, flavorful dessert like this apple galette! Your electric bill won't thank you, but I will.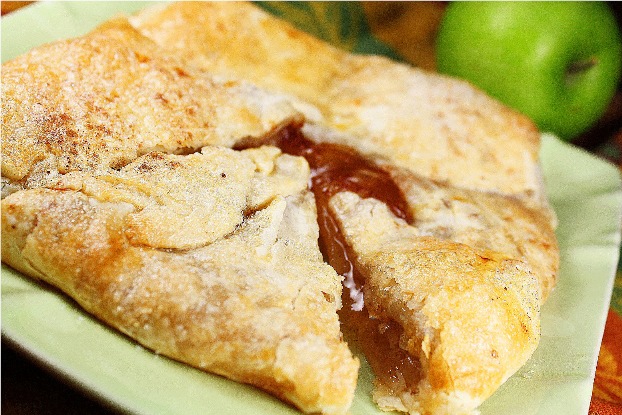 Apple Galette
Ingredients
1 9-inch pie crust, homemade or store-bought, thawed
1 apple, peeled, halved and cut into chunks or sliced
1 tsp. brown sugar
1/2 tsp. cinnamon
1/4 tsp. nutmeg
1 egg
1 tbsp. water
1/2 tsp. granulated or coarse sugar
For topping:
Whipped cream
Vanilla ice cream
Instructions
Heat oven to 400°F. Line a cookie sheet with parchment paper.
Peel, halve and cut apple, and toss slices with brown sugar, cinnamon and nutmeg in a medium bowl. Set aside.
Unfold pie crust and roll slightly on a floured board with a lightly floured rolling pin. Add apple slices to the middle of the pie crust, and gently fold the sides of the pie crust inward.
Whisk egg and water, and lightly brush over the crust. Sprinkle crust with sugar.
Bake for 18 to 22 minutes, or until crust is golden brown and apples are tender. Cool 5 minutes. Serve with whipped cream or vanilla ice cream.
Enjoy!