Just 4 ingredients, creamy, fruity and delicious! Put a colorful twist on homemade popsicles by adding yogurt, strawberries and blueberries for a guilt-free treat. 🍓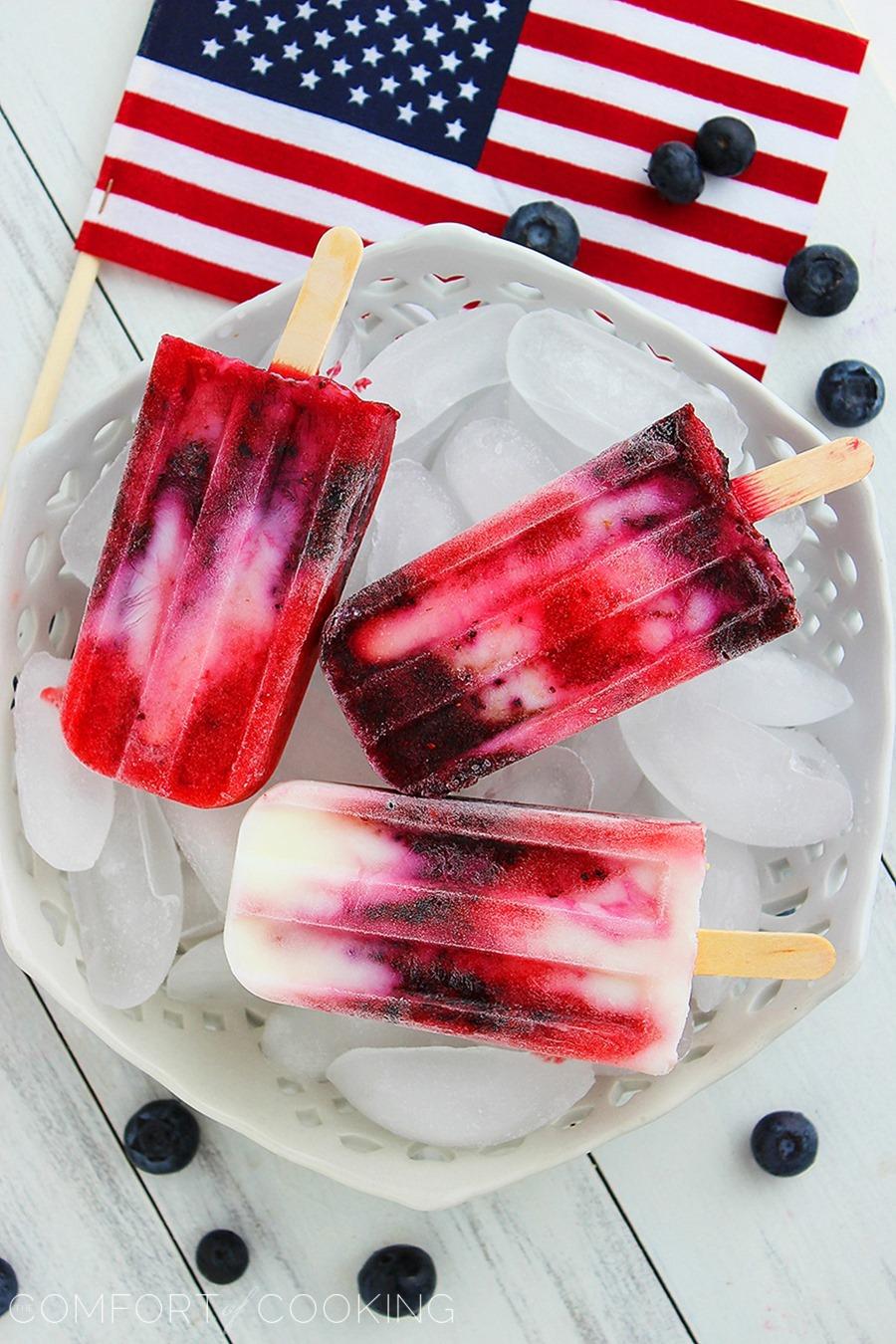 I just love July 4th. I mean, seriously, what's not to love?
You get to have a fun, casual get-together with friends, let your hair down, gnaw on saucy ribs and potato salad, maybe splash around in a pool or stretch out in the grass with a cold cocktail… and then, suddenly, your breezy barbecue is capped off with a BOOM – huge, sparkling fireworks that light up the night sky! After a little clapping (and yawning), you round up your things, hug goodbye and drag your heels home like a kid leaving a playground.
It's just the best day of the whole summer and I love it, mosquito bites and all. Can you tell?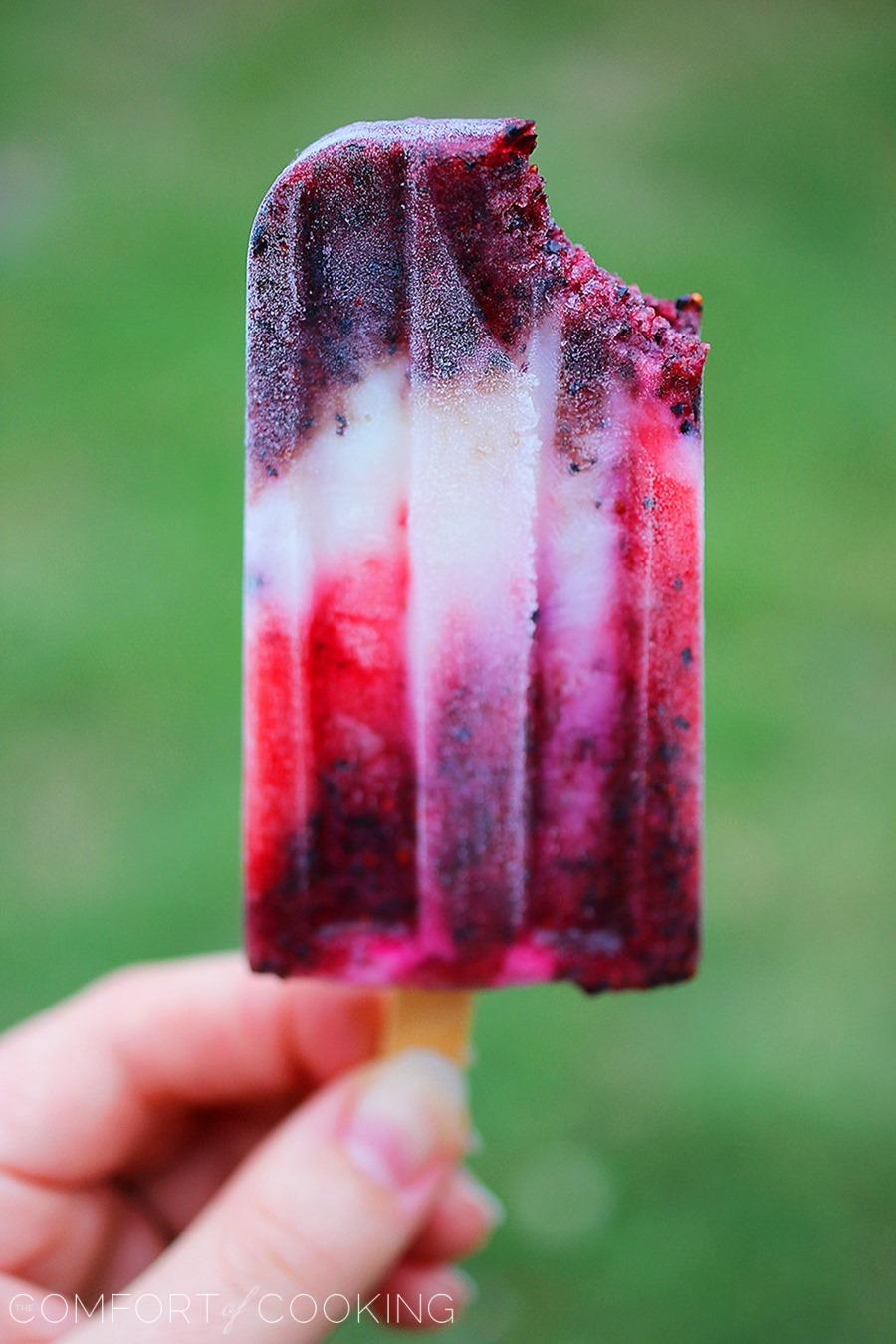 It's also the perfect time of year for frosty, fruity berry popsicles like these ones with just four ingredients – strawberries, blueberries, plain yogurt and a little sugar. These tart and sweet treats are lots of fun to make and fabulously colorful for showing your patriotic spirit in a pretty, delicious way!
Just puree your two berries separately and add the puree to separate bowls. Add a little plain yogurt to another bowl, and in goes the sugar. You can even mix in an extract, like lemon, coconut or vanilla, with the yogurt to enhance the flavor with something unexpected! Pour the three mixtures into your popsicle molds, alternating after every pour, and then slip in your popsicle sticks. Into the freezer they go for about 3 hours, and voila! You have yourself an icy cold, guilt-free frozen yogurt treat for those sticky hot days.
… And here in Austin, we have no shortage of those!
I hope you enjoy this recipe and stay cool in the summer heat, foodie friends! Let me know in the comments what your favorite frozen treat is this time of year. I always love reading your feedback. It inspires me!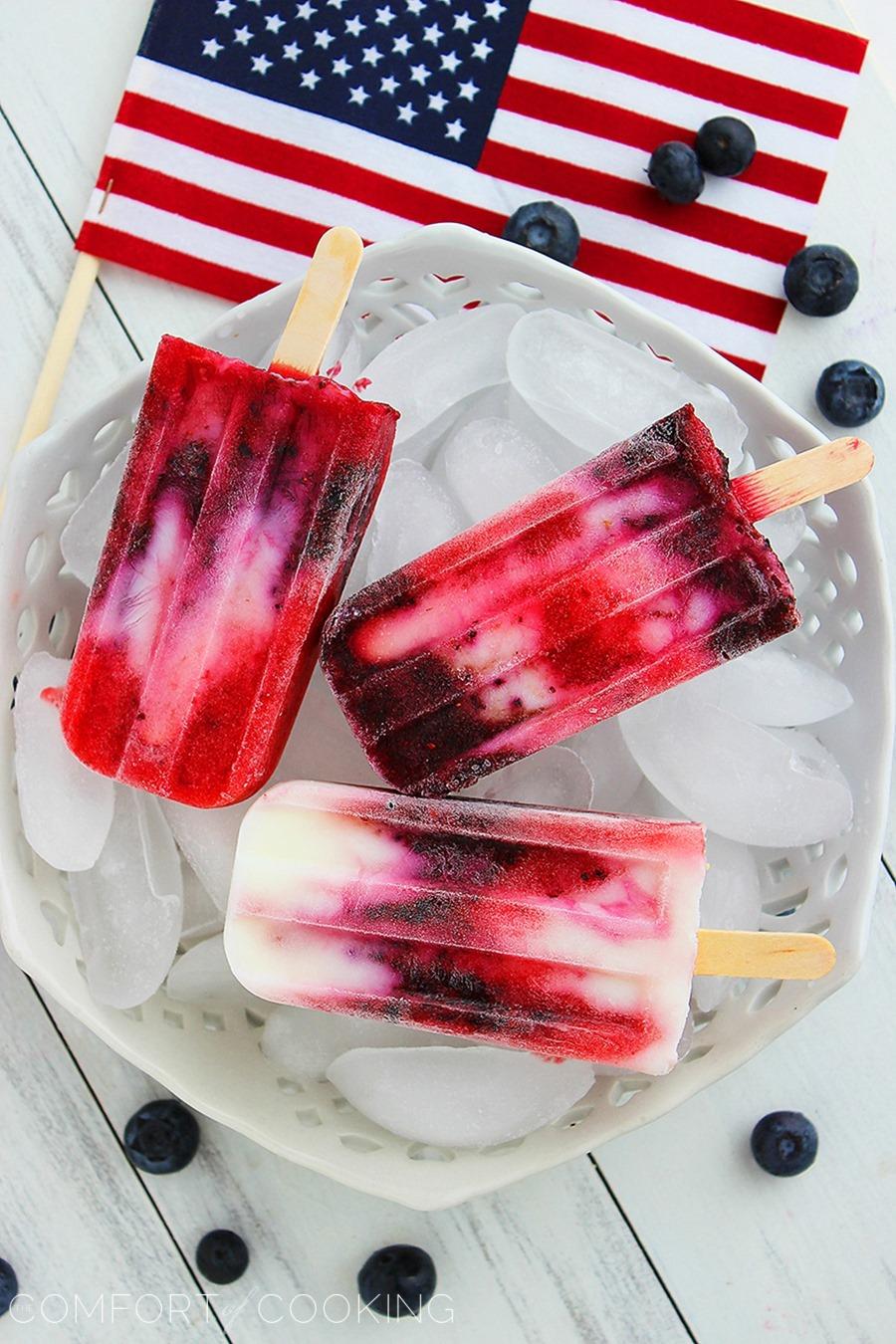 Firecracker Berry Frozen Yogurt Pops
Ingredients
1/2 pound strawberries, hulled and quartered (1 1/2 cups)
1/2 pound blueberries, 1 1/2 cups
1 1/4 cups low-fat plain yogurt
2 Tablespoons granulated sugar
Instructions
In a food processor, puree strawberries and blueberries separately, adding each pureed fruit to a separate small bowl. In another small bowl, whisk together yogurt and sugar. Pour the 3 mixtures, alternating, into ten 3-ounce ice-pop molds, making 3 to 5 layers in each. With a skewer or thin-bladed knife, swirl mixtures together in an up-and-down motion. Insert ice-pop sticks and freeze until solid, 2 1/2 to 3 hours.
Enjoy!