My favorite thing to eat in the entire world… Fresh tomato-basil bruschetta, hot out of the oven and ready for devouring. I cannot recommend enough that you make this!
To me, summertime smells like suntan oil and salty sea air, feels like dipping my feet into warm sand, and tastes like luscious tomato bruschetta with creamy mozzarella and fresh basil. Wrap all of those up into one long, lazy day, and you've just described my perfect summer afternoon! What are your favorite summer sensations?
Bruschetta is the epitome of a perfect summer snack, appetizer, or (in my case) meal while my husband is away on a business trip! It is not only easy to make, but absolutely delicious and gorgeously colorful. Anyone you serve it to (even if it's just yourself) will be so impressed and so ready to dig in!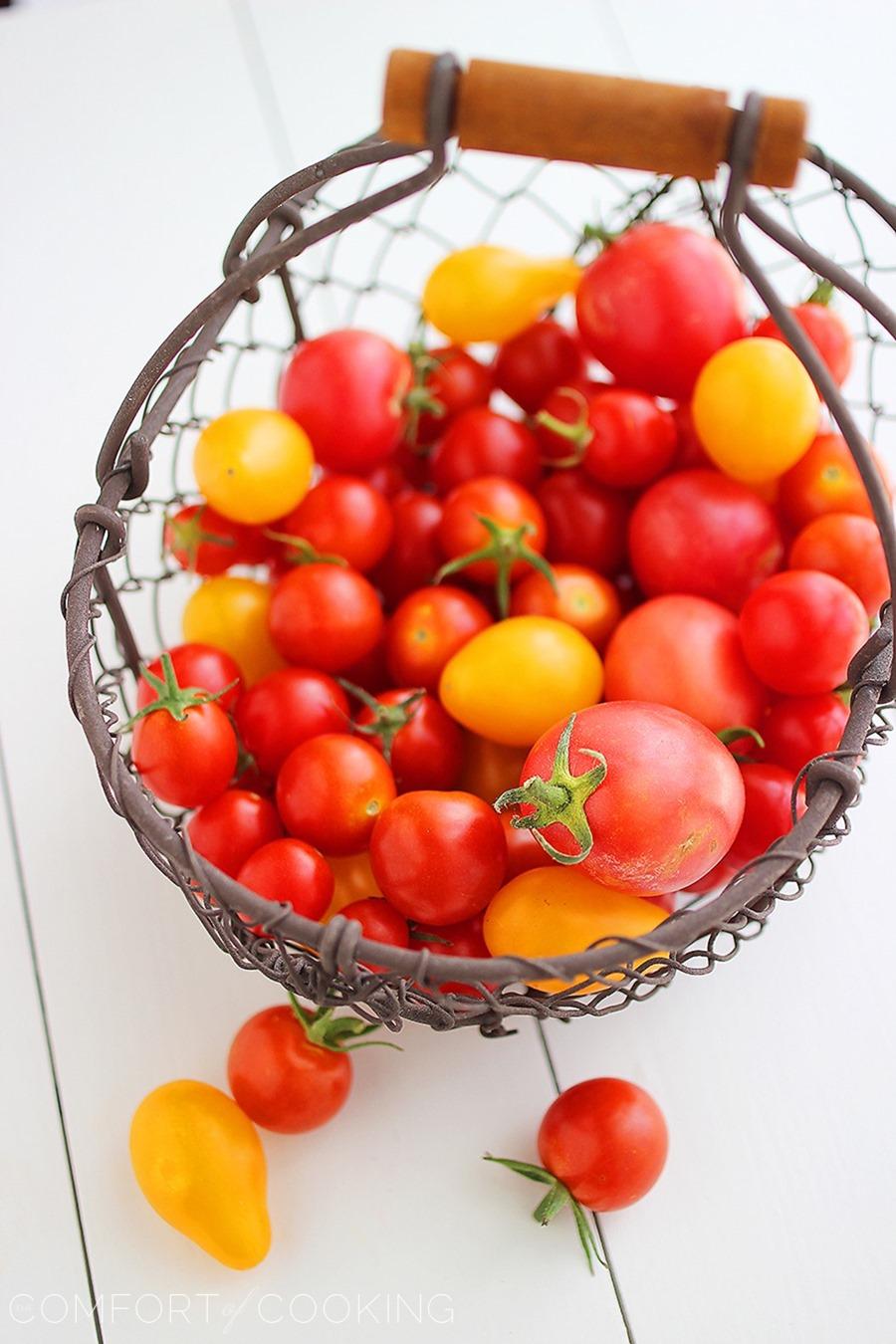 These little red and yellow gems of juicy sweetness were given to me by my neighbor, Brien, one of our first friends here in Austin! We have a pretty good deal going, I'd say… He tosses handfuls of tomatoes to me over the fence and I pass back a plate piled with tasty goodness!
My own tomato plants are trucking right along, but not producing fruit just yet. I'm so looking forward to the day I can pluck them right off the plant and mix them into a delicious salad or sauce!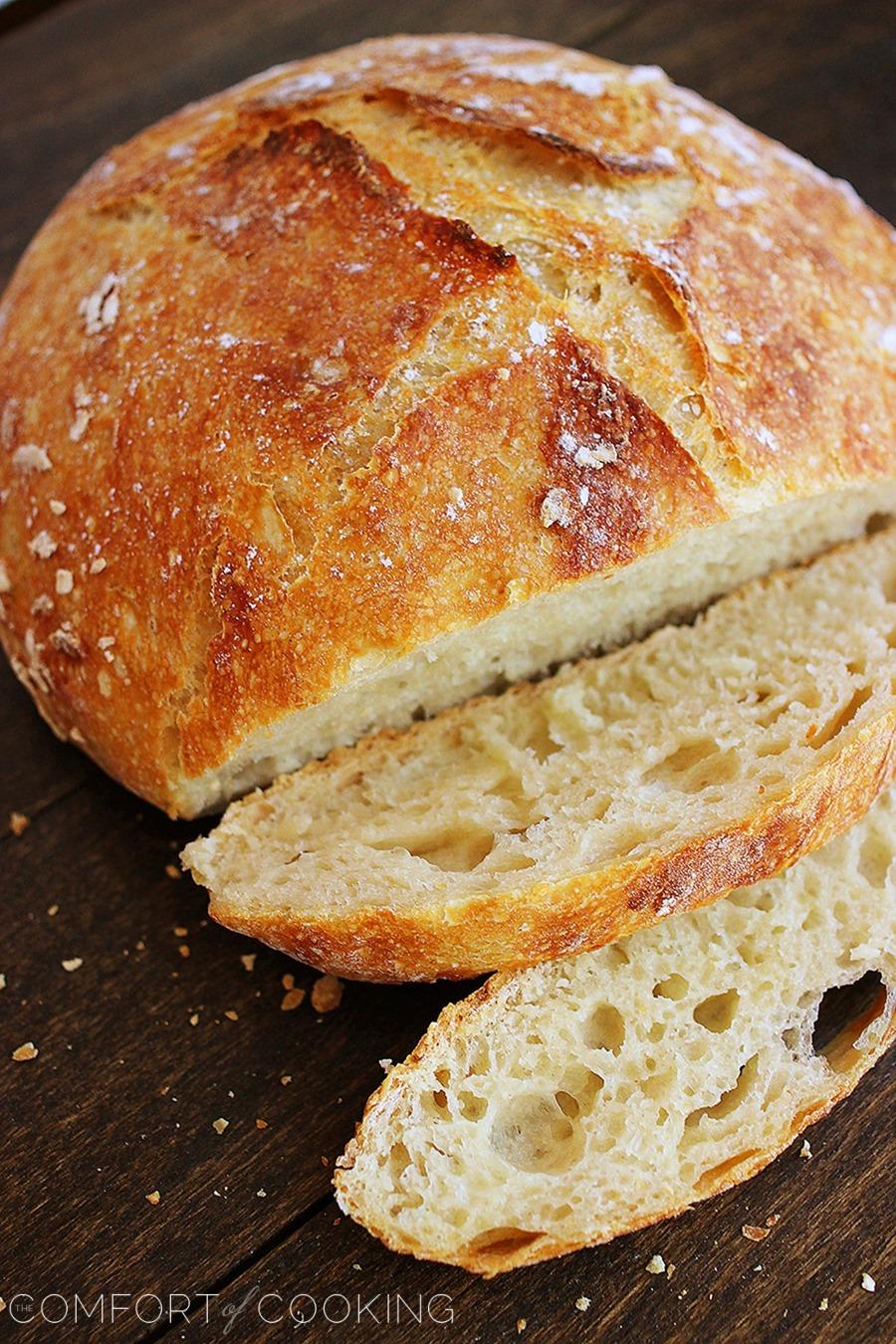 On slices of my soft, crisp No-Knead Artisan Crusty Bread slathered with olive oil, this cheesy bruschetta is just heaven in your mouth. The salty mozzarella and sweet, juicy tomatoes tossed with minced garlic, olive oil, and balsamic vinegar really make for one mouthwatering snack!
Serve up big, honkin' slices if you're just enjoying these with a few friends, or slice 'em in half to bring to a party. Or, you know, TRY to bring to a party. Lack of self control is why we can't bring bruschetta to parties. When tomatoes, basil and mozzarella are in the mix, well… let's just say I don't want there to be any fights over who gets the last piece!
Hint: It's me.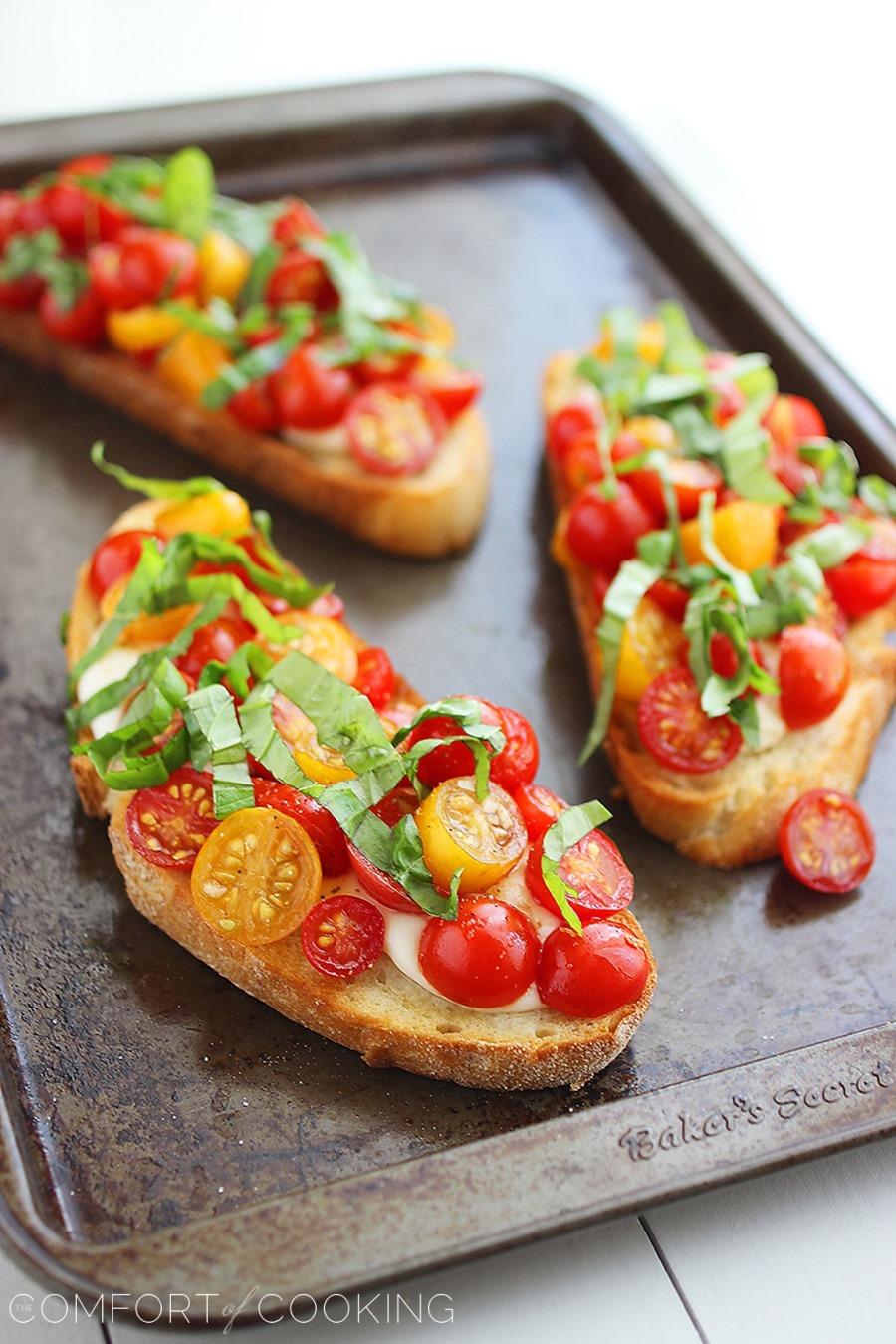 You can also serve this on small baguette slices to really stretch it out for a crowd, but please go for the grape or cherry tomatoes instead of larger ones. The smaller, the sweeter!
The emphasis is all on fresh, quality ingredients in this recipe, so use the best of everything you can find. Have a good olive oil buried in the back of your cabinet? Whip 'er out! Saving a hunk of super-soft mozzarella for just the right recipe? Here's your chance! Top off a big tray of these beautiful bruschetta with fresh basil and dig in while they're hot. Melt. in. your. mouth.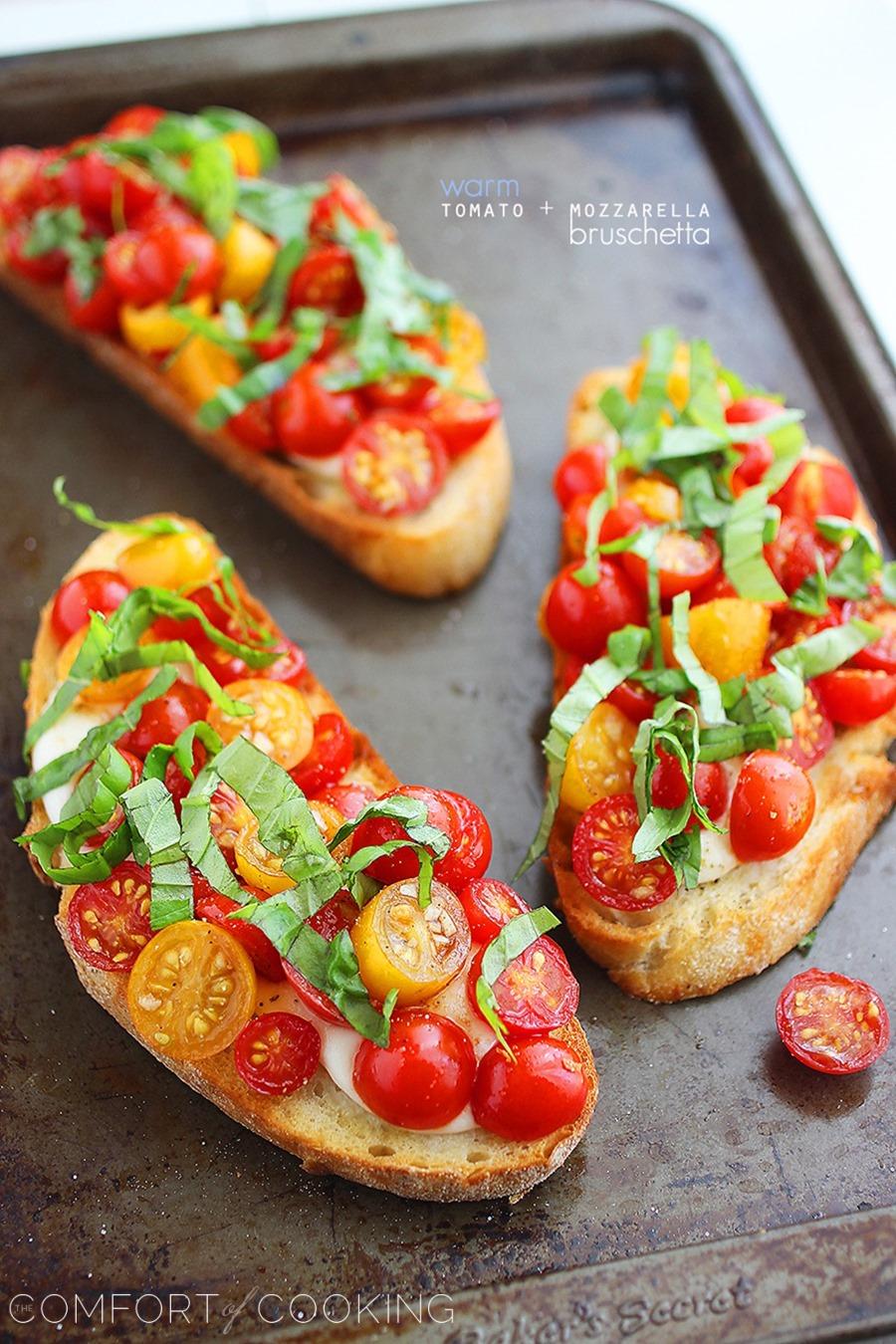 Warm Tomato and Mozzarella Bruschetta
Ingredients
8 slices crusty Italian bread, I used my No-Knead Crusty Artisan Bread recipe*
16 oz. 2 cups fresh cherry or grape tomatoes, halved*
1 large or 2 small garlic clove, minced
2 teaspoons olive oil, plus more for brushing and drizzling
1 teaspoon balsamic vinegar
8 oz. fresh mozzarella, sliced thin (I recommend Galbani Fresh Mozzarella)
1/4 cup packed basil leaves, chopped
Salt and freshly cracked pepper, to taste
Instructions
Preheat oven to 350 degrees F.
Slice bread into thin (about 1/2-inch) slices and place on a baking sheet. Brush the tops of each slice generously with olive oil. Bake for 10 minutes and remove from oven. Maintain oven temperature.
Meanwhile, in a medium bowl, toss tomatoes, garlic, olive oil and balsamic vinegar together until evenly coated.
Once bread slices are warmed, top each with sliced mozzarella and tomatoes. Return bread to the oven for 6-8 minutes to warm and soften tomatoes and mozzarella.
Remove from oven and drizzle each slice with a little olive oil. Sprinkle with chopped basil, salt and pepper. Serve warm.
Enjoy!