You'll never miss a traditional beef or pork meatball after one bite! These crispy, juicy chicken meatballs with mushrooms in a tangy Marsala sauce are the BEST meatballs I've ever made. Cook them for a special dinner in, or stick with toothpicks and serve as party appetizers.
You guys. I am drop dead serious that these are the most delicious meatballs I've ever made! Crispy on the outside, with a tender, juicy inside and a tangy-salty Marsala wine glaze. Over a bowl of hot pasta, these are heaven on a plate. You would never believe you're eating chicken!
Even my husband, who less-than-loves mushrooms, went for seconds. But the leftovers were all mine for lunch next-day. Because the cook deserves a hearty homemade lunch of leftovers, and that's just the truth.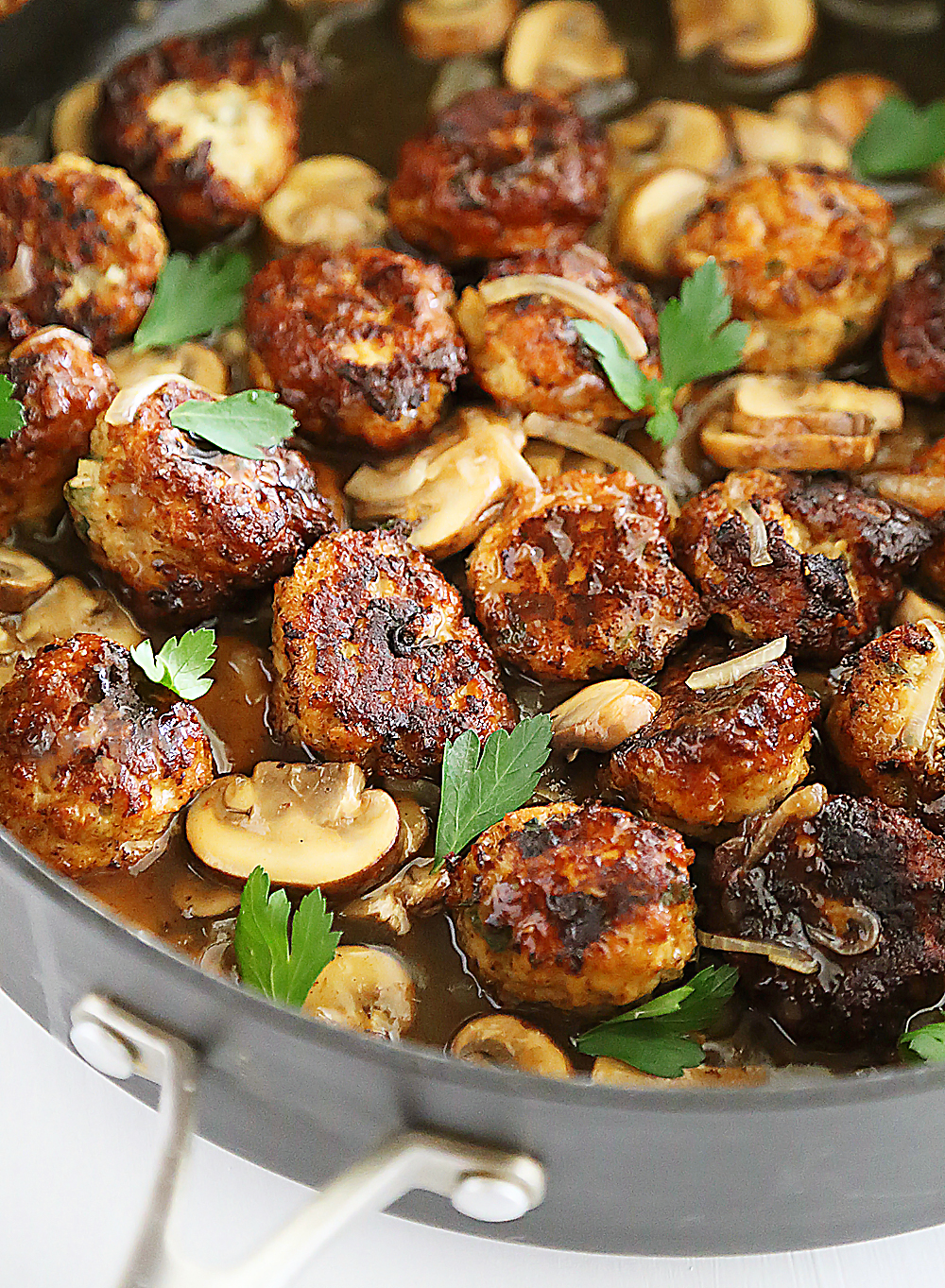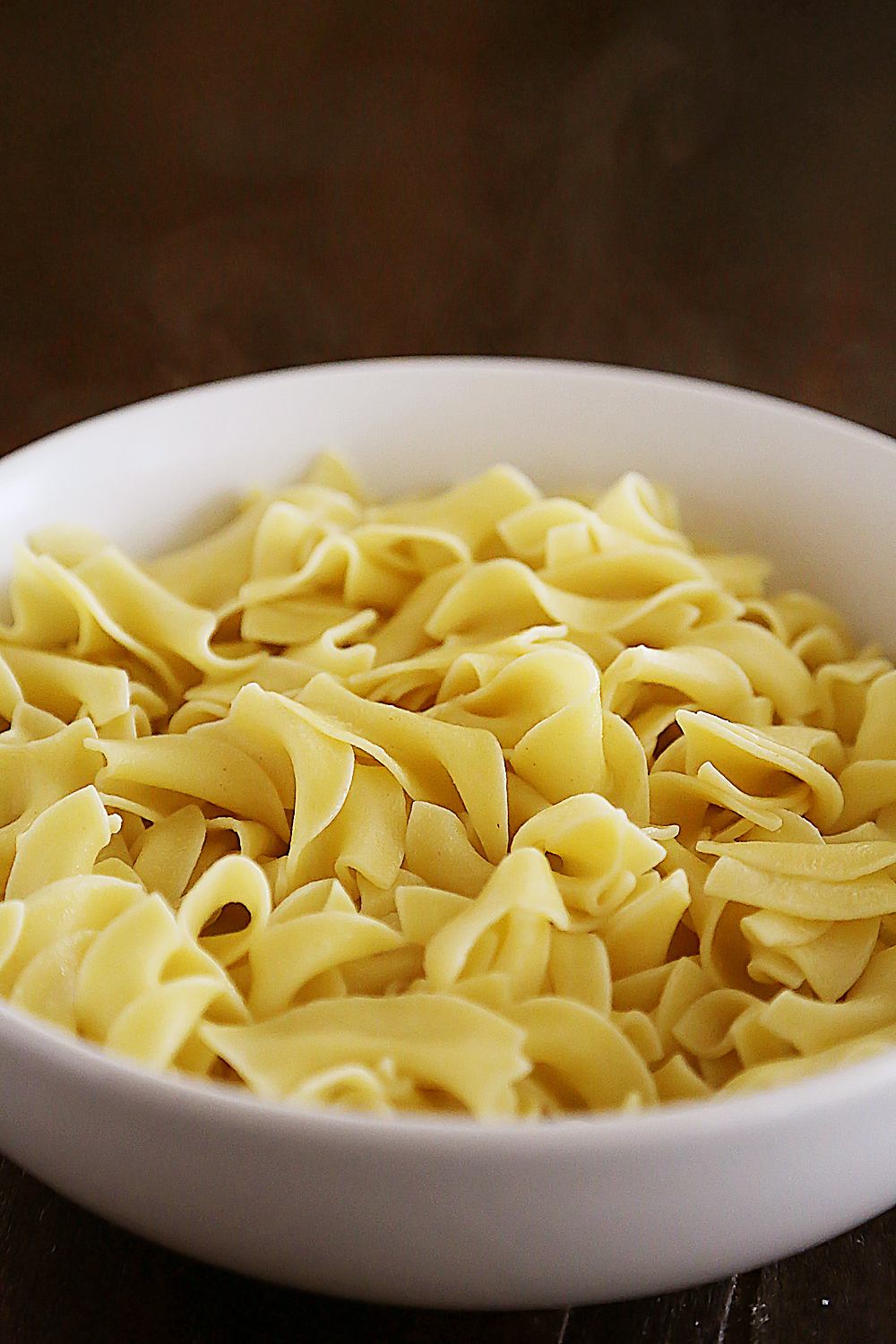 Mixed with Parmesan, cottage cheese or ricotta, garlic, and earthy nutmeg, these chicken meatballs are super scrumptious and full of flavor. I like to fry mine in a sizzling hot pan, then finish them in the oven for the perfect crispy-tender texture. Buttery soft mushrooms in a rich sauce made with Holland House Marsala Cooking Wine makes these meatballs incredibly irresistible.
Sprinkle with fresh chopped parsley for a bit of fancy, or stick with toothpicks and serve as appetizers at your next shindig. You and your dinner (or party) guests are bound to go for seconds, and maybe even thirds, just like we did!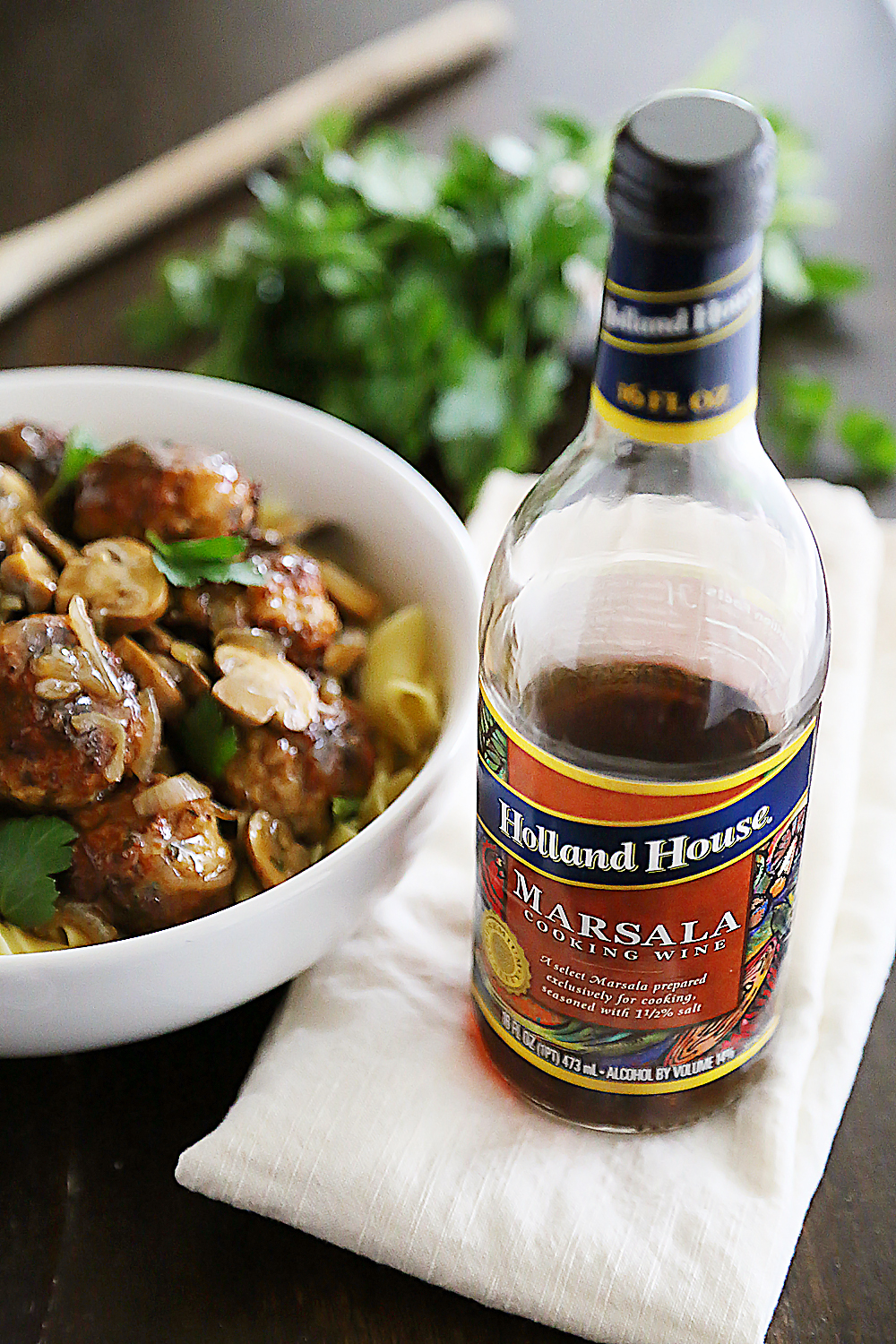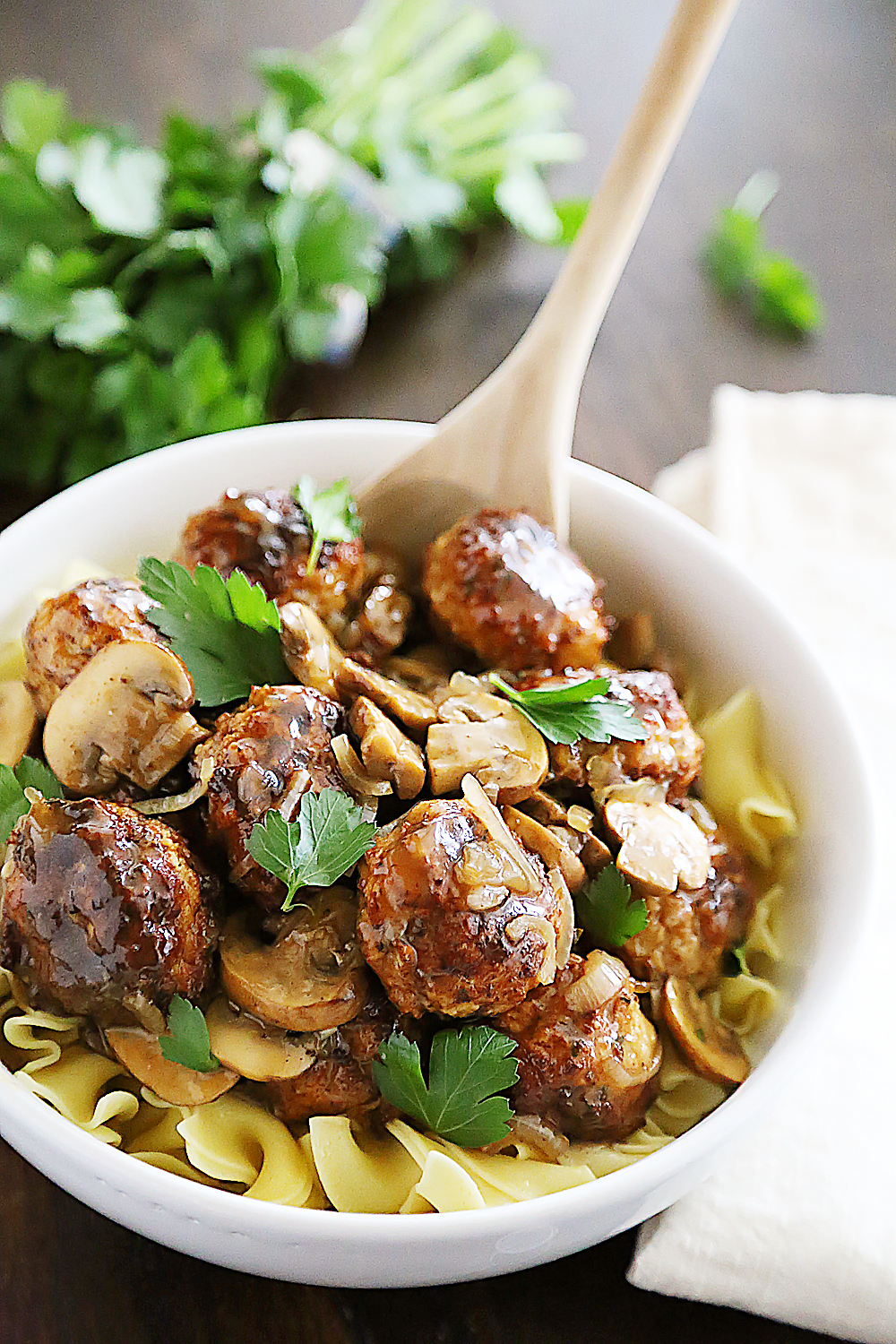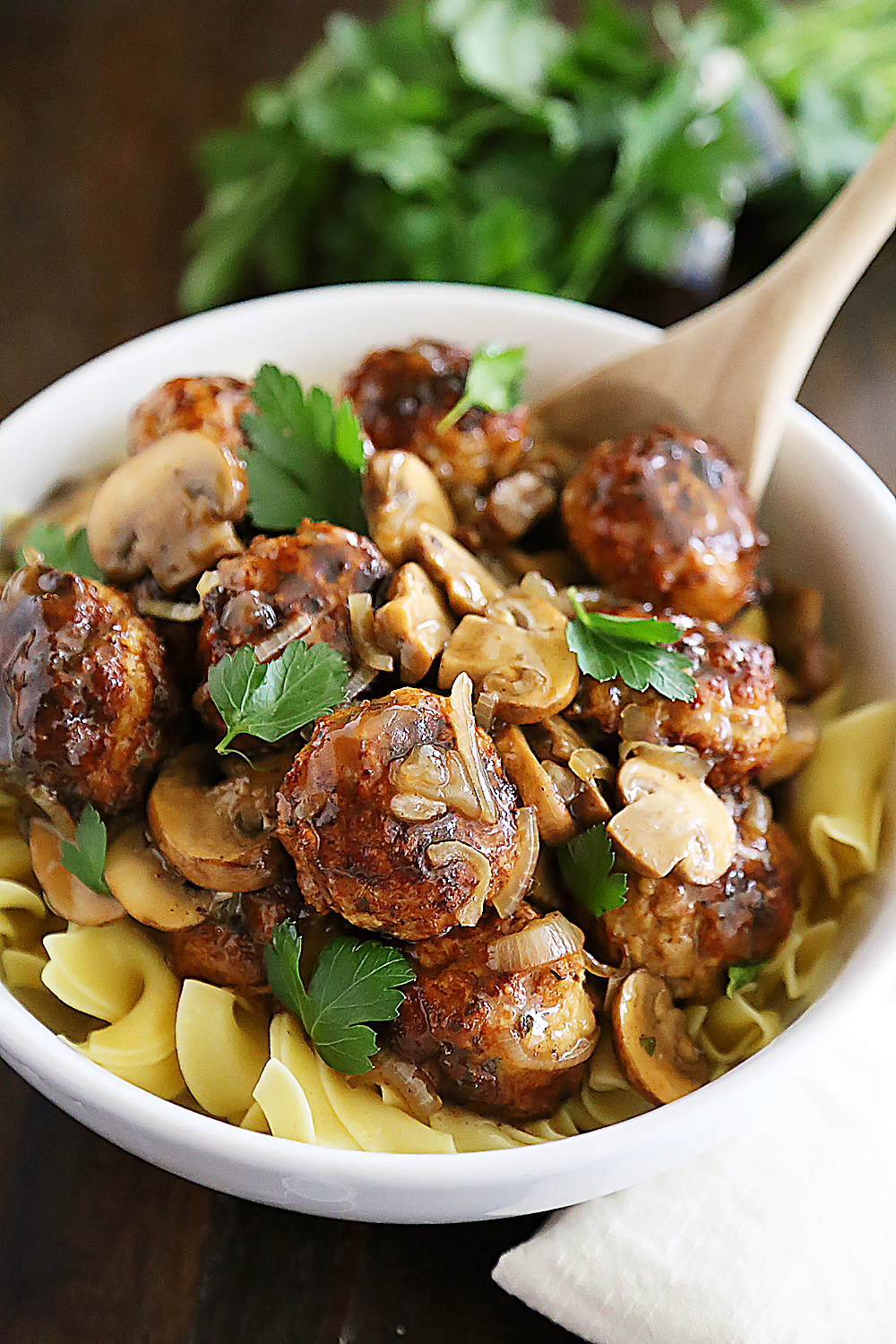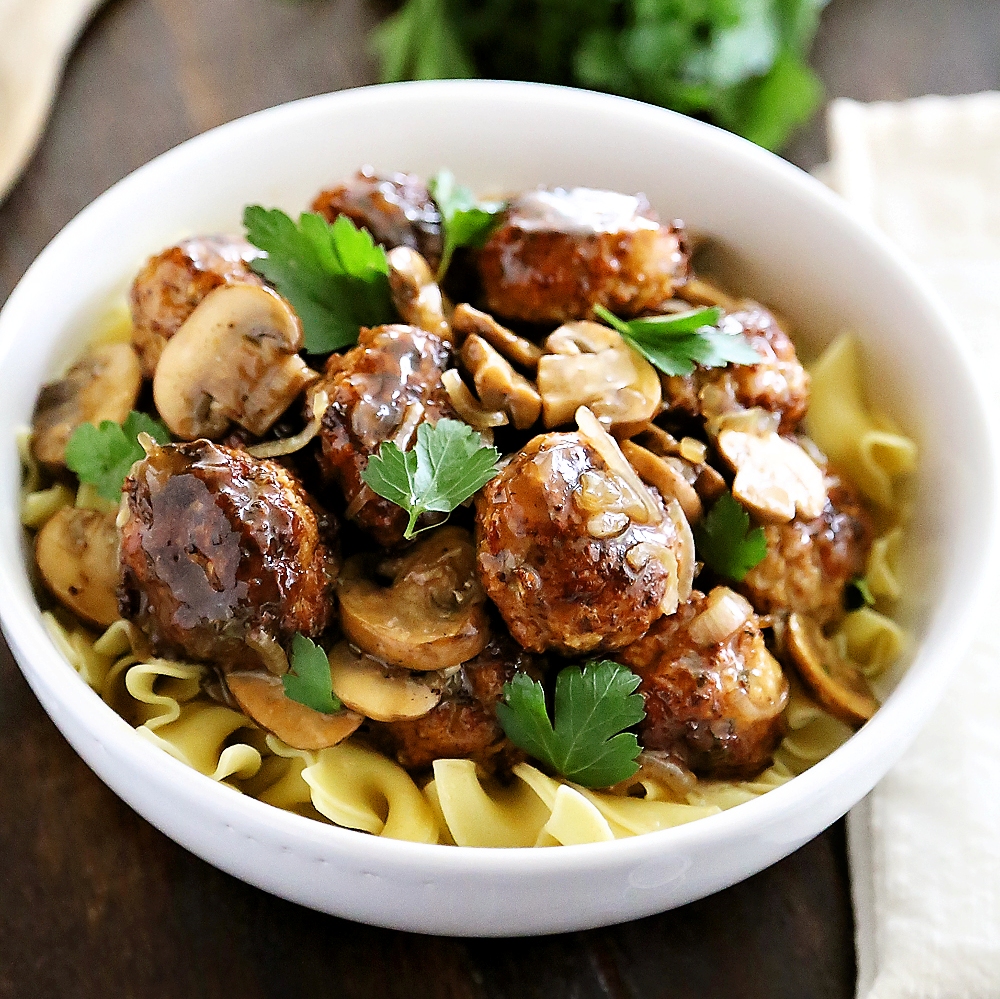 Chicken Marsala Meatballs
Ingredients
For meatballs:
1 pound 16 oz. ground chicken
1 large egg
2 cloves garlic, finely minced
1 cup ricotta cheese or small curd cottage cheese
1/2 cup freshly grated Parmesan
1/2 cup plain breadcrumbs
1/3 cup finely minced onion (about 1/4 medium yellow onion)
1/4 cup fresh parsley, chopped
1 Tablespoon flour
1/8 teaspoon ground nutmeg
Kosher salt and freshly ground pepper
For cooking:
8 oz. white mushrooms, thinly sliced
1/3 cup thinly sliced onion (about 1/4 medium yellow onion)
For serving
Hot cooked pasta
Additional chopped parsley
Instructions
For meatballs: Line a large baking sheet with foil and spray with nonstick cooking spray. In a large bowl, combine all ingredients for meatballs. Mix thoroughly with your hands until all ingredients are well incorporated. Form mixture into about 25 (1-1/2-inch) meatballs. Place on the lined baking sheet; set aside.
For cooking: Set a large nonstick skillet set to medium high heat; add 1 cup olive oil. Once oil is hot, add meatballs and fry until golden brown, 5-7 minutes, flipping once halfway through. (If meatballs appear undercooked, place on lined baking sheet and into a 350-degree F preheated oven for 10-15 minutes). Remove with a slotted spoon to a paper towel-lined plate. If necessary, fry in batches.
Carefully discard oil and scrape browned bits out of pan. Reduce heat to medium-high. Add 1 Tbsp. oil. Once hot, add mushrooms and minced onion to pan, cooking until softened and browned. Add Marsala and reduce liquid by half, about 1 minute.
Return meatballs back to the pan and toss in sauce until well coated.
Enjoy!