Our all-time favorite side dish! Layered potatoes, zucchini, tomatoes and squash, baked 'til tender & crisp with a cheesy Parmesan topping. Healthy, colorful and delicious on the side of roasted meats!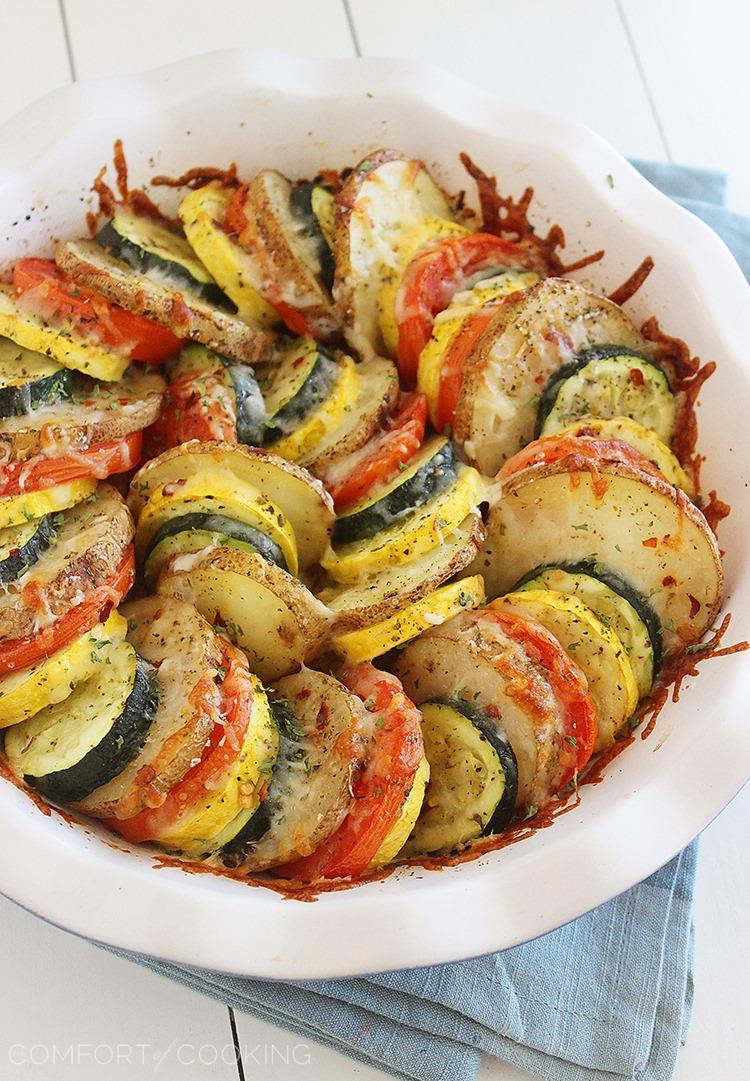 Here in Austin, we've had a string of dark and dreary days lately. These type of days are very familiar to our friends and family in the Midwest and Northeast! The chill can really take its toll, and after what's felt like a long winter, I'm left craving a taste of summer… and I'm sure I'm not alone.
So, what could we all use? A little zest, a little color, and a lively, fun veggie side dish full of flavor!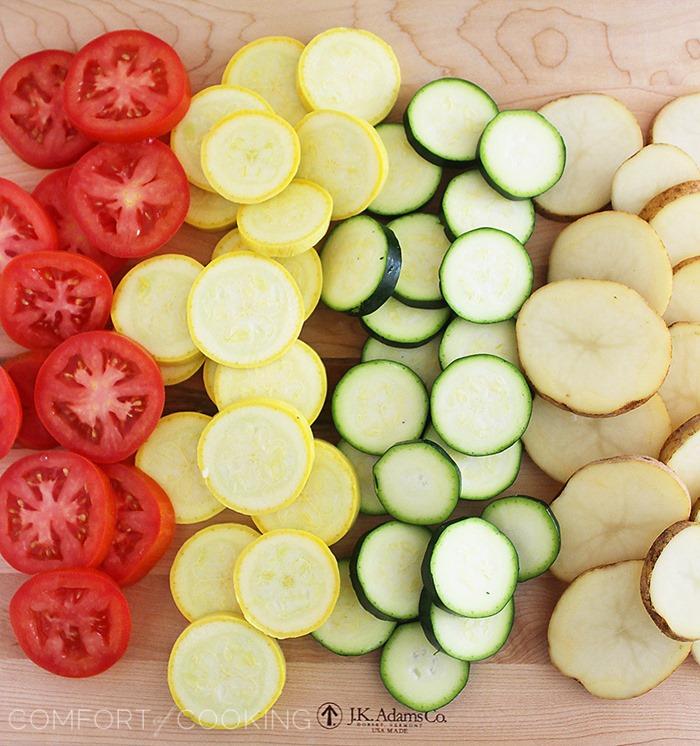 Vegetable tian has been one of our longtime favorites. Hearty and healthy, easy to make, and so darn pretty to look at, it's a delicious side dish year-round. I especially love to cook it up in the middle of winter, scoot it alongside a roast chicken, and gulp it all down with a glass of white wine.
Though it may feel like we're dining al fresco, this meal warms us to the bone from the comfort of home. Fine enough, but I'm still longing for a lovely breeze in my hair!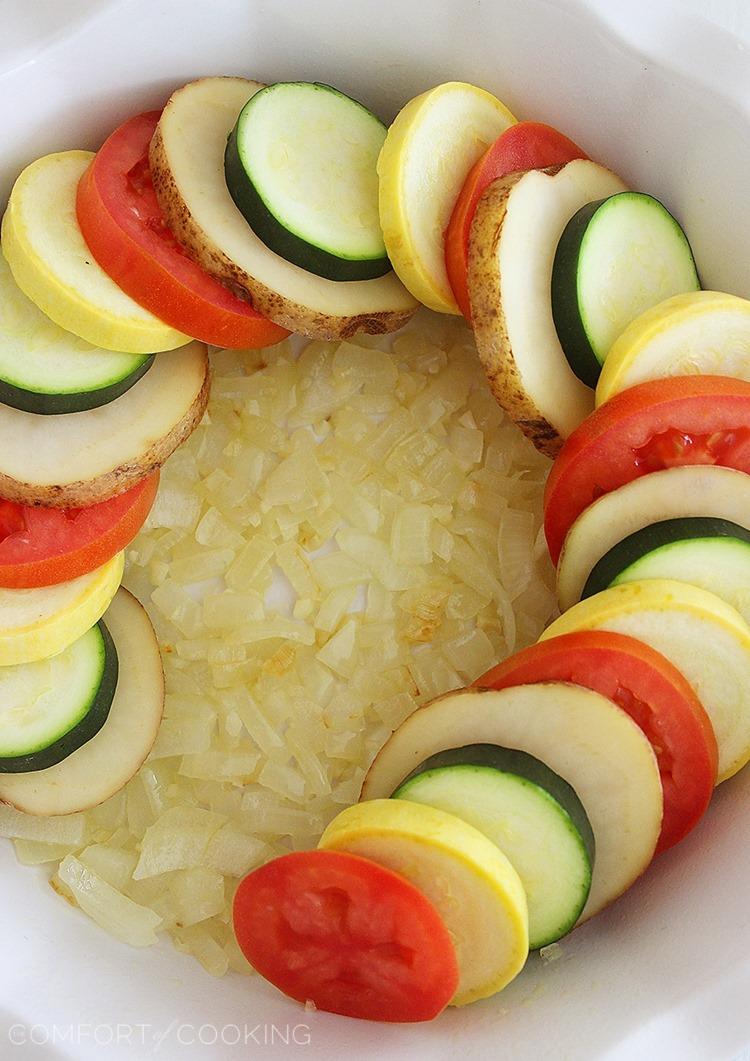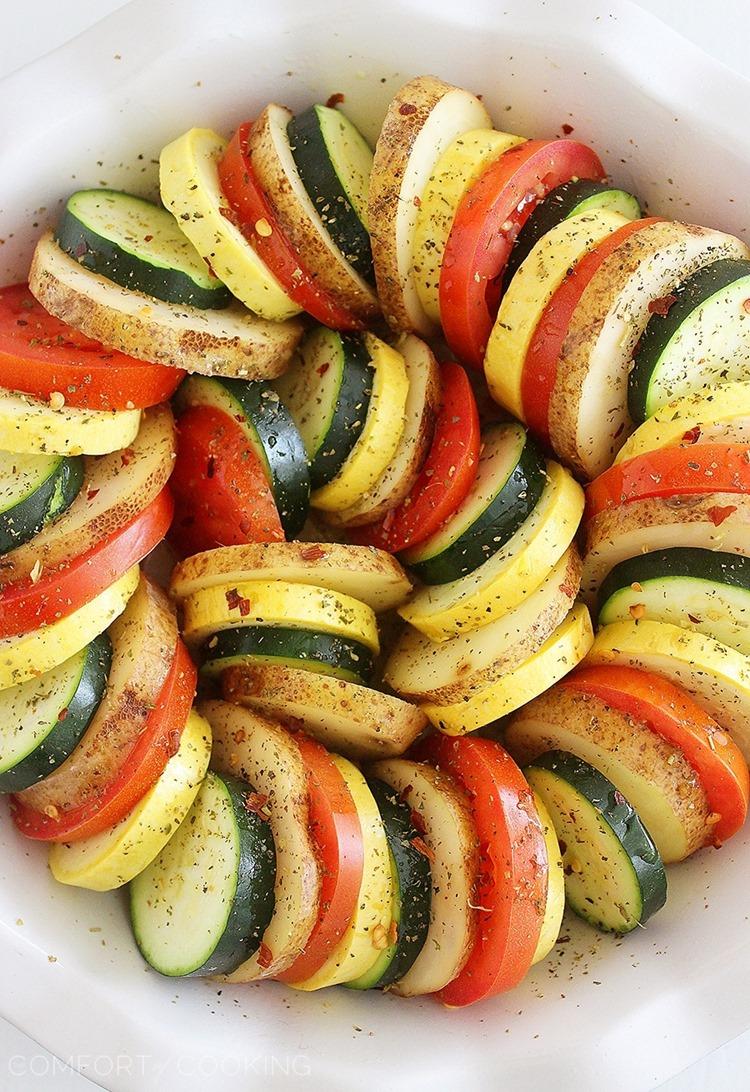 I'm all for a cozy cocoa-sweaters-n-cuddles winter, but it seems like spring can't come quickly enough this year!
Winter, I am so over you.
While I'm left waiting, though, this tasty tian is giving me that warm weather feeling. Layered together and baked on top of a bed of soft onions and garlic, the tender vegetables take on an incredible flavor. Each bite is full of fresh, hearty veggie goodness, and on the side of simply roasted meats, this dish is nothing short of dee-vine!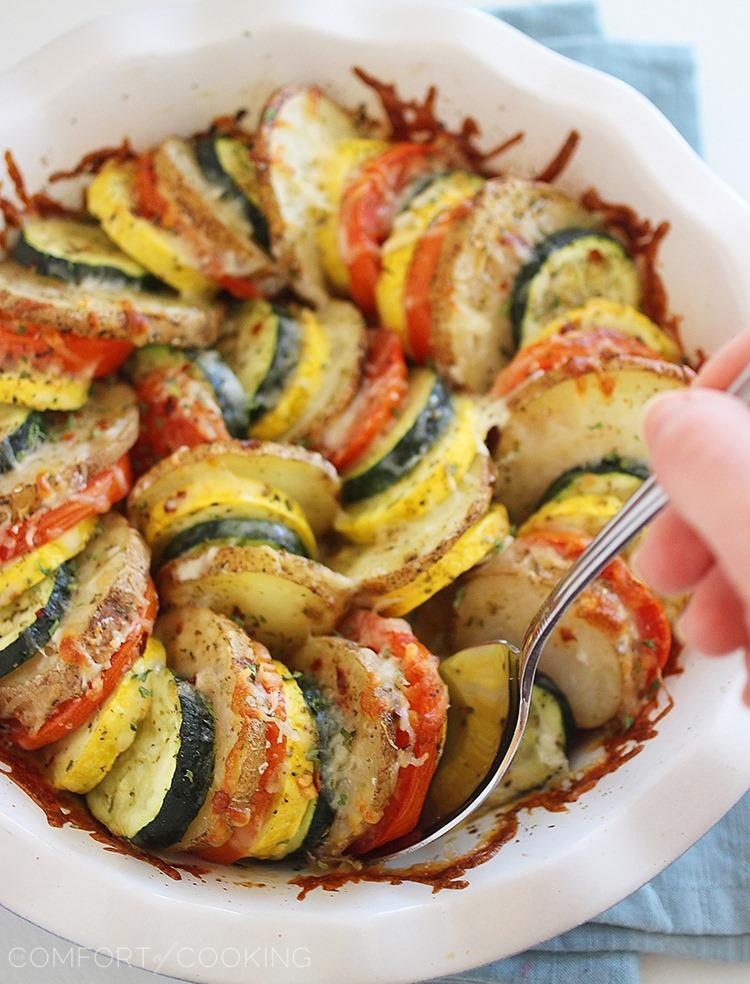 If you didn't think it could get better, sprinkle on a handful of mozzarella and Parmesan, and wait for the magic to happen! The whole shabang crisps up beautifully in the oven and makes for a mouthwatering pair with whatever you're serving it alongside. Though, honestly, I tend to forget about that part entirely.
It's all about the tian to me, baby!
Grab a bunch of fresh veggies, some Italian seasoning, your best olive oil, and get cookin' your own scrumptious, summery Parmesan tian. You're going to love this dish, I guaran-darn-tee it!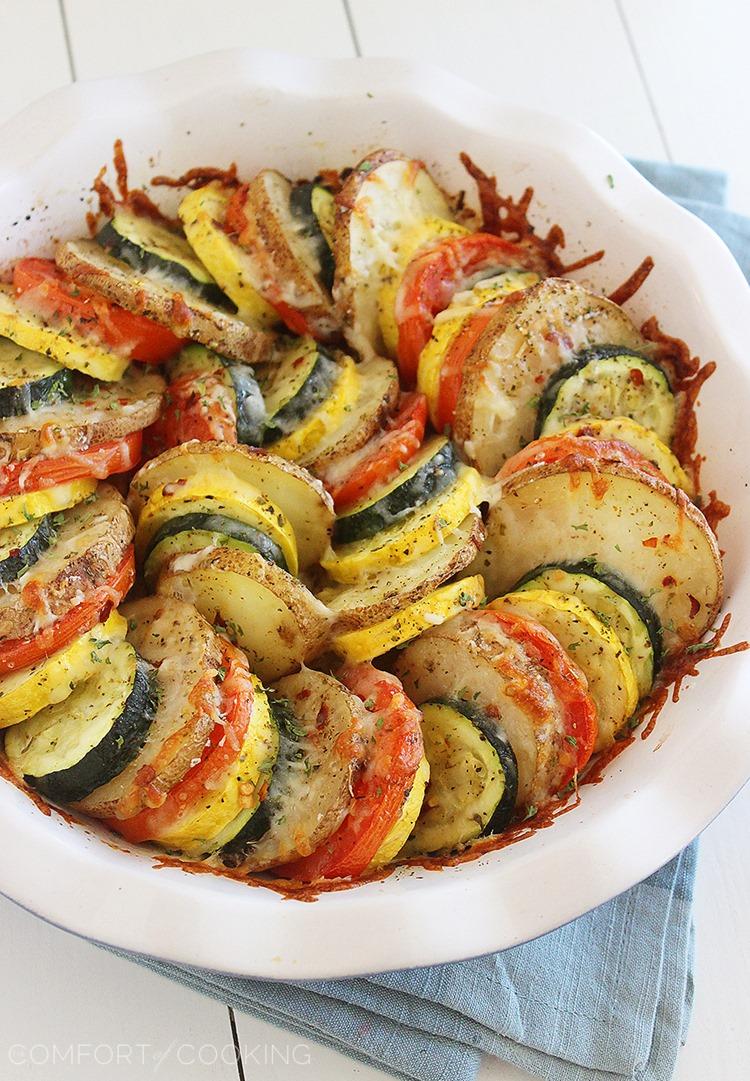 Parmesan Vegetable Tian
Yield:
4 to 5 side dish servings
Ingredients
Nonstick cooking spray
1 tablespoon olive oil, plus more for drizzling
1 large yellow onion, small diced
2 garlic cloves, minced
1 medium zucchini, thinly sliced
1 medium yellow squash, thinly sliced
1 medium baking potato, thinly sliced
2 medium Roma tomatoes, thinly sliced
Heaping 1/4 teaspoon Italian seasoning
Salt and freshly cracked pepper, to taste
1/4 cup shredded mozzarella cheese
2 Tablespoons freshly grated Parmesan
Instructions
Preheat oven to 400 degrees F. Lightly coat a round pie pan with nonstick cooking spray. Set aside.
In a medium pan, heat olive oil. Once hot, add chopped onion and garlic, cooking until soft and fragrant, 5-7 minutes. Spread the onion and garlic mixture on the bottom of pan. Evenly arrange the sliced vegetables on top, alternating as you go. Once you get all the way around, continue layering to fill the middle until no open space remains.
Drizzle all over with 1 Tablespoon olive oil and sprinkle with Italian seasoning, salt and pepper. Cover with aluminum foil and bake covered for 30 minutes.
Remove aluminum foil and sprinkle with mozzarella and Parmesan. Return to oven and bake uncovered for an additional 15 minutes, or until cheese is golden brown.
Enjoy!