Hearty, healthy and full of flavor, this smoked sausage and white bean soup has become our new favorite weeknight meal. You won't believe how simple it is, too!
When I'm lacking motivation with dinnertime meals, I do a little shopping. Not at the grocery store or farmer's market, though. I put my thinking cap on and go shopping in my cabinets!
What emerged recently was a stockpile of the usual – diced tomatoes, beans, chicken broth, onions, garlic and Italian seasoning. Fill in the blanks with smoked sausage, fresh spinach and a major craving for soup, and dinner was decided!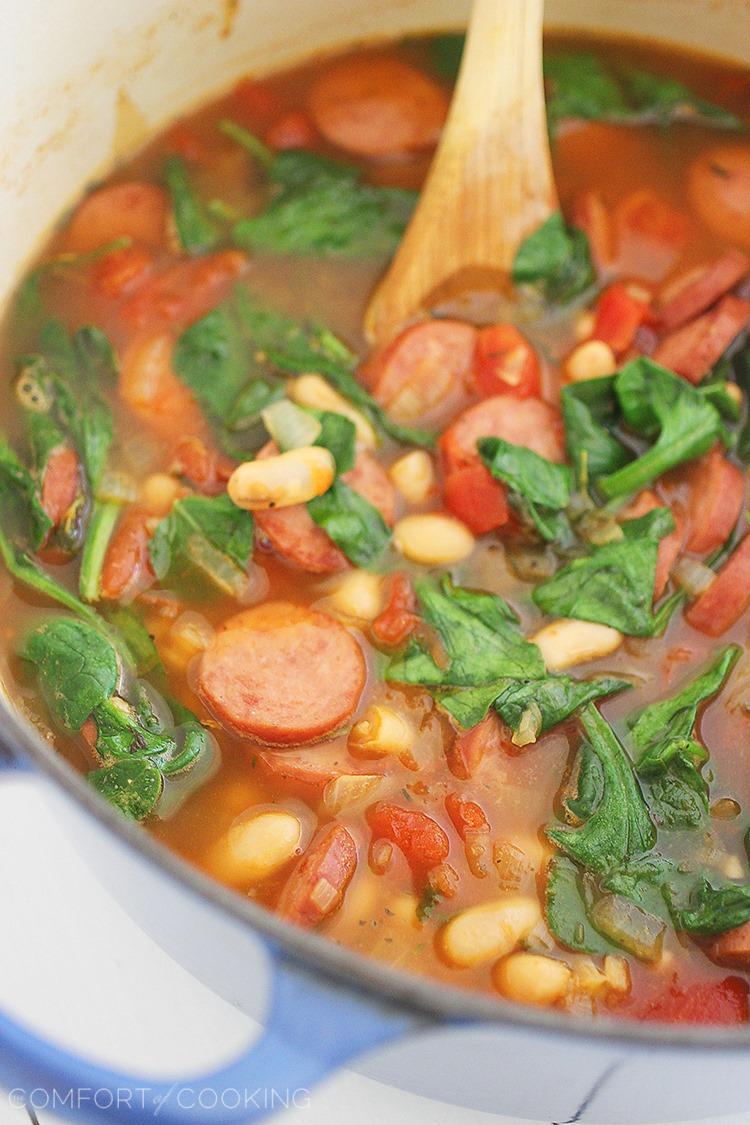 It's been a few years in the making, but with scrumptious soups like this it's becoming easier to convince my man they can be hearty enough for meals! Add a hunk of crusty bread and a leafy green salad to the side, and you've got a delicious and well-rounded dinner that even the most discerning man-ivore will love.
Mine sure does!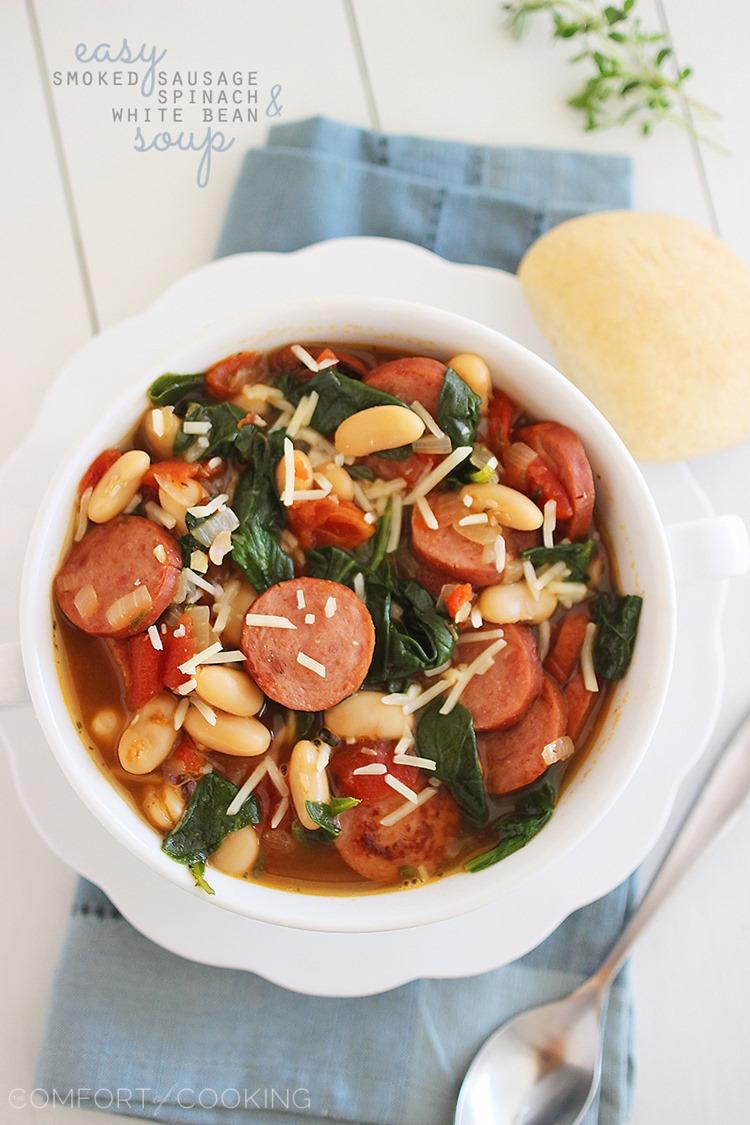 To keep this hearty soup healthy yet lick-the-bowl good, I used turkey smoked sausage, fresh spinach and low-sodium chicken broth. You can also use beef or chicken sausage, and 10 oz. of frozen spinach in place of fresh. Just make sure you drain and squeeze the frozen variety very dry. During the first test run of this soup, I used frozen and didn't get all the moisture out, so my broth was stained a gross, unappetizing green. Down the disposal it went.
Go for the fresh stuff and add it during the last 5 minutes of cooking – you'll avoid monster-colored broth!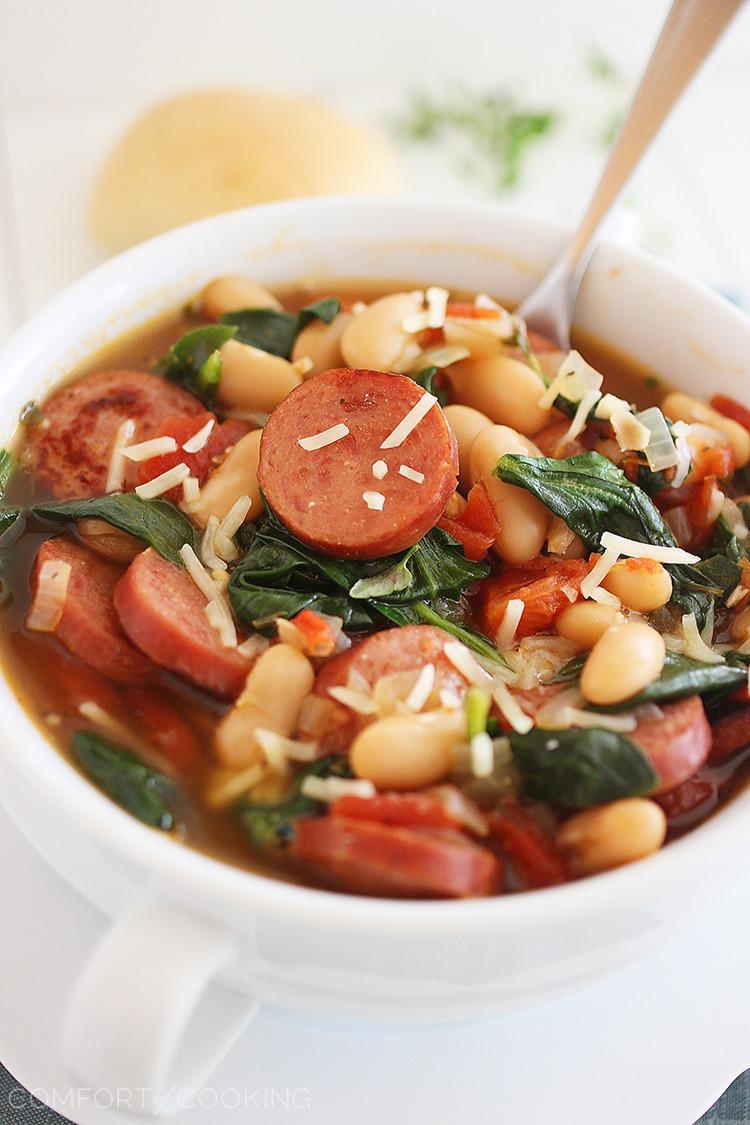 Give this warm, flavorful soup a whirl and you'll see why it's become a big favorite in our house this season! It's light and doesn't weigh you down, but still gives you that satisfying "full" feeling. Plus, you won't even believe how easy it is (and how good it tastes as next-day leftovers). I think that's what we all aim for with weeknight meals anyway, right?
I hope you enjoy this one, friends! Let me know how yours turns out if you do try it. And, have a fabulous winter weekend!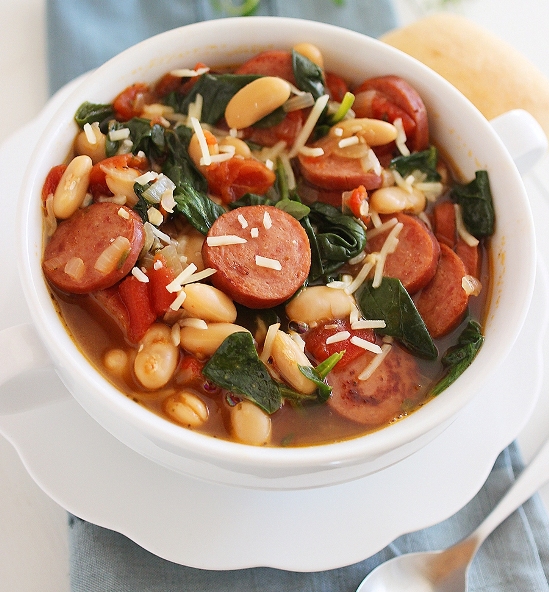 Smoked Sausage, Spinach and White Bean Soup
Ingredients
1 Tablespoon olive oil
13 oz. smoked sausage, chicken, turkey or beef
1 yellow onion, diced
2 garlic cloves, minced
4 sprigs fresh thyme
1 teaspoon Italian seasoning
1 14.5 oz. can diced tomatoes
2 15 oz. cans cannellini beans, drained and rinsed
4 cups 32 oz. low-sodium chicken broth
10 oz. fresh baby spinach
Salt and pepper, to taste
Grated parmesan cheese, for serving, optional
Instructions
In a large pot over medium-high heat, add olive oil. Once hot, add sausage and cook 5-7 minutes, stirring occasionally, until nicely browned. Add onions and garlic; cook 2-3 minutes, until soft and fragrant.
Stir in thyme leaves, Italian seasoning, diced tomatoes, beans and chicken broth. Cover and bring to a boil. Reduce heat to low and simmer uncovered 25-30 minutes. Stir in spinach during last 5 minutes of cooking. Season with salt and pepper.
Spoon into serving bowls and top with grated parmesan cheese, if desired.
Enjoy!