Mac and cheese goes grown-up in this spicy, creamy pasta dinner with Italian sausage and bell peppers. So simple, scrumptious, and you only need a handful of ingredients!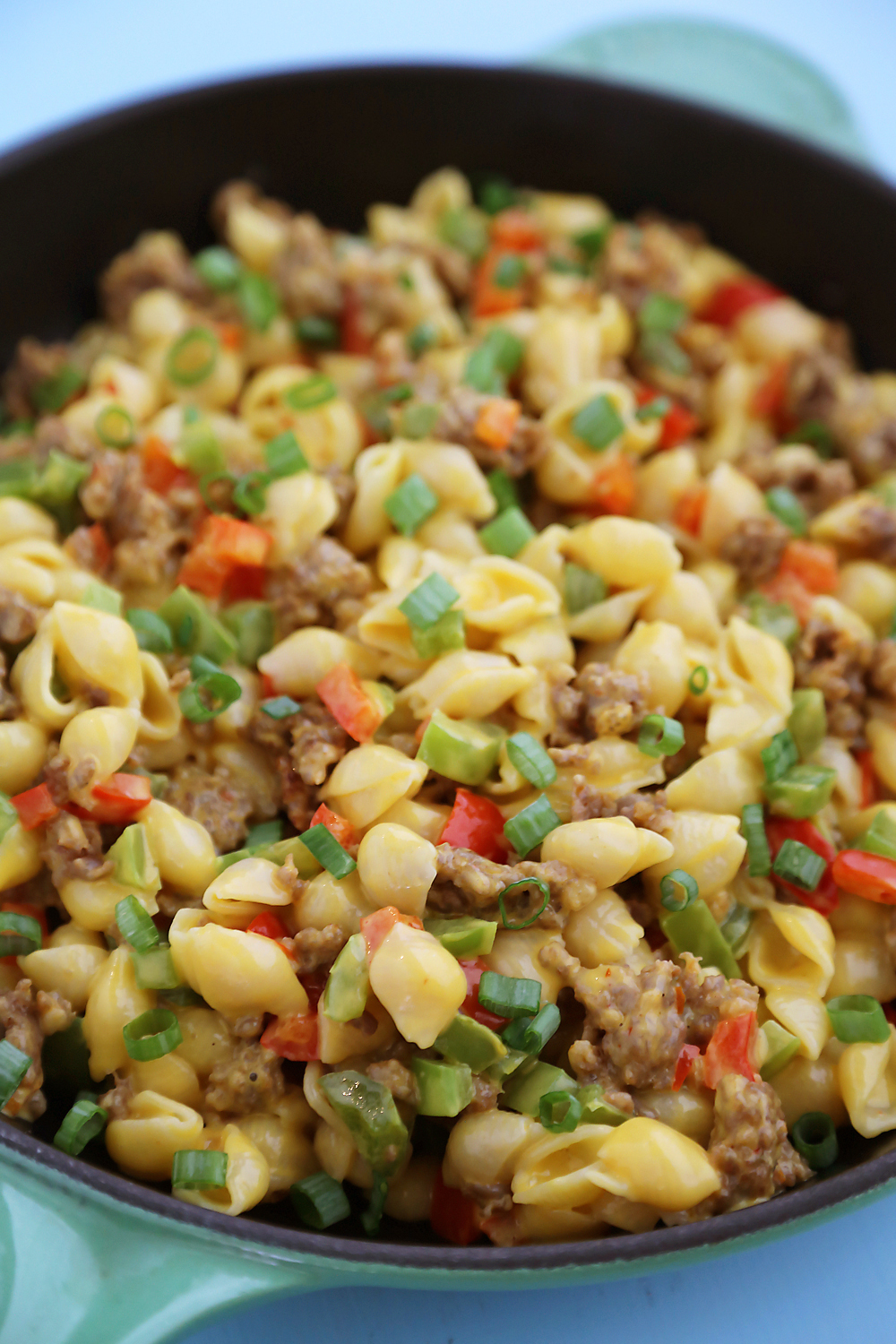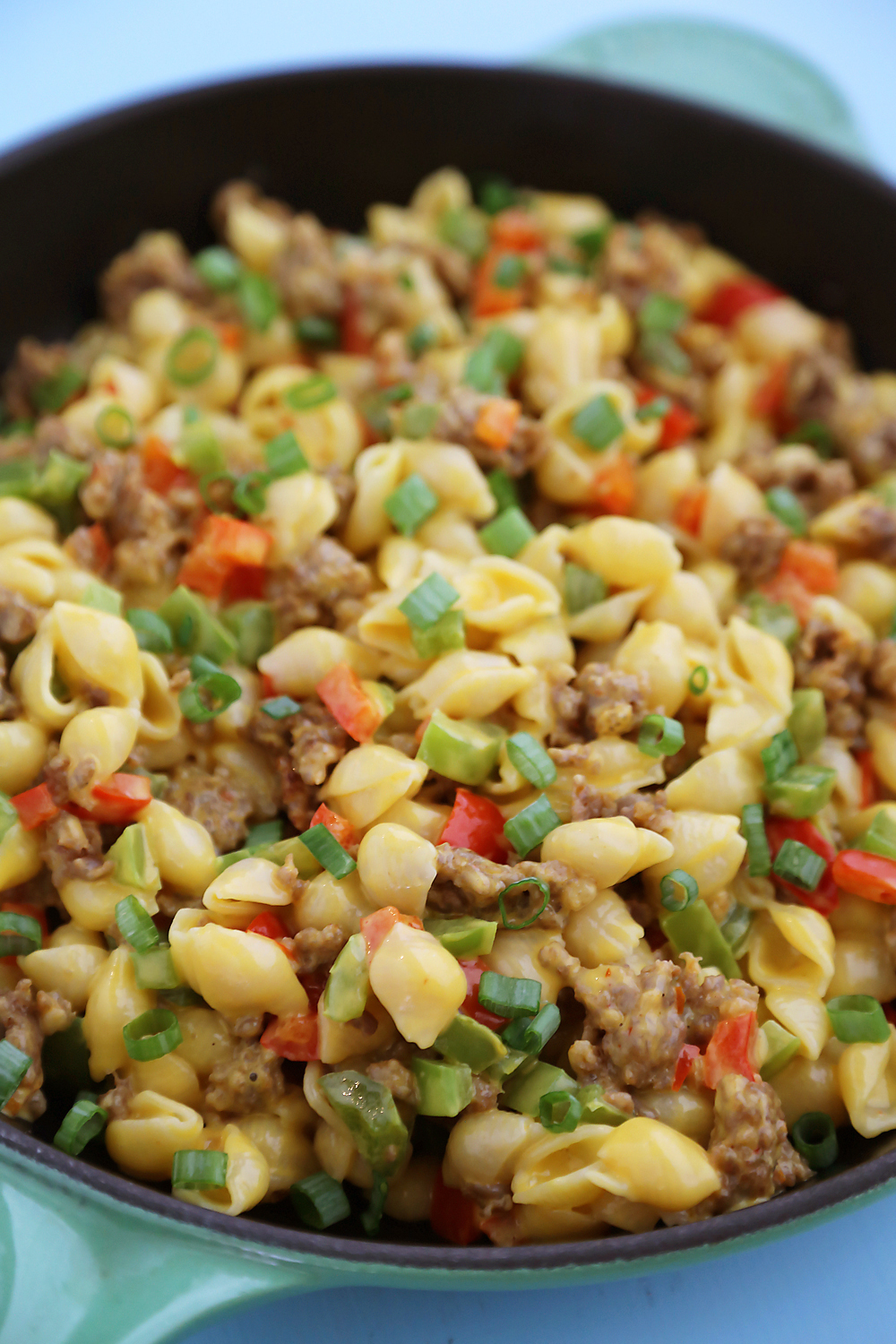 What is it about a recipe like this that just makes our bellies happy? I'd struggle to find anyone whose day could not be made infinitely better by a comforting, creamy bowl of mac and cheese. A savory home cooked dish like this has the magic to make you smile at the dinner table, and reminds you to truly focus on the real important things: Family. Friends. And delicious food.
And, if you're lucky to be cooking for family and/or friends, potentially someone to wash the dishes after your delicious dinner. Ha!
Luckily for them, this cheesy dish only requires two pots and pans. As for the cook, you don't have to divulge how non-labor-intensive the actual cooking process was. You only used four ingredients and "slaved" over a hot stove for 15 minutes.
A little chopping, a little stirring, and voila! Dinner is done.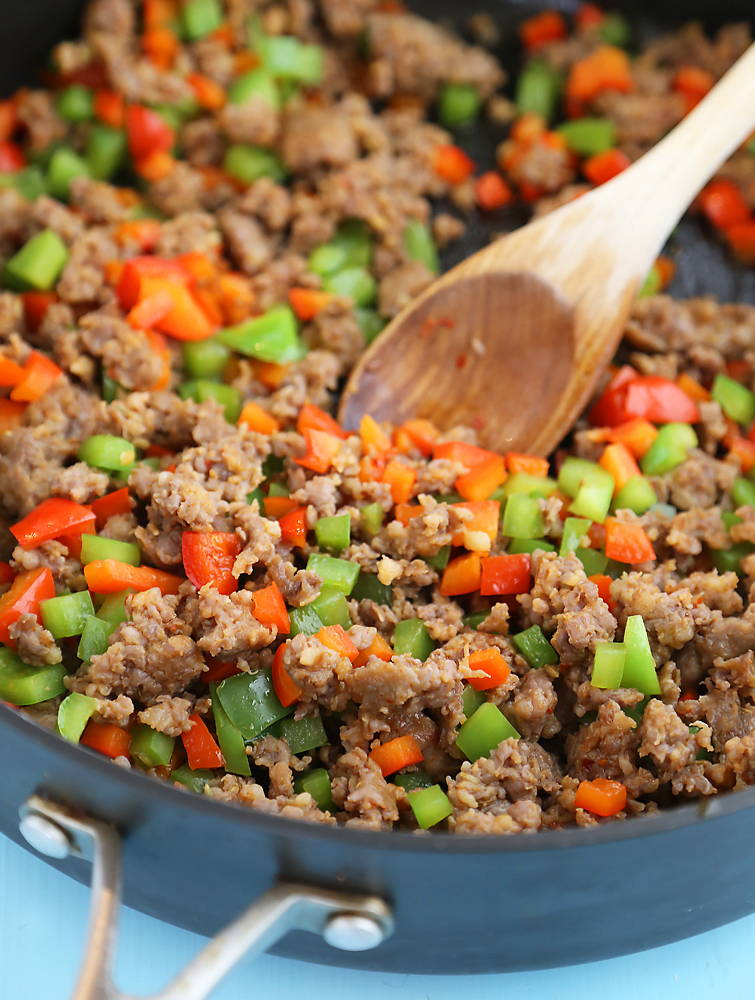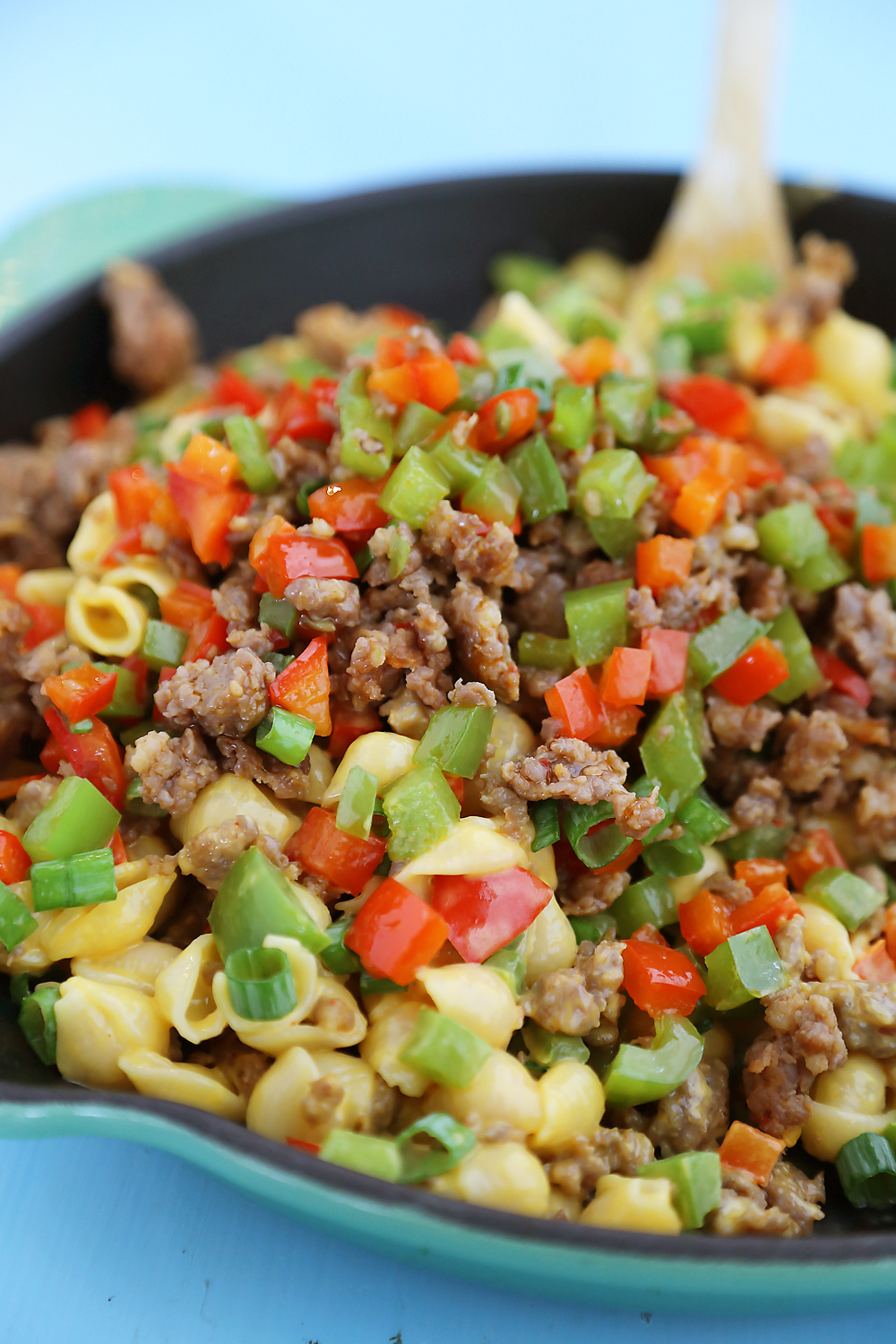 This fabulous, fuss-free dinner comes courtesy of my collaboration with Velveeta. Using their decadently creamy, bold new Shells and Cheese, this delicious dinner was done in less than 20 minutes. Where does the boldness come from, you may ask? Each box comes with a packet of spicy seasoning mixed with dried jalapeños. Simply add the packet to the boiling water with your pasta, and cook it all together. The jalapeños plump up and add a zippy little zest to every cheesy bite!
Combined with Italian sausage and crisp, colorful bell peppers, this is a scrumptious, super easy family-friendly dinner that is guaranteed to please. Try it tonight, you will love it!
If you prefer a less spicy option, simply use the plain Shells and Cheese instead, and use sweet Italian sausage instead of hot.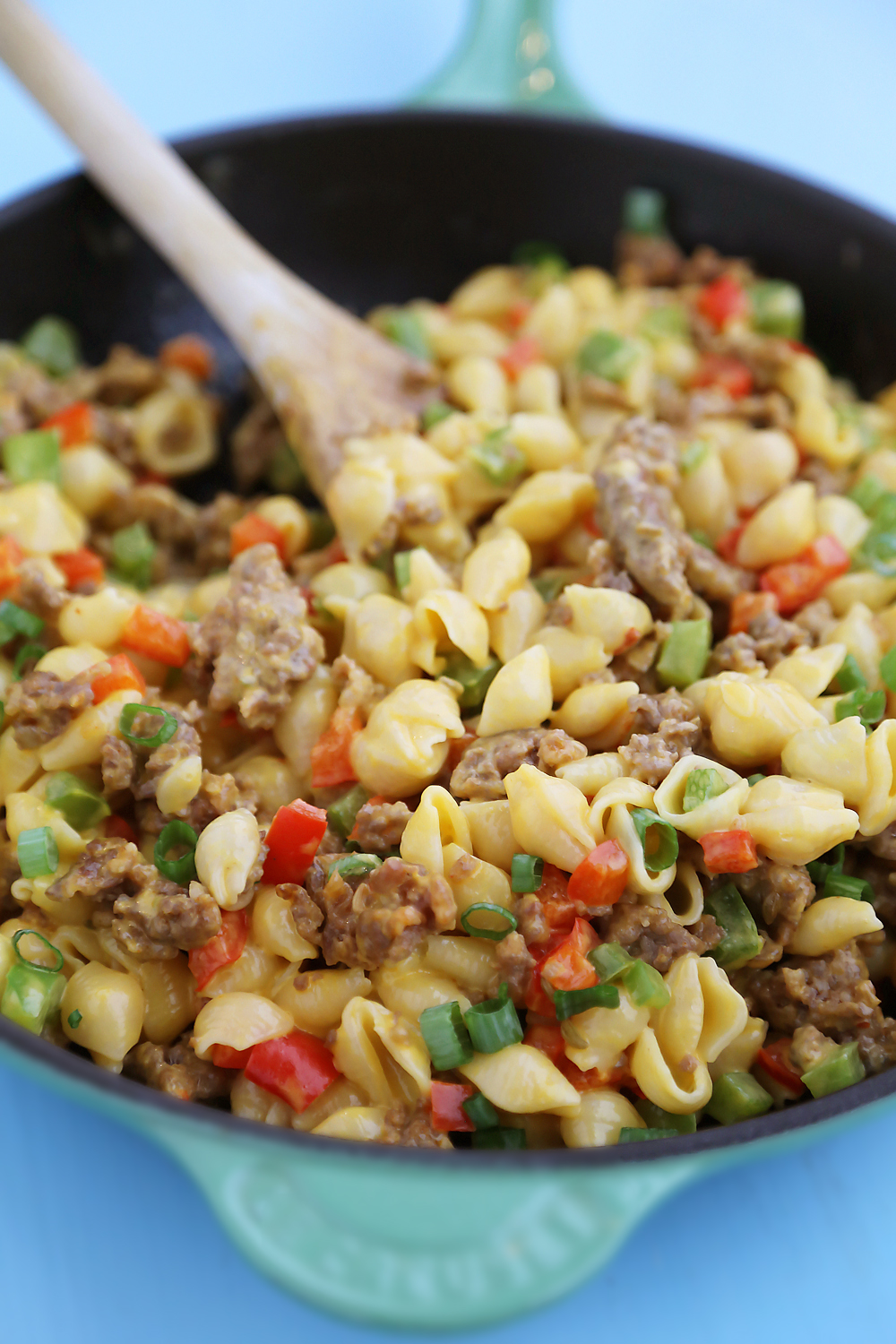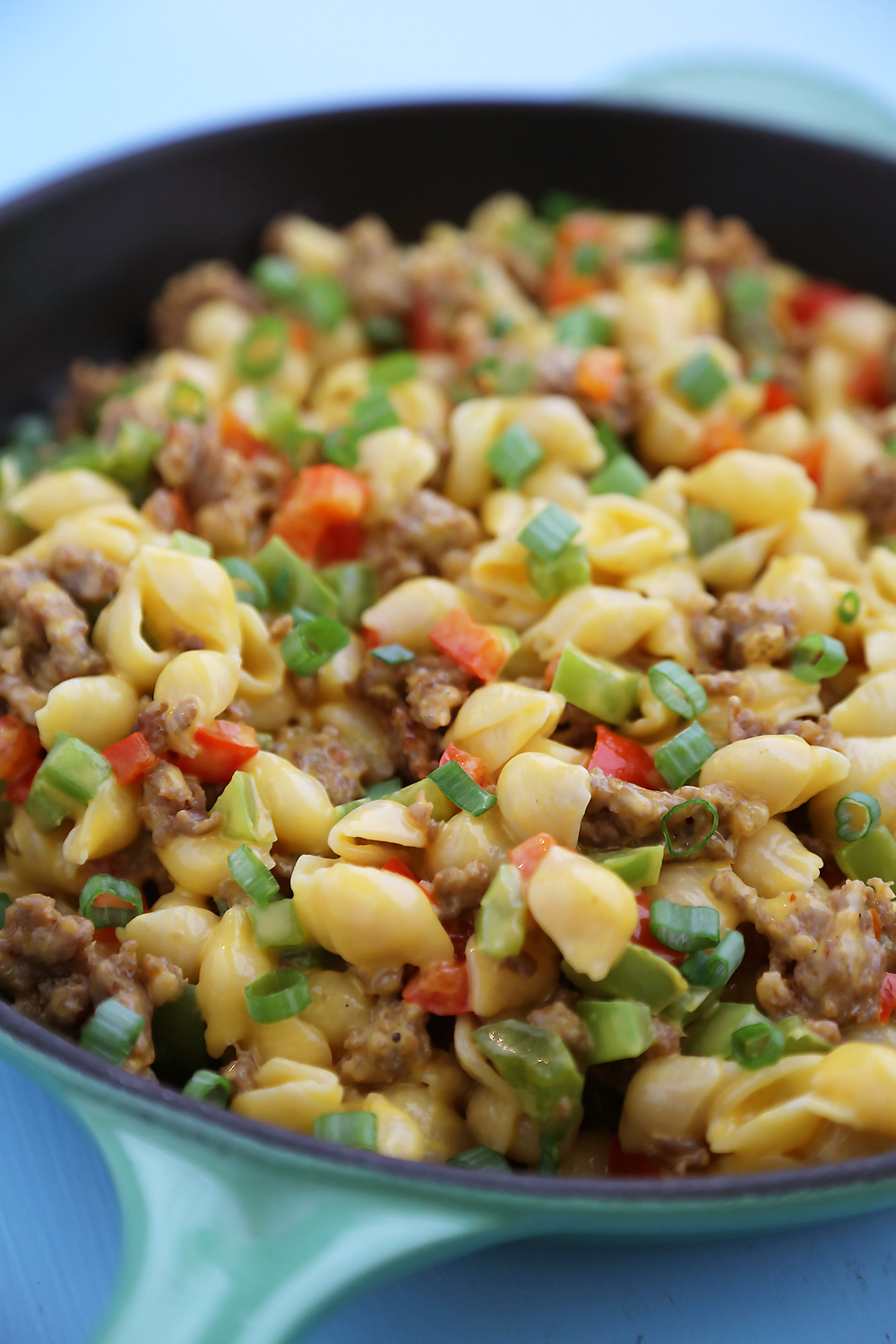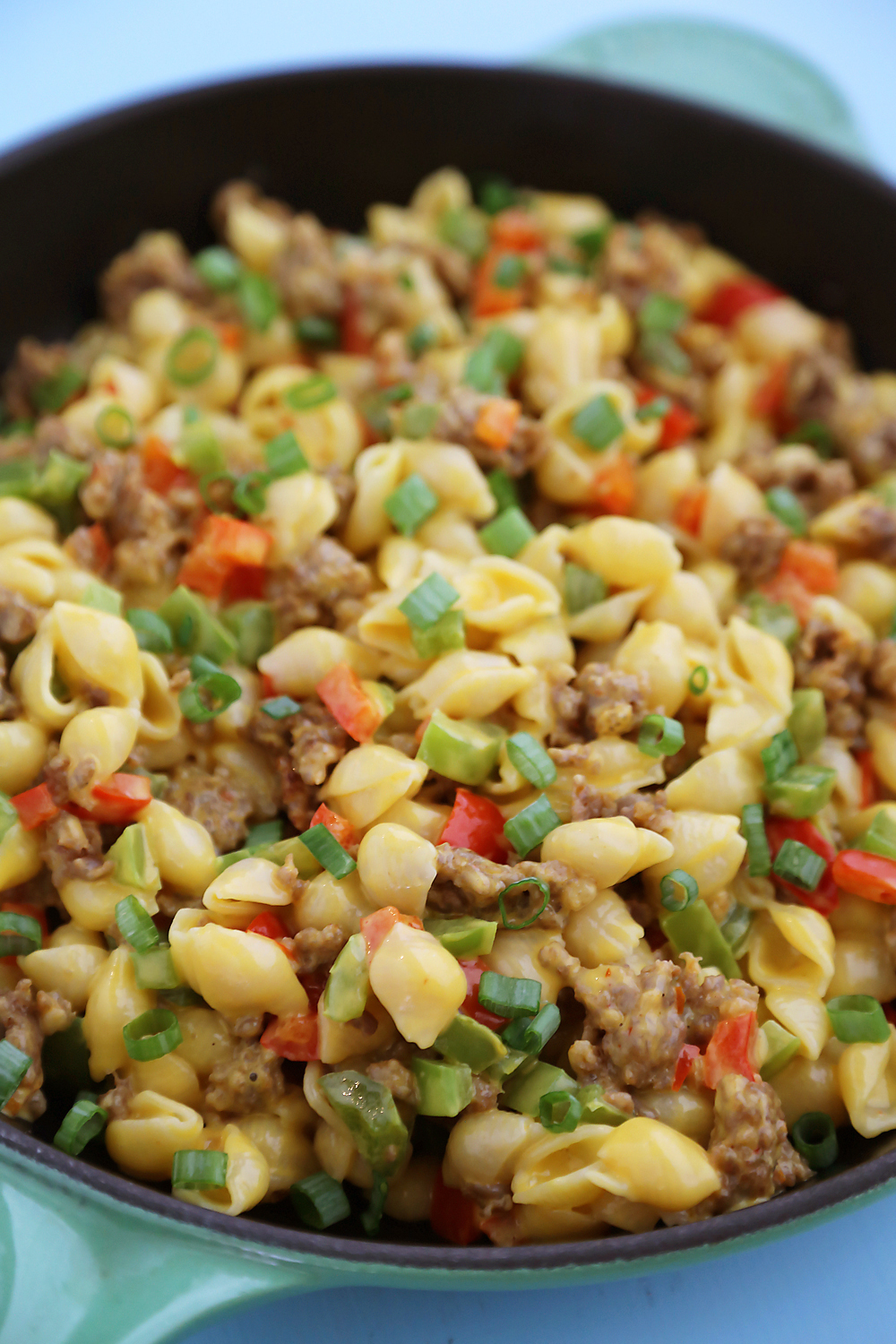 4-Ingredient Spicy Sausage and Pepper Mac 'n Cheese
Ingredients
1 box Velveeta Shells and Cheese, Bold, Chipotle or Jalapeño
1 lb. Italian pork sausage, hot or sweet
1 red bell pepper, small diced
1 green bell pepper, small diced
For serving (optional):
Instructions
Set a medium pot of water to boil. Cook shells and cheese according to package instructions. Stir cheese sauce into cooked shells.
Meanwhile, in a large skillet set to medium-high, cook sausage, crumbling with a wooden spoon as it cooks. When almost browned, add diced bell peppers to the skillet. Continue cooking until peppers have softened and sausage is fully cooked, about 5 minutes. Drain off excess grease.
Remove skillet from heat. Add cooked shells and cheese to the skillet and mix well. Sprinkle with chopped green onions, if desired, and serve.
Enjoy!