This creamy stovetop soup is made from scratch with wholesome sweet potatoes and fragrant spices that fill your home with a cozy scent. It's so velvety smooth and delicious, with an (optional) zesty kick!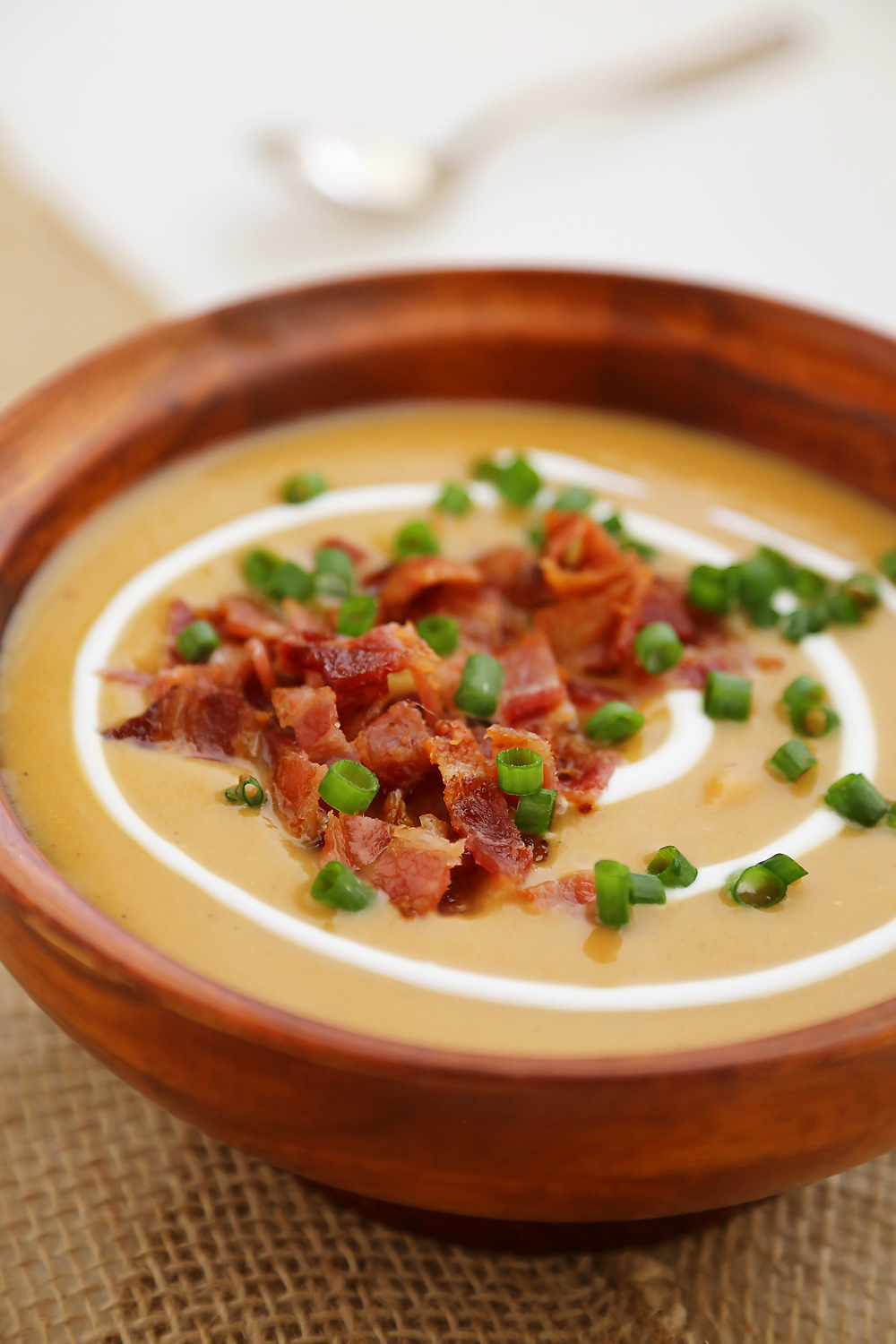 Is there anything cozier than the smell of a warm, richly spiced soup bubbling on the stovetop? Forget the candles, diffusers and room sprays. What you really need is a few handfuls of sweet potatoes, all the best autumnal spices (cinnamon, nutmeg, allspice, ginger), and a big pot to marry them all together into simmering scrumptious. To this soup, you will want to say "I do"!
There is truly nothing better on a chilly night than a bowl of this soup to warm up to. It's so simple to make, and lusciously creamy with the additional of fat-free milk (or any milk you choose). No need for fatty heavy cream or half-and-half. Save the naughty goodness for the crispy, salty chopped bacon on top!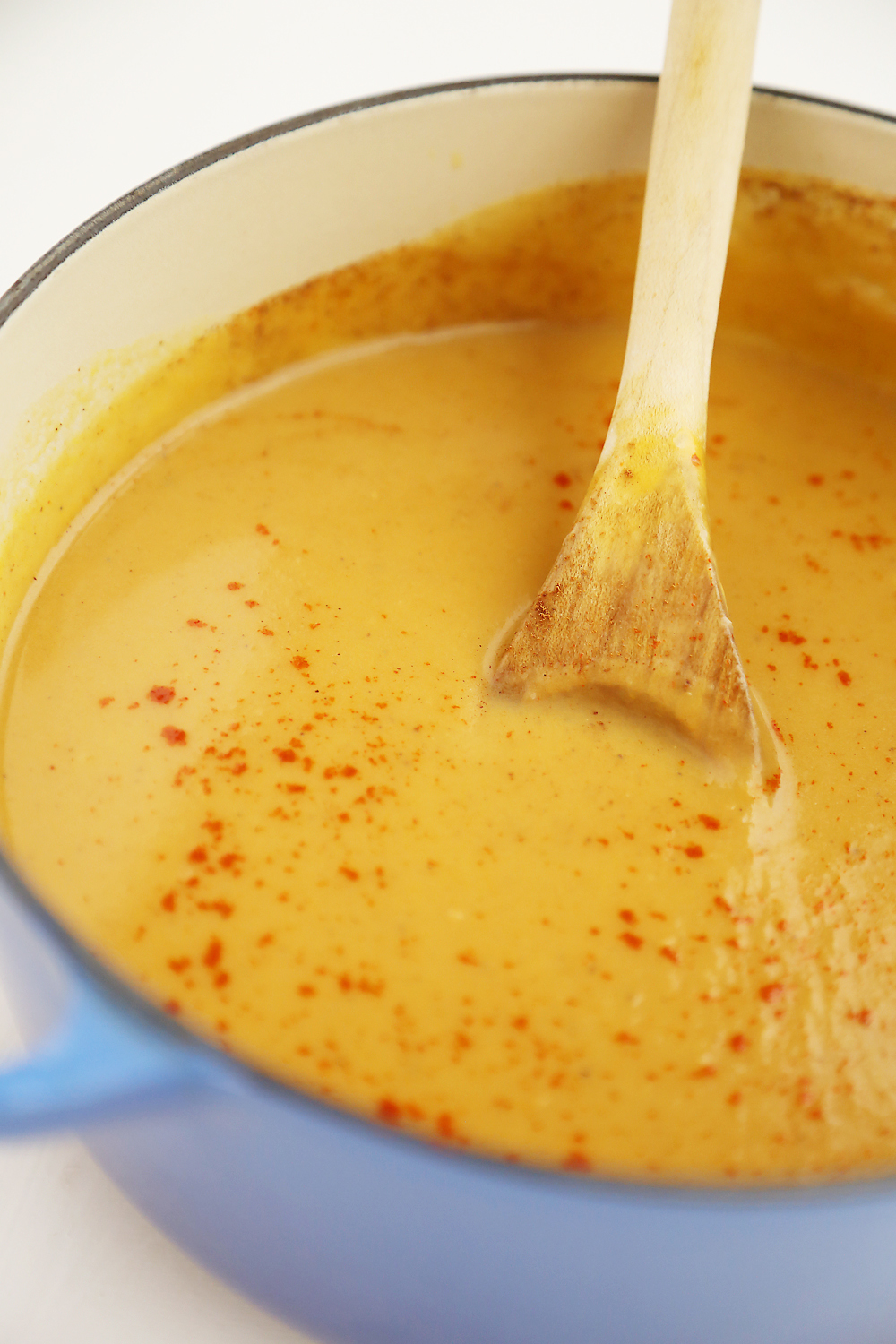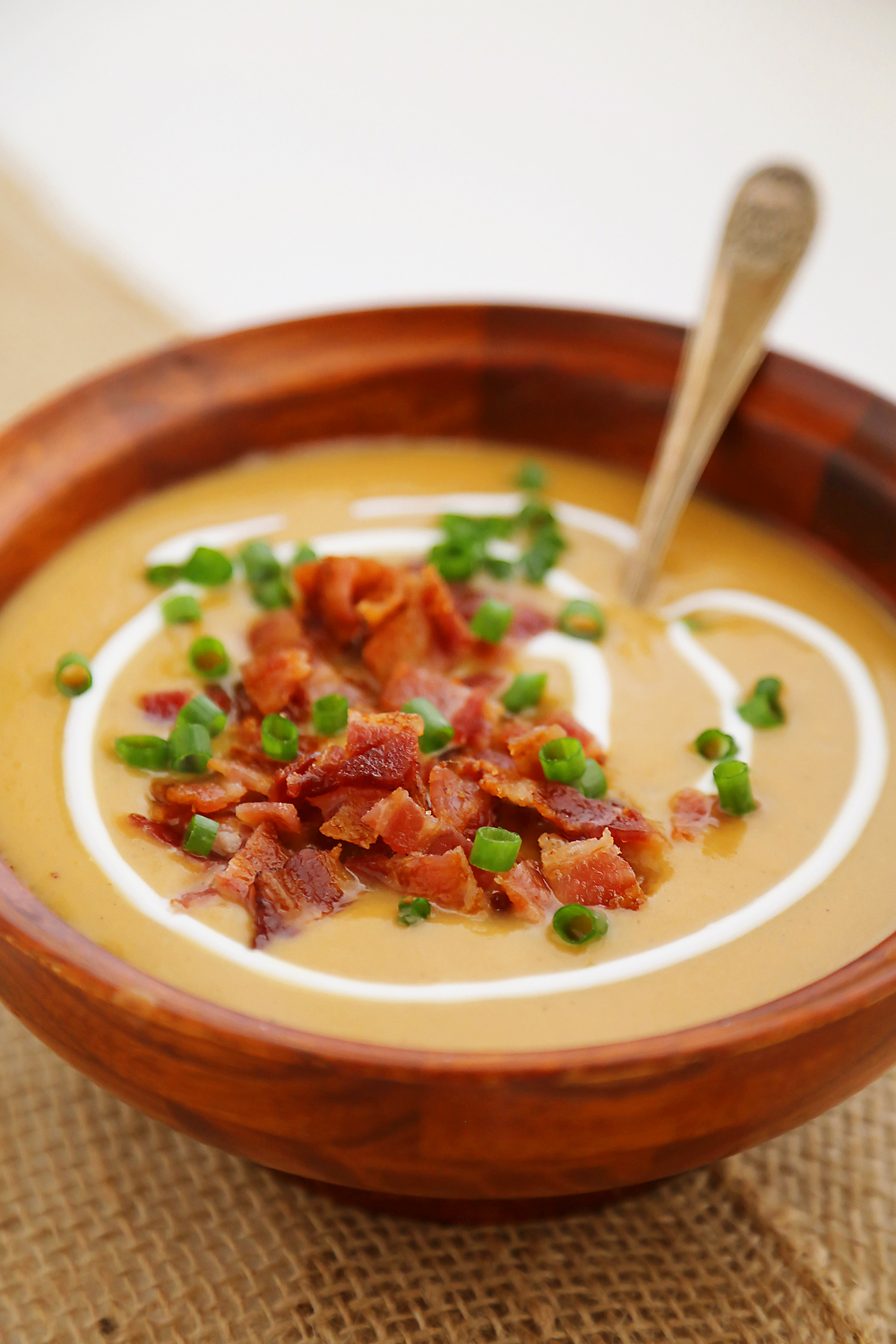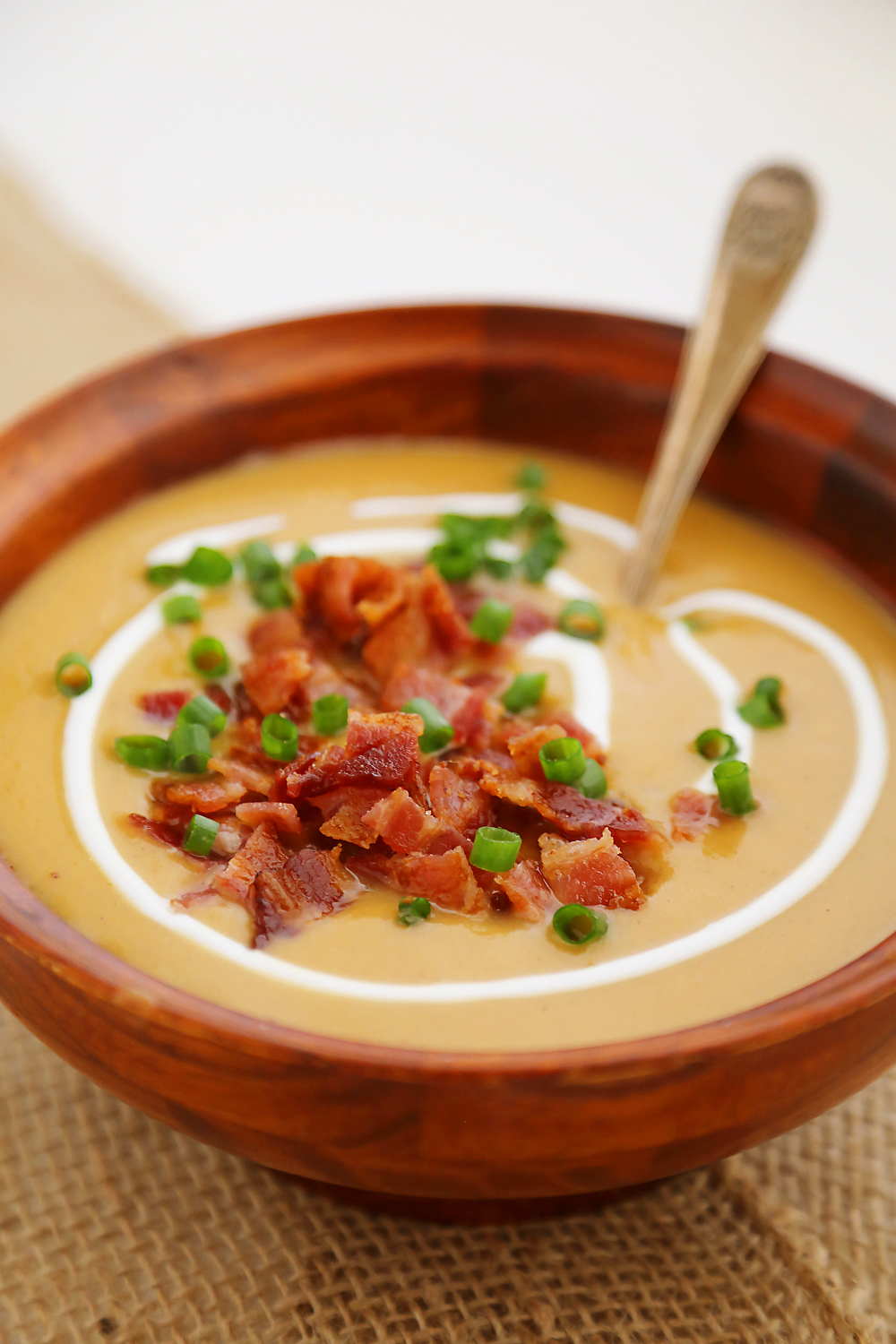 I serve this delicious sweet potato soup for all occasions, big and small. It's a very easy and healthy option for weeknights, with a green salad on the side. A few slices of my No Knead Artisan Crusty Bread for dipping makes it divine! For Thanksgiving, this soup makes an elegant and scrumptious starter.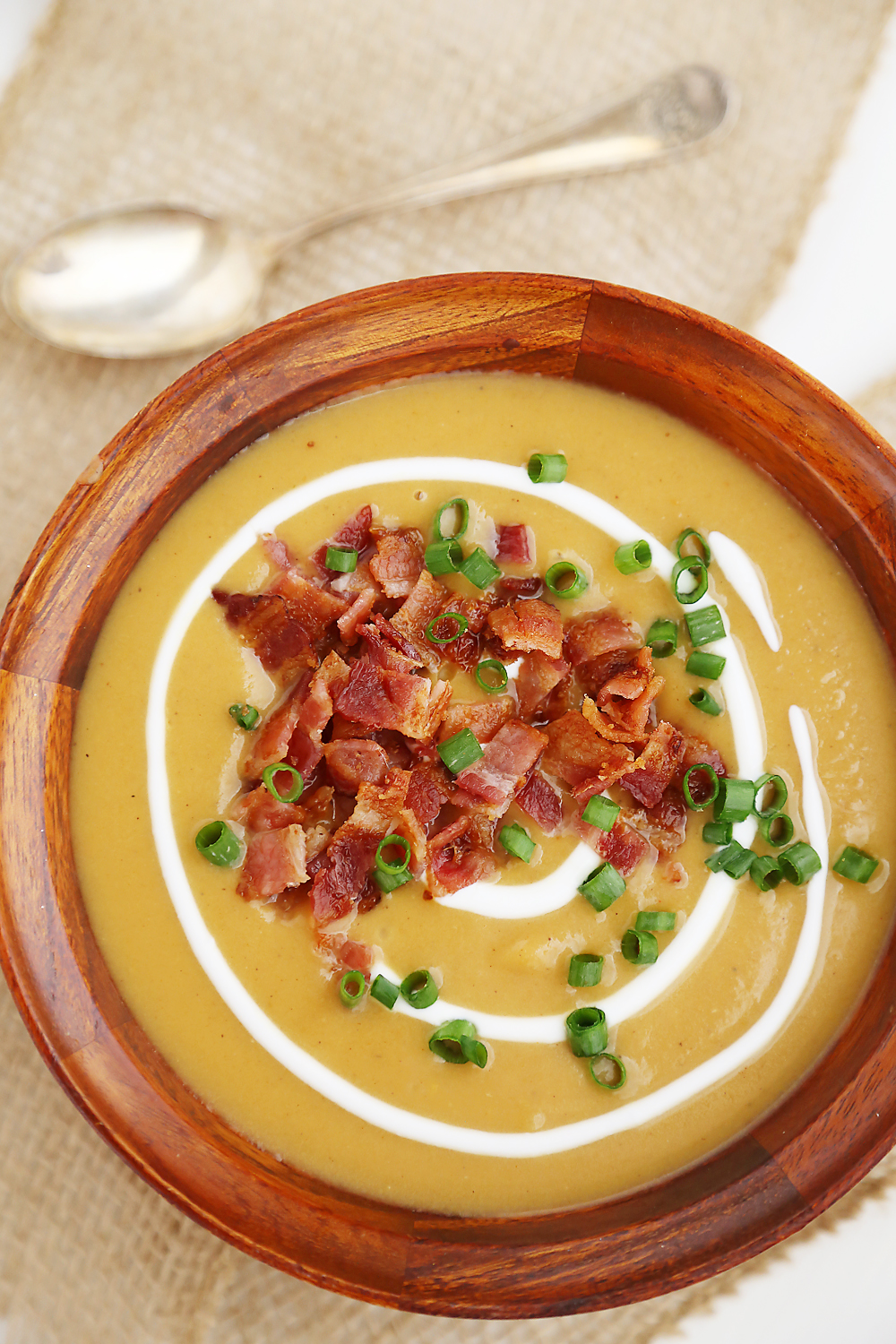 You can either cook this soup for a short time on your stovetop, or let it simmer the day away. I've left it up to 6 hours in a heavy pot, covered, over a low-as-it-goes heat setting. Or, you can place your oven safe pot into a 225-degree oven for a few hours. It would even work in your slow cooker! However, if your soup becomes too thick, simply add a bit of extra broth or milk, and season to your liking.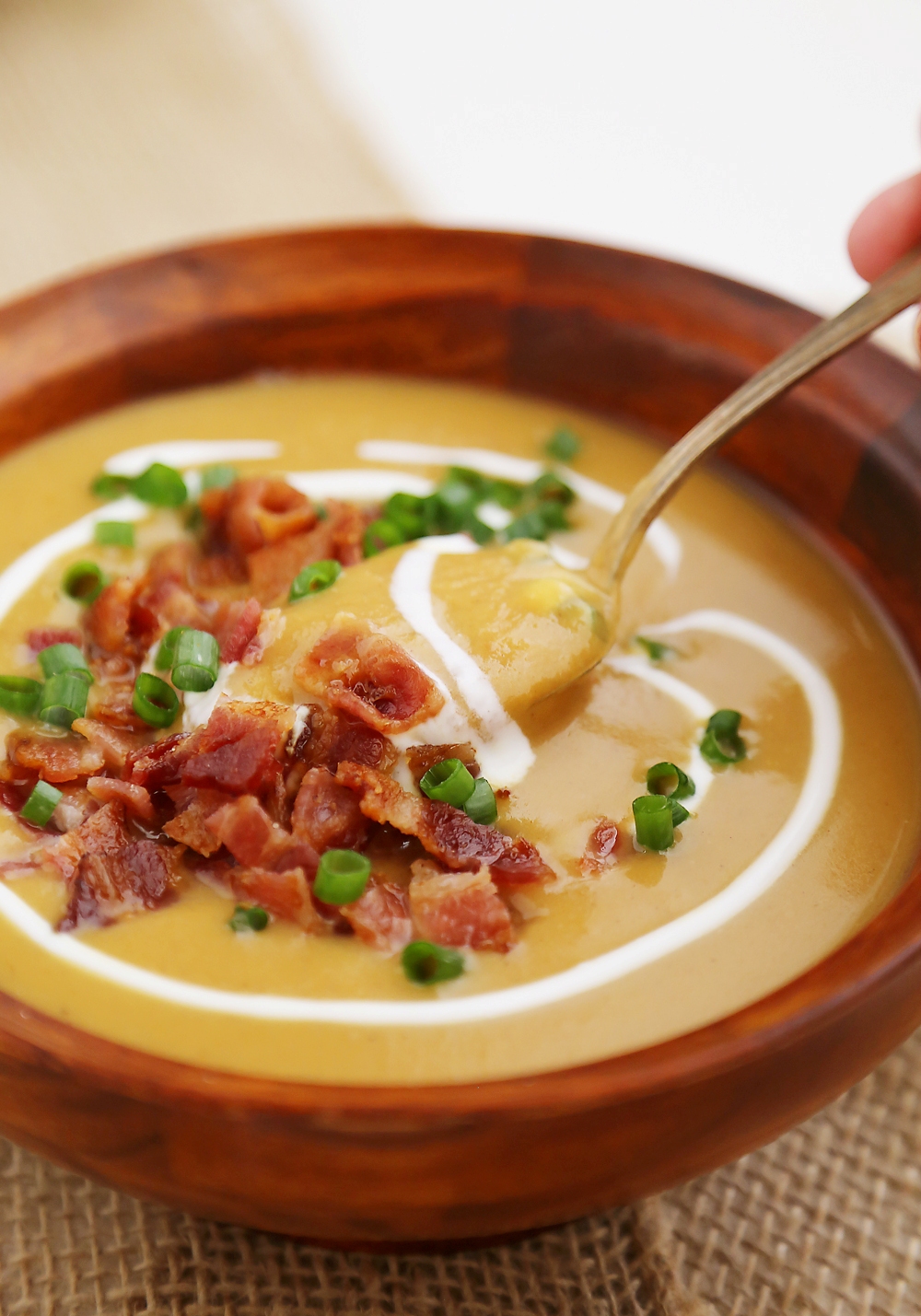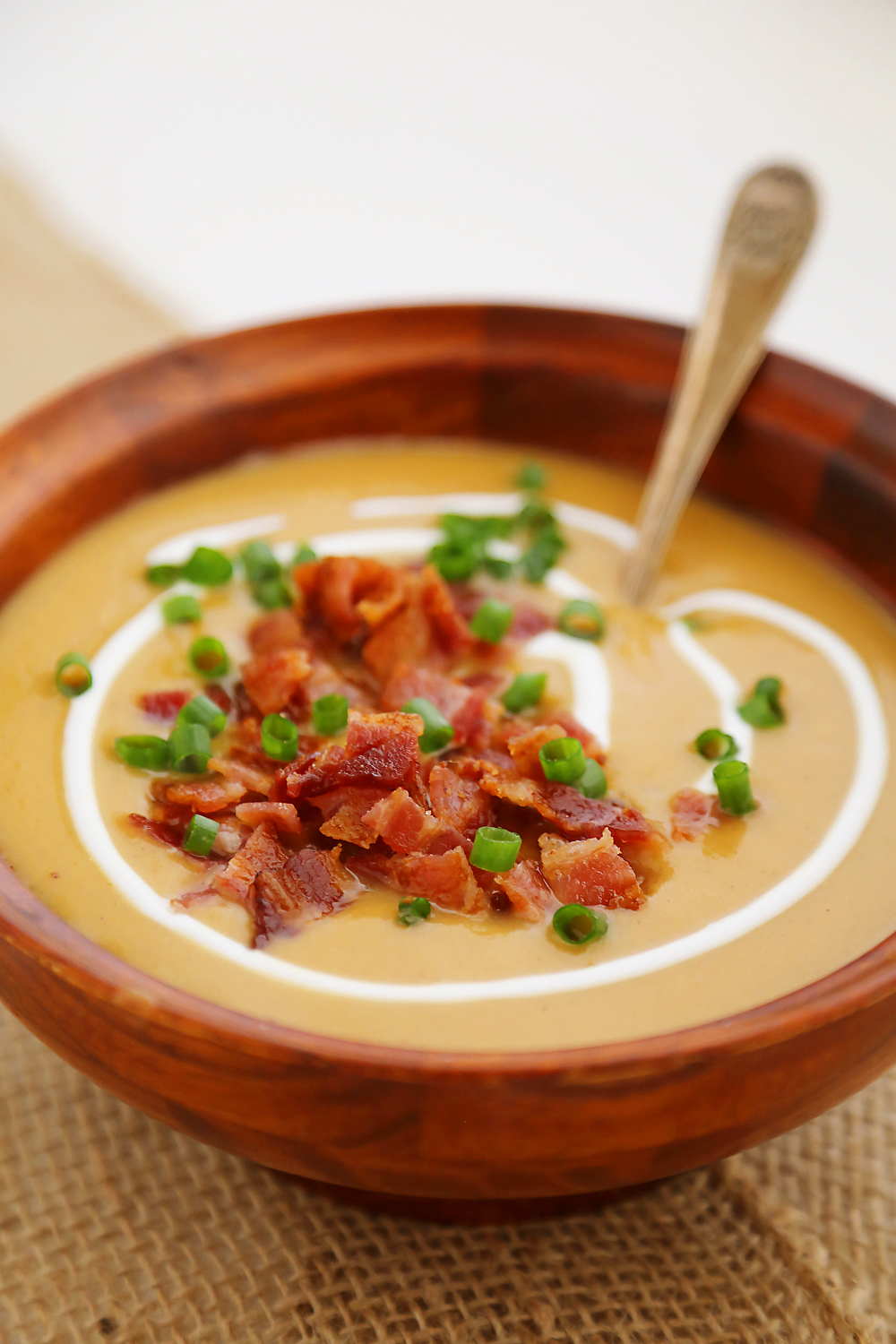 Loaded Sweet Potato Soup
Ingredients
1 Tablespoon flour
1 Tablespoon unsalted butter
1 1/2 cups chicken broth or vegetable broth
1 Tablespoon light brown sugar
1 1/2 cups cooked sweet potatoes
1/4 teaspoon ground ginger
1/4 teaspoon crushed red pepper flakes or pinch of cayenne, optional
1/8 teaspoon ground cinnamon
1/8 teaspoon ground nutmeg
1/8 teaspoon ground allspice
1 cup milk, any kind
Kosher salt and freshly ground pepper, to taste
Optional toppings:
Crispy cooked bacon, chopped
Green onions, chopped
Sour cream or Greek yogurt
Instructions
Set a large, heavy saucepot to medium heat and add butter. Once melted, whisk in flour until roux turns light caramel color. Whisk in broth and brown sugar. Bring to a boil, then reduce heat to low and simmer. Stir in sweet potatoes and spices. Bring to a simmer and cook for 10 minutes more.
In a blender, puree soup in batches and return to saucepot. Or, use an immersion blender to blend the soup right in the pot (recommended).
Whisk in milk and continue simmering soup until heated through. Season with salt and pepper. Ladle into individual soup bowls and top with desired toppings.
Enjoy!