How old were you when you stopped receiving Easter baskets? I'm proud to say I was 18, and not an Easter goes by where I don't miss those hollow chocolate bunnies, Peeps, little nail polishes and a $20 bill tucked into the fake grass. The thing I love about being all grown up now, though, is that I know how to make my own Easter candy!
Chocolate turtles are one of my favorite sweet treats ever. The creamy caramel mixed with crunchy pecans (or in this case, walnuts), coated with a sweet, decadent layer of milk chocolate… mmm! Against turtles I am powerless.
They're actually pretty simple to make, too. Just arrange the nuts on a baking sheet, make your caramel and pour it over. Wait while it hardens a little, then drip a tablespoon of melted chocolate over each little cluster. Once the candy is set, you're ready to munch away!
If you prefer pecans, use pecans. If you prefer dark chocolate, go right ahead. Make them to your taste! Sprinkle on some fleur de sel, melt them and serve them over ice cream, give them away to friends and family (if you have the self control). Or do like I do, and share with no one! Just kidding. I gave my husband a bite.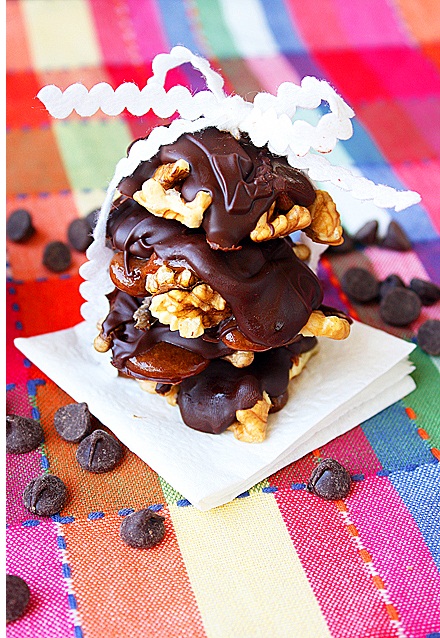 Chocolate, Caramel and Walnut Turtles
Ingredients
4 tablespoons butter, cut up, plus more for pans
3/4 pound walnut halves, about 3 1/2 cups, toasted
1 cup evaporated milk
1 cup light corn syrup
1 cup sugar
1 teaspoon vanilla
1/2 pound semisweet chocolate, chopped
1 tablespoon vegetable shortening, recommended: Crisco
Equipment needed:
Instructions
Generously butter 2 baking sheets. On the baking sheets, arrange the nut halves in snowflake-shaped clusters, leaving 2 inches of space between each.
In a medium saucepan, combine 1/2 cup of the evaporated milk, the corn syrup, and sugar and bring to a boil. Add the remaining 1/2 cup evaporated milk and the 4 tablespoons butter, and cook, stirring constantly, until it reaches the soft ball stage (as noted on thermometer), 240 degrees F. Stir in the vanilla and remove from the heat. Let cool to 200 degrees F.
Using a tablespoon, spoon caramel on top of each nut cluster and let harden. (If the caramel becomes too stiff to pour, return to low heat, and cook, stirring constantly, until it returns to the proper consistency.)
To make the chocolate coating, in the top of a double boiler or in a metal bowl set over barely simmering water, combine 6 ounces of the chocolate and the shortening. Melt over low heat, stirring, until it reaches 116 to 118 degrees F, or feels fairly warm but not hot to the touch.
Remove from the heat and stir in the remaining 2 ounces of chocolate. Continue stirring until the chocolate reaches 80 degrees F or feels cool to the touch. Return to low heat and cook, stirring, until the temperature rises to 85 to 87 degrees F, or feels barely cool. Remove from the heat.
Drizzle 1 tablespoon of tempered chocolate over each cluster. Set aside in a cool place to harden. Store in an airtight container at room temperature for up to 2 weeks, with waxed paper separating the layers to prevent sticking.
Enjoy!