Classin' up a classic, with a twist on the traditional treat! Covered in chocolate ganache and sea salt, each one is a little bite of bliss. So easy and elegant for parties!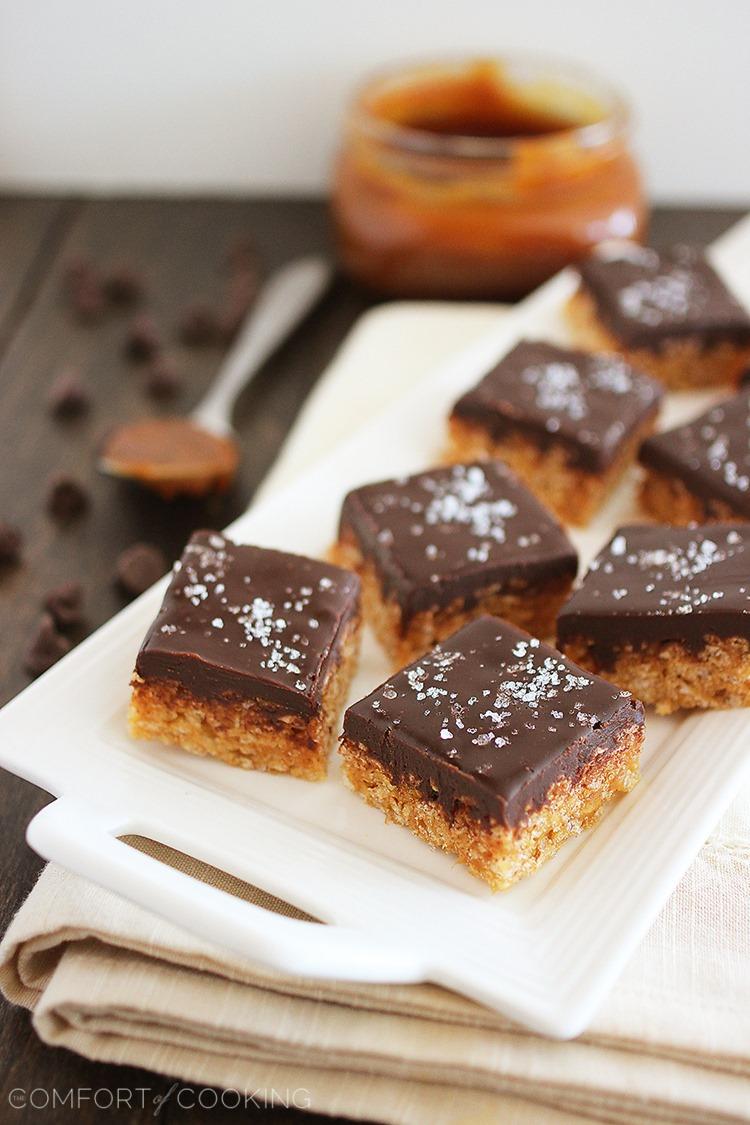 I tell ya, it seems as if this little girl already knows her flavor pairings – She's got me craving sweet and salty everything like it's goin' out of style! It's a wonder that these made it to the girls' night I brought them too at all. But, with a little (okay, a lot) of self control, I placed these treats on a pretty platter and whisked 'em out the door.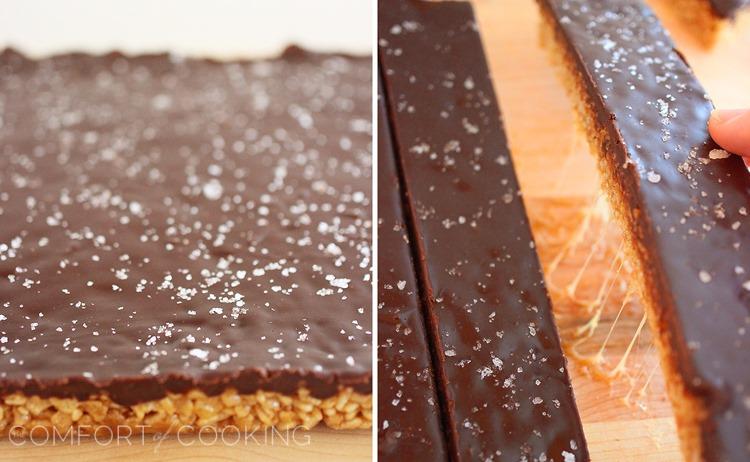 You may have had Rice Krispie treats before, but you have NEVER had them like this.
Each one is a creamy, crunchy, salty, sweet and utterly decadent bite of bliss. Though they're absolutely addictive, they're also about as rich as fudge, so moderation is a liiiittle easier. At least for me. Can't speak for all you fudge-crazy foodies out there!
I also think the treat without the chocolate ganache topping is just as amazing! Really lets you taste that gooey, rich salted caramel without chocolate stealing the scene. It's a welcome party crasher in my opinion, though.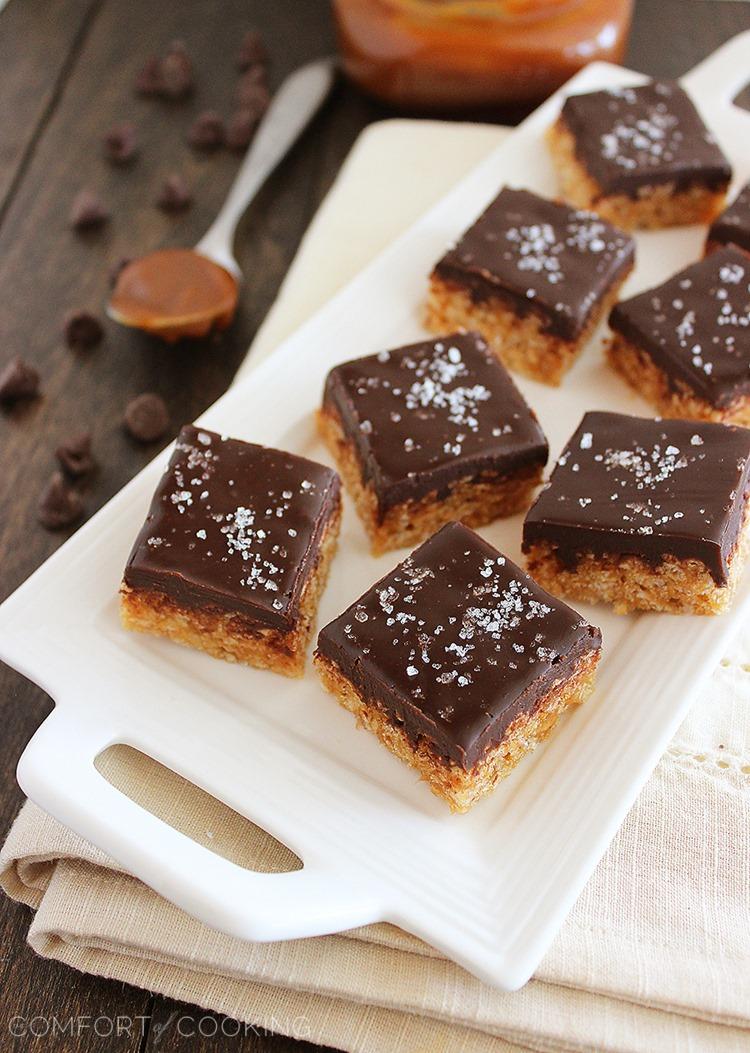 Between all your good-girl skinny salads and soups, indulge a little and try these treats! They're the perfect unique "little something" to bring to parties. I can tell you firsthand that they'll fly off the platter – They did at this girls' night, thankfully leaving me with none to bring home!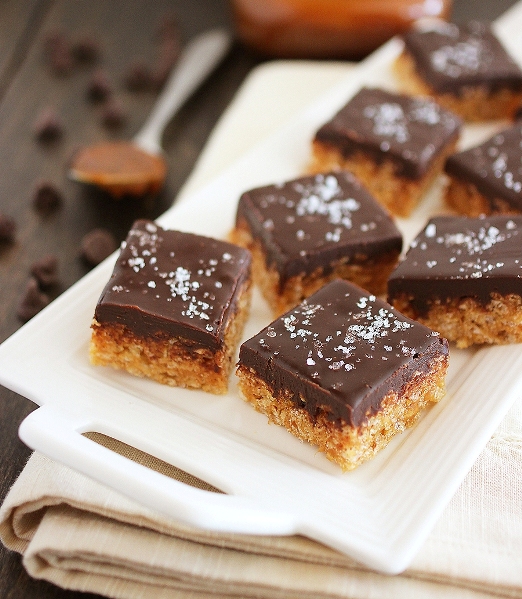 Salted Caramel Chocolate Rice Krispie Treats
Yield:
30 small squares (made in a 13x9 pan)
Ingredients
Salted Caramel:
1/2 cup granulated sugar
2 Tablespoons water
2 1/2 tablespoons butter
1/4 cup heavy cream
1/4 teaspoon coarse salt, plus more for topping
Rice Krispie Treats:
1 10 oz. bag marshmallows
2 Tablespoons butter
1 teaspoon vanilla extract
6 cups Rice Krispies cereal
Chocolate Ganache Topping:
3/4 cup heavy cream
2 cups chocolate chips
Instructions
For Salted Caramel: In a medium sauce pan set to medium-high heat, combine sugar and water. Do not stir. Watch carefully until mixture turns a deep amber color. Remove from heat and whisk in butter, cream and salt. Set aside.
For Rice Krispie Treats: In a large pot set to medium heat, melt marshmallows, butter and vanilla. Stir until smooth and add salted caramel. Stir in Rice Krispies until well combined. Pour mixture into a lined and greased 13x9 (or 8x8 for thicker treats) pan. Flatten using a buttered rubber spatula. Chill pan in refrigerator while you make the ganache.
For Chocolate Ganache Topping: In a small pot over medium heat, heat cream until almost boiling. Remove from heat and whisk in chocolate until smooth. Let ganache cool for 10 minutes then pour over Rice Krispies, tilting the pan to distribute evenly. Let set for 5 minutes then sprinkle with coarse salt.
Refrigerate to set before cutting, at least 2 hours. Slice into squares and refrigerate until ready to serve.
Enjoy!