Is it weird to jump face-first into a pile of warm laundry when no one else is around?
I was content on maybe just lying there for the entire day, until my husband came home from work at 6:30 and found me, piled underneath mountains of sweaters, jeans and fuzzy socks. But, the adult in me started thinking about all the things I need to do today… including telling you about these incredible pecan pie bars.
It has been uncharacteristically cool this September in sunny SoCal, which has made for the perfect excuse to warm up the kitchen and start baking sweet treats again. These pecan pie bars, with their chewy shortbread crust, soft brown sugar filling and crunchy pecan topping, were just the ticket to kick things off. They're both a breeze to bake and far less sinful than a typical pecan pie, which can pack over 500 calories per slice. Why not make these instead at just under 200 calories per bar?
Even if you're not a huge fan of pecan pie, there probably is a pecan pie lover in your life who would gladly accept a big box of these delicious bars!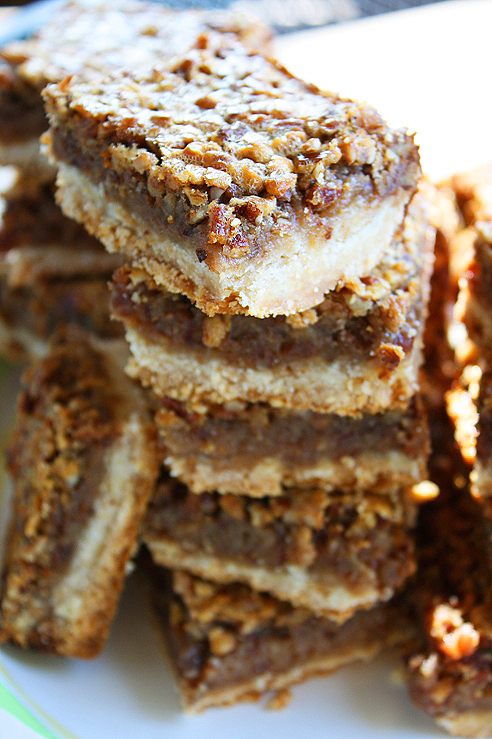 Pecan Pie Bars
Ingredients
2

cups

all-purpose flour

1/2

cup

sugar

1/8

teaspoon

salt

3/4

cup

butter or margarine

cut up

1

cup

firmly packed brown sugar

1

cup

light corn syrup

1/2

cup

butter or margarine

4

large eggs

lightly beaten

2 1/2

cups

finely chopped pecans

1

teaspoon

vanilla extract
Instructions
Combine flour, sugar, and salt in large bowl; cut in 3/4 cup butter thoroughly with a pastry blender until mixture resembles very fine crumbs. Press mixture evenly into a greased 13" x 9" pan, using a piece of plastic wrap to press crumb mixture firmly in pan. Bake at 350° for 17 to 20 minutes, or until lightly browned.

Combine brown sugar, corn syrup, and 1/2 cup butter in a saucepan; bring to a boil over medium heat, stirring gently. Remove from heat. Stir one-fourth of hot mixture into beaten eggs; add to remaining hot mixture. Stir in pecans and vanilla. Pour filling over crust. Bake at 350° for 34 to 35 minutes or until set. Cool completely in pan on a wire rack, about 2-3 hours. Cut into bars.

Enjoy!