Creamy, cheesy broccoli baked mac and cheese that keeps weeknights skinny and scrumptious! Both kids and grown-up kids will gobble up this gooey side dish!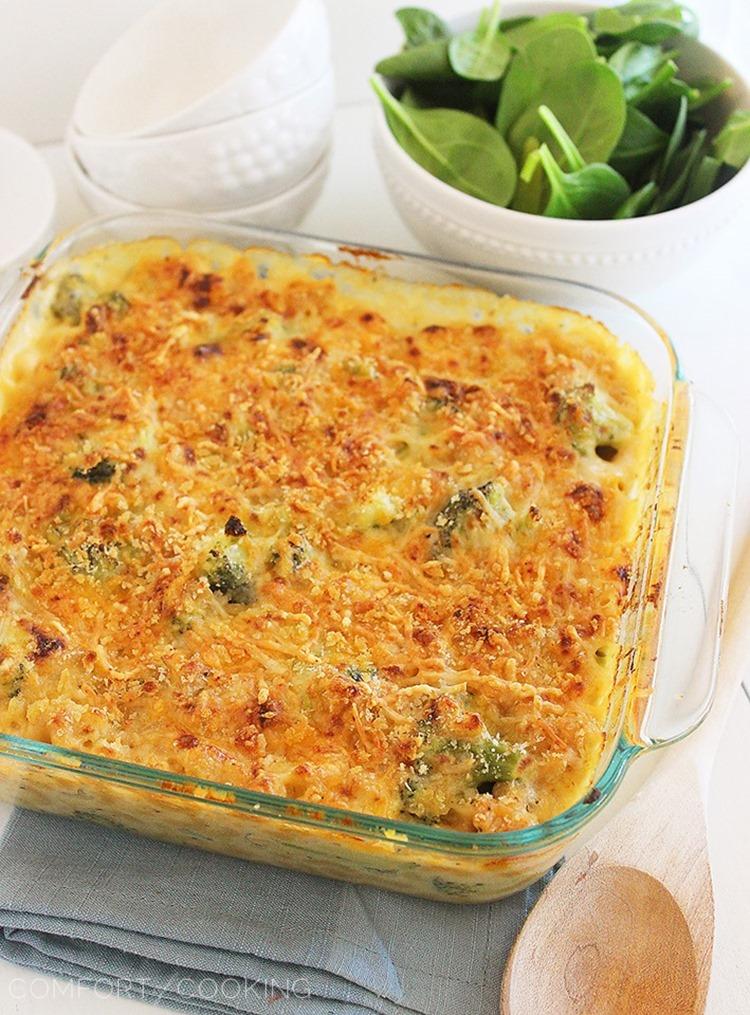 I may not be a mama just yet, but I do know how stubborn little ones can be about getting their veggies! After all, I was one of them. Sure, I'd force down some kind of green for dinner every night – and sometimes, it's still a struggle! But I'd always be wishing it was an extra scoop of mashed potatoes or a fluffy piece of garlic bread instead. When that wish didn't come true, though, it was usually broccoli. And, on those once-in-a-while weeknights, broccoli with a creamy homemade cheese sauce!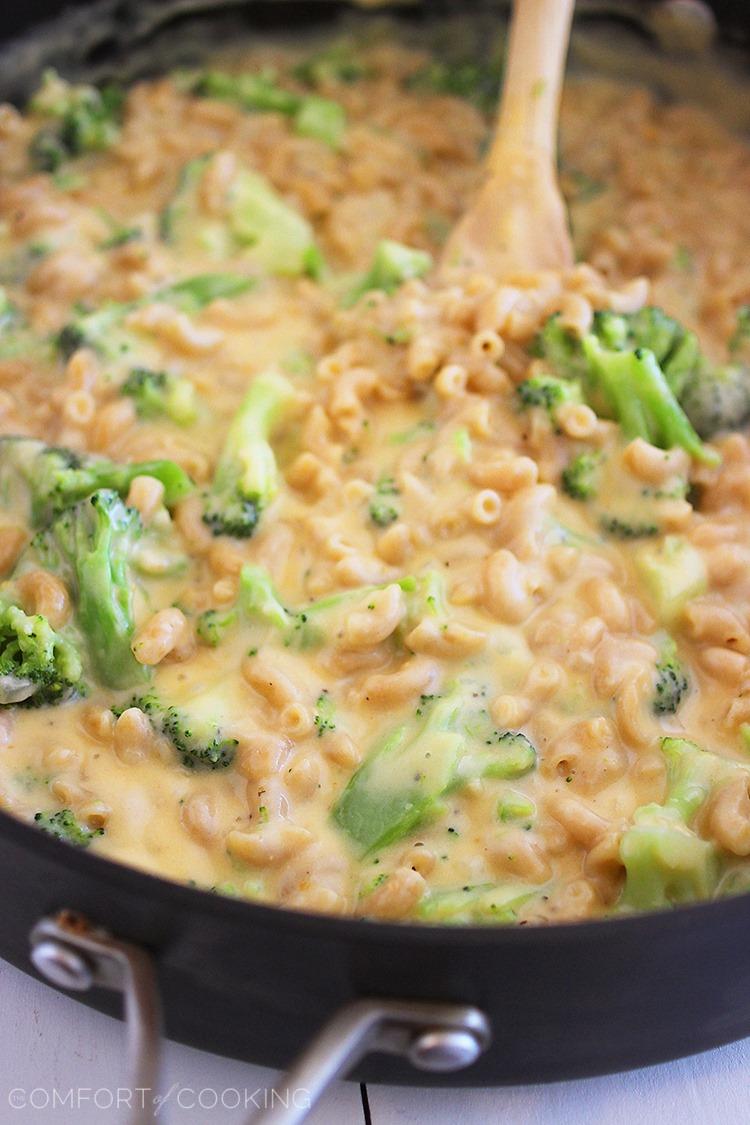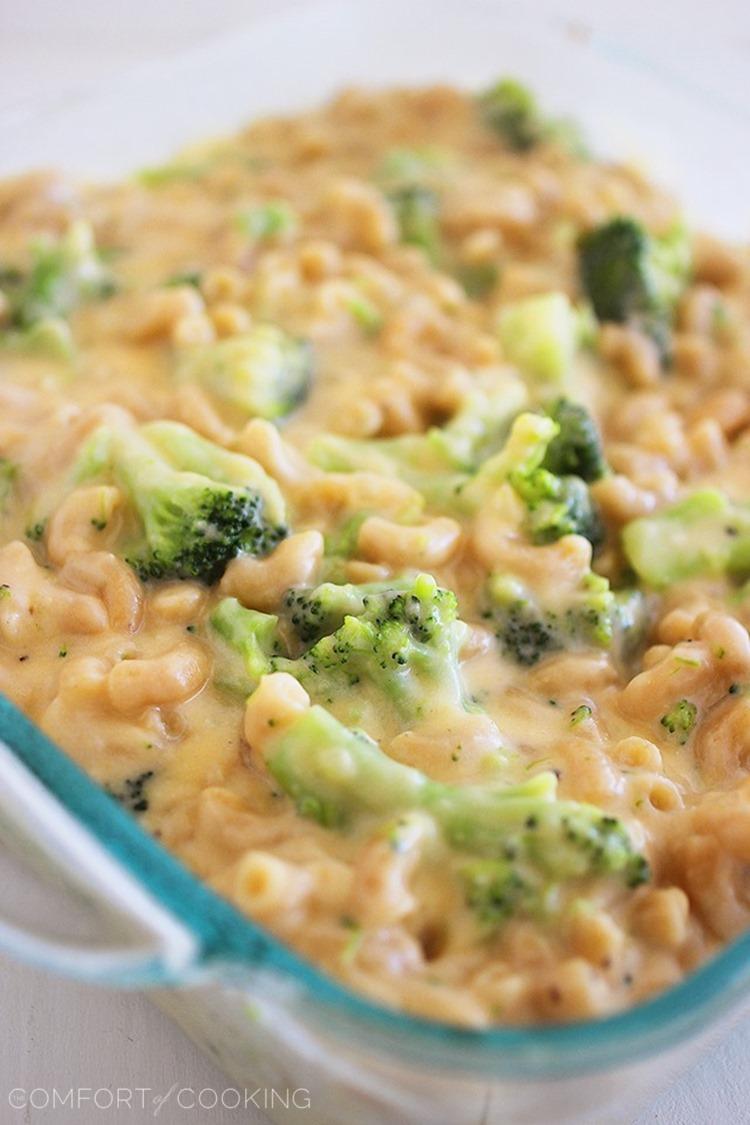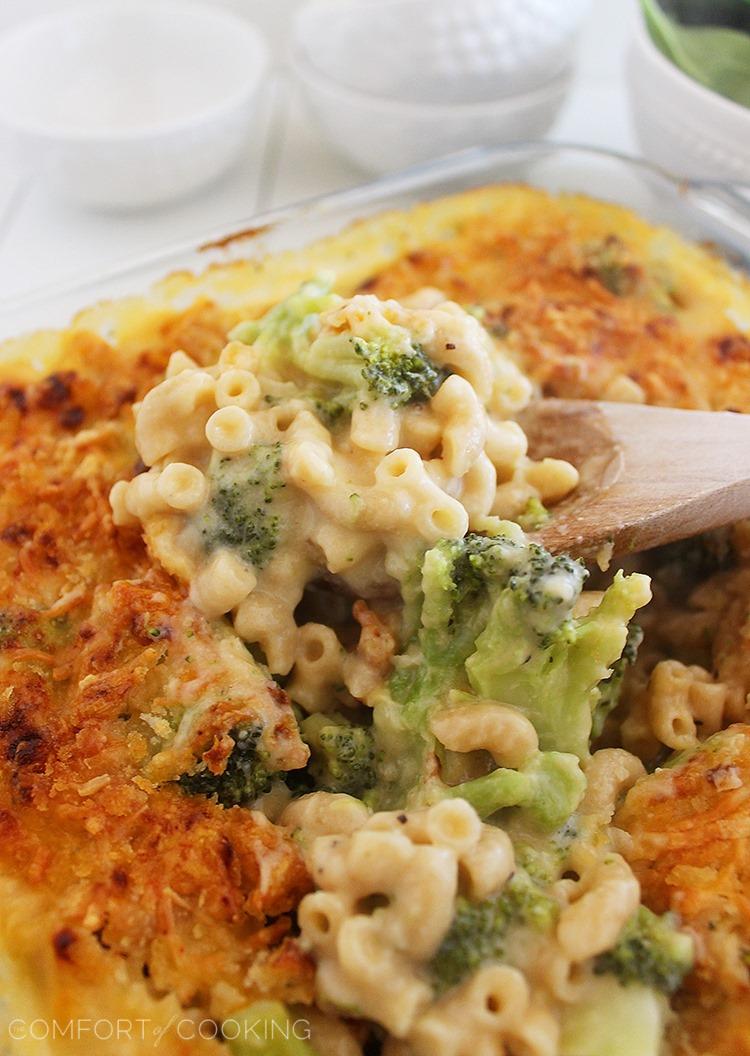 If there was a way to make the classic cheesy broccoli side even more appealing to both adults and kids, THIS is it. Just boil your pasta and broccoli all in the same pot, make a quick cheese sauce, toss it all into a casserole dish, and bake until bubbly. A quick broil gives a nice golden crust that gives way to molten, gooey mac. It's pretty much heaven!
This easy broccoli mac 'n cheese is perfect alongside your favorite comfort foods, and makes a simple side to pair with a grocery store rotisserie chicken – that's what we did last night! And it was amazing.
Just keepin' it real, folks.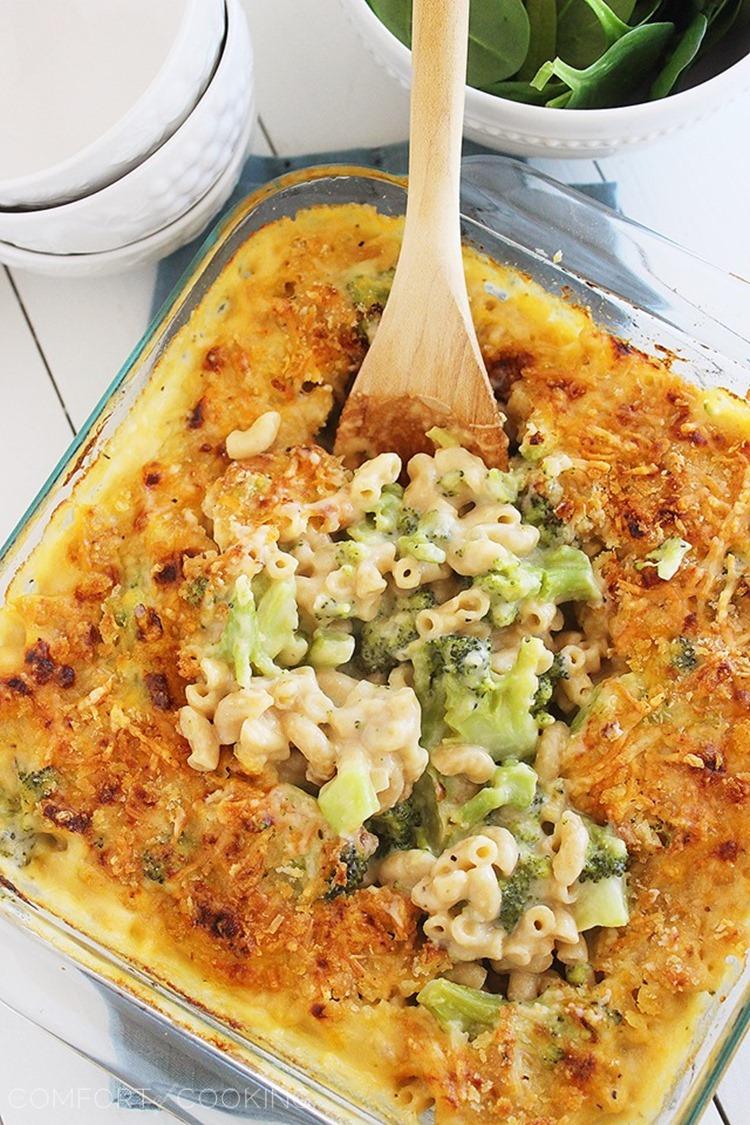 Compared to other cream-heavy macaroni and cheeses, this one clocks in at just over 300 calories per serving. Not bad for a big scoopful! You can also try my butter-free roasted vegetable mac 'n cheese. Chock full of colorful veggies and cheddar cheese, with a little kick that keeps it kid-friendly. Another major favorite in this house!
I know you'll love this mouthwatering broccoli macaroni and cheese just as much as we did. Next time, I think I'll add some cooked, chopped up ham or chicken to make it a full meal!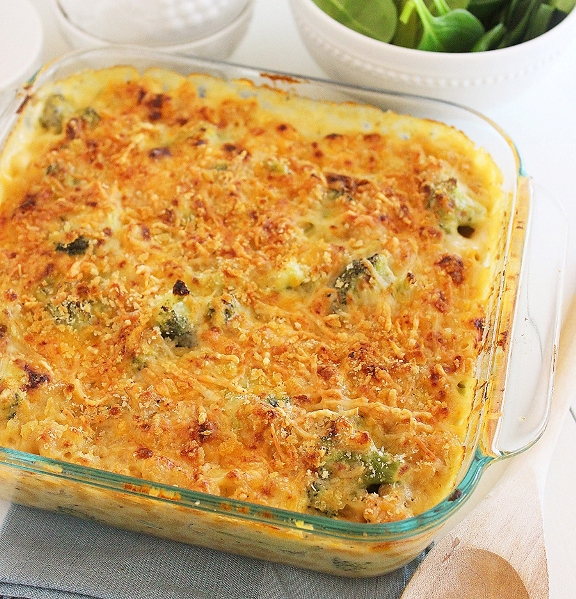 Skinny Baked Broccoli Macaroni and Cheese
Yield:
8 (1 cup) servings
Ingredients
Nonstick cooking spray
12 oz. whole wheat pasta, elbows, rotini, shells, etc.
12 oz. fresh or frozen broccoli florets
2 Tablespoons butter
1/4 cup freshly minced onion
1/4 cup flour
2 cups fat-free milk
1 cup low-sodium chicken or vegetable broth
Salt and freshly cracked black pepper, to taste
8 oz. 2 cups reduced-fat sharp cheddar cheese
2 Tablespoons grated Parmesan cheese
1/4 cup panko bread crumbs
Instructions
Preheat oven to 375 degrees F. Coat a 9 x 9 baking dish with cooking spray.
Set a large pot of salted water to boil. Add pasta and broccoli together; cook according to pasta's package directions for al dente.
In a large skillet set to medium heat, melt butter. Add onion and cook 1 minute. Whisk in flour and cook another minute. Whisk in milk and chicken broth. Bring to a boil over medium-high heat. Reduce heat to medium and cook sauce about 5 minutes, or until smooth and thick. Season with salt and pepper.
Once sauce has thickened, remove from heat. Add cheddar, stirring until well blended. Add pasta and broccoli; mix well. Pour into prepared baking dish. Top with grated parmesan and breadcrumbs. Lightly coat top with cooking spray.
Bake for 15-20 minutes, then broil for 2-4 minutes to get the breadcrumbs golden.
Enjoy!