I remember my first Valentine's Day with my husband like it was yesterday. We had been dating just five months then, and for our Saturday night date I nervously slinked into my first little back dress in the tiny bathroom of his college apartment. I slipped on a pair of matching pumps, he twirled a gray tie around his neck, and we were off to the Boston symphony! Just a couple of kids pretending to be grown-ups for one night…
It was that night that made this teenage farm girl feel indescribably glamorous and fully "arrived" in the big city, but stuffy has never been my style. After an hour of piano playing and playful winks, we ditched it early, called a cab and got cheeseburgers. I couldn't have been happier to slip out of those painful black pumps, and who cared that the tickets sucked up what little savings I had to spend as a college freshman?
Times like those make for good stories, I always say.
All of our Valentine's days since that experiment in being adults long before necessary have been much more fun, thankfully. Some years, we'll exchange heartfelt gifts or cook each other a meal, and once in a while, the holiday just goes unnoticed altogether. That's fine. Every lady, like me, should get flowers on random Tuesdays and hear "I love you" every day of the week.
Last year, we had friends over to celebrate with a scrumptious dinner for four. This year, though, Mark and I will exchange small gifts, cook dinner at home and enjoy a delicious dessert made with love, like these brownie and fresh fruit tarts.
Using freshly whipped cream, a few handfuls of berries, my beloved cocoa brownie recipe and a drizzle of caramel, this decadent dessert was pure heaven! All I did was bake a batch of my Best Cocoa Brownies, whipped up some Vanilla Whipped Cream, and topped it off with our favorite fruits. Simple, straightforward and so scrumptious. Not to mention, a romantic dessert for two!
I hope that however you spend this holiday, you give love and feel loved in some way. Whether it's with family, friends, a new flame or a long-time love, take the time to appreciate them, show your love and enjoy a little dessert together next Monday night!
Happy (almost) Valentine's Day from your favorite hopeless romantic of a food blogger!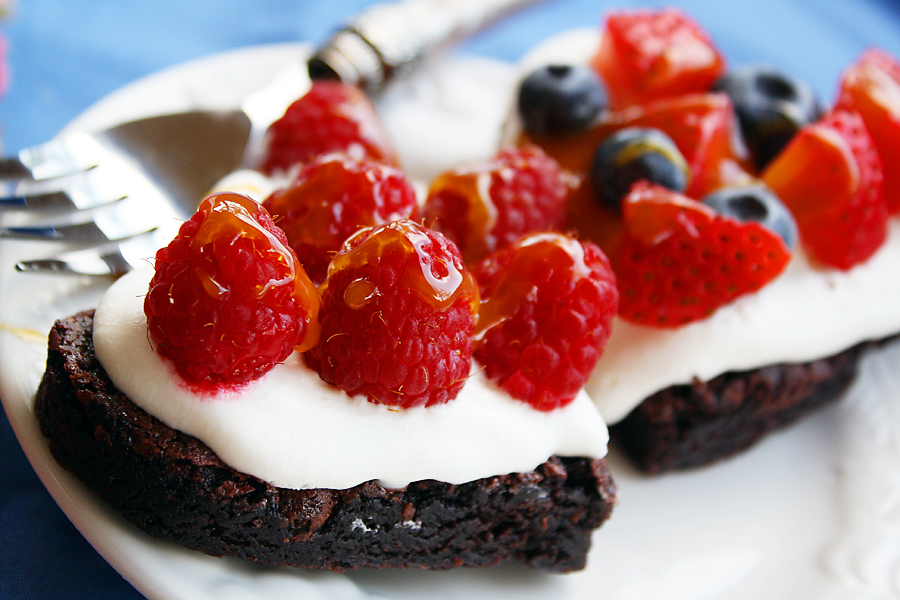 Brownie, Cream and Fresh Fruit Tarts
Yield:
12 square OR 4 heart-shaped brownies
Ingredients
Brownie recipe:
1/2 cup butter
1-1/4 cup white sugar
2 eggs
1 teaspoon vanilla extract
1/3 cup unsweetened cocoa powder
1/2 cup all-purpose flour
1/4 teaspoon salt
1/4 teaspoon baking powder
Vanilla whipped cream (makes 2 cups):
1 cup heavy whipping cream
1/2 tsp. vanilla extract
1/4 cup powdered sugar
To assemble, gather:
Brownies
Whipped cream
Fresh fruit, I used raspberries, strawberries and blueberries
Caramel sauce, optional
Pastry bag and large tip, optional
Instructions
Brownie recipe:
Preheat oven to 350 degrees. Grease and flour a 9-inch square pan.
Melt 1/2 cup butter. Remove from heat and stir in sugar, eggs and 1 teaspoon vanilla. Gently stir in 1/3 cup cocoa, 1/2 cup flour, salt and baking powder. Spread batter into prepared pan.
Bake in preheated oven for 28-30 minutes. Cool for 15 minutes before cutting.
Vanilla whipped cream:
In a chilled, medium-sized bowl and using chilled beaters, beat cream until it begins to thicken. Add powdered sugar and vanilla, and beat until soft peaks form. Store in the refrigerator.
To assemble:
Cut cooled brownies into desired shape with cookie cutters or a knife. Set aside.
Using a pastry bag with a large tip (I used a Wilton 1M), or carefully with a small spoon, outline your desired shape with the whipped cream on top of the brownies. Place brownies on a plate and freeze for 20 minutes to harden the whipped cream slightly.
After 20 minutes, top the tarts with your favorite fresh fruit, and if you'd like, drizzle with a little caramel sauce. Serve immediately.
Enjoy!