The family I married into is pretty great. My sister-in-law is one of my most trusted friends. My father-in-law loves a long chat with his son and always tells him funny news stories that get back to me. And, my mother-in-law, Linda, is one of the warmest women I know… She's the type who won't sit down until she's made sure you're comfortable in your own chair, and you have a cup of tea to drink and a newspaper to read while you're sitting. She also loves to travel and brings back great little gifts for anyone who didn't tag along on her trip.
So, before Linda and my sister-in-law went to France recently, she asked if my husband and I would like anything. Hmmm… anything? Seeing as a four-course dinner couldn't easily be mailed through the French postal system, I was stumped.
"No, thanks. Nothing for me," I told her.
And then, she came back with this:
This is deep, dark, pure unsweetened Valrhona cocoa powder, and it makes a chocolate brownie so light, so fluffy and perfectly moist that after one bite, you'd think you had died and gone to heaven.
My first instinct was not that I needed to do something impressive like ganache or truffles with this lovely chocolate… My first instinct was to make a brownie, and simple as it may sound, it was a great way to really taste the cocoa's deep, intense flavor through a really simple recipe.
Some day soon, I'll dream up other delicious ways to use the cocoa powder (ideas are welcome!), but if I don't come up with anything before fall and winter, I'm sure this stuff will make an incredible hot cocoa drink!
Linda, I've already told you, but I'll tell you again: THANK YOU! It was so nice of you to think of me during your fun France trip, and this cocoa powder was the greatest gift I never knew I needed.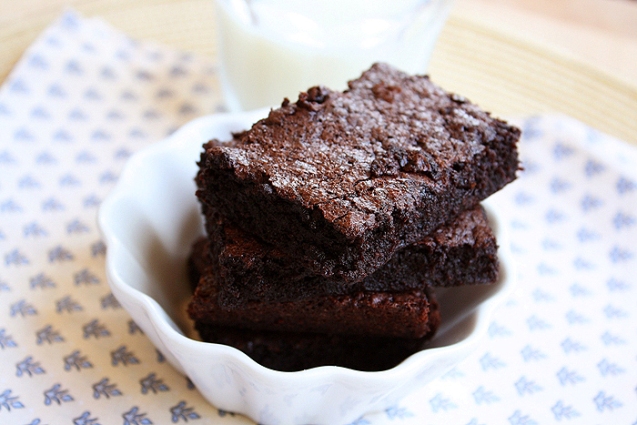 Best Cocoa Brownies
Ingredients
1/2

cup

butter

1

cup

white sugar

2

eggs

1

teaspoon

vanilla extract

1/3

cup

unsweetened cocoa powder

1/2

cup

all-purpose flour

1/4

teaspoon

salt

1/4

teaspoon

baking powder
Instructions
Preheat oven to 350 degrees. Grease and flour a 9-inch square pan.

Melt 1/2 cup butter. Remove from heat and stir in sugar, eggs one at a time, and 1 teaspoon vanilla. Gently stir in 1/3 cup cocoa, 1/2 cup flour, salt and baking powder. Spread batter into prepared pan.

Bake in preheated oven for 28-30 minutes. Cool for 15 minutes before cutting.

Enjoy!