My husband, who doesn't like a lot of sweets, loves a good pumpkin pie. Unfortunately for him, I don't, so it doesn't get made around here that often. Lucky for him, though, I do have a major affinity for cake in all shapes and sizes, colors and flavors. You'd think we were constantly celebrating something given how many cakes and cupcakes have come out of my oven in the last few months. And it's been a sweltering summer, so the last thing I've wanted to do is fire up my oven… But I did, and I will again. All for the love of cake.

This pumpkin spice cake, baked to fluffy perfection with pumpkin puree, my homemade vanilla extract, cinnamon and nutmeg, is incredibly moist and delicious topped with whipped cream cheese frosting and a sprinkling of chopped walnuts.

It's easy to make, too, and though I chose to make it into a 13 x 9 inch sheet cake, I also included instructions for a layer cake and cupcakes. Make it into a fancy cake or cupcakes if you must, but I think we can all agree that sometimes there's just no time to wait for cake. Sometimes you need it NOW.

Within a matter of days, it was totally devoured by my darling, his coworkers, and me, and I started dreaming up an excuse to make this delicious, decadent pumpkin cake again. Then again, who needs an excuse? This stuff is so amazing I'd make it every day if my hips didn't hate me for it.

Whether you're bringing this cake to a party or keeping it all to yourself, I know you will enjoy its simplicity and moist, mouthwatering taste just as much as we do. It's fun to make, gets you in the fall spirit, and fills your home with the most amazing cinnamon-spiced aroma that will have your neighbors wondering what's baking!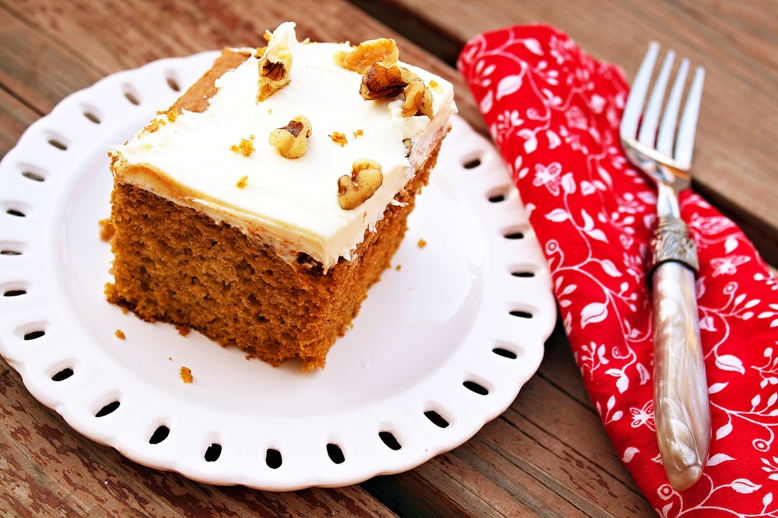 Pumpkin Spice Cake with Rich Cream Cheese Frosting
Yield:
1 13 x 9 inch cake / 3 cups frosting
Ingredients
Pumpkin Spice Cake:
2 cups white sugar
1 1/4 cups vegetable oil
1 teaspoon vanilla extract
2 cups canned pumpkin
4 eggs
2 cups all-purpose flour
3 teaspoons baking powder
2 teaspoons baking soda
1/4 teaspoon salt
2 teaspoons ground cinnamon
1/2 teaspoon ground nutmeg
1 cup chopped walnuts, optional
Rich Cream Cheese Frosting:
2 8 ounce packages cream cheese, softened
1/2 cup butter, softened
1 teaspoon vanilla extract
2 cups sifted confectioners' sugar
Instructions
Pumpkin Spice Cake Preheat oven to 350 degrees F (175 degrees C). Grease and flour a 13 x 9 inch pan. Sift together the flour, baking powder, baking soda, salt, cinnamon and nutmeg. Set aside.
In a large bowl combine sugar and oil. Blend in vanilla and pumpkin, then beat in eggs one at a time. Gradually beat in flour mixture. Spread batter into prepared 13 x 9 inch pan.
Bake in the preheated oven for 30 minutes, or until a toothpick inserted into the center of the cake comes out clean. Allow to cool completely before frosting. Top with walnuts.
For two round layer cakes, distribute batter equally between two buttered 8- or 9-inch round cake pans. Bake at 350 degrees for 20-25 minutes.
For cupcakes, distribute batter equally in a 12-cup muffin tin with paper liners. Bake at 350 degrees for 30-35 minutes.
Rich Cream Cheese Frosting In a medium bowl, cream together the cream cheese and butter until creamy. Mix in the vanilla, then gradually stir in the confectioners' sugar. Store in the refrigerator after use.
Enjoy!