These potato skins were so much fun to make, and such a yummy party snack for yesterday's Superbowl. While I may not have been too focused on the game, I was pretty preoccupied with enjoying our scrumptious spread, which included baked buffalo wings, sweet 'n sticky chicken drumsticks, and these potato skins with gooey cheddar, crisp bacon and sweet caramelized shallots.
This recipe serves 8 and the ingredients are basic – any kind of potatoes (I used red), bacon, shallots, cheddar, milk and butter. For garnishes, top with more cheddar, parsley and scallions, if you'd like. Or, get creative with your own fixings!
First, I just pricked the potatoes with a fork and baked them for an hour. Once they were out, the top third was sliced off, the flesh scooped out and mashed with the good stuff mentioned above. Then, back into the hollowed-out skins the mashed potatoes went, which were baked to a crisp and sprinkled with tasty toppings.
I only made a few for just myself and Mark, but the next time we have a casual party with plenty of hungry guests, I really look forward to making these potato skins again. I know you will enjoy them, too, for any big or small celebration with friends and family. They're super simple, scrumptious and will have your guests begging for more!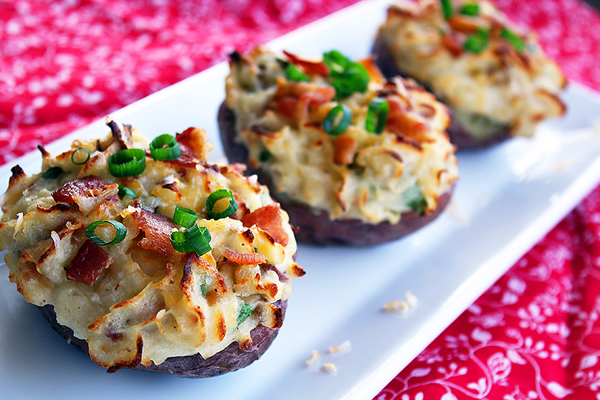 Potato Skins with Cheddar, Bacon and Shallots
Ingredients
8 medium baking potatoes, scrubbed
8 strips bacon
3 shallots, finely chopped
3/4 cups milk
3 Tbsp. butter
1/2 cup shredded cheddar cheese
Salt and freshly ground black pepper
3 Tbsp. chopped parsley, optional
2 scallions, optional
Instructions
Preheat the oven to 400°F. Prick the potato skins all over with a fork. Bake in the oven for about 45–50 minutes, until tender.
Meanwhile, cook the bacon in a frying pan over medium-high heat about 4 minutes, until golden. Remove from pan, chop into small pieces and set aside. Add the shallots and cook until they soften, about 1 minute more.
Slice off the top third of each potato, horizontally. Using a spoon, scoop out the flesh into a large bowl. Reserve the hollowed-out skins and place in a lightly oiled baking dish.
Mash the potato with a potato masher. Add the milk and butter, and beat until smooth. Stir in the cheddar, bacon and shallots and parsley. Season with salt and pepper.
Spoon the mixture back into the potato skins and bake for about 20 minutes, or until the filling is heated through and golden on top. Serve hot with extra chopped parsley, cheddar or scallions sprinkled on top, if desired.
Enjoy!