Three ingredient home-baked fries with a secret ingredient! Slide a batch of crispy baked sweet potato fries alongside your next sandwich or burger… they're easy to make and absolutely addictive with a spicy Sriracha ketchup!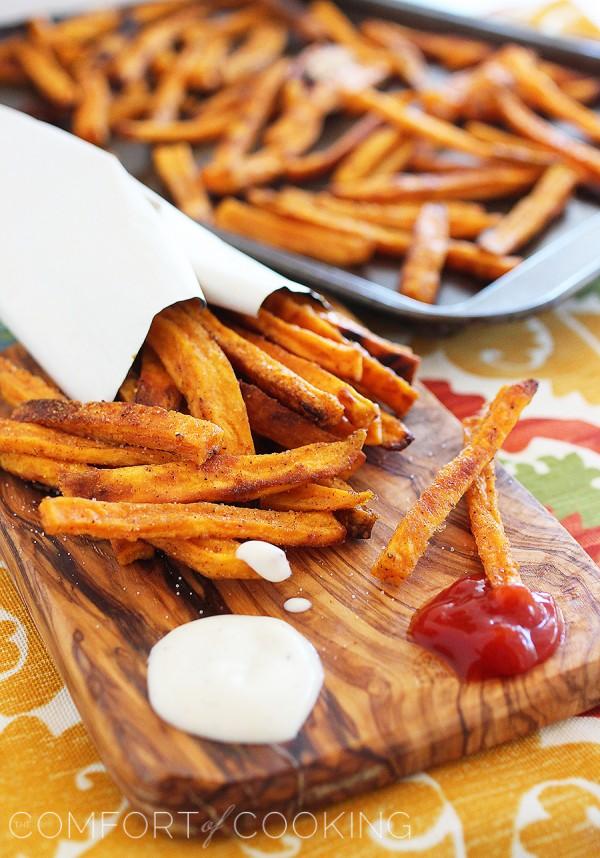 This fall for me has been a little more fast-paced than in years past. I don't feel as overwhelmed by everything there is to do as much as the time there is to do it! When days melt into weeks that whiz past into months, it's hard to feel like you're doing everything well instead of just barely balancing plates. But, I'm making it work! Hot cups of apple cider and turning off technology before dinner help relax me.
On nights when you just can't be bothered to make a fuss (which lately for me, are most nights), what do you cook? We throw burgers on the grill and a batch of spiced, crunchy sweet potato fries in the oven. Simple, easy and absolutely delicious.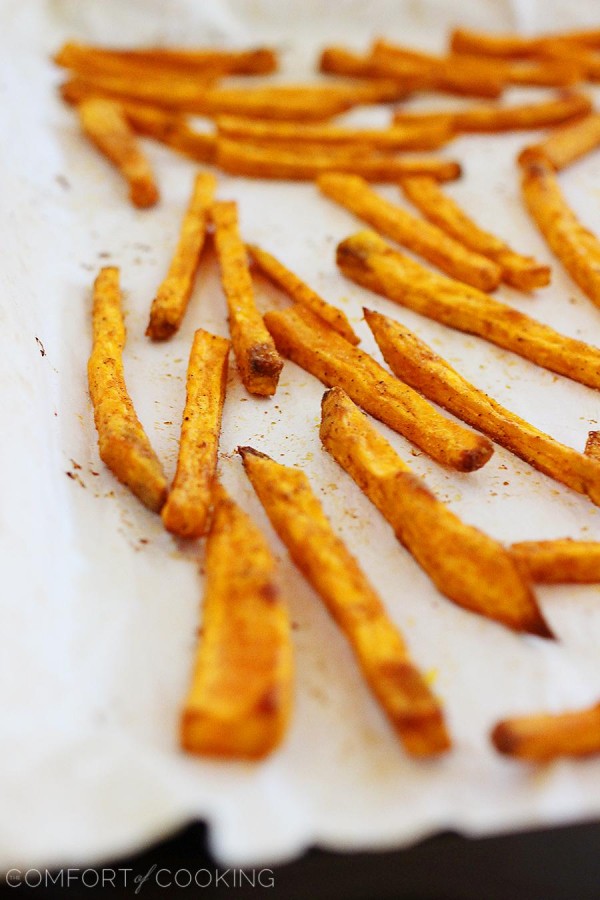 In the past, I always struggled with getting these little buggers to crisp up, but cornstarch has taught me a lot! Sprinkling it into your spices that you coat the fries with helps absorb excess moisture from the potatoes and perks up your fries to a nice, crispy golden brown.
Say g'bye to those lame, limp fries of past failures (we've all had them) and hello to sweet potato perfection!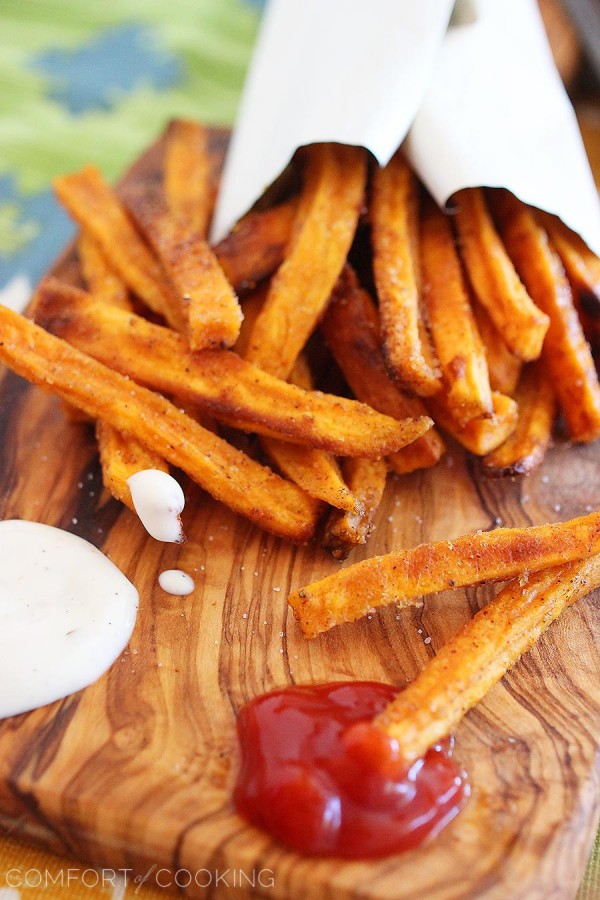 Want the secret to the best seasoning for your fries? Use a combination of spicy, salty and "sweet." I go for chili powder, garlic, cinnamon, cumin and a dash of cayenne 'cuz we like our fries with an extra kick! With a combination of any of my below spice suggestions, you basically can't go wrong. Mix it up with dried herbs, too! Rosemary and thyme send sweet potatoes into major comfort food territory!
You'll love these crispy, crunchy sweet potato fries as a simple snack or an awesome side to burgers and sandwiches. Grab the three ingredients needed, a handful of your favorite spices and get bakin' these fabulous un-fried treats! I love to serve them with Ranch dressing and a spicy Sriracha ketchup. Yum!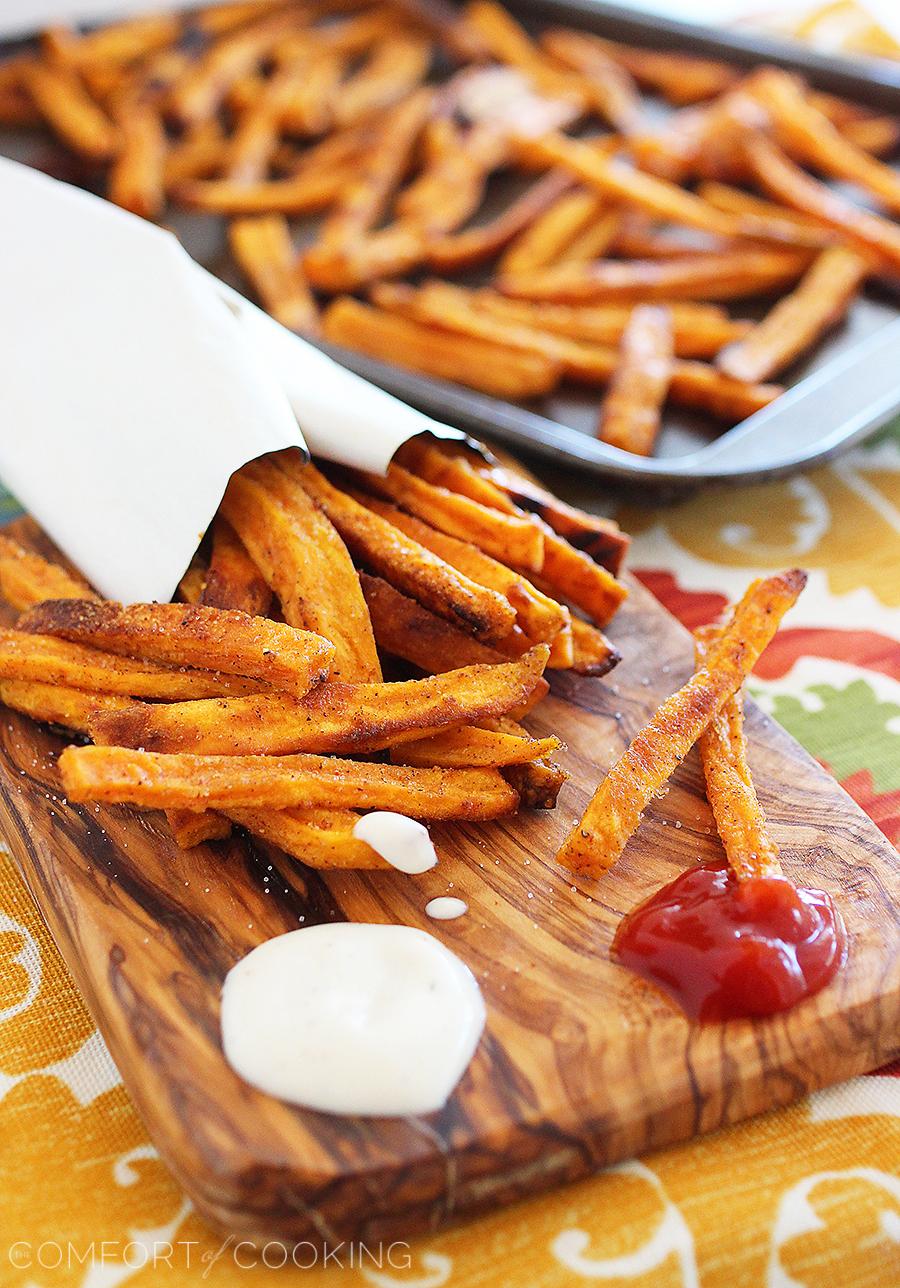 Crispy Baked Sweet Potato Fries
Ingredients
3 sweet potatoes, peeled
1/4 cup olive oil
3 Tablespoons cornstarch
Generous amounts of salt, pepper and desired spices , (see below for ideas)
Spice options (or use whatever you like!):
Paprika
Garlic powder
Chili powder
Cayenne pepper
Cinnamon
Nutmeg
Cumin
Instructions
Preheat oven to 400 degrees F. Prepare two large baking sheets with parchment paper.
Slice sweet potatoes into thin, uniform fries. Toss fries in olive oil, cornstarch, and desired spices. Lay fries out in one layer on prepared baking sheets, making sure not to crowd the fries, otherwise they will steam and not crisp up.
Bake for 30 minutes, watching carefully to avoid burning. Serve warm with ketchup, Ranch dressing, or your desired dipping sauce.
Enjoy!