The sweet and spicy maple-bourbon glaze on this ham makes every slice mouthwatering, and your home smell amazing! It's our go-to Easter ham, and a family favorite.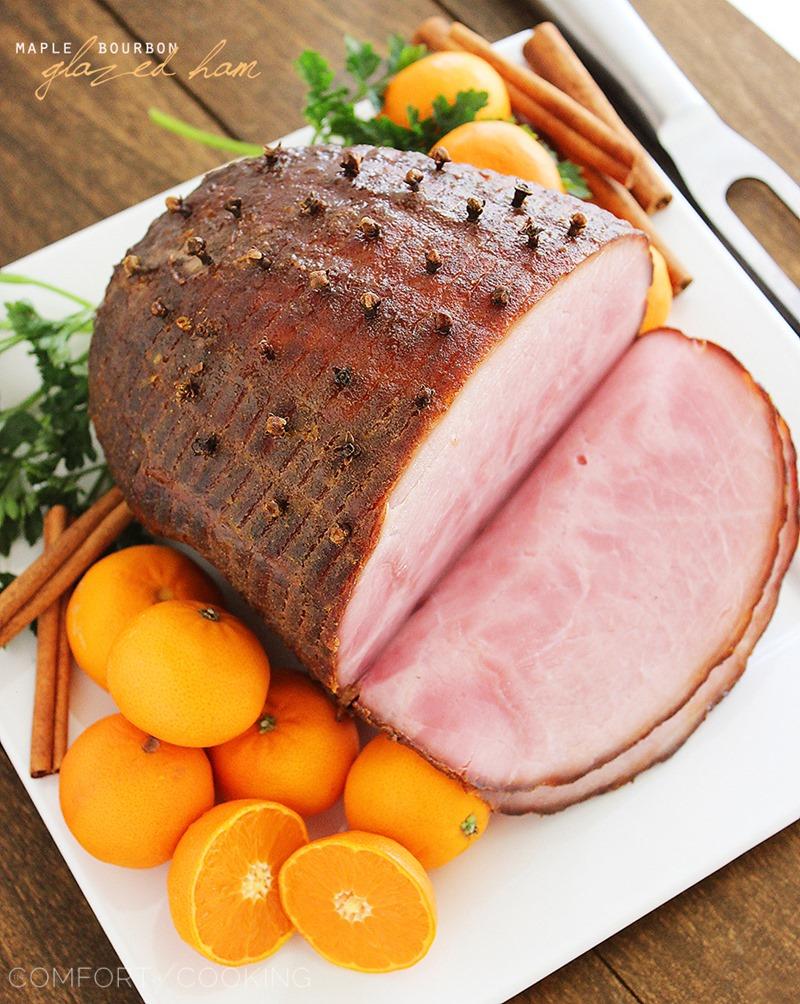 I think everyone has at least one fuzzy memory of helping out in the kitchen as a kid. A couple of mine? Stealing scraps of dough for apple pie to make cinnamon pinwheels. Mashing up meatloaf with my hands and mashed potatoes with all the might behind my scrawny arms. And, my favorite, carefully dotting the Easter ham with spicy scented cloves before smothering it in a sticky glaze. To some it would seem tedious, but to me, it meant I had a small hand in a big holiday meal!
It was a job I took very seriously… obviously.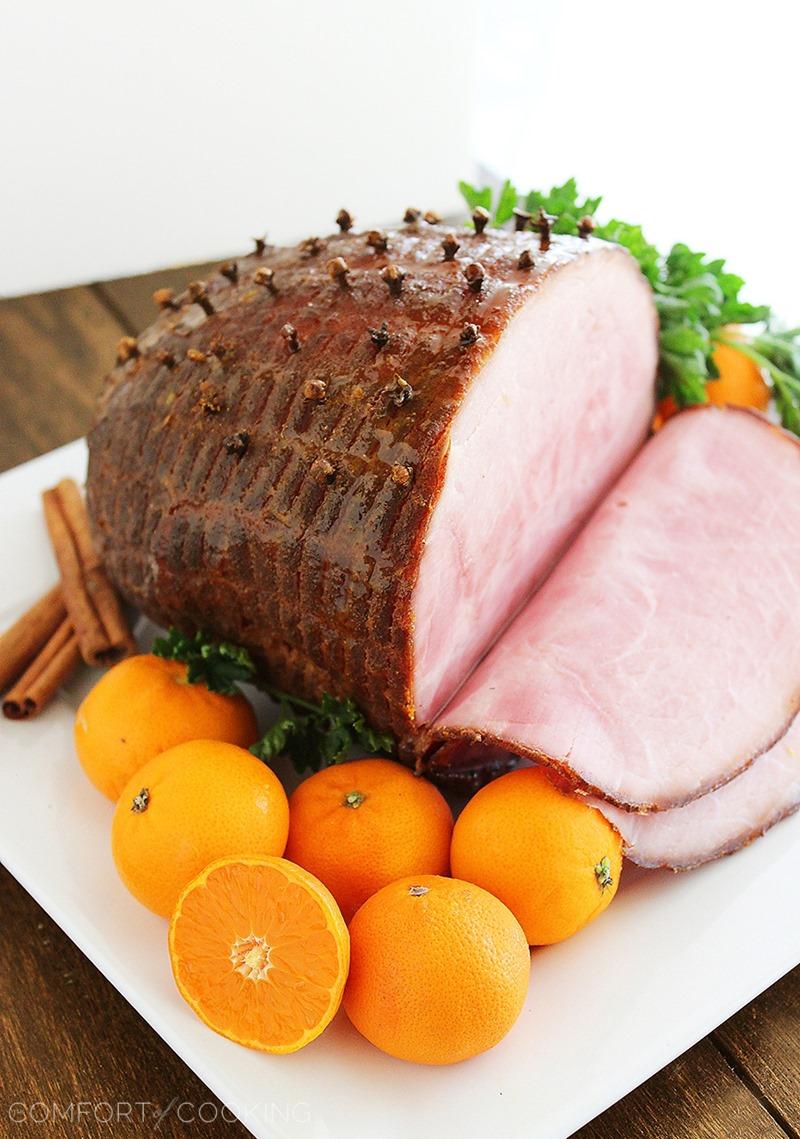 Since we only enjoy ham once a year, I like to stick with one method that always produces mouthwatering results. So, say hello to my BEST recipe for preparing your piggy! Or, at least a small portion of one.
The glaze is a perfect mix of sweet and spicy, which compliments the salty ham so nicely. It's incredibly easy to prepare, bakes up to a beautiful deep amber and best of all, fills your home with an amazing spicy aroma. That's how you know the holidays are here!
Easter was the first holiday that hubby (then boyfriend-I-wanted-to-impress) and I enjoyed just the two of us. We were cramped up in our cozy Boston apartment with a little oven but a lotta ambition to make a special dinner from scratch! We may have snagged the scalloped potatoes and creamed spinach sides from the store, but the ham? Glazed, golden and made with love.
A pretty good accomplishment for two goofy college kids, I'd say!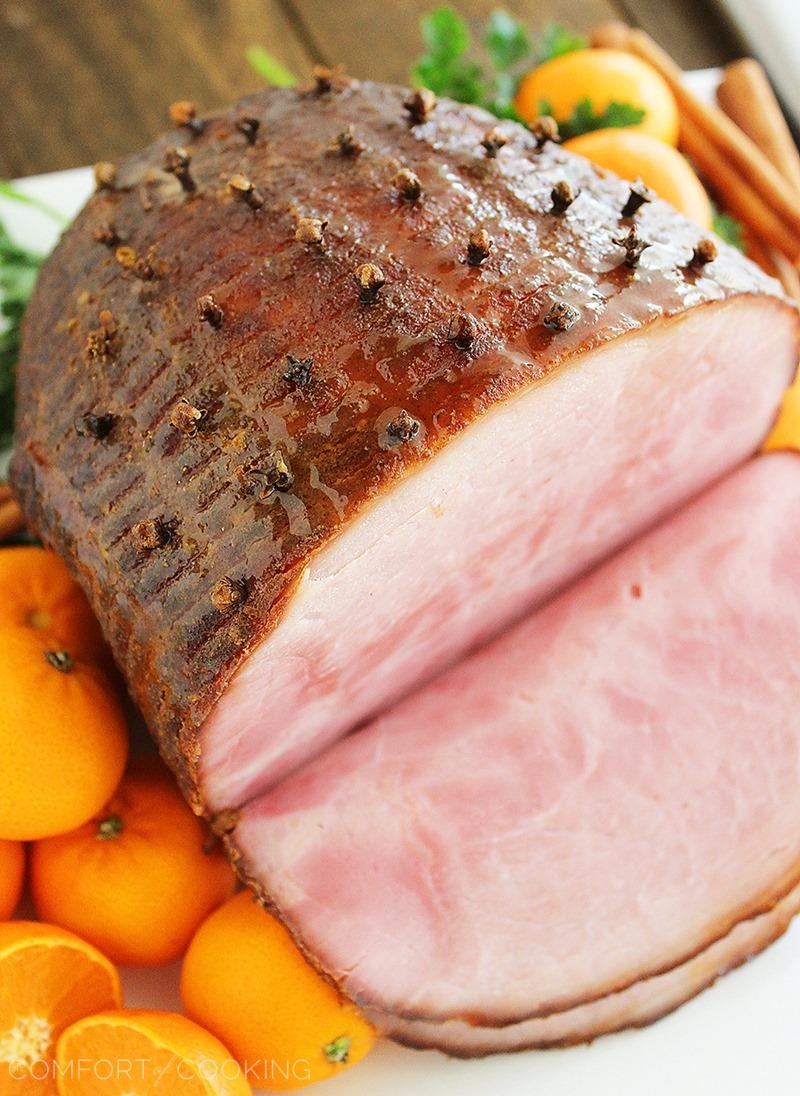 This tender, juicy spiced ham will always conjure up happy Easter memories for me. If you try it and love it, I hope it does for you, too! A medley of Dijon mustard, orange zest, maple syrup and smoky bourbon slathered over top makes this ham absolutely irresistible… and a major family favorite. The whole cloves are just the cherry on top! And they infuse the ham with the most wonderful spicy scent.
As for the leftovers? I love using chopped up ham on top of pizzas and baked into warm quiches, casseroles, soups and sandwiches. It's great in omelets and frittatas, too!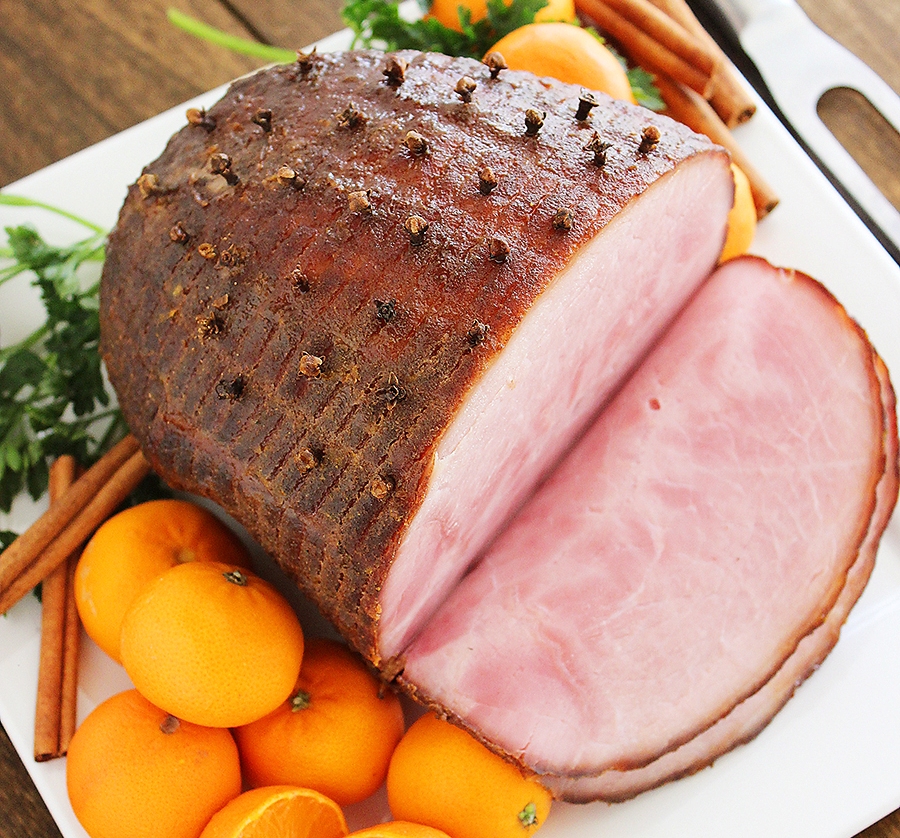 Maple-Bourbon Glazed Ham
Ingredients
1 3-5 lb. half ham, precooked and sliced
Whole cloves, optional
1/4 cup light brown sugar, firmly packed
2 Tablespoons Dijon mustard
2 Tablespoons maple syrup or honey
2 Tablespoons bourbon whiskey
1 teaspoon ground cloves
1 teaspoon ground cinnamon
Zest of 1 orange
Instructions
Preheat oven to 350 degrees F. Set a small cooling rack over a 13 x 9 inch dish. Pour 1 cup of water into the bottom of the dish. Place ham, sliced side down (with end facing up), on top of the rack. Pierce ham all over with whole cloves, if desired.
Stir remaining ingredients in a small bowl. Brush half of the mixture all over ham. Loosely cover ham with aluminum foil and bake for 20 minutes. Brush remaining mixture all over ham and bake uncovered for an additional 40-45 minutes, or until internal temperature reaches 160 degrees and ham has caramelized. Slice and serve.
Enjoy!