Tender, smoky balsamic glazed chicken topped with creamy mozzarella, fresh tomatoes and basil? Sign me up! Cook a side of summer squash on the grill and you've got a healthy, colorful summertime meal!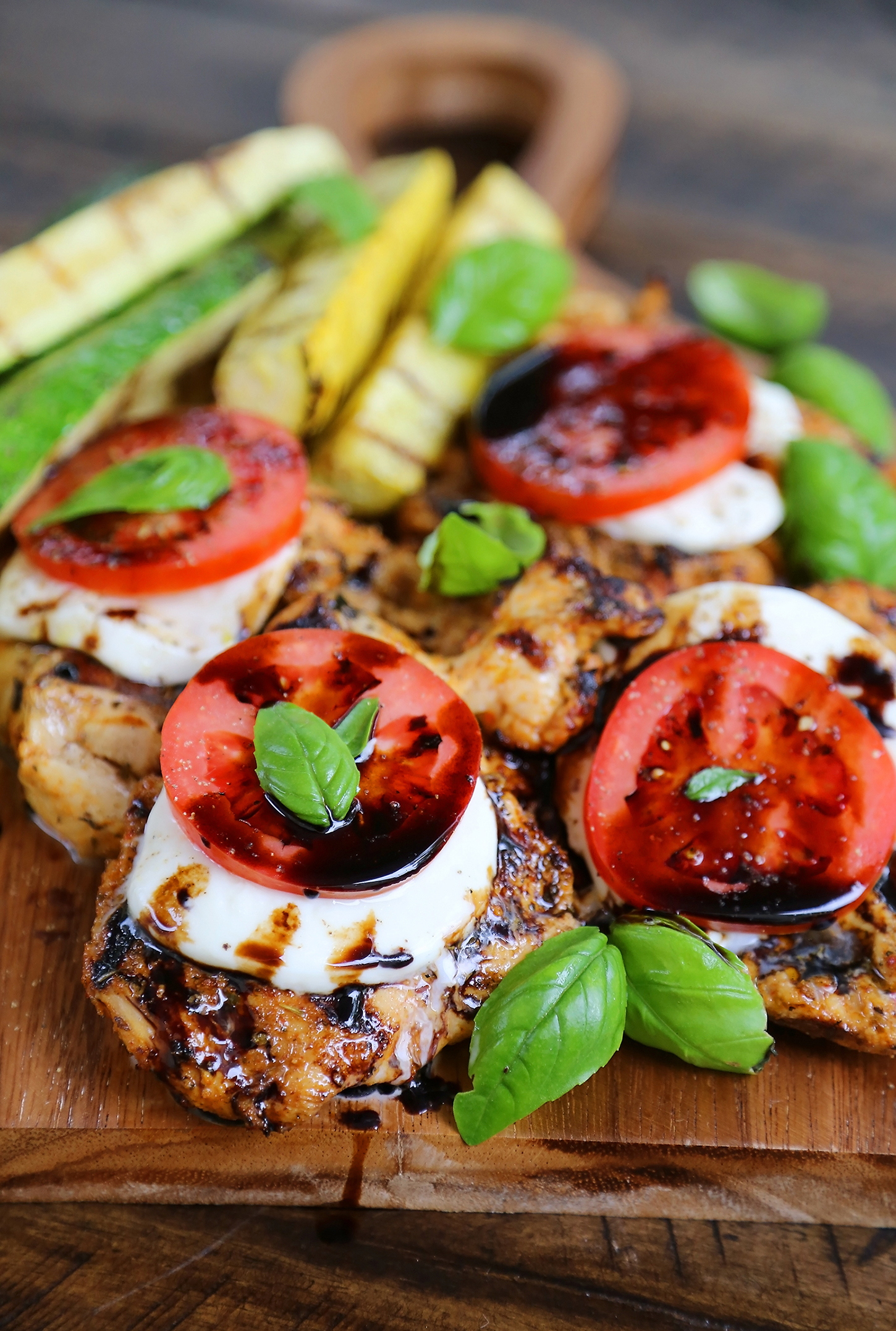 Ever since I discovered the sweet, salty combination of fresh tomatoes, mozzarella and basil drizzled with oil and balsamic vinegar, I've never turned back! It is my favorite summertime combination and I have prepared it 101 ways over the years. With more to come!
This easy 20-minute, all-in-one meal has become a staple in my house during the warm months. The prep couldn't be more simple, either! All you need are a handful of good quality ingredients and a fiery hot grill. The chicken and vegetables cook at the same time on your grill, so everything is done in a pinch. Top with fresh mozzarella, a slice of tomato and a few basil leaves. Dinner is served!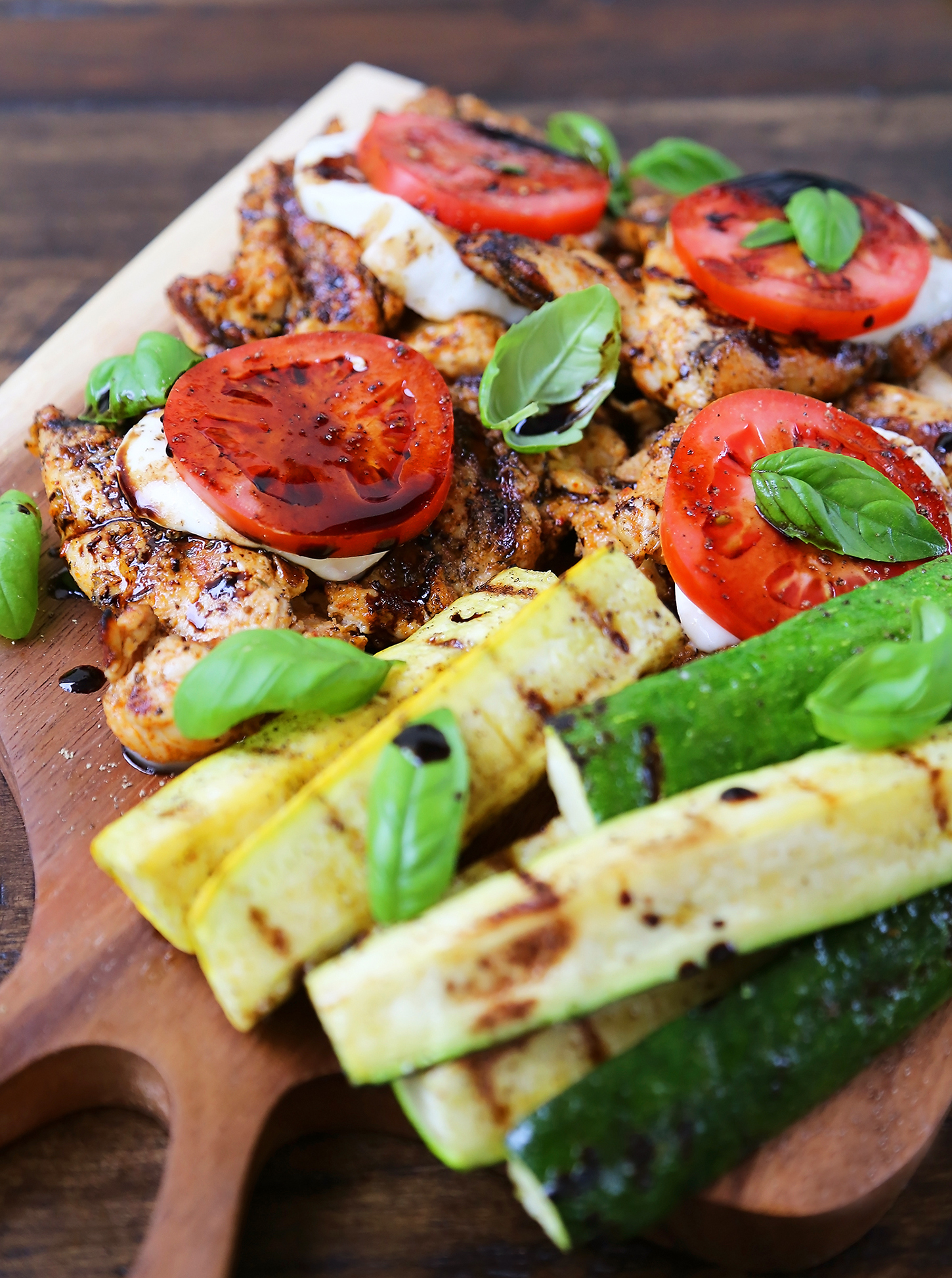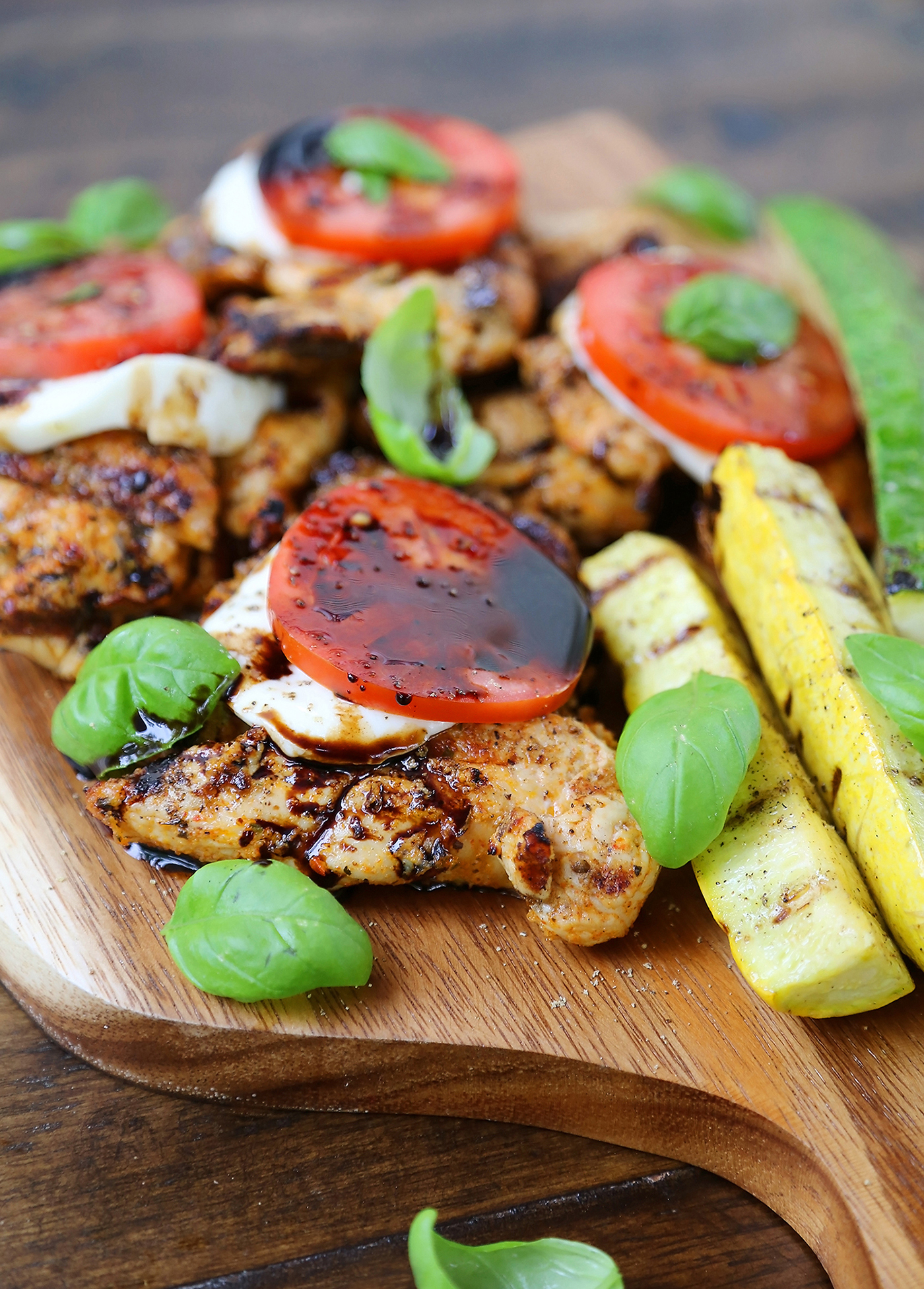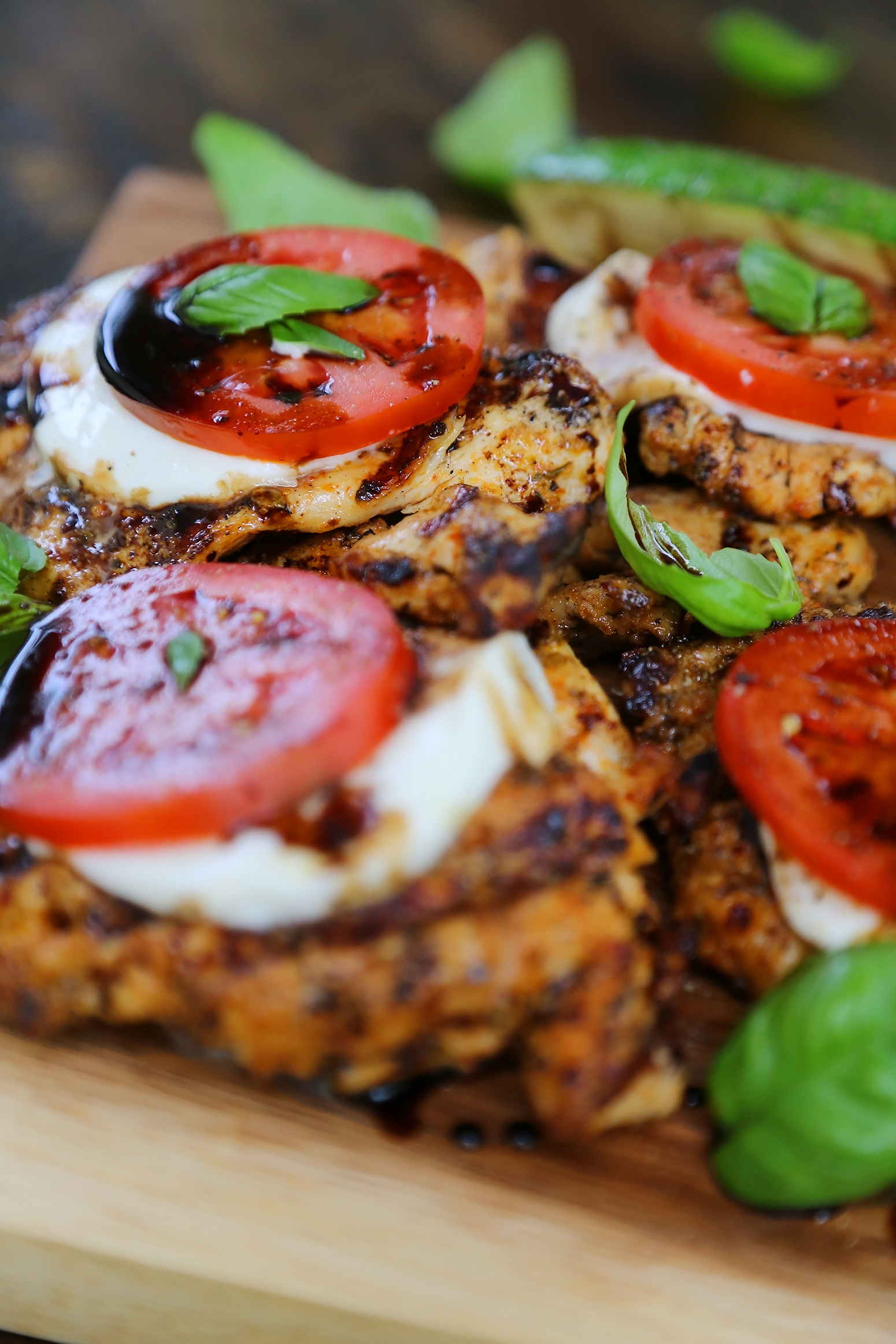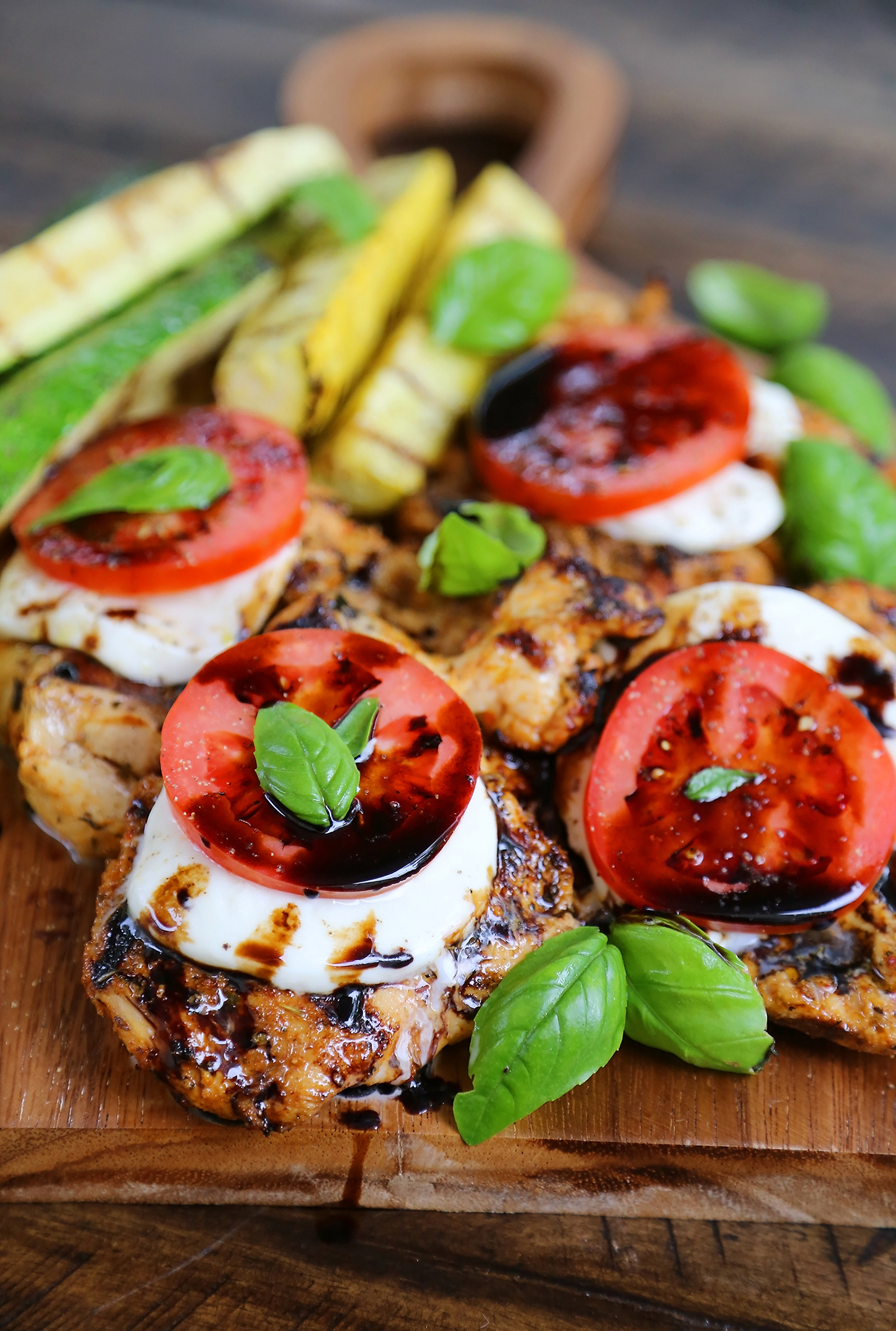 Grilled Caprese Chicken and Summer Squash
Ingredients
4 chicken breasts, pounded thin
1/3 cup olive oil
1/4 cup dry barbecue seasoning*
2 medium zucchini, sliced lengthwise
2 medium yellow squash, sliced lengthwise
8 slices fresh mozzarella
8 slices Roma tomato
1/2 cup fresh basil leaves, torn
1/4 cup balsamic vinegar
Instructions
Slice each pounded chicken breast in half, making 2 portions each. You should have 8 total chicken cutlets. You can also use 8 boneless chicken thighs.
In a large bowl, combine chicken cutlets with olive oil and barbecue seasoning (see 'Tips' below for recipe for homemade seasoning). Toss well to coat chicken in seasoning. Cover bowl with plastic wrap and refrigerate until ready to cook, up to 1 day.
When ready to cook, preheat gas grill to medium-high heat. Drizzle zucchini and squash with a little olive oil. Place chicken, zucchini and squash on hot grates. Cook 4-5 minutes per side, until chicken juices run clear.
Remove chicken and veggies from grill. Place on a platter, and top each chicken piece with 1 slice mozzarella and 1 slice tomato. Sprinkle with fresh basil. Drizzle with olive oil and balsamic vinegar.
Enjoy!
Notes
Make your own 1/4 cup barbecue seasoning with 4 teaspoons chili powder, 2 teaspoons garlic powder, 2 teaspoons onion powder, 1 teaspoon ground cumin, 1 teaspoon dried oregano, 1 teaspoon kosher salt, and 1/2 teaspoon black pepper.