Super soft, buttery and EASY flatbread made with only pantry ingredients! No baking, and only 1 bowl required. So fun to make and delicious on warm summer nights, or any time of year!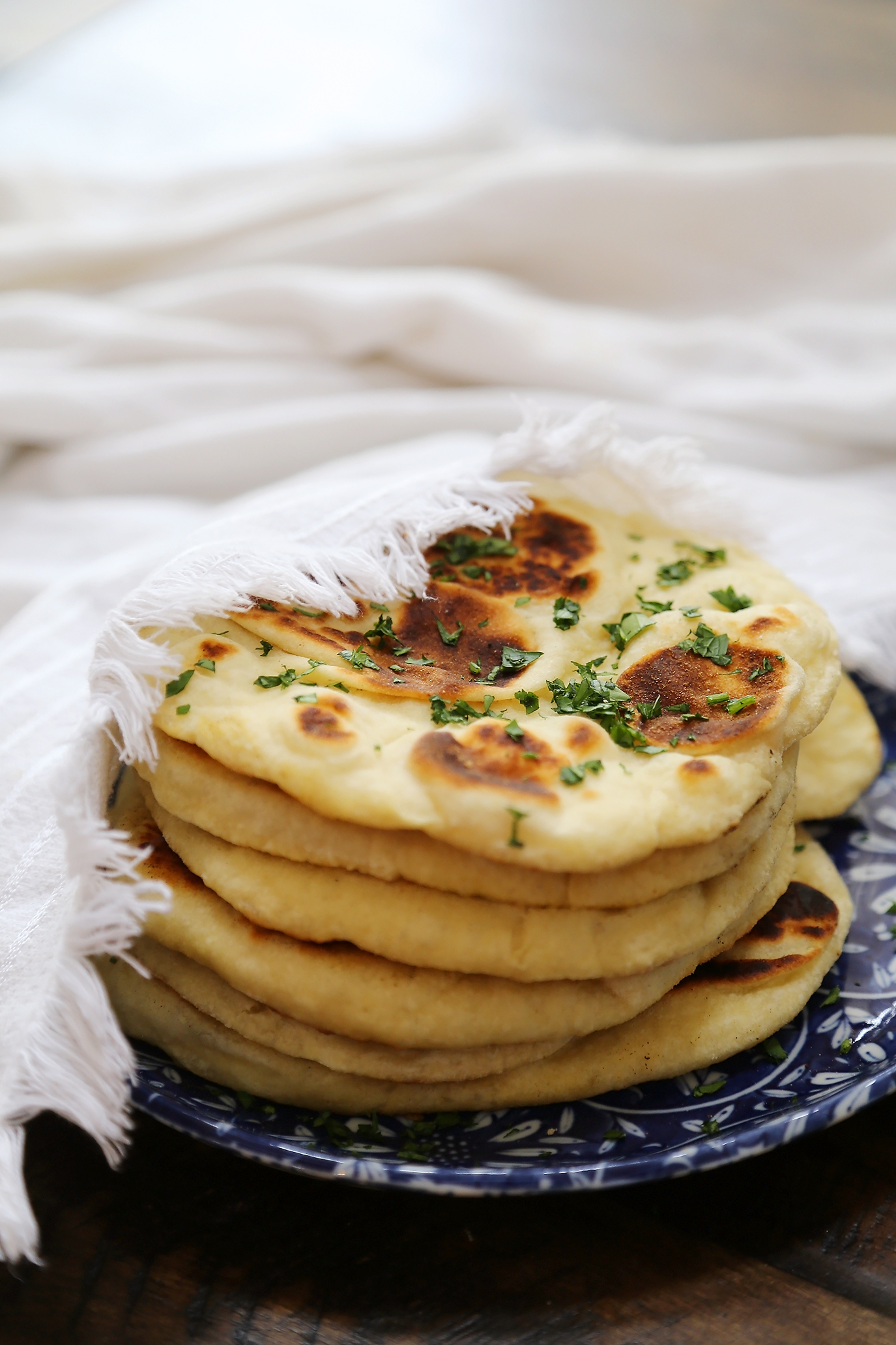 I had been craving an attempt at cooking naan for ages, but only found the courage recently. Much to my surprise, it didn't take any courage – just one bowl, my best skillet, and a dry towel to tuck in the warm, cooked flatbreads.
The start-to-finish process was perfectly simple – just a handful of basic ingredients and ! I had so much confidence in the recipe, I promptly cooked another batch after the first was quickly devoured! The recipe was, in my opinion, made even more flavorful with a dash of garlic, but you can add (small amounts) of any dry spices you like. Just a quick rise and some minor elbow grease to work the dough, then you're ready to get it puffy and golden on your skillet!
We love to serve this naan flatbread with chicken and vegetables, and any saucy meal that needs a hearty flatbread for mopping. My picky 4-year-old loved dipping hers in the cucumber-mint sauce we served with grilled chicken last week!
From my family to yours, I hope you love this wonderful recipe, inspired by Budget Bytes. Please tell me how it turns out for you!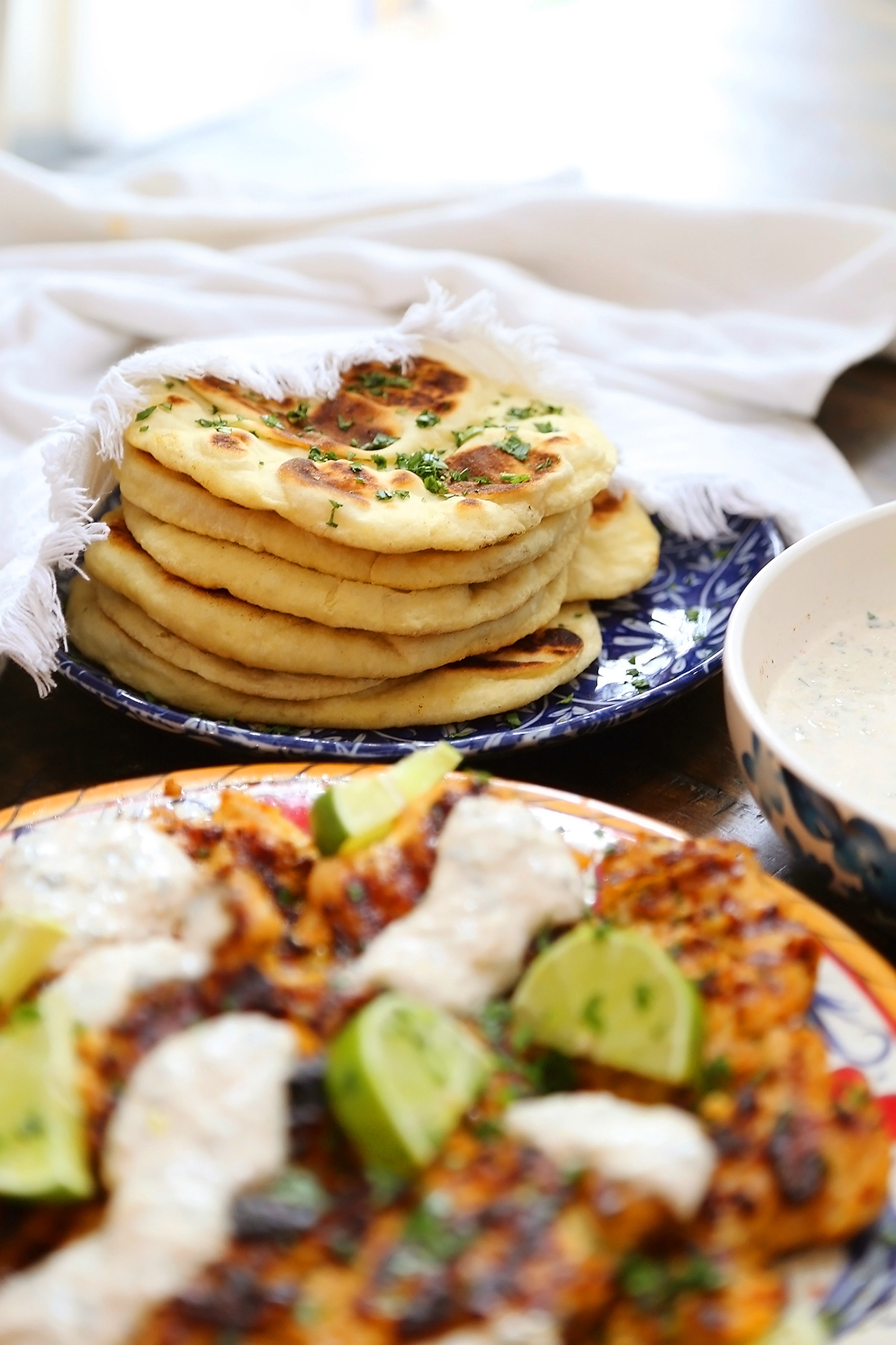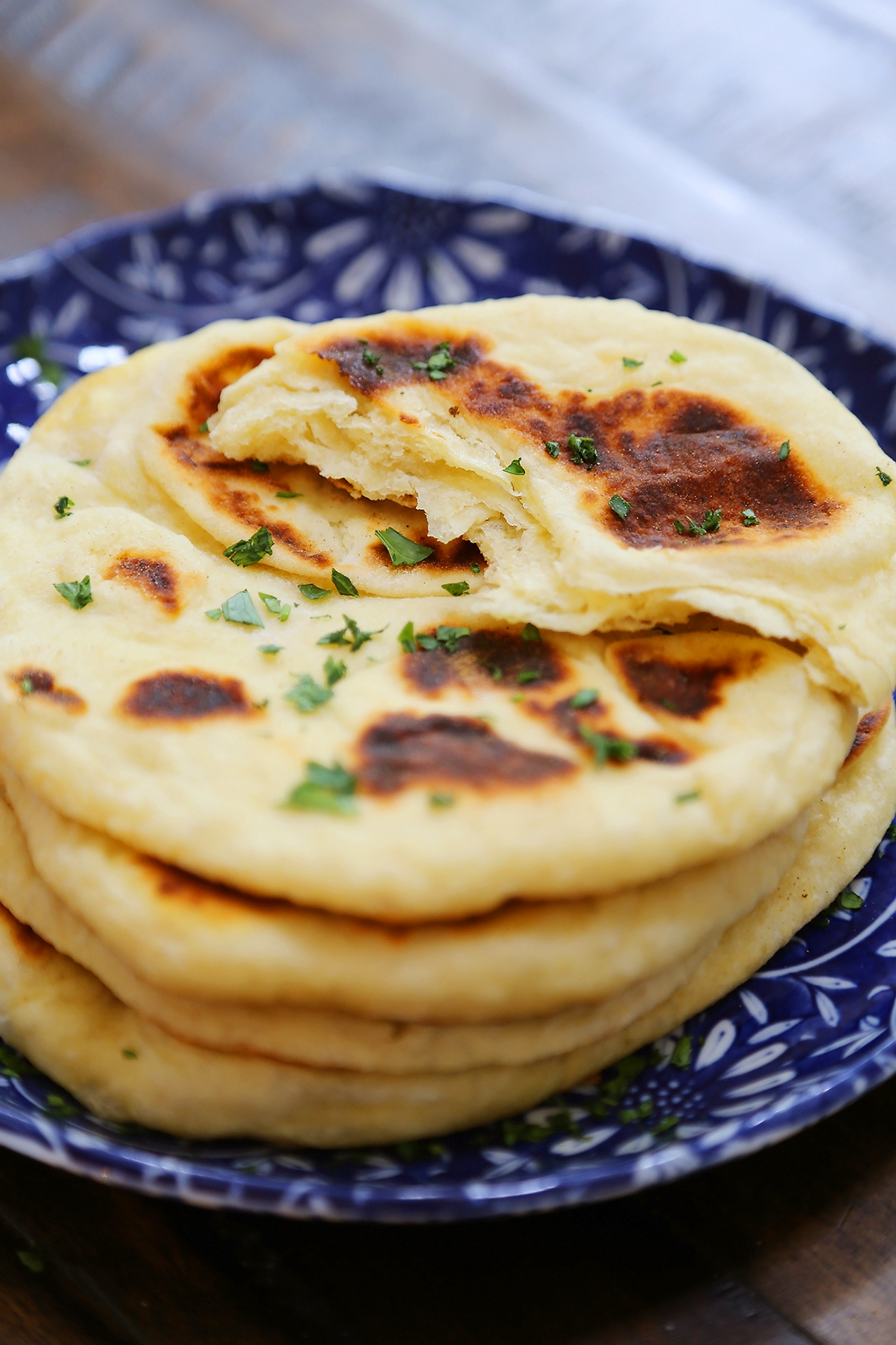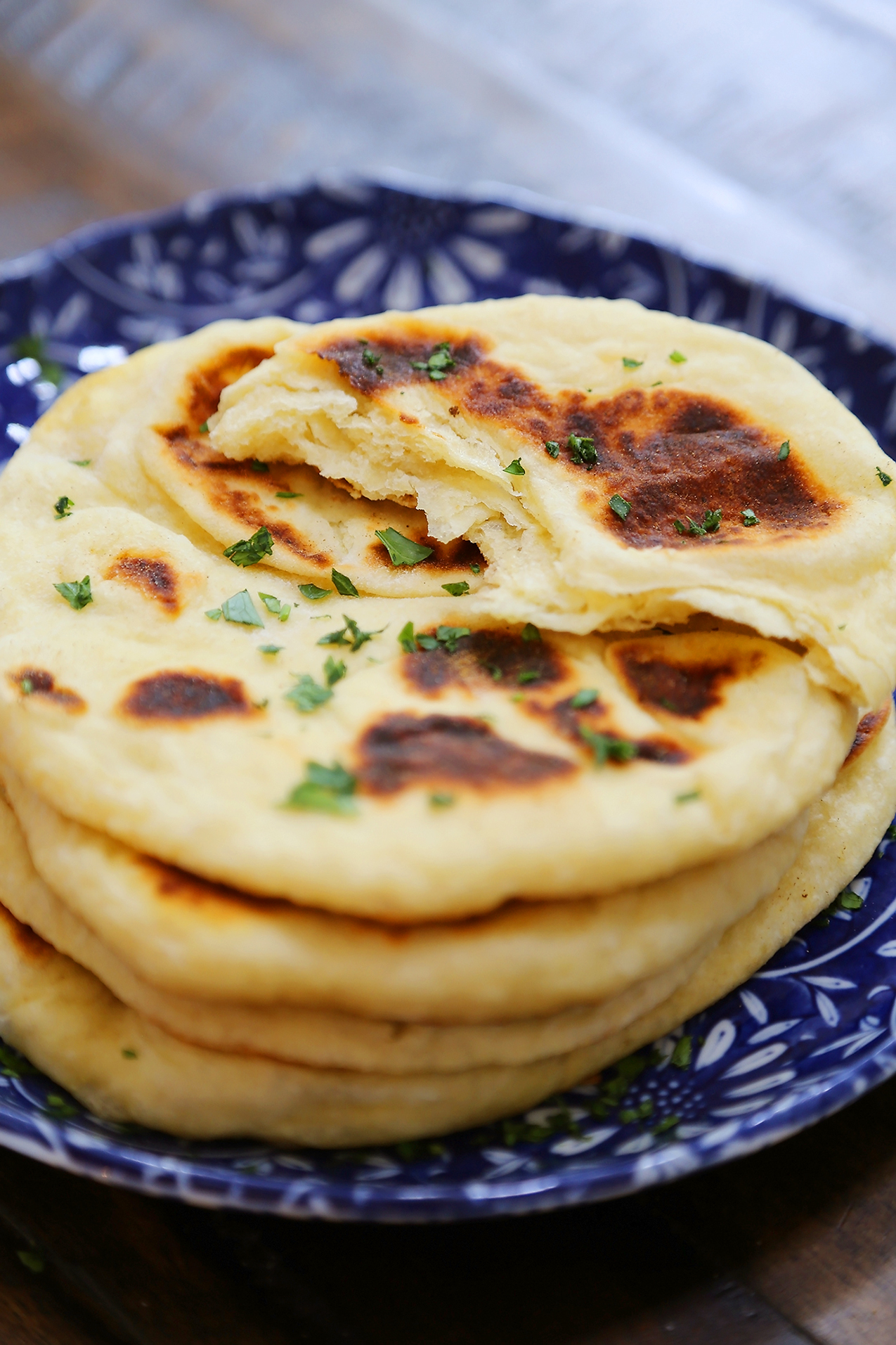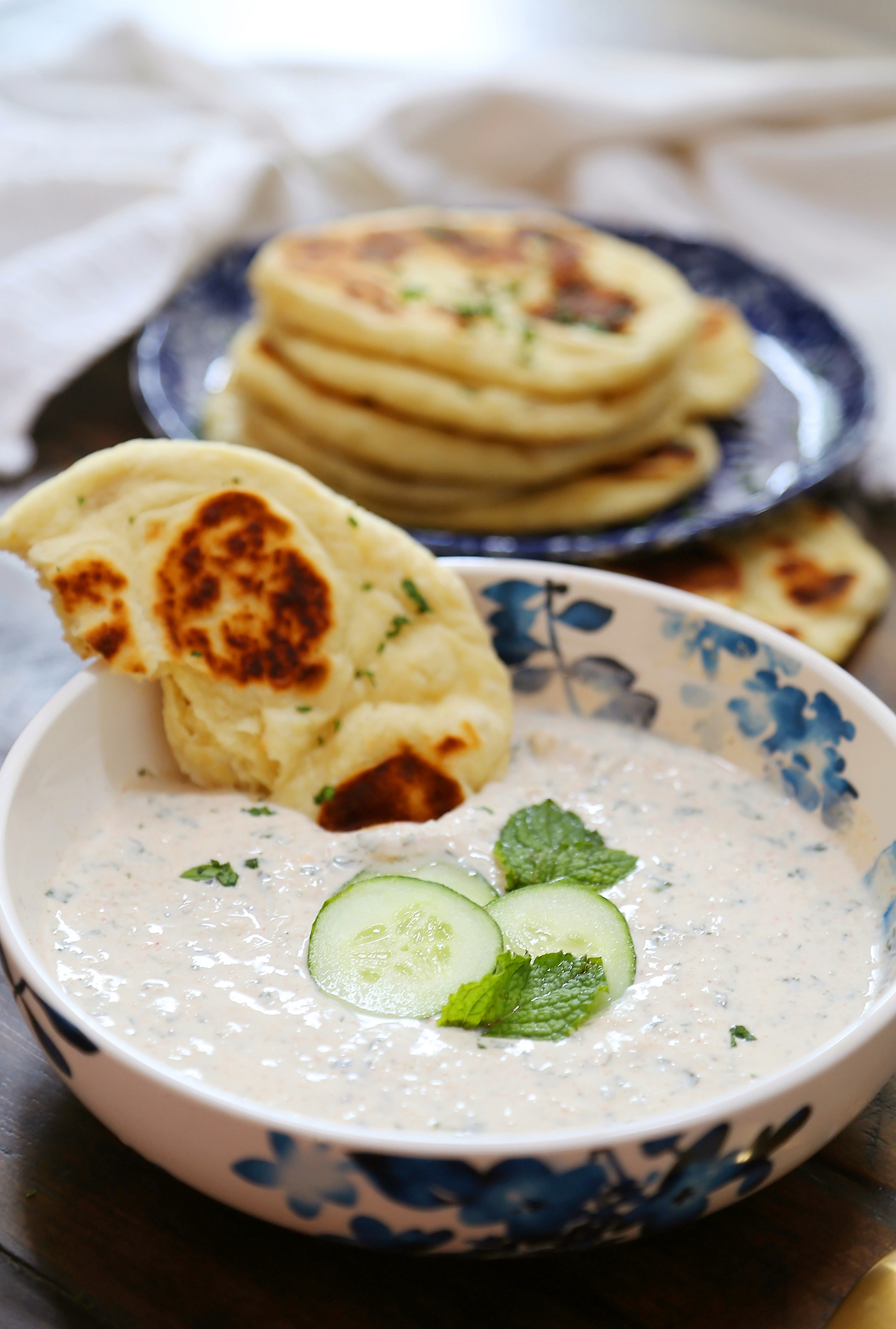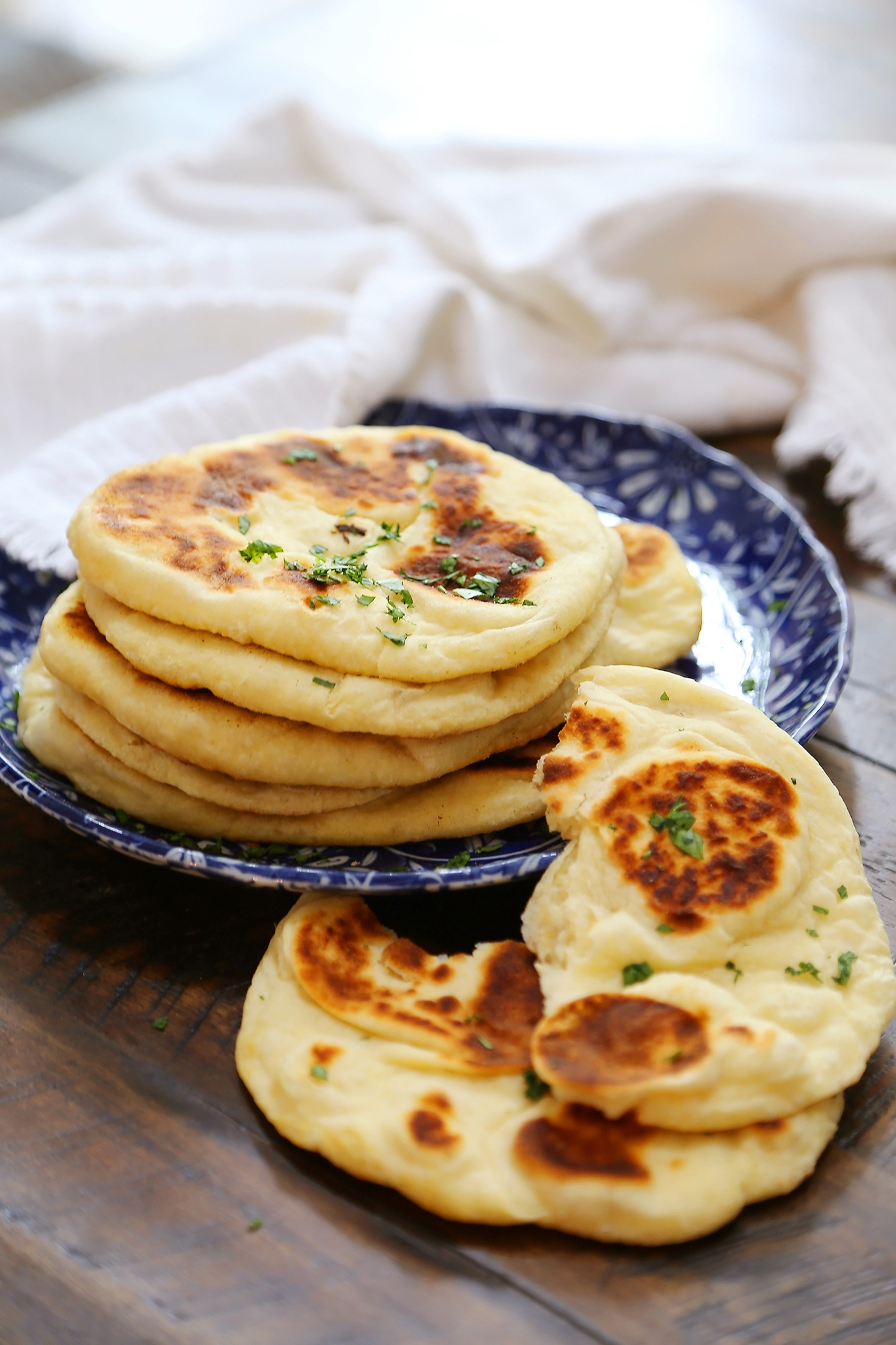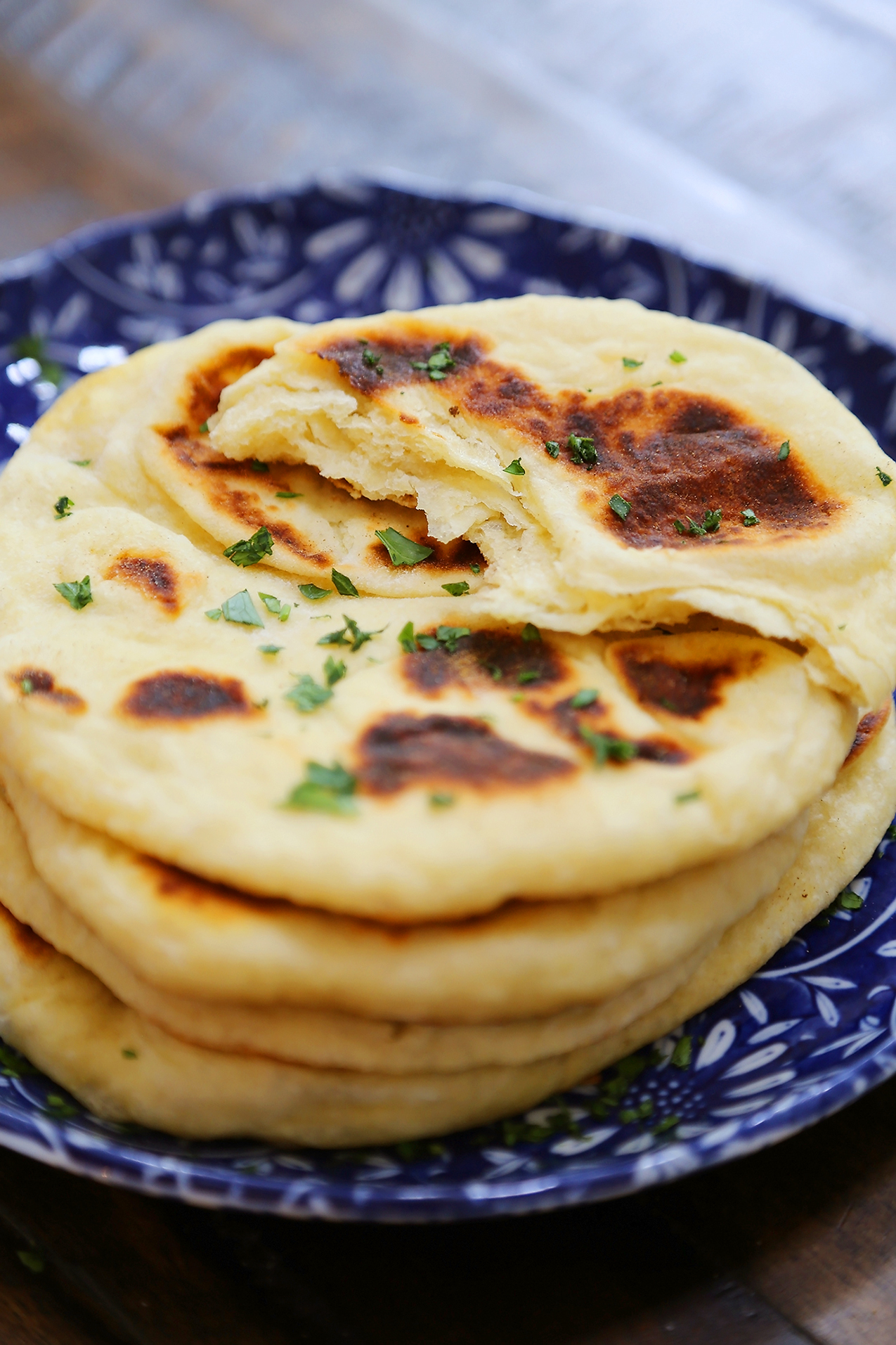 Homemade Naan (Soft Flatbread)
Ingredients
2 tsp. dry active yeast
1 tsp. granulated sugar
1/2 cup warm water
1/4 cup olive oil
1/3 cup plain yogurt
1 large egg
2-1/2 to 3 cups all-purpose flour, divided
1/2 tsp. kosher salt
1 tsp. garlic powder, optional
Instructions
In a medium bowl, whisk yeast, sugar and water until well combined. Let sit for about 10 minutes, or until yeast dissolves and begins foaming. Whisk in oil, yogurt and egg until evenly combined.
In a separate large bowl, combine 1 cup flour, salt and garlic powder. Pour wet ingredients into the flour-salt mixture and stir until well combined. Continue adding flour, 1/2 cup at a time, until you can no longer stir it with a spoon (about 1 to 1.5 cups later).
Place ball of dough onto a lightly floured surface. Knead for about 3 minutes, adding small amounts of flour to keep the dough from sticking. You'll end up using between 2.5 to 3 cups flour total. The dough should be smooth and soft, but not sticky. Avoid adding excessive amounts of flour as you knead, as this can make the dough too dry and stiff.
Loosely cover the dough with a clean kitchen towel and let rise until doubled in size (about 1-2 hours). After it rises, gently flatten the dough into a disc and cut it into 8 equal pieces. Shape each piece into a small ball. Working with one ball at a time, roll it out until it is about 1/4 inch thick or approximately 6 inches in diameter.
Heat a large skillet over medium-high heat. Place dough pieces onto the hot skillet. Cook until golden brown and large bubbles have formed on the surface, flipping once. Stack cooked flatbread on a plate and cover with a towel to keep warm.
Serve plain, or brushed with melted butter and sprinkled with fresh herbs.
Notes
Adapted from Budget Bytes