Crispy, creamy jalapeno popper bites with cheddar, bacon and seasonings. So easy to make and fun for family gatherings! These slightly spicy bites are perfect as-is, or scrumptious on salads and snack boards.
Jalapeño Popper Bites
It's time to elevate everyone's favorite bar snack!
When weekdays meals get too humdrum, we get in a rut. It happens to every home cook. But, when inspiration strikes again, I like to switch it up and make snack boards. Pretzels, veggies, popcorn, dips, the works!
I love a big board of snacky things to pick at, especially with a movie on and a glass of wine. For winding down from a busy work week, there is nothing more relaxing.
These jalapeno popper bites were a scrumptious, slightly spicy addition to our snack board.
Want to make them less spicy? Use a milder cheese. Skip the sriracha sauce and cayenne pepper, too. A creamy Ranch or sour cream dip never hurts, either!
Want to kick up the spice? Add the jalapeno seeds, or more sriracha sauce and cayenne pepper. A pinch of red pepper flakes makes 'em zesty, too.
Let's get you to the recipe, and start cooking!
Ingredients for Jalapeño Popper Bites
• cream cheese
• pepper jack cheese
• jalapeños

• chopped bacon
• sriracha sauce
• all purpose flour
• panko bread crumbs
• plain bread crumbs
• garlic powder
• cayenne pepper
• salt + black pepper
• eggs
• peanut oil or canola oil, for frying
Keep reading for full ingredient list + recipe, below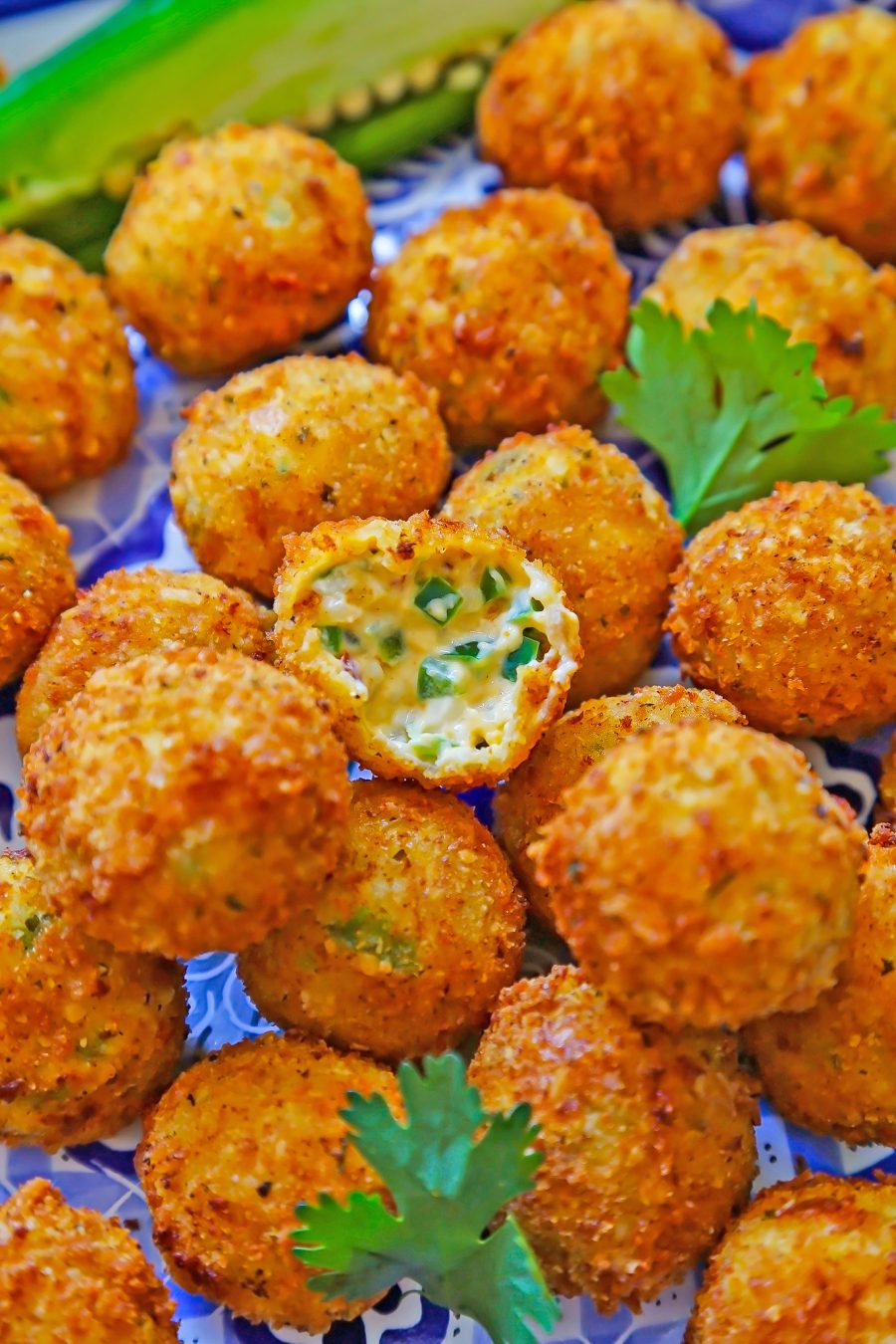 How can I make these more/less spicy?
These jalapeño popper bites are mildly spicy.
For less spiciness – omit cayenne pepper and sriracha, and use a milder cheese like cheddar or monterey jack.
For more spiciness – add more sriracha and cayenne pepper, or even the jalapeño seeds and red pepper flakes.
Can I make these in the Air Fryer?
Sure! Coat the basket of your Air Fryer with cooking spray. Preheat to 400 degrees F. Add bites and cook for 10-12 minutes, or until golden brown.
What other ingredients can I add in?
You could add crumbled chorizo sausage, sliced green onions, bell peppers, shredded chicken, or any kind of seasonings you like. These are very adaptable! Keep in mind, adding more ingredients will increase the number of poppers this recipe makes.
Can I use a different kind of cheese?
Yes. Besides pepper jack, I like cheddar, monterey jack and havarti in these poppers!
Can I make this recipe ahead?
You sure can. Prepare your poppers up to 2 days ahead of cooking. Place in a resealable container in your freezer. When ready to serve, roll in flour, egg and breadcrumb mixture, and fry as instructed.
How do I store and reheat the bites?
Store leftover cooked poppers in a resealable container or casserole dish. Cover and refrigerate up to 3 days. Reheat in a preheated oven (about 250 degrees F) for 15-20 minutes, until sizzling.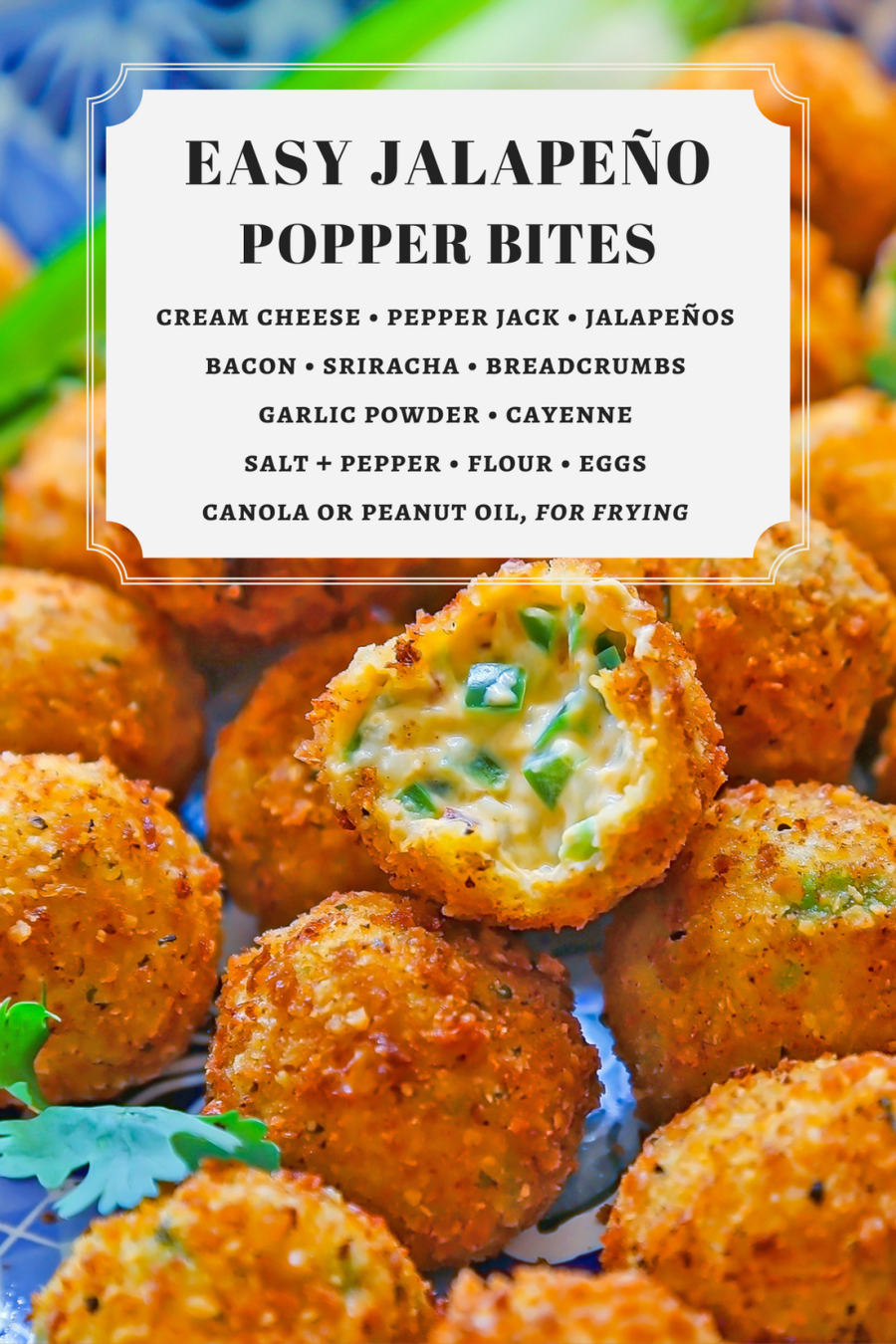 More bite sized appetizers:
• 3-Ingredient Mini Queso Cheese Balls
• Crispy Coconut Popcorn Chicken
• Bacon-Goat Cheese Jalapeño Poppers
---
I hope you enjoy these simple, flavor-packed Jalapeño Popper Bites. I love to serve these with chips, fresh salsa, and a pitcher of margaritas – hello, Cinco de Mayo celebration at home! These tasty two-bite jalapeño poppers are also crazy-delicious popped into your favorite salad. Or, serve them on the side of smoky grilled chicken.
Please feel free to leave a comment and a star rating, if you give this recipe a go. I would love to know if you serve these for your family and friends.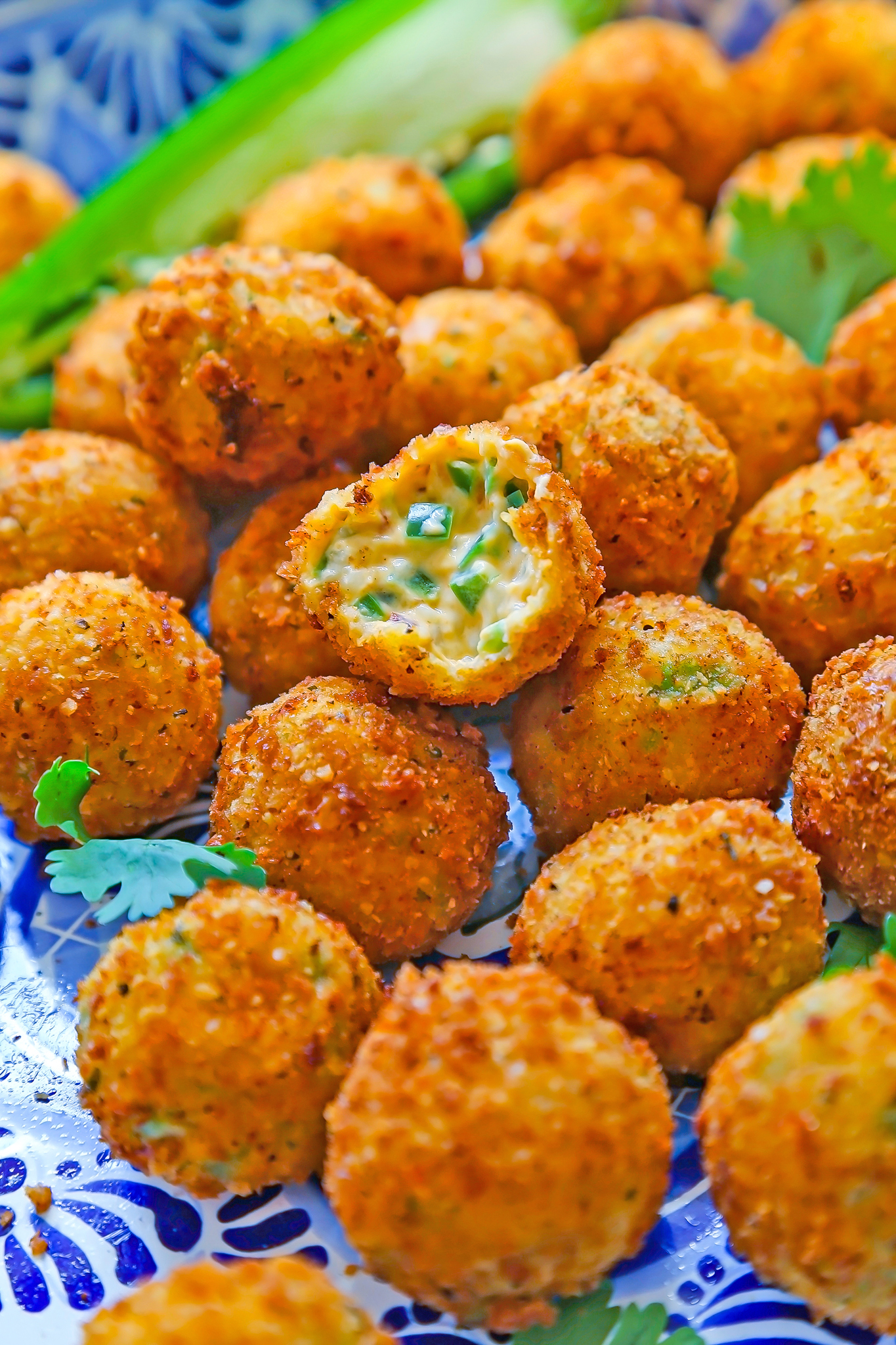 Jalapeño Popper Bites
Additional Time:
30 minutes
Ingredients
8 oz. cream cheese, softened
2 cups shredded pepper jack cheese
3 jalapeños, seeded and diced
1/4 cup chopped crispy bacon
2 Tablespoons sriracha sauce
1/2 cup all-purpose flour
2 eggs, beaten
1/2 cup panko bread crumbs
1/2 cup plain bread crumbs
1 teaspoon garlic powder
1/2 teaspoon cayenne pepper
1/4 teaspoon coarse salt
1/4 teaspoon black pepper
4 cups oil (peanut, canola or veg oil), for frying
Instructions
In a large bowl, using an electric mixer, blend cream cheese, pepper jack, jalapeños, bacon bits, and sriracha sauce.

Using a Tablespoon-sized scoop, form into balls. Place on a baking sheet and freeze for 30 minutes.

Place flour in a medium bowl. Place beaten eggs in a separate bowl. In a third separate bowl, combine panko crumbs, bread crumbs, garlic powder, cayenne pepper, salt and pepper.

In a large pot, add oil. Set to medium heat. Check oil temperature (around 365-375 degrees F), or drop in a little bit of flour. Once it sizzles and rises to the surface, you are ready!

Remove cheese balls from freezer. Coat in flour mixture, then egg, and lastly into bread crumb mixture.

Fry several bites at once, for 30 seconds, until golden brown. Carefully remove to a paper towel-lined plate.

Serve warm and enjoy!

Want to receive our latest recipes straight to your email inbox? Click here to subscribe!