This quick, better-than-boxed Hamburger Helper dinner only needs one pan + 20 minutes. Everyone loves this combo of creamy shells, ground turkey, seasonings and bubbly cheddar for weeknight meals. Easy and oh-so cheesy!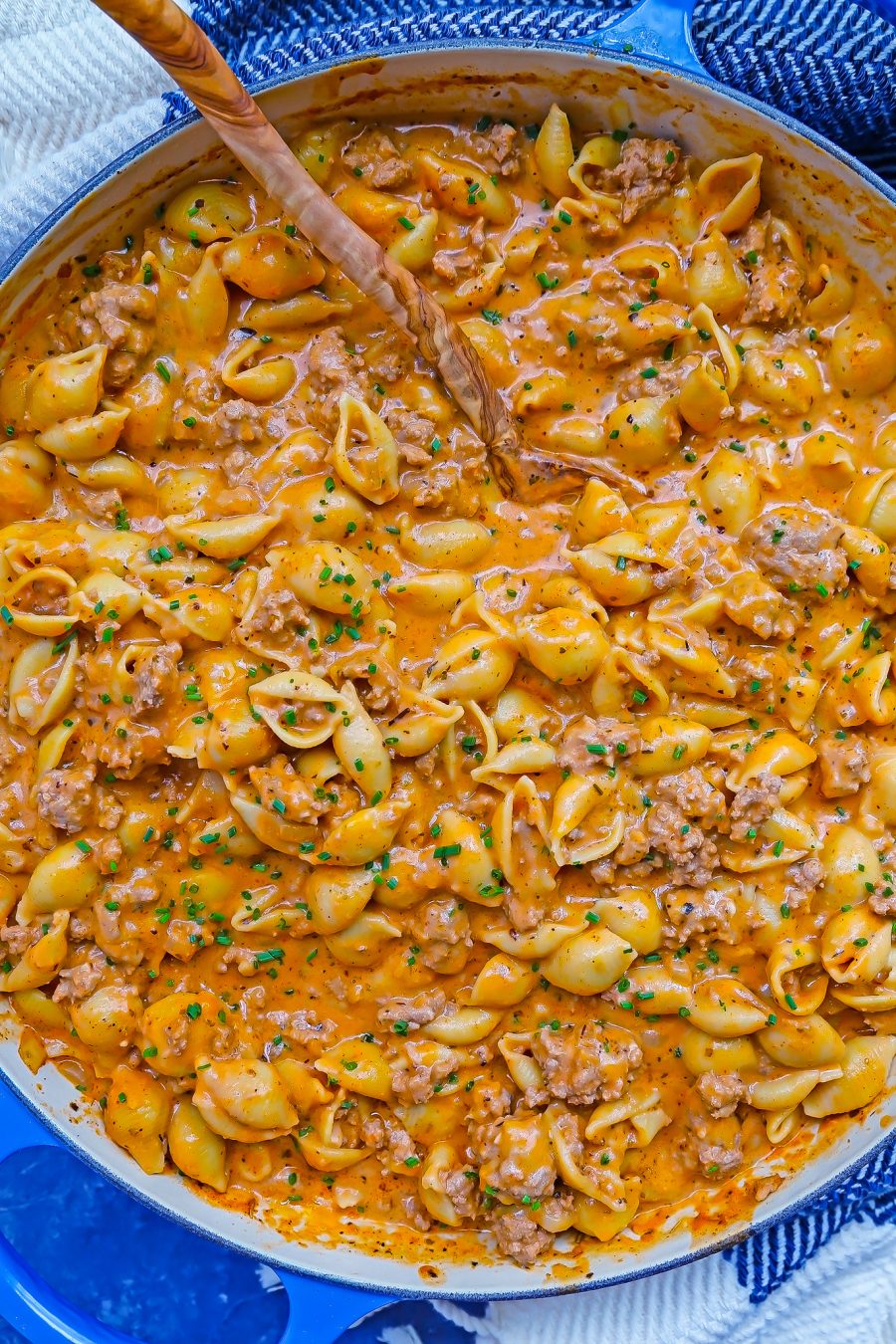 Homemade Hamburger Helper
We are talking old school comfort today!
Hungry for a delicious, easy meal on those busy weeknights? This one-pan dinner is here to help.
Hamburger helper is a boxed mix of pasta and seasonings, then just-add-water with cooked meat, and you're good to go. Actually, it is quite delicious in a pinch! However, with Jessica's recipe homemade-style, there was an obvious way to elevate this classic boxed favorite.
Let's get you to this goodness, and start cooking!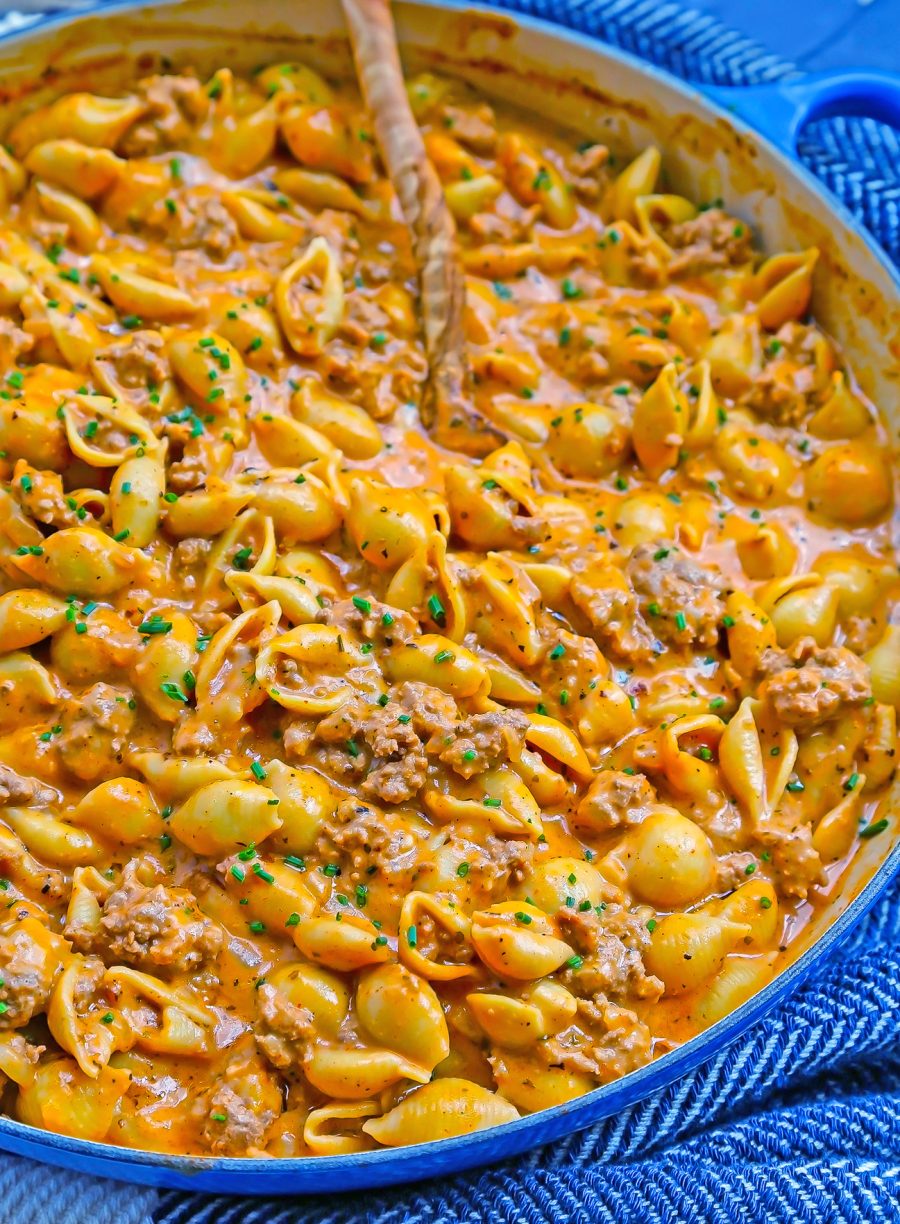 Ingredients for Homemade Hamburger Helper
• lean ground beef or ground turkey
• yellow onion
• garlic clove
• all purpose flour
• low sodium beef broth
• tomato sauce
• italian seasoning
• salt and pepper
• smoked paprika
• garlic powder
• pasta shells
• heavy cream
• shredded cheddar cheese
Keep reading for full ingredient list + recipe, below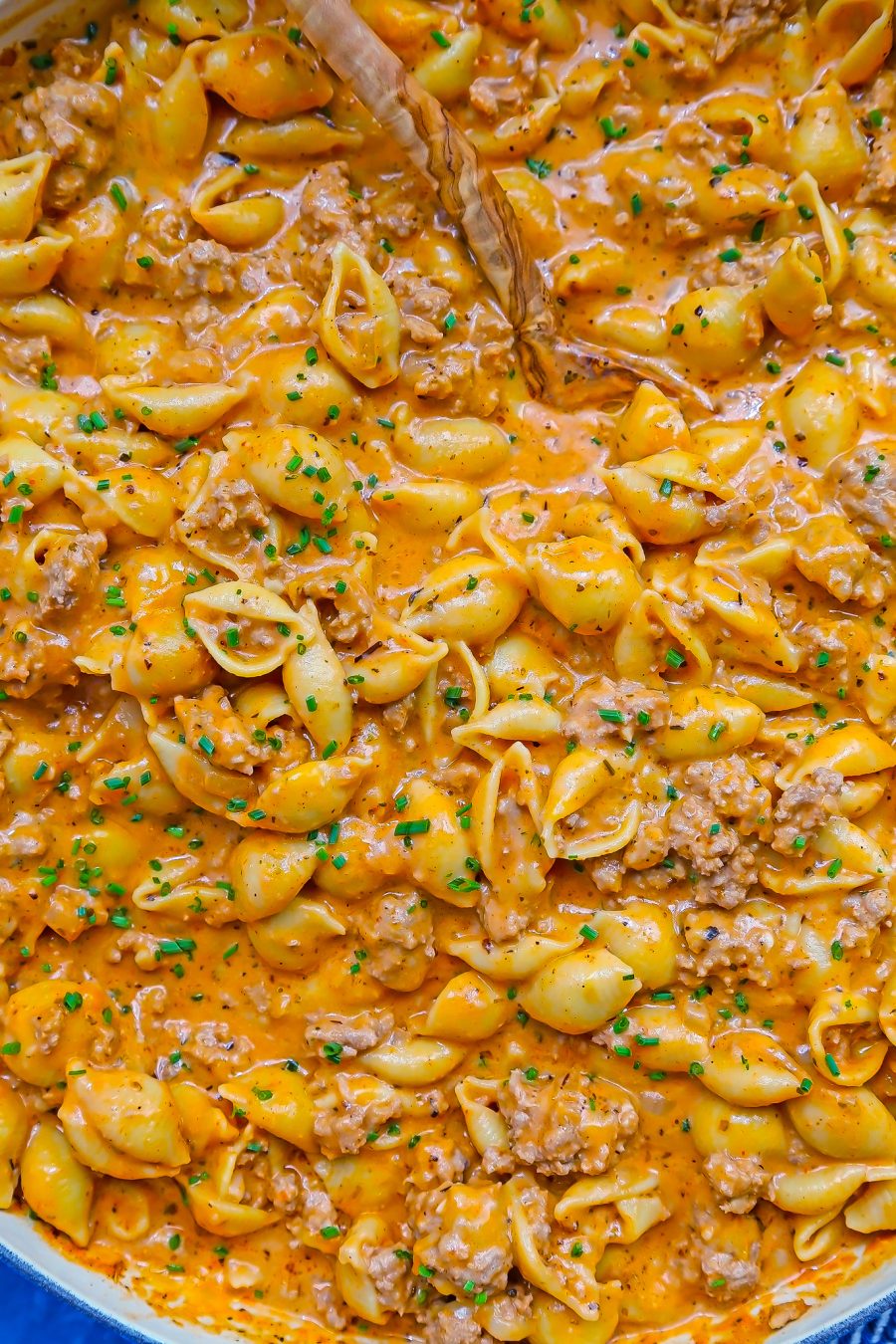 What other proteins can I substitute?
We like to use lean ground beef or ground turkey. Crumbled Italian sausage, ground chicken, or ground alternative meats (Beyond, etc.) work here, too!
What other pastas work with Hamburger Helper?
Try any bite-sized pasta, like shells, elbows, orecchiette, farfalle, or rigatoni.
What should I serve with Hamburger Helper?
A loaf of garlic bread is always loved, and a big green salad on the side!
Can I make this recipe ahead?
Yes! You can prepare this dinner up to 2 days ahead of cooking. Cook fully, cover and refrigerate, until ready to serve. To reheat, cover with foil and heat at 300 degrees F for 20 minutes, or until heated through.
How do I store and reheat this recipe?
Store leftovers in a resealable container or casserole dish. Cover and refrigerate up to 5 days. Freeze for up to 3 months. Allow to thaw to room temperature before serving. Reheat mixture over low heat in a skillet (add more water or broth, if necessary). Or, reheat individual servings in the microwave.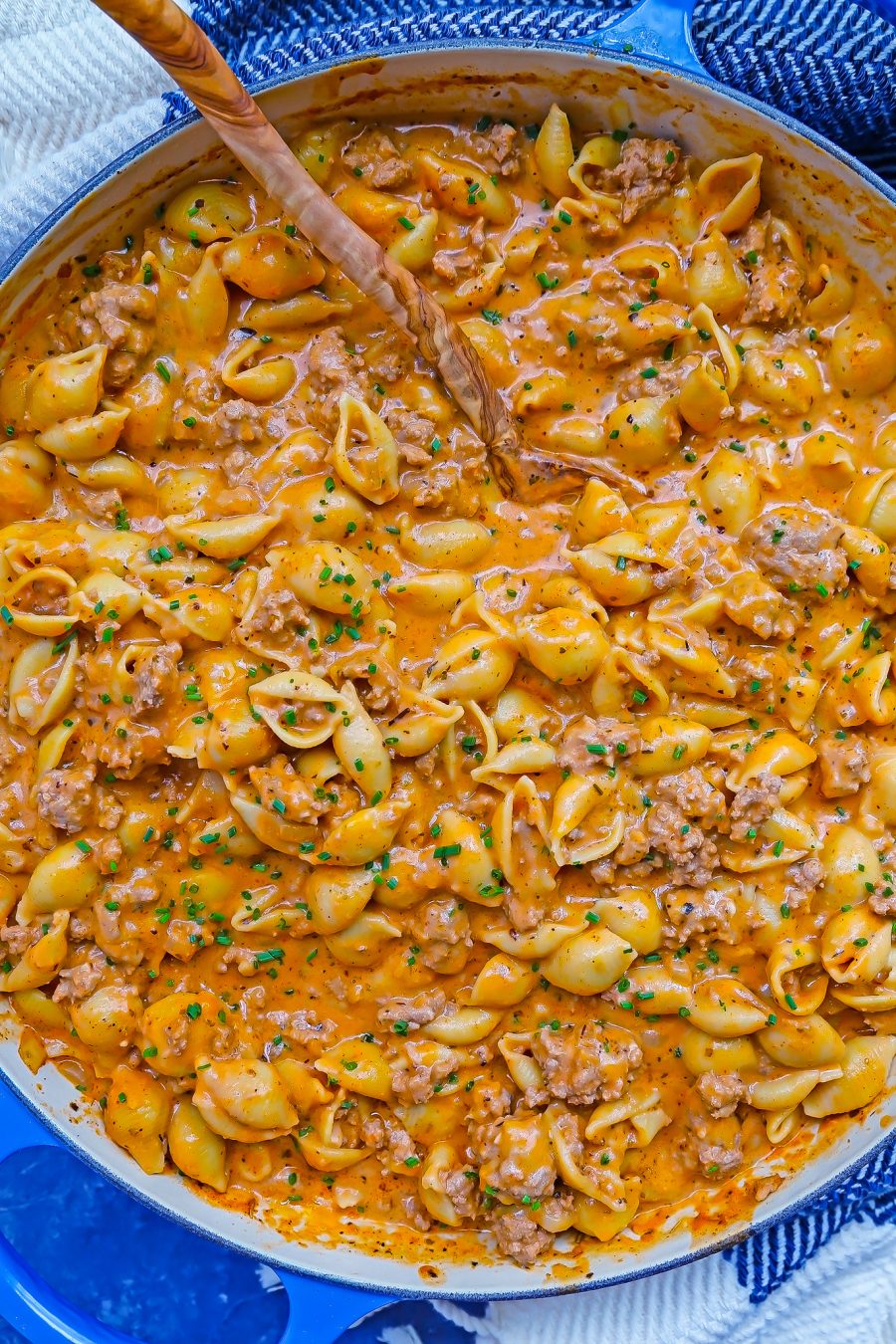 More easy weeknight meals:
• One-Pot Creamy Beef and Shells
• Sausage, Zucchini + Tomato Sheet Pan Dinner
---
I hope you enjoy this easy, scrumptious Homemade Hamburger Helper recipe. It is so simple to make and always a family pleaser. With a side of garlic bread and salad, we devoured this dish in minutes!
Please feel free to leave a comment and a star rating, if you give it a go. I would love to know if you serve this recipe for your family and friends.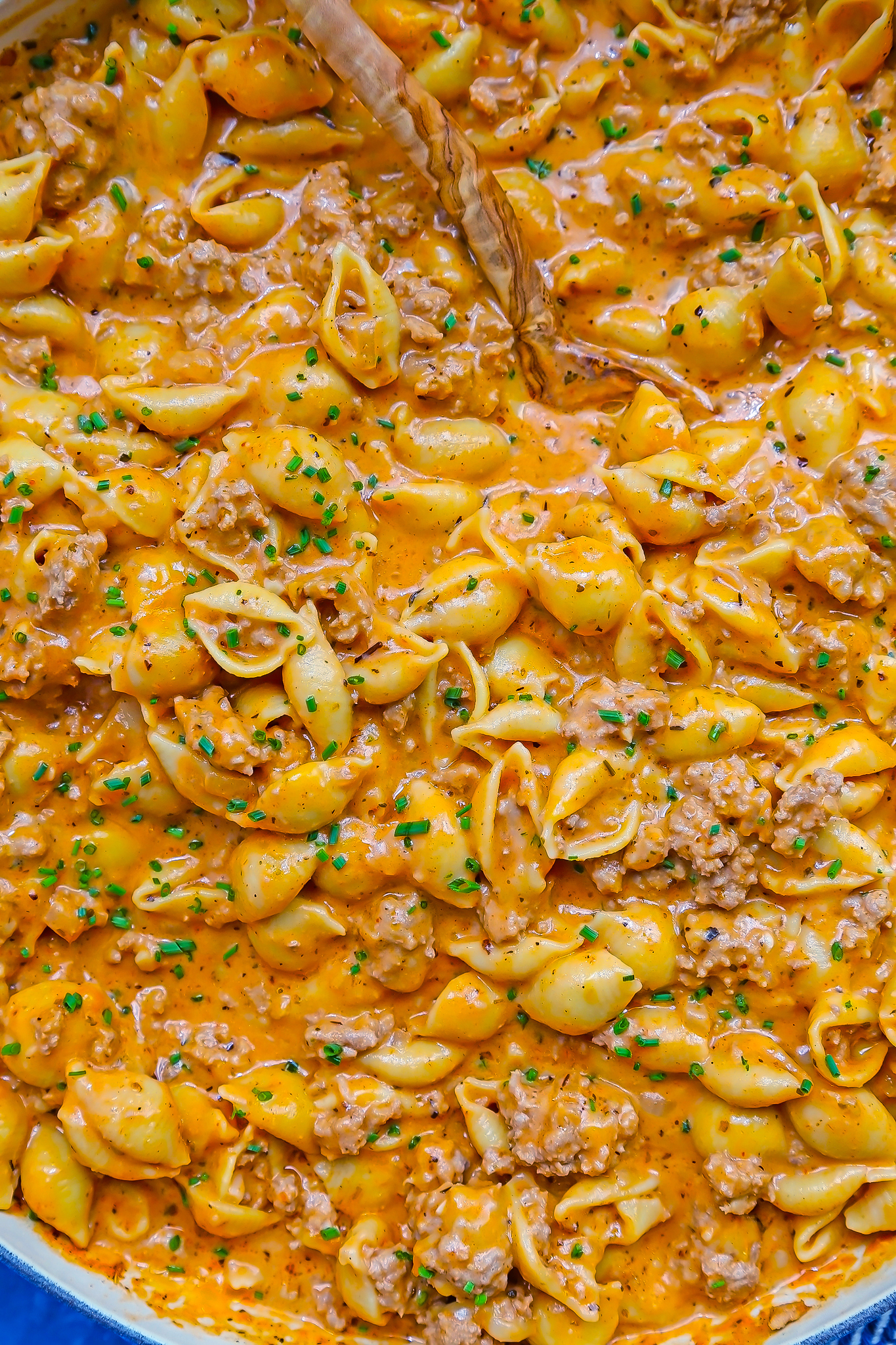 Homemade Hamburger Helper
Ingredients
1 pound ground turkey or beef
1 yellow onion, chopped
2 garlic cloves, minced
2 Tablespoons all-purpose flour
2 cups low-sodium beef broth
1 8 oz. can tomato sauce
1 teaspoon Italian seasoning
1 teaspoon coarse salt
1/2 teaspoon smoked paprika
1/2 teaspoon garlic powder
1/4 teaspoon cracked black pepper
2 cups small pasta (I used shells)
1/2 cup heavy cream
2 cups shredded cheddar or Colby jack
Instructions
Set a large pan with a lid to medium-high heat. Add ground meat and cook 2-3 minutes, until beginning to brown.
Add onion to meat and cook for 4-5 minutes, until soft and fragrant. Stir in garlic and cook for 30 seconds.
Stir in flour and cook for 1 minute. Slowly stir in broth and bring mixture to a boil.
Add tomato sauce, Italian seasoning, salt, smoked paprika, garlic powder, pepper and pasta. Stir well to combine. Reduce heat to medium.
Cover with lid (or foil, if you don't have a lid). Cook for 12 to 15 minutes or until pasta is cooked, stirring occasionally.
Once pasta is cooked, remove from heat. Stir in heavy cream and shredded cheese, until well blended and melted.
Serve hot and enjoy!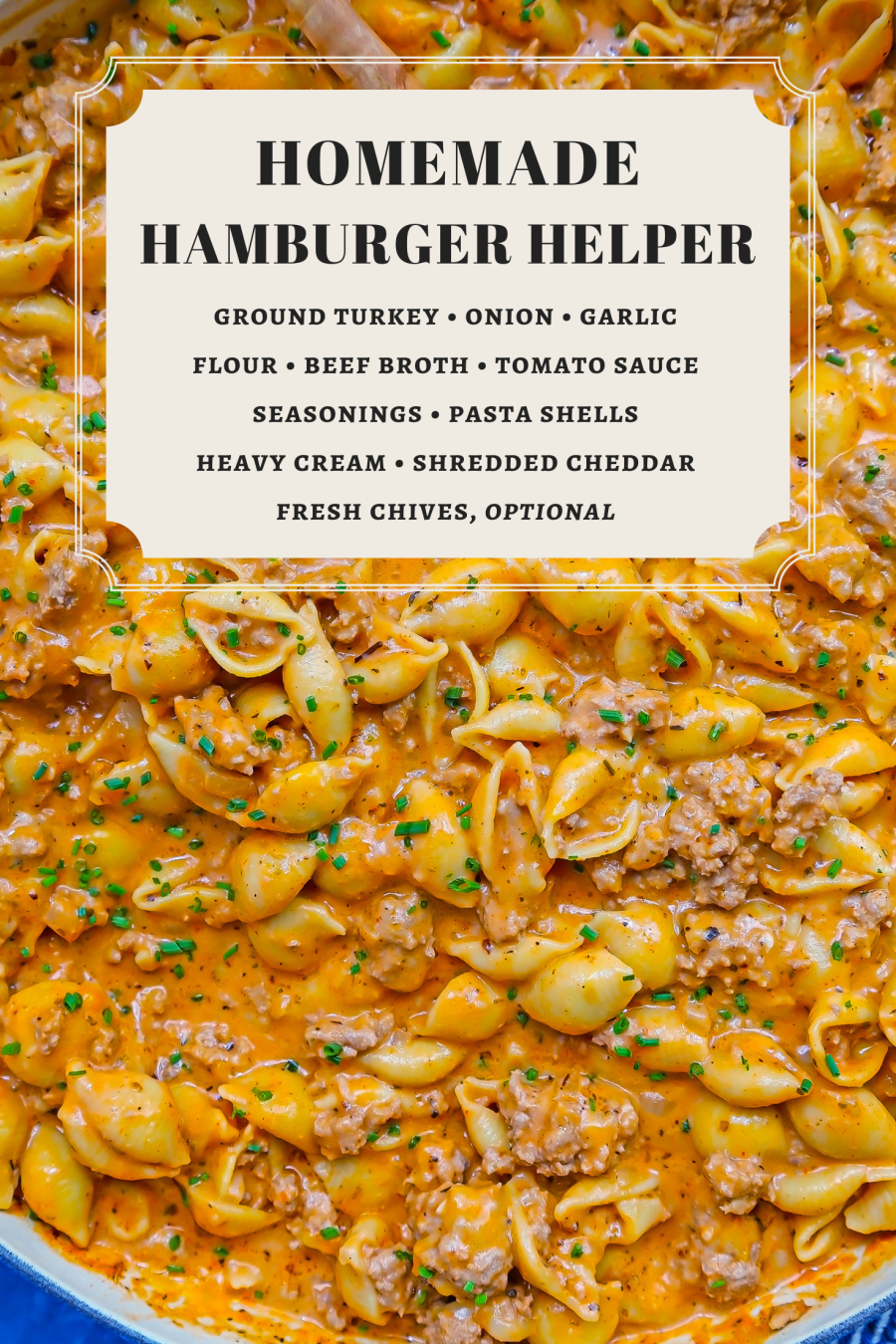 Want to receive our latest recipes straight to your email inbox? Click here to subscribe!