Sink a fork into this scrumptious pile of warm chocolate banana pancakes with maple syrup… easily made AND freezable!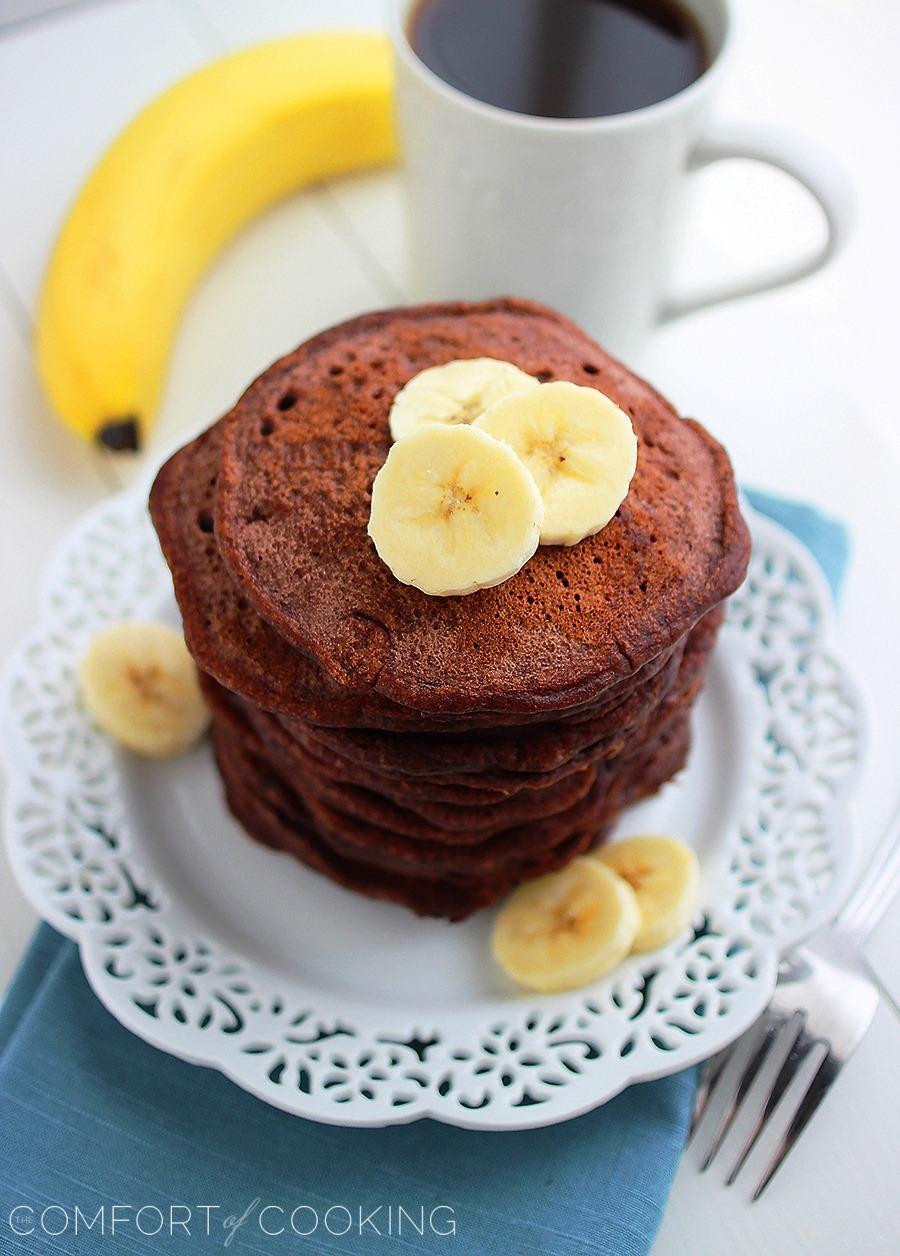 Let's just rewind for a minute and forget about Monday. Will you sit down to a plate of pancakes with me and talk about the weekend? Mine was lazy and wonderful… I wish it could have lasted longer. How was yours? Good, I hope.
I can hardly believe it's just barely the first day of summer. Here in Austin, we've already had lots of toasty days, cold cocktails on the porch, and weekends with a slower, easier pace. They're not about rushing around and getting things done, being here, there and everywhere at once. Those two days of off time are just about savoring long, lazy breakfasts like this one… a pile of fluffy chocolate banana pancakes and a cup of hot, soul-huggin' coffee.
If you've never had chocolate pancakes before, you're in for a real treat!
These are some of the best pancakes I've ever made, and I really mean it. They have the same soft, melt-in-your-mouth consistency of my Fluffy Buttermilk Pancakes, but with a kick of creamy chocolate flavor. Just one banana is all you need, but you can add more if you'd like to heighten the flavor and make them a little denser… but still delicious!
You can even sneak a little peanut butter into the batter for an amazing banana-pb-chocolate breakfast experience. About a tablespoon or so should do it. Oooo… how amazing would that be?!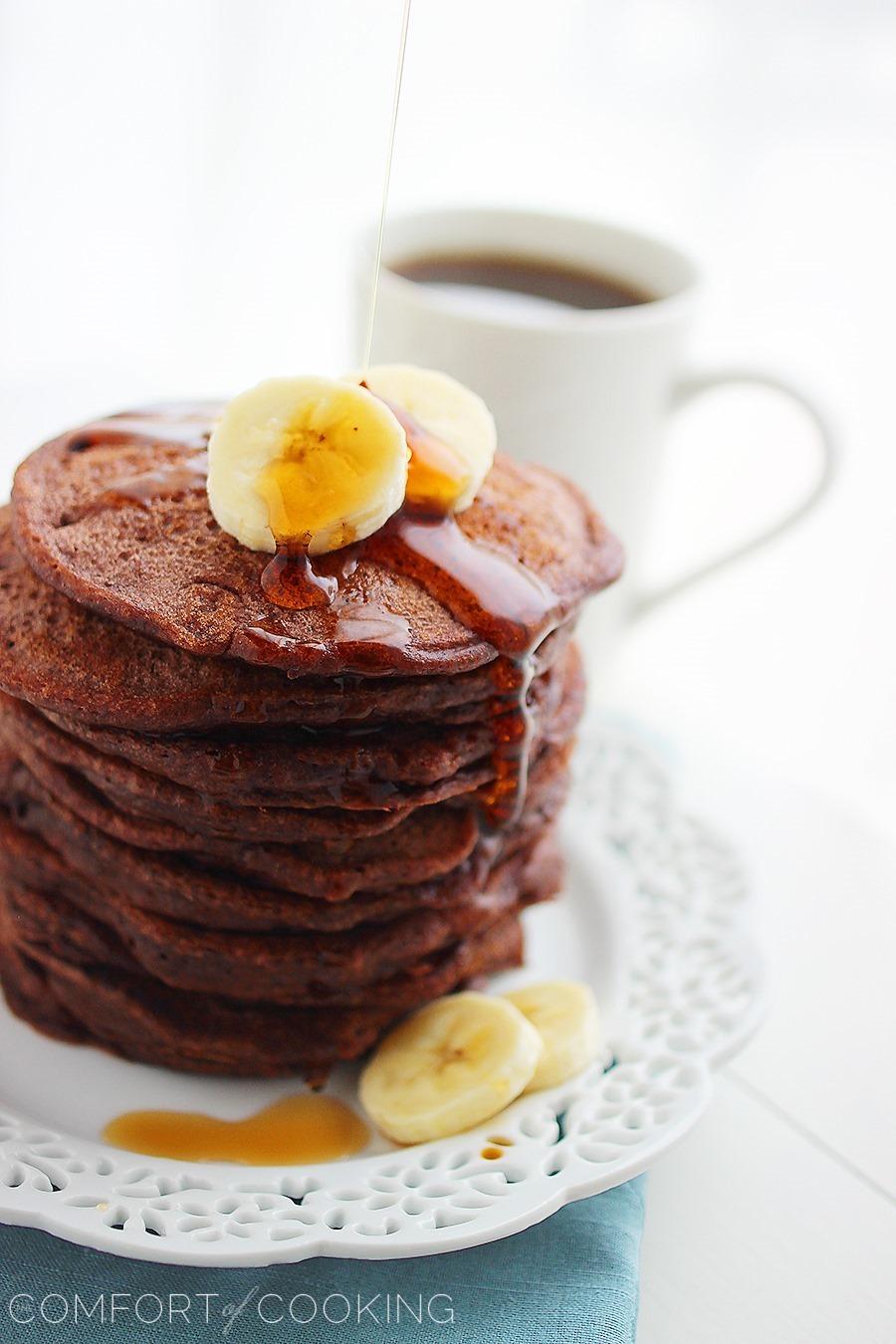 Pile 'em high and serve 'em hot with a handful of sliced bananas or your favorite fruit. Drizzle on some syrup, pour a cuppa Joe, and breakfast (or brunch) is served! You're just gonna love these. So what if it's a Monday. Mix up these luscious banana pancakes after work and freeze them up! That's right, freeze them. By adding layers of waxed paper in between each pancake, you can put them in a plastic bag, and freeze for a few weeks.
Warm pancakes at the office? Now that will make for a much more scrumptious start to any weekday morning!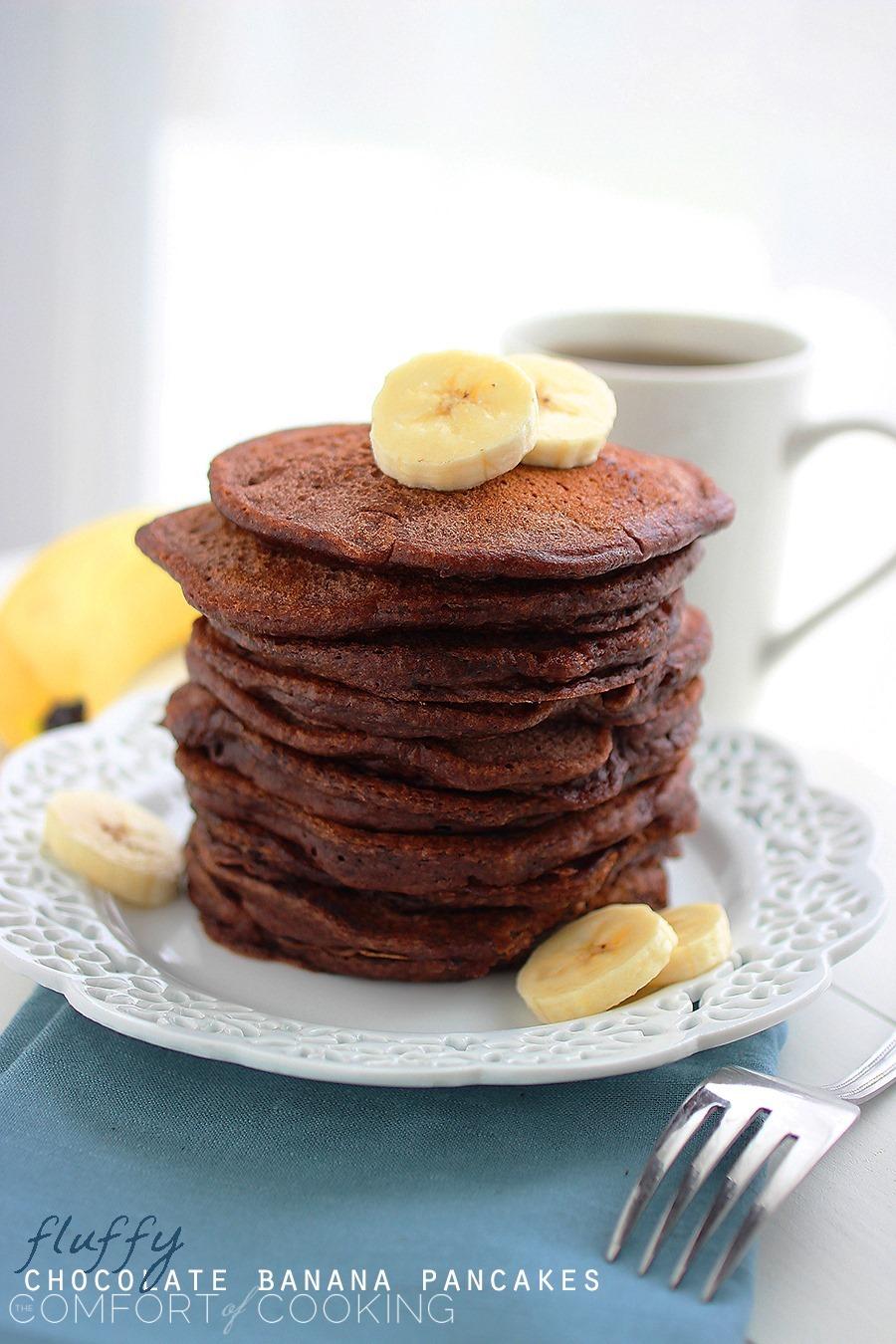 Fluffy Chocolate Banana Pancakes
Ingredients
1 cup all-purpose flour*
3 Tablespoons cocoa powder
3 Tablespoons sugar
1 1/4 teaspoons baking powder
1/2 teaspoon baking soda
1/2 teaspoon salt
1 large ripe banana, the riper, the sweeter!*
1 cup buttermilk*
1 large egg
1 teaspoon vanilla extract
1 tablespoon vegetable oil
Additional banana slices, for garnish, optional
Maple syrup or honey, for drizzling, optional
Instructions
In a large bowl, whisk together flour, cocoa powder, baking powder, baking soda, salt and sugar.
In a small bowl, mash banana. Mix in buttermilk, egg, vanilla and vegetable oil until well combined.
Pour the wet ingredients into dry ingredients and mix until just combined. The mixture should still be pretty lumpy.
Spray a large pan with nonstick cooking spray and set to medium heat. Cook pancakes until bubbles form on the surface and edges are just cooked, about 2 minutes. Flip and cook for an additional minute.
Garnish with additional banana slices and drizzle with maple syrup or honey, if desired.
Enjoy!