A mini twist on my all-time favorite (and best ever) artisan bread recipe. Super crusty, fluffy, and so easy! Just 3 ingredients and 5 minutes of prep. Use these mini loaves as sandwich rolls, or toast and add toppings for cute crostini.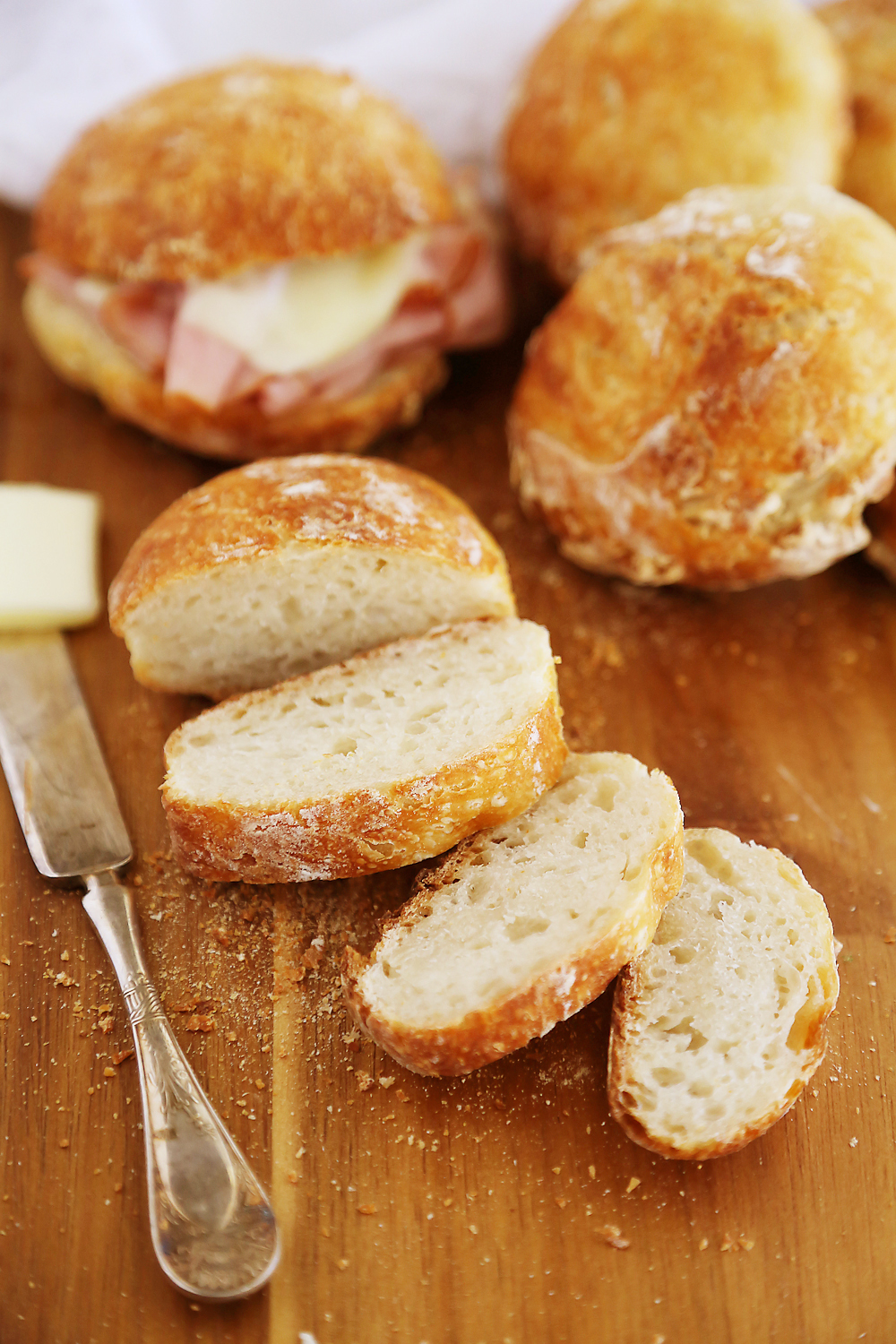 I often change up what's on the menu at home, just to keep exploring new flavors and trying new tastes. However, one recipe that remains on weekly repeat is my phenomenal (is that okay to say?) No-Knead Artisan Crusty Bread. It is truly one part recipe, one part magic trick.
Every. single. time. that I've baked it, the crust has come out light and crisp, with fluffy, pillow soft nooks begging to be buttered! We've served slices on the side of soups, salads, roasts, and just about any meal you can think of. And it makes a killer sandwich bread, of course.
But, enough about the big loaf, I'm here to tell you how to bake an even better crusty bread – but a bit smaller. Because then you might want to share. And sharing is caring. And mini is marvelous.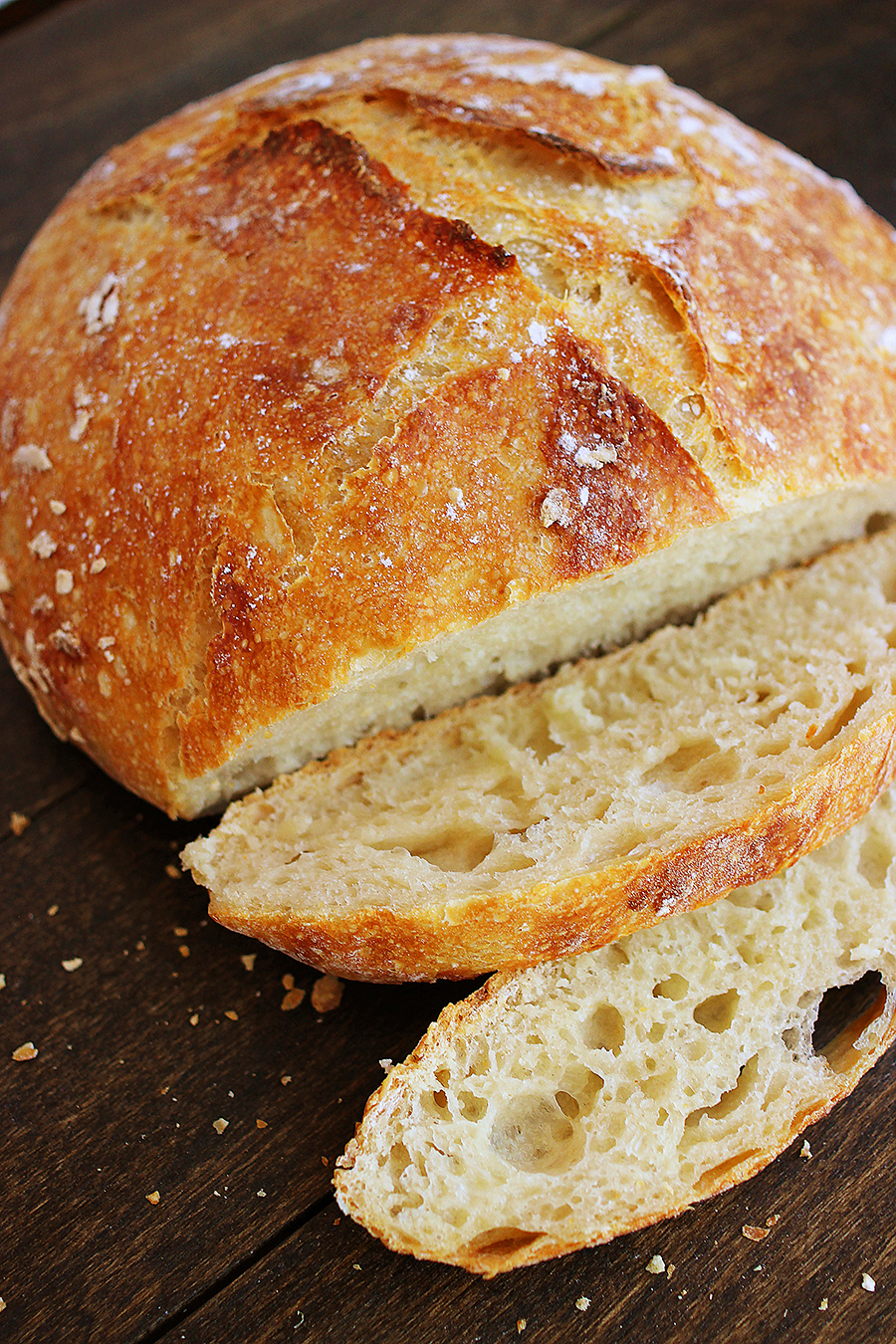 Here is the recipe for the full-sized loaf, pictured above. Which, let's be honest, is absolutely dreamy with a dab of salted butter, or piled with bruschetta toppings. Or really, any way you slice it.
But today, I'm going to teach you how to change up the baking method slightly to get perfectly round, crusty little balls of bread with soft and fluffy insides. With three ingredients. No fancy gadgets or funny tricks. And no kneading.
Just baking. And slicing. And buttering. And devouring.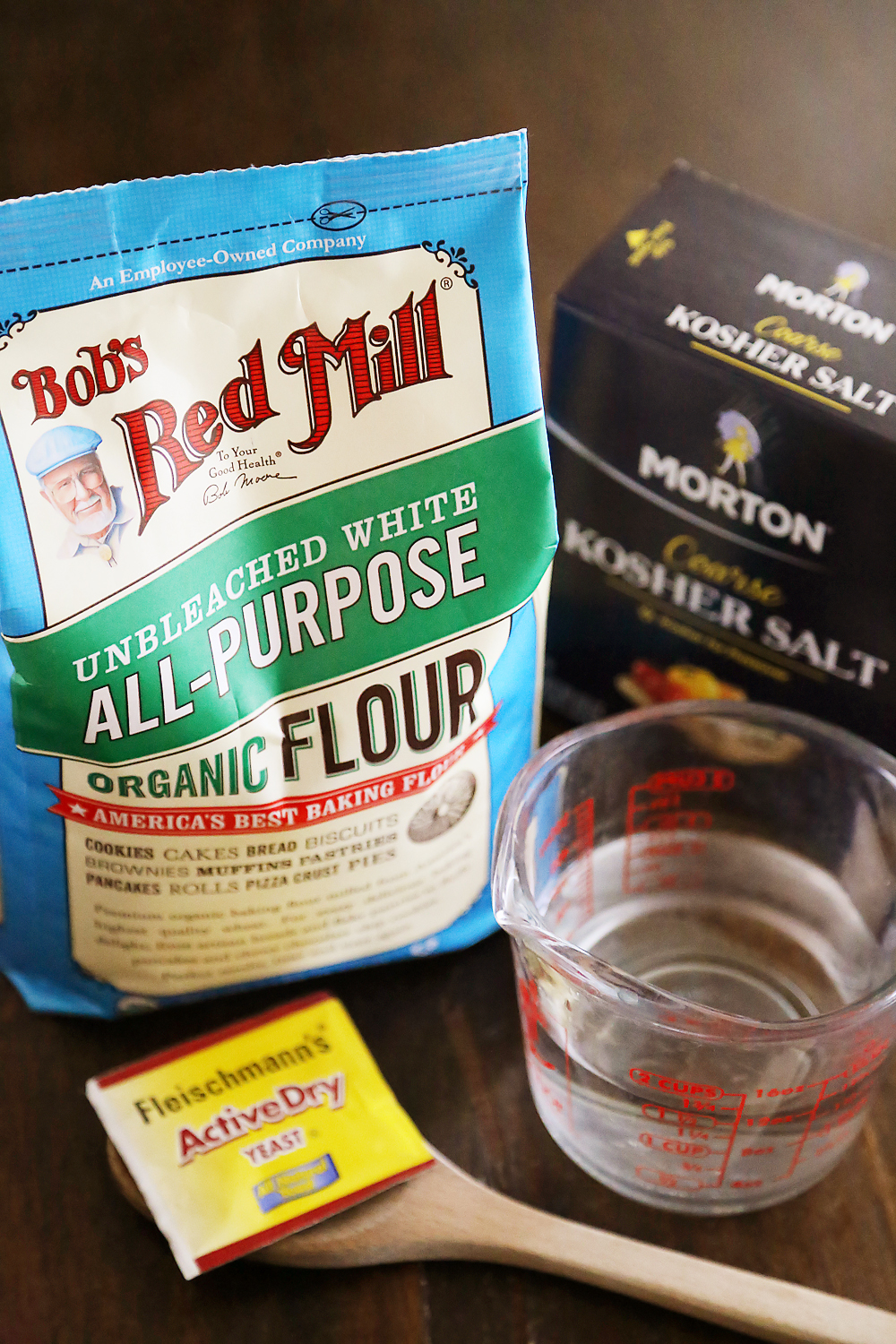 The ingredients are simple – flour, salt, yeast and a cup and a half of warm water. Minimal but quality is key. I'm often asked which flour brand works best, and my answer is always Bob's Red Mill Unbleached White All-Purpose Flour, a longtime favorite.
It bakes up beautifully golden brown, fluffy artisan loaves every time. And, of course, what's not to love about a good quality all-purpose flour? It is so versatile for use in cookies, cakes, muffins, quick breads, pie crusts, pizza crusts, and thickening sauces. I use this organic flour for everything.
Now, let me show you a little in-process action!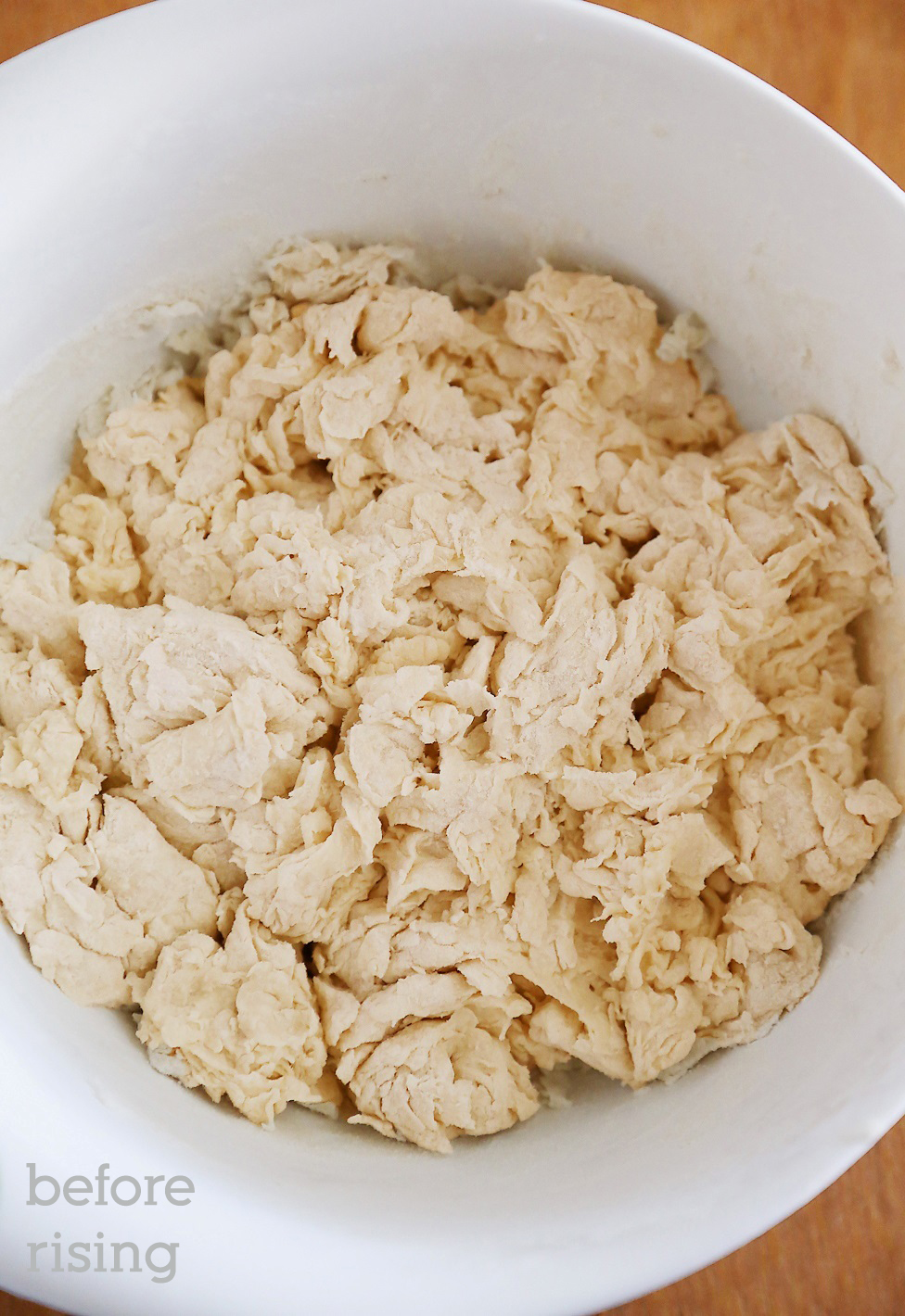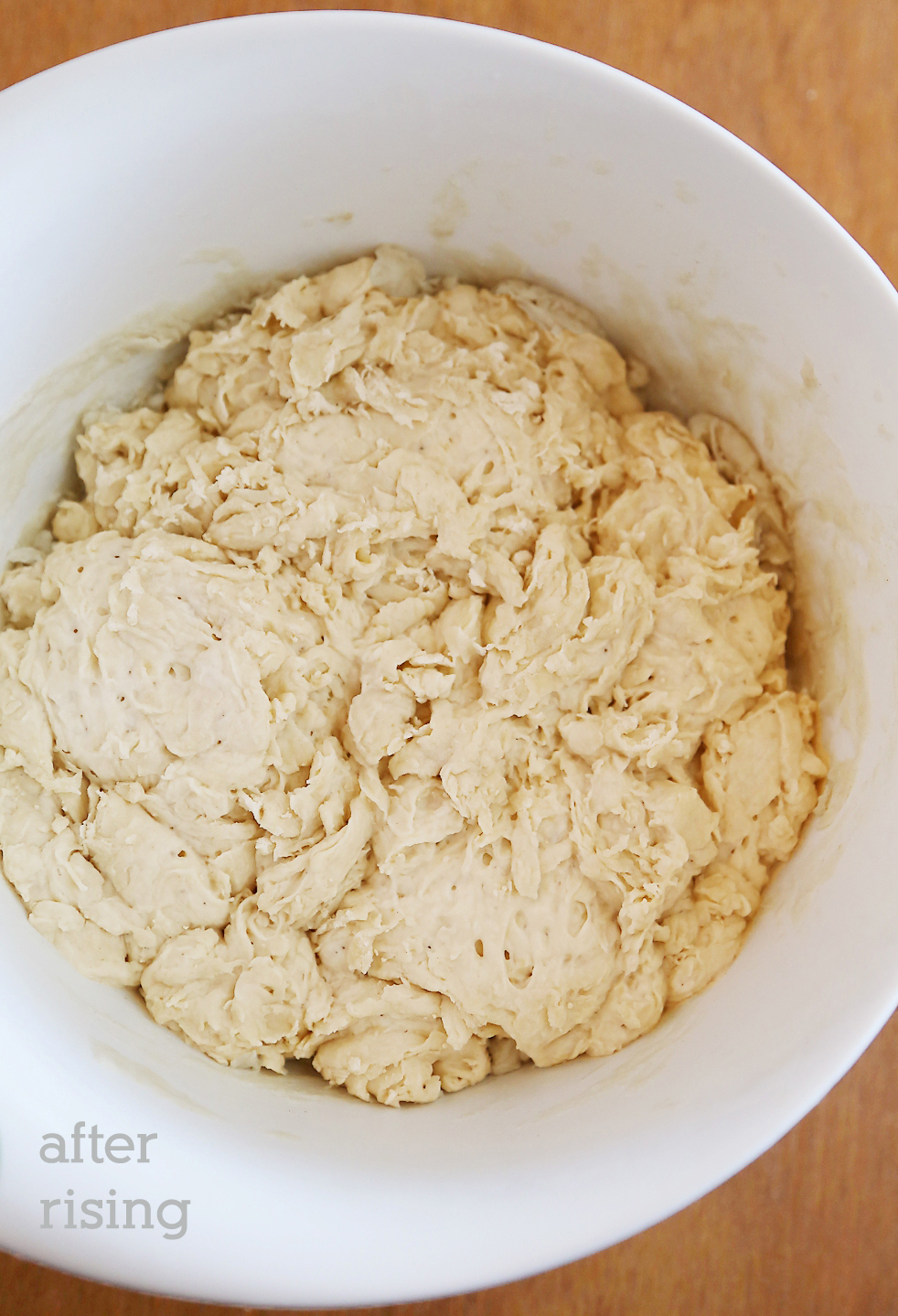 The top photo is what your dough should look like before rising – gently mixed but messy, shaggy and piecey. That's what will get you those big air pockets (for melted butter to slip into, remember?). Don't overwork it, now. The less you touch it, the more air pockets will form. That's the beauty of a no-knead bread!
Cover it tightly with plastic wrap and throw a clean dish towel over top. Then patiently wait 8+ hours for it to rise. The waiting is the hardest part.
This one rose for 12 hours. Though it may not look super fluffy in the second photo, that's just where you want it! Still a bit messy but softer. When you dump it onto a floured surface, it will be a little wet. Gently mold it into a cohesive, round ball. Then divide the dough ball into 6 pieces (a pastry cutter helps with this), then bake as directed.
Prepare yourself for the "OMG DID I REALLY JUST BAKE THAT" moment as you pull your perfect bread from the hot oven.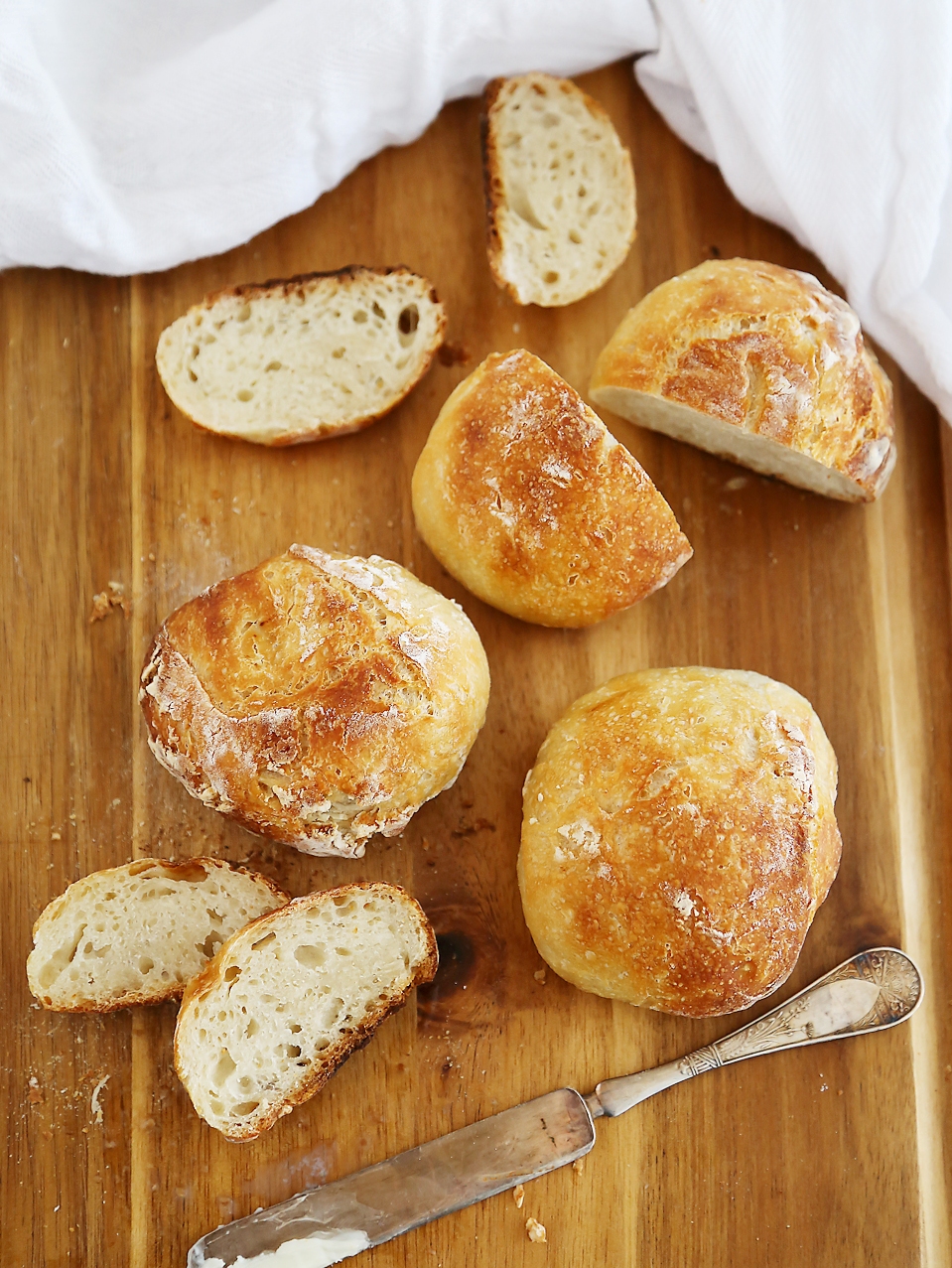 I love giving these mini loaves away as gifts, serving them as rolls, and piling them high with meats, cheeses and veggies for sandwiches and sliders.
You can even flavor them up with dried herbs, ground spices, citrus zests and shredded Parmesan. Just mix them into the dry flour mixture, before adding the water and rising.
I hope you have fun with this awesome homemade artisan bread. I know you'll love these loaves, made full sized or mini. If you give them a try, please let me know how they turn out for you!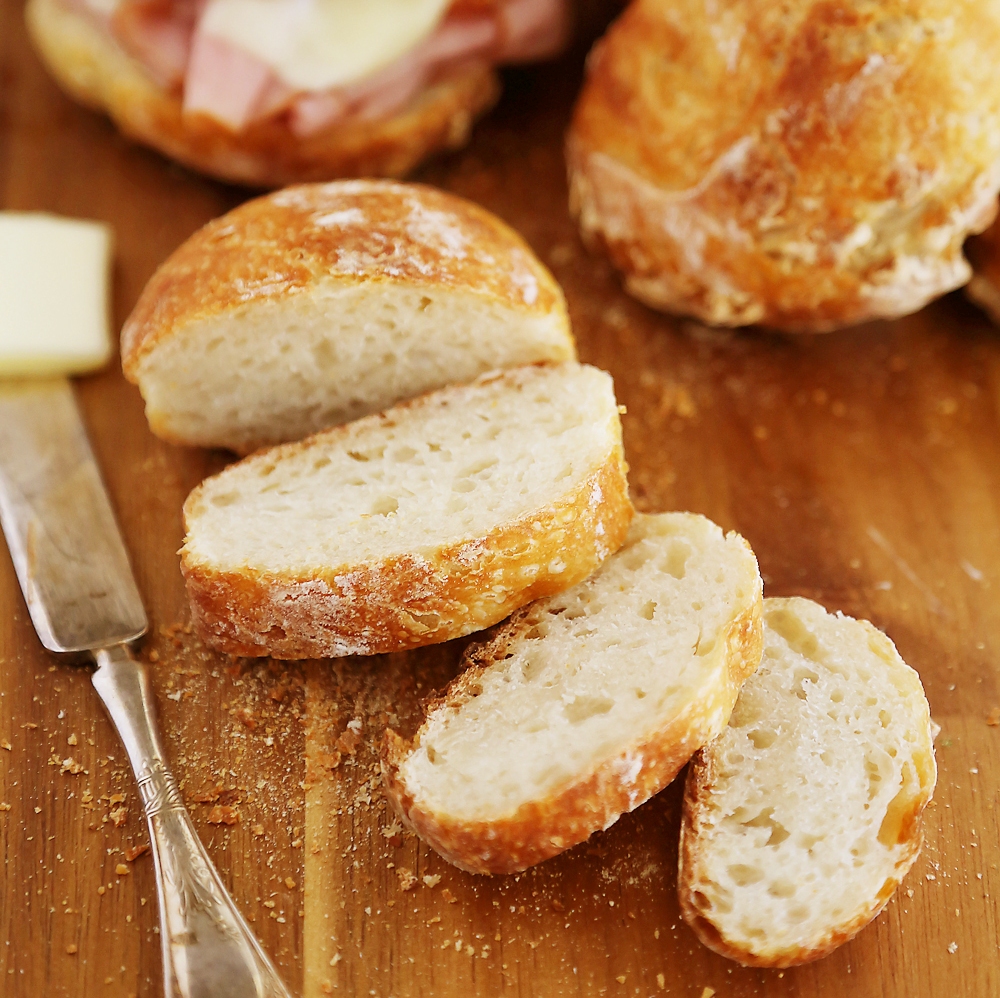 No-Knead Crusty Artisan Mini Loaves
Ingredients
3  cups all-purpose flour
1/2 teaspoon dry yeast , (active dry or highly active dry work best)
2-3 teaspoons kosher salt (not table salt)
1 1/2 cups warm water
Special cookware needed:
Dutch oven or any large oven-safe dish/bowl and lid*
Instructions
In a large bowl, stir together the flour, salt and yeast. Stir in water using a wooden spoon until the mixture forms a shaggy but cohesive dough. Do not over-work the dough. The less you "work" it, the more soft, fluffy air pockets will form.
Cover bowl tightly with plastic wrap. Let dough sit at room temperature for 8-24 hours*. Dough will bubble up and rise.
After dough is ready, preheat oven to 450 degrees F. Place your Dutch oven (or other large baking dish), uncovered, into the preheated oven for 30 minutes.
While your Dutch oven preheats, turn dough onto a well-floured surface. With floured hands, form the dough into a ball. Divide into 6 equal-sized pieces and gently form into round balls. Cover dough loosely with plastic wrap and let rest.
After the 30 minutes are up, carefully remove Dutch oven. With floured hands, place dough balls into it. (You can put a piece of parchment under the dough if your Dutch oven isn't enamel coated.)
Replace cover and bake for 30 minutes covered. Carefully remove cover and bake for 7-15 minutes* more, uncovered.
Carefully remove loaves to a cutting board. Use for crostini, sandwich buns, or garlic bread!
Enjoy!
Notes
Uncovered baking time depends on your oven. In my oven, the loaves only need 7 minutes uncovered until crusty and golden brown, but this can vary. Just keep an eye on it!
Heating your Dutch oven to 450 degrees F will not damage it, or the knob on top.
I've let this dough rise anywhere between 8-24 hours and it has baked up beautifully. Just make sure it has risen and appears to "bubble" to the surface.
There's no need to grease the Dutch oven/baking dish/pot. My bread has never stuck to the pot. If you are concerned though, put a piece of parchment paper under your dough before placing into your pot.
I do not recommend using whole wheat flour or white whole wheat flour in this recipe. The resulting bread will be very dense, and not as fluffy and delicious.
I used a 5.5 quart enameled cast iron Le Creuset pot, but you can use any large oven-safe dish and cover. All of these also work: a baking dish covered with aluminum foil, crockpot insert, stainless steel pot with a lid, pizza stone with an oven-safe bowl to cover the bread, and old cast iron Dutch oven.
Add any mix-ins you like - herbs, spices, dried fruit, chopped nuts and cheese all work well. I recommend adding them into the initial flour-yeast mixture to avoid over-working the mix-ins into the dough. The less you "work" it, the more you're encouraging soft, fluffy air pockets to form!