A little bit cake, a little bit cookie, these cookie sandwiches are decadent desserts that are also easy and scrumptious!
Two very exciting things worth celebrating are happening this week – tomorrow my handsome hubby turns the big 3-0, and The Comfort of Cooking is getting lovely new look! So, since I'm absolute rubbish at making cakes, I settled for the next best thing… cake mix cookies filled with frosting and smattered with sprinkles!
WHY do sprinkles make everything taste better, I ask you?
We're just back from celebrating his birthday with a week in the Caribbean, so our plans for his actual birthday are pretty low-key. It's also Pi day, and he requests a pie every year – this year, it's his favorite homecooked meal… Shepherd's Pie! Love my geeky, pie-lovin' guy.
But back to the sweet stuff…
For how fun and festive they look, you wouldn't believe how easy these cookies are! Just whip up your any flavor of cake mix into a stiff dough, roll it into balls, give them a gentle press to flatten, and bake. Meanwhile, make a homemade frosting with my recipe below, or use a prepared frosting. Pair up the cookies, spread on the frosting, roll the sides in sprinkles, and voila!
Just look at that beautiful rainbowy deliciousness! I mean, really, dontcha just want to jump in?
These would be so cute for a kid's birthday party, a baby or wedding shower, or anything worth celebrating with your fellow cookie (and sprinkle) lovers!
Have fun with these cake mix cookies and experiment with flavors, too. How about a spiced cake cookie with cream cheese frosting, a lemon cookie with vanilla, or double chocolate for a truly decadent dessert?
You'll absolutely love these cookies and keep going back to them for life's little occasions… or just to treat yourself to something special!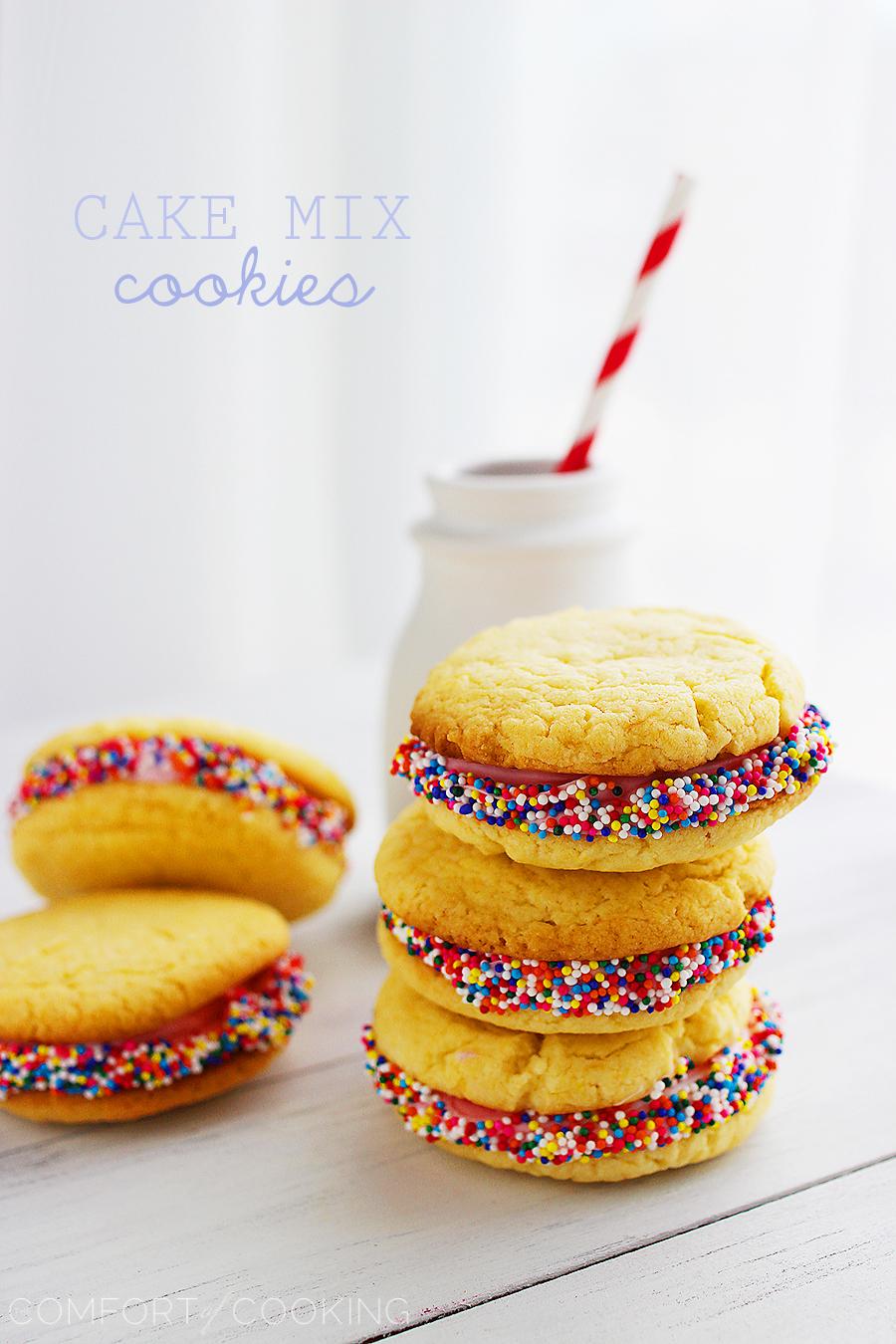 Cake Mix Cookie Sandwiches
Yield:
10 sandwich cookies
Ingredients
For the cookies:
1 8.25 oz. package yellow cake mix, or your choice flavor
1 egg
1/2 cup butter, softened
For the frosting:
3/4 cup butter, softened
3 cups powdered sugar, sifted
1 1/2 tsp. vanilla extract
2-3 tbsp. milk
Food coloring, optional
For decorating:
Multi-colored non-pareils, or other sprinkles or candy of your choice
Instructions
Preheat oven to 350 degrees F.
In a large bowl or the bowl of a stand mixer, combine cake mix, egg and butter. Beat on low speed until all ingredients are well incorporated. Roll the dough into 1- to 1 1/2-inch balls and place on two parchment-lined baking sheets. Press down on cookies to slightly flatten (the bottom of a measuring cup works for this). Bake 8-10 minutes. Cool cookies completely on baking sheets before frosting.
To make the frosting, in the bowl of a stand mixer fitted with the paddle attachment, beat the butter on medium-high speed until smooth. Scrape down the sides of the bowl, add powdered sugar, and beat until incorporated. Add vanilla extract and beat on medium speed until fully incorporated. Add 2 tablespoons of milk and beat on medium-high speed until smooth. If the frosting is too thick, add the remaining 1 tablespoon of milk and beat until incorporated. If desired, gradually add drops of food coloring and mix to reach desired shade.
Once cookies are cool, pair by size. Frost the flat side of one cookie from each pair. Place the other cookie of each pair on top of the frosting, flat side down. Lightly press together so that the frosting reaches the edges of the cookies. To decorate, place sprinkles in a small bowl. Dip the edges of each cookie in the sprinkles, pressing down gently and rotating to cover completely.
Enjoy!