Warm up with a bowl of cream-free Loaded Baked Potato Cheddar Soup piled with tasty toppings!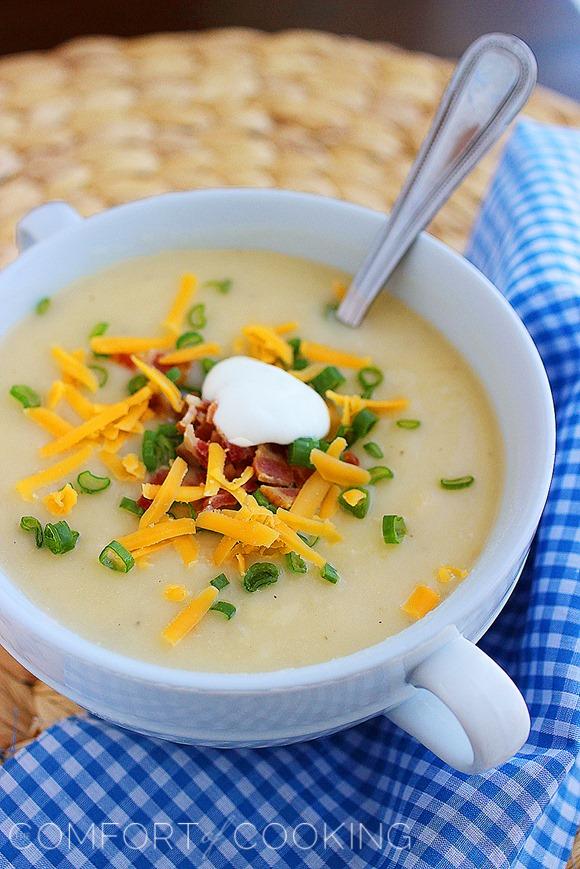 So, how exciting is this?! I am BEYOND thrilled to unveil the new design and functionality of The Comfort of Cooking. I tell ya, I could do a hundred cart wheels… if I could do cart wheels at all.
There's so much I love about this new look I've been working on with Purr, but the transition to WordPress has been my favorite part… a bit frustrating at times and definitely with its learning curves, but still. My favorite. part. Sayonara, Blogger!
I have lots to show you come Monday, when I'll zip you around on a little tour of my new digs. But first, let's talk soup. And St. Patricks Day. And gluttony in general.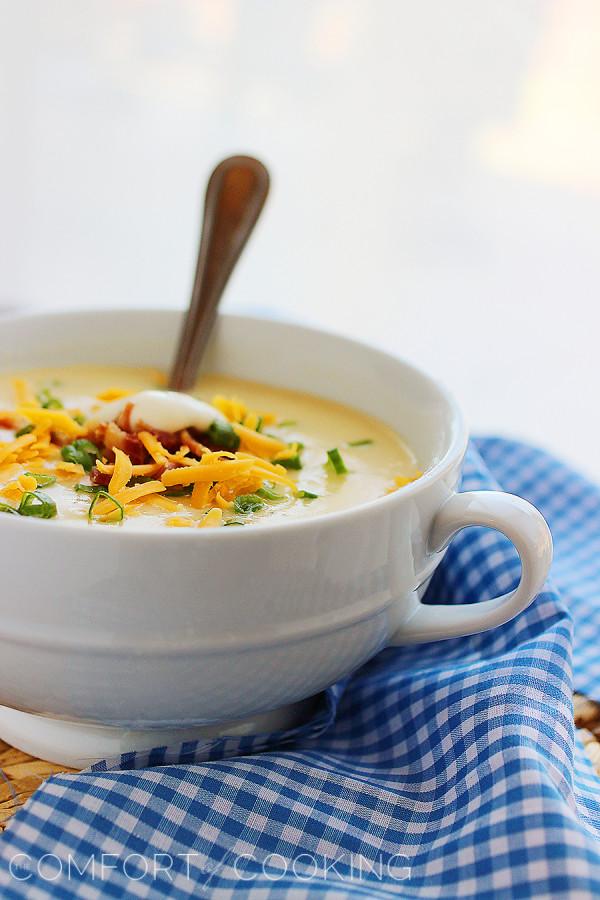 A rich, warm potato cheddar soup is the best meal to warm you up in the winter. It doesn't need to pack tons of cream and butter to be flavorful, though. This delicious, easy soup has a base of chicken broth to keep it lighter than most. Just add some milk (I used skim) towards the end of cooking, and pile it high with tasty toppings. For a luscious "loaded baked potato" type soup, I tossed on crispy bacon, Sargento sharp cheddar, scallions and a dollop of plain yogurt.
You'll love this soup. It's perfect for weeknight meals or a St. Patty's Day party… and it freezes well, too!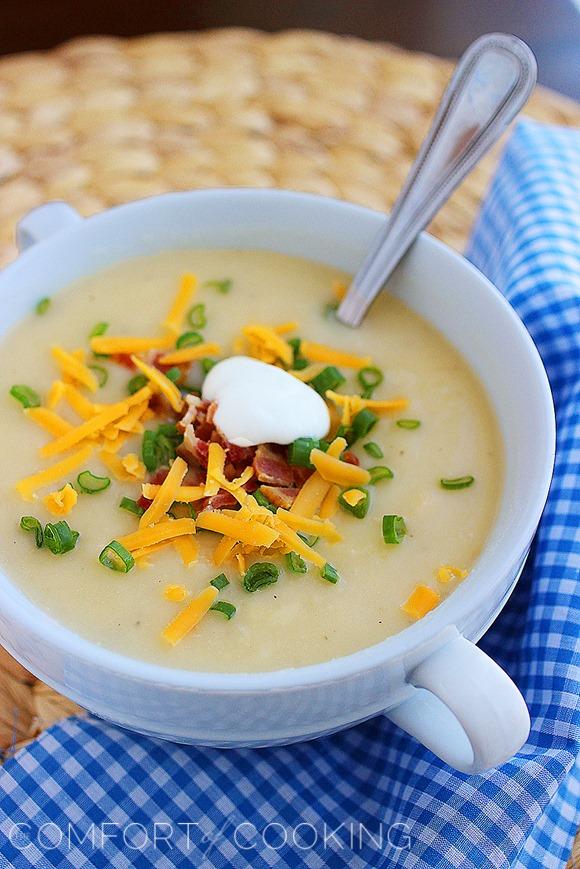 Loaded Baked Potato Cheddar Soup
Ingredients
1 Tbsp. butter
1/2 cup chopped yellow onion
2 cloves garlic, minced
4 cups 4 medium russet potatoes, peeled and cut into small chunks
1 14 oz. can chicken or vegetable broth
1 3/4 cups milk, I used skim
Salt and freshly ground black pepper
4 slices bacon, cooked and crumbled
4 green onions/scallions, chopped
Plain yogurt or light sour cream, for topping
Instructions
Melt butter in a large saucepan over medium heat. Add onion and cook 2 minutes. Add garlic and cook 1 minute. Add potatoes and broth; bring to a boil. Reduce heat and simmer 12-14 minutes, or until potatoes are tender.
Remove from heat. Transfer mixture to a blender or food processor; pureé until smooth (you may need to do this in batches). Return mixture to saucepan. Alternately, blend the soup in the pot with an immersion blender. Stir in milk and heat over medium heat until hot (do not boil). Season to taste with salt and pepper. Stir in 1 cup cheddar cheese.
Ladle soup into four serving bowls. Evenly top each bowl with the remaining 1/2 cup cheddar, bacon, scallions and plain yogurt.
Enjoy!