I'm trying to write something witty and interesting about cream puffs while the picture above stares at me in all its heavenly, drippy chocolate glory. I mean, what can I say that can't be expressed through these photos?
I think I may just have to let this one speak for itself.
Okay, wait. I'll try to come up with something…. Let's see here.
Cream puffs are easy. I mean, seriously easy, and I wouldn't lie to you about that. My weight to the doctor, yes, sometimes, but I don't lie about food.
See, these little guys were very simple. I didn't let the dough rise, or time anything to a tee, or perfectly pipe the dough through a pastry bag. I just tossed some flour into melted butter and water, mixed four eggs into that, added a little salt and plopped a dozen little mounds of pâte à choux (light pastry dough) onto a baking sheet. Done and done.
After the dough baked and the puffs cooled, that's when the fun began…
This was my first time making cream puffs, but that didn't keep me from ravishing them with all different fillings and toppings….
My first victim was sliced open and stuffed with a scoop of French vanilla ice cream and drizzled with chocolate syrup. And for my second snack, I used what I had on hand and made a little sandwich out of deli turkey, sliced pepperjack cheese, and cilantro pesto. Yum!
OK, enough talk and more drooling. But, let me just say this: You can do these! Try 'em out one lazy day, and fill and top these little puffs with anything you want. All it takes are four simple ingredients you probably already have, and a creative mind.
As cute, tasty bites for a brunch, lunch or dinner party, these little puffs will never fail to impress guests who you can bet will ask for the recipe. No need to roll up your sleeves, folks – you can whip up these cream puffs for any occasion with grace and ease.
And, of course, if you come up with delicious filling ideas, please feel free to share!
I'll be in Boston until next Wednesday (my birthday!), when I'll have another yummy recipe ready for you. In the meantime, happy cooking and baking!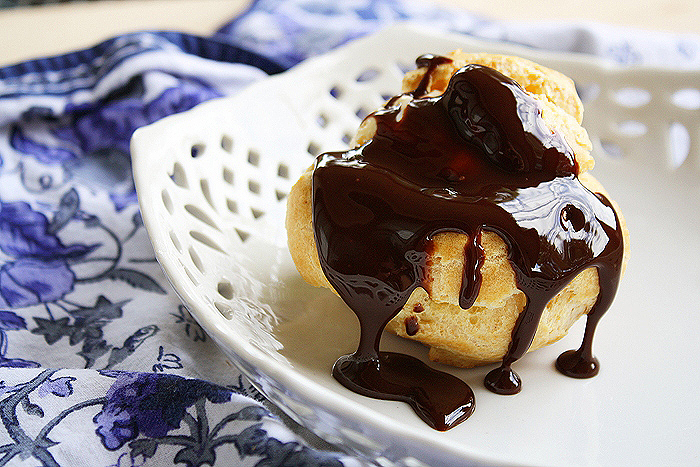 Easy Cream Puffs
Ingredients
1 cup water
1 cup all-purpose flour
½ tsp salt
½ cup 1 stick unsalted butter
4 eggs
Instructions
Preheat oven to 400 degrees. Spray two baking sheets with nonstick spray and set aside.
Put the water, butter, and salt in a medium saucepan and bring to a boil over medium-low heat. Remove from heat. Add the flour all at once and stir well until the flour is completely mixed in.
Return the saucepan to medium heat and cook, stirring constantly for 2 minutes. Scrape the dough into a large bowl.
With a wooden spoon, beat in the eggs one at a time until all four eggs are well-incorporated.
Spoon the dough into 12 rounded mounds onto the prepared baking sheet. Dip your finger into a little water and smooth out the edges to make sure that no small bits burn. Bake for 40 minutes, and let cool for 30 minutes before filling.
Once the cream puffs have cooled, fill with your favorite filling, or garnish with desired toppings.
Enjoy!