Growing up, there was not a lot my mom and I could agree on, especially when it came to cooking. I was an impatient and perpetually bored teenager who would insist I knew a better way to whisk an egg, peel an apple, boil water… you name it. But, the fact of the matter is, I should have been doing a little less lecturing and a lot more listening to the woman who had already been cooking for over twenty years. It wasn't until I left the nest and subsisted on Ramen noodles for breakfast, lunch and dinner that I realized this.
Before I saw my mom this Christmas, we excitedly e-mailed about the dishes we wanted to prepare for the Christmas party and vowed to spend a large majority of our time in the kitchen together. The result was a house full of mouth-watering aromas, two husbands sticking their fingers in dishes hot from the oven, and a patient medley of mother and daughter, making their favorite meals and teaching each other along the way, for the very first time.
We made a lot of delicious dishes over the course of my four-day visit, and though I didn't take a picture of a single one (too busy savoring!), I have made this apple pie many times since then and subsequently found a new definition of comfort food: Being able to cook with the ones you love.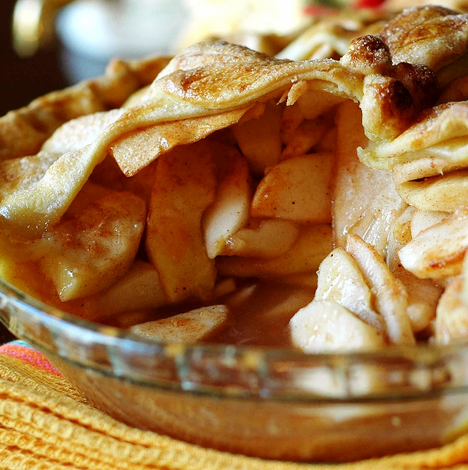 Best Ever Apple Pie
Ingredients
6

large Granny smith apples

¾

cup

sugar

3

tbsp.

flour

2

tsp.

cinnamon

2

tsp.

nutmeg

1

tsp.

salt

2

tbsp.

lemon juice

2

tbsp.

milk

1

tbsp.

sugar

2

pie crusts

homemade or store-bought for a 9-inch
Instructions
Peel, core, and cut Granny Smith apples into 1/4 thick slices. In a large mixing bowl, combine in sugar, flour, cinnamon, nutmeg, and salt. Place the apple slices in the bowl and coat with lemon juice. With your hands, toss the apples around in the mixture and let stand for 15 minutes, stirring occasionally to coat the apples.

Roll out your pie crusts with a floured rolling pin, and place one crust into a 9-inch pie pan. Preheat the oven to 425 degrees.

Pour the apple filling into the pie crust, and dot the top with 2 tbsp. butter, cut into small pieces.

Place the upper crust on top, trim, wave the edges with your fingers, and cut three small slits in the top, or create a lattice top.

Lightly brush the top crust and edges with a mixture of milk and sugar. Slip a baking sheet under the pie and bake for 30 minutes. After 30 minutes, reduce the temperature to 350 degrees, and continue baking for 35 minutes. Let the pie cool for about one hour before serving.
Notes
To enhance the look and flavor of the pie, add 1 cup dried cranberries to the apple mixture.