Whether you're enjoying a steak for a special occasion meal or a weeknight treat, cooking it can be so easy! Sizzled in a hot skillet, topped with a creamy herb butter, there's nothing better.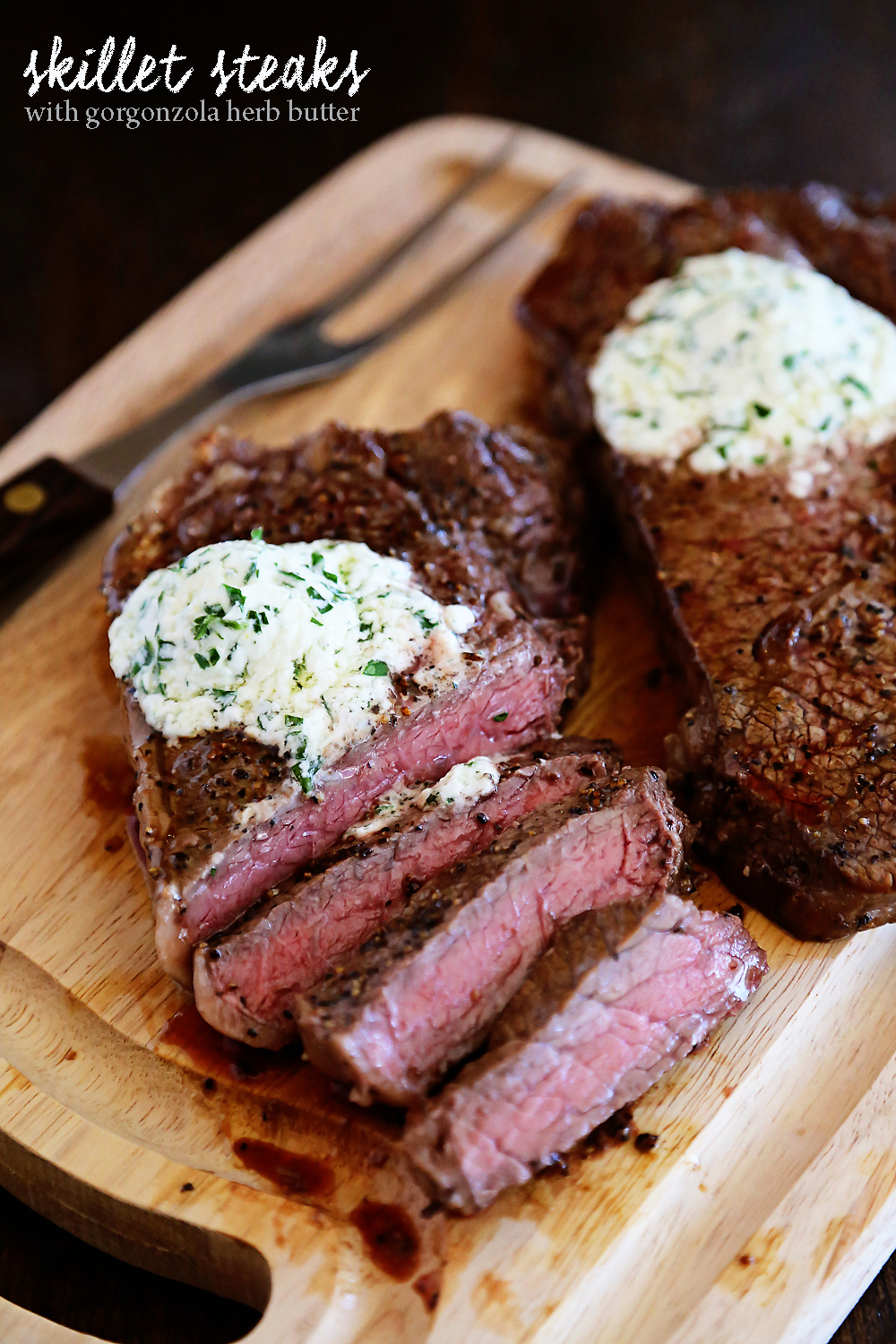 I can confidently say that the BEST steaks I've ever had have been cooked at home. It's true. And I have a distinct memory of a meal last year driving that point home!
It was Valentine's Day. A few days prior, I had cooked this mouthwatering filet mignon to a perfect medium rare, drizzled with a sticky balsamic glaze. I served it with creamed spinach and a potato gratin, and a bottle of Merlot. It was a phenomenal dinner, so much that it felt funny looking at the four walls of my home (and not a fancy restaurant) as I devoured every forkful. We cleaned up (the only non-phenomenal part of the meal) and put on a movie. It was the perfect date night at home!
And then came Valentine's Day.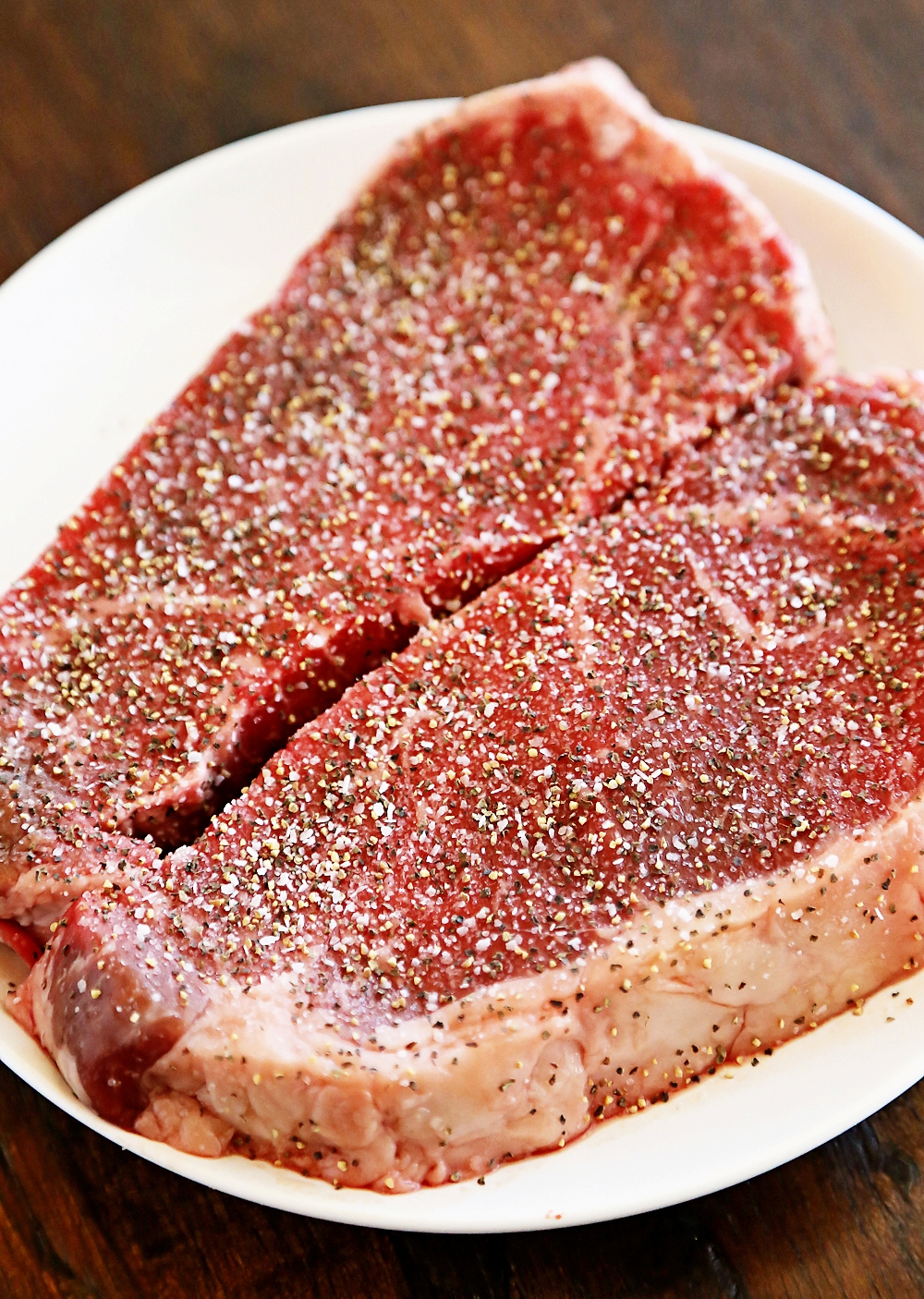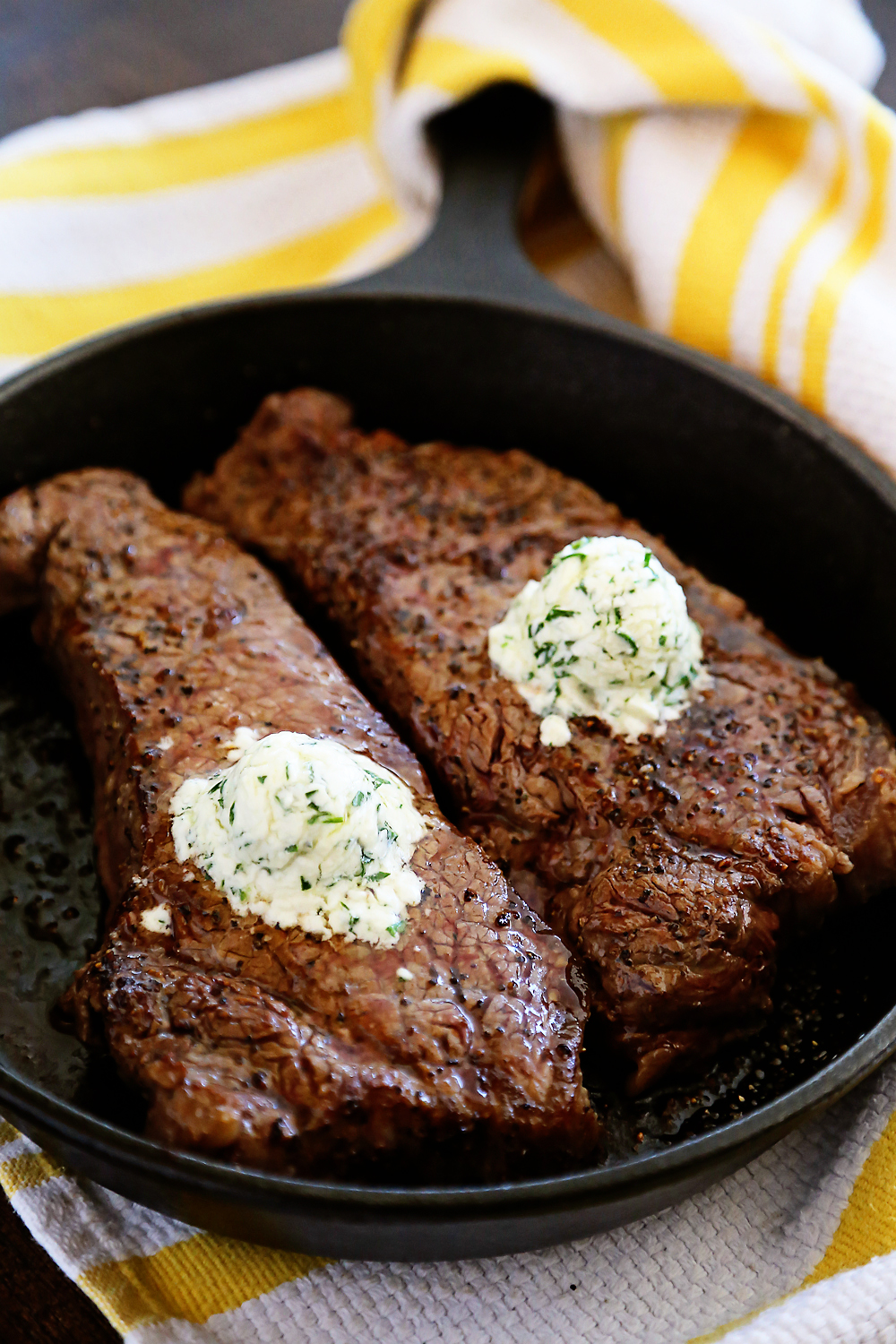 I don't mean for it to sound like it was a horrid evening.
We went to a steakhouse and the evening gave me, largely pregnant at the time, a chance to dress up and feel fancy! However, it was… underwhelming. We were packed like sardines into elbow-rubbing distance to the couple next to us, gnawed on overcooked steaks, and tried to act casually careless about the cost of the overpriced a la carte sides. Not my idea of a romantic dinner.
A hundred bucks later, we were left wishing we grabbed groceries, cooked a steak at home, and ate dinner in our pj's again.
So, that's what we're doing this year. We're sizzling a juicy, tender New York strip in the skillet as our baby sleeps upstairs. I'll make some (inexpensive and delicious) potato gratin and creamed spinach again. And we'll cap it all off with chocolate pudding and another good flick. In our finest pajamas, of course.
This skillet steak was mind-blowing, especially with that creamy, salty herb gorgonzola butter melting down the sides. Truly one of the best steaks I've ever had! I can't recommend enough that you make it for your own special evening in.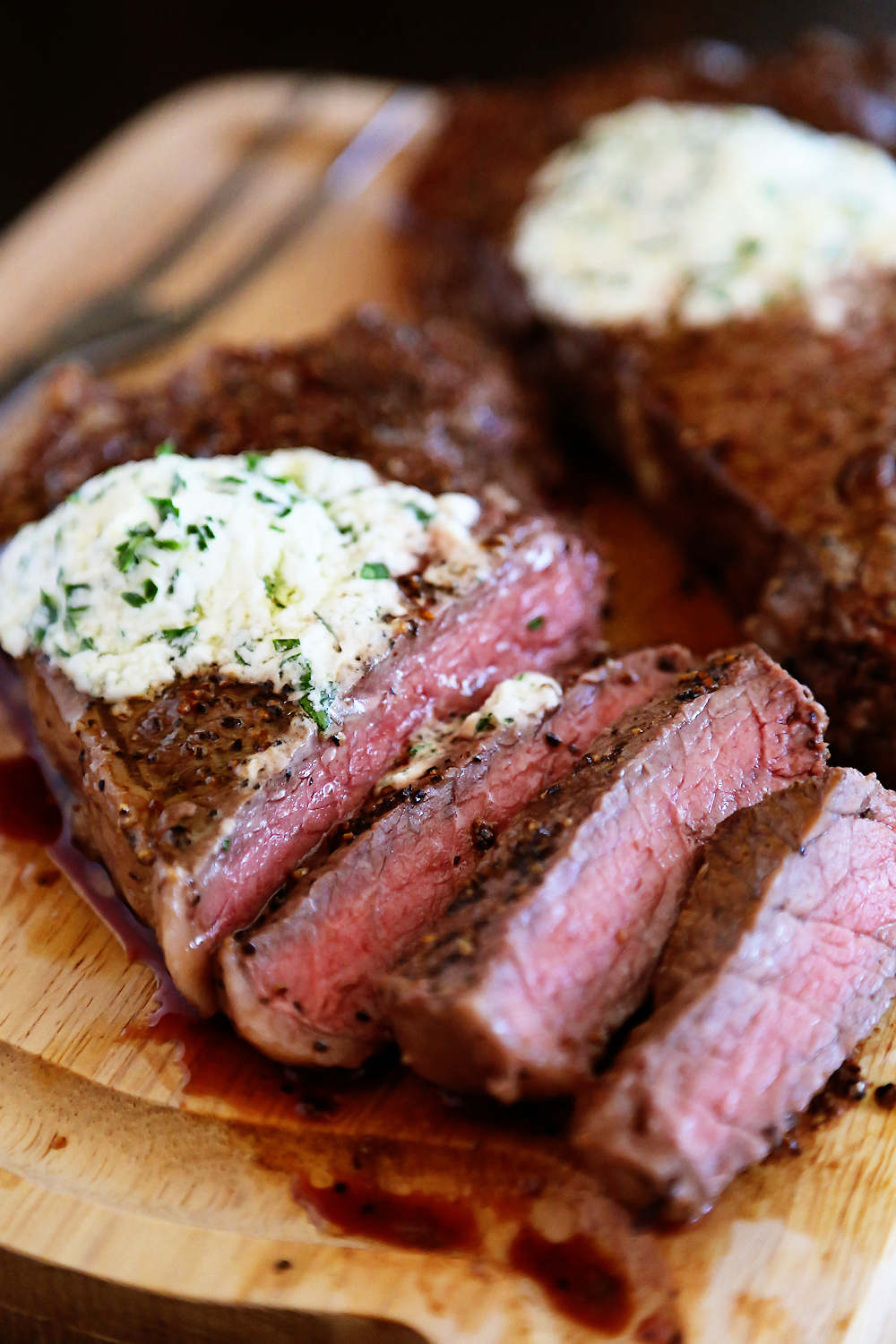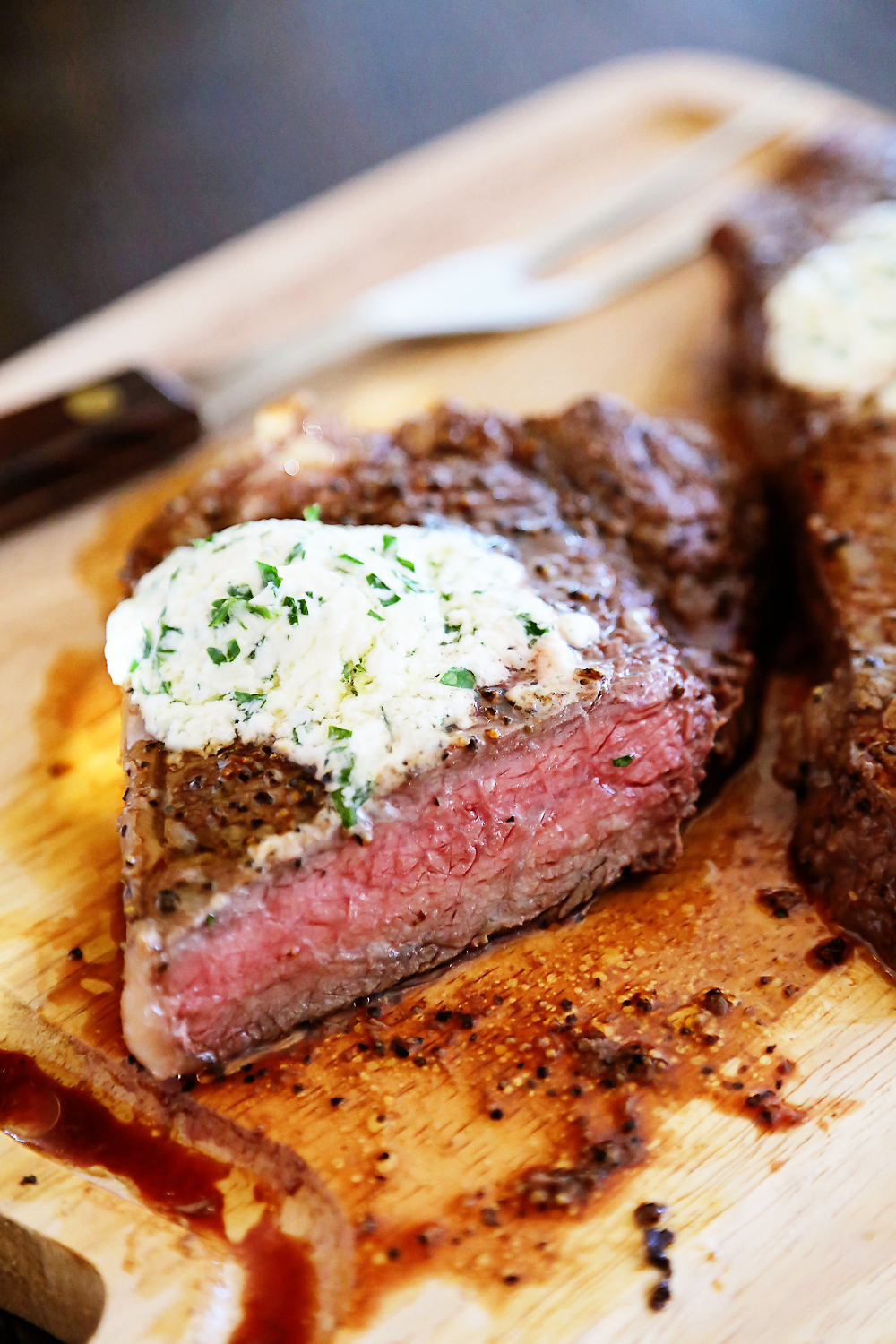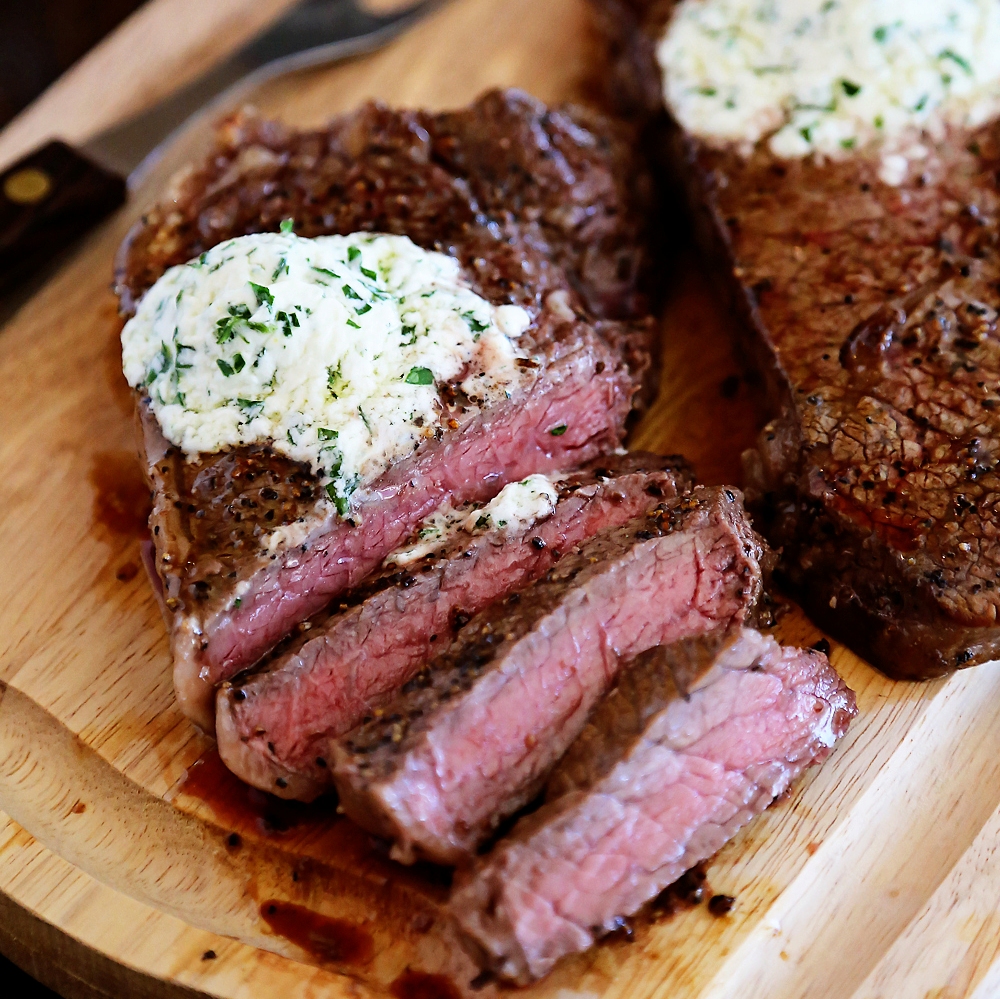 Skillet Steaks with Gorgonzola Herb Butter
Ingredients
For Skillet Steaks:
4 New York strip steaks, or your preferred cut
Kosher salt and coarse black pepper
1 teaspoon olive oil
For Gorgonzola Herb Butter:
4 Tablespoons butter, softened
4 Tablespoons Gorgonzola or feta cheese
2 Tablespoons fresh parsley, chopped
Instructions
For Skillet Steaks:
Remove steaks from your refrigerator about 30 minutes prior to cooking in order for the steaks to reach room temperature.
Pat steaks dry and place on a large plate or cutting board. Season both sides of each steak with salt and pepper.
Heat a large, heavy cast iron skillet over medium-high heat. Add olive oil and swirl to make sure the pan is evenly coated. Once hot, place 2 steaks at a time into your skillet. Cook for about 2 minutes per side (for medium-rare NY strip). Cook longer if needed to reach the level of doneness desired.
Continue cooking remaining steaks.
Remove steaks from pan onto a large cutting board or clean plate. Let rest for 5 minutes before serving/slicing.
For Gorgonzola Herb Butter:
Place butter, cheese and fresh parsley in a medium bowl. Whip together with an electric mixer until well blended.
Place a scoop of herb butter on top of each cooked steak. It will melt over the sides as serving.
Enjoy!