Super cozy, easy and delicious! Every spoonful of this belly warming butternut squash soup is like a snuggly hug. Top with fresh sage, Parmesan cheese, bacon or chopped chives. Serve with crusty bread and salad for an easy, meatless meal!

When I'm craving a cozy meatless meal, this butternut squash soup is my chilly night go-to! So simple to prepare, always gives that warming feeling, and made easily in one pot… in under 30 minutes!
Every spoonful is full of scrumptious fall flavors – nutmeg, maple, fresh sage, simmered onions and garlic. Can you just imagine the amazing aroma?
The steps are simple:
1. Get a large soup pot nice and hot!
2. Add onions and garlic to the sizzling oil. Cook 'til soft and golden.
3. Add your squash, maple syrup, salt, pepper, nutmeg and veggie broth.
4. Blend it up and cook on a low simmer, about 10 minutes.
5. Stir in cream, top with sage and sour cream. Enjoy!
Keep reading for full ingredient list + recipe, below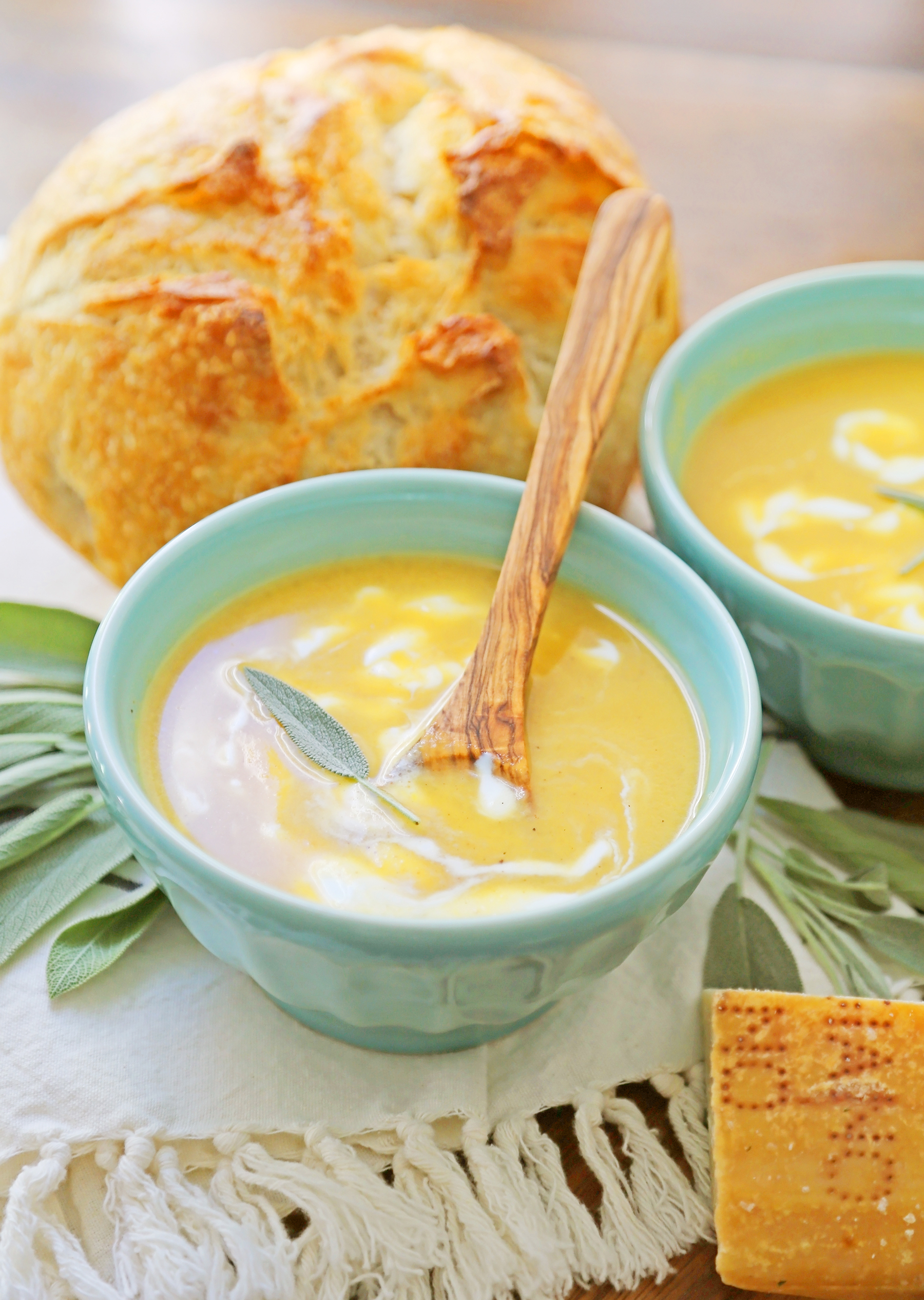 I like using frozen butternut squash in this dish, which keeps preparation quick and easy without compromising flavor. You can easily adapt this recipe to use fresh squash.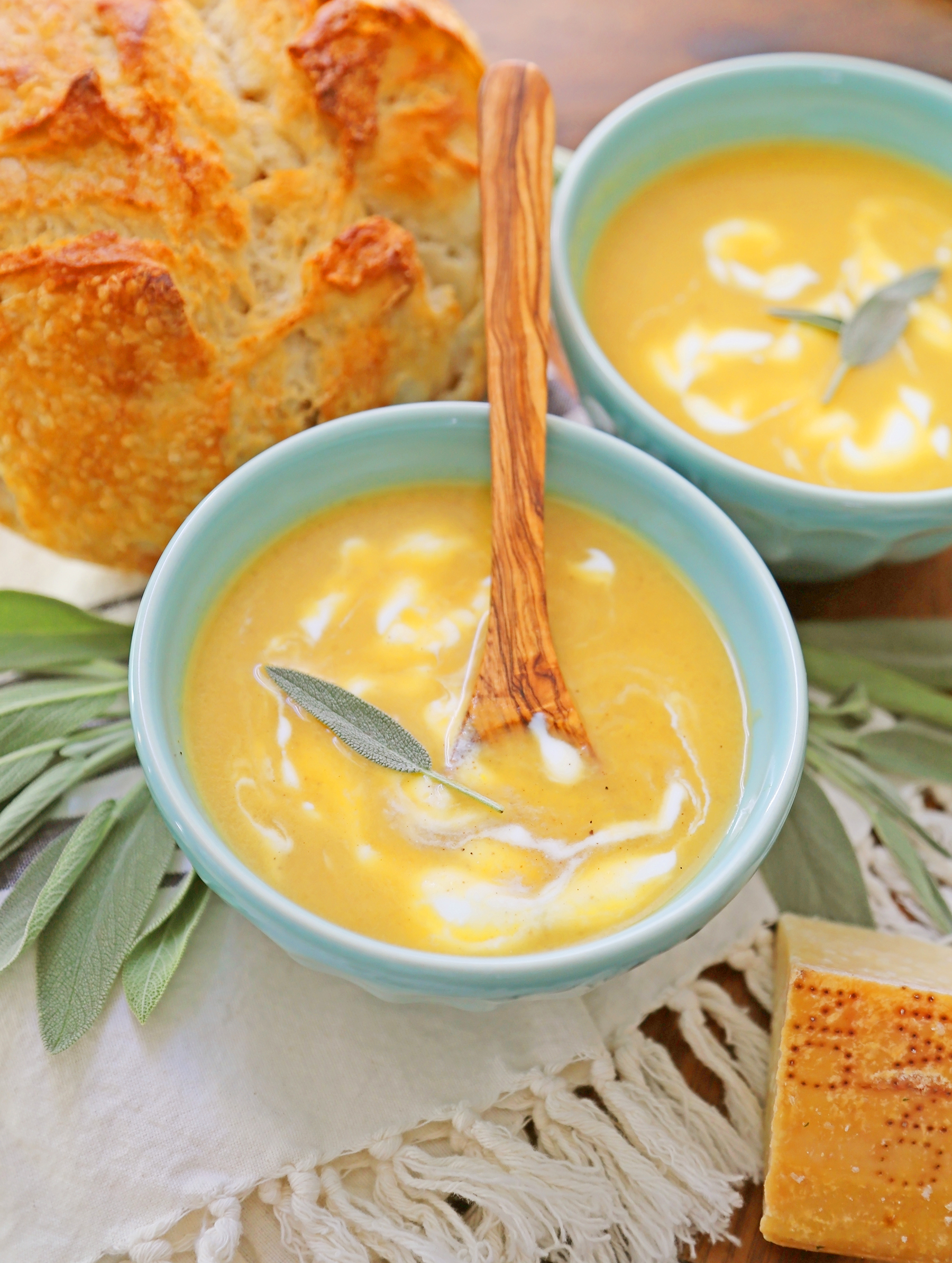 We love to serve this comforting, silky soup with a loaf of No Knead Crusty Artisan Bread. It's perfect for mopping up the melt-in-your-mouth last bits of butternut soup! Take it over the top and sprinkle on some fresh scallions, chives and grated Parmesan cheese. Swirl a dollop of sour cream, and you have a delicious, healthy family dinner in under 30 minutes.
Craving more scrumptious squash recipes? Try these!
• Parmesan Vegetable Tian
• Roasted Butternut Squash and Brussels Sprouts with Cranberries, Apples and Onions
• Skinny Spaghetti Squash Alfredo
• Butternut Squash Mac and Cheese
• Layered Ratatouille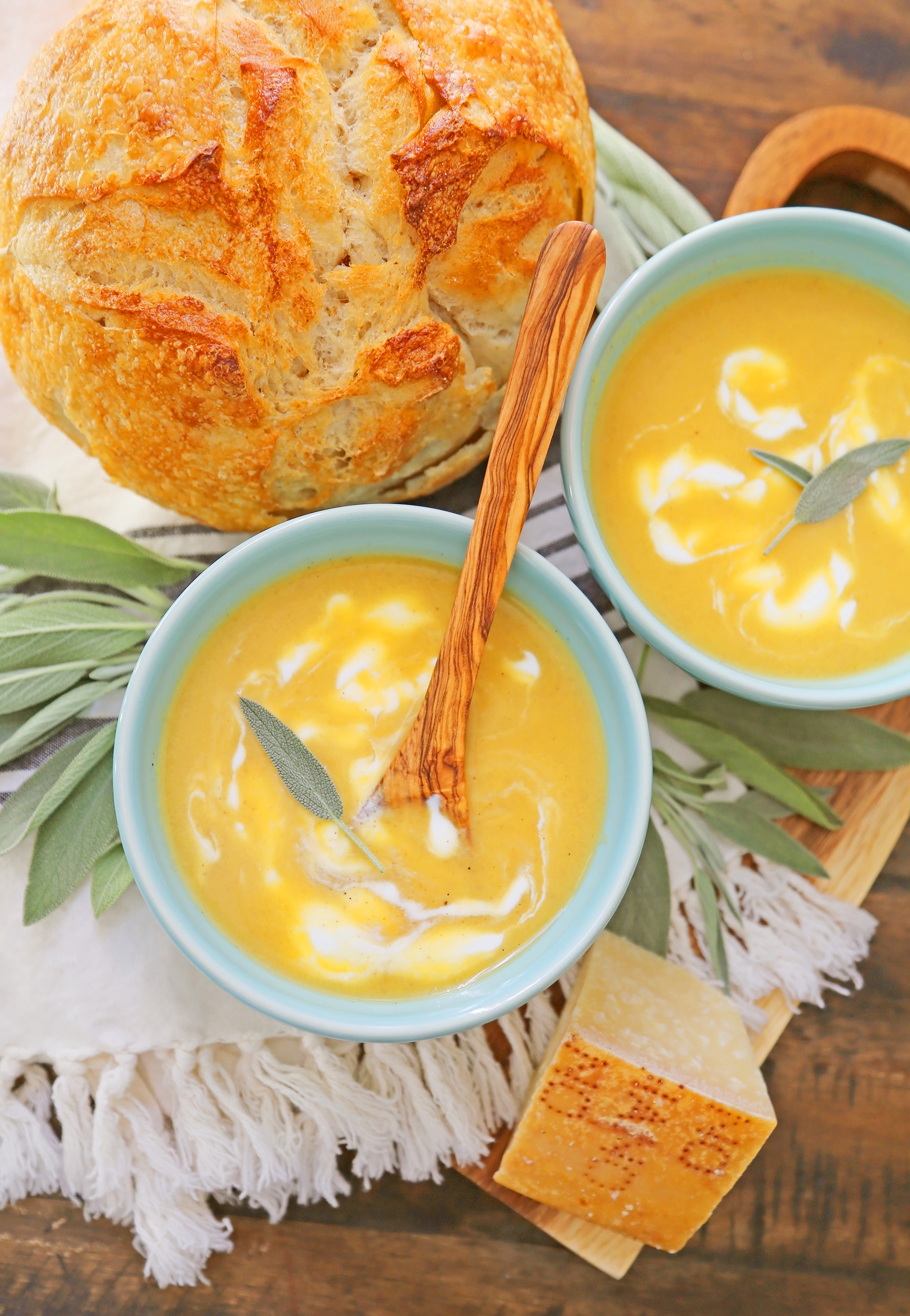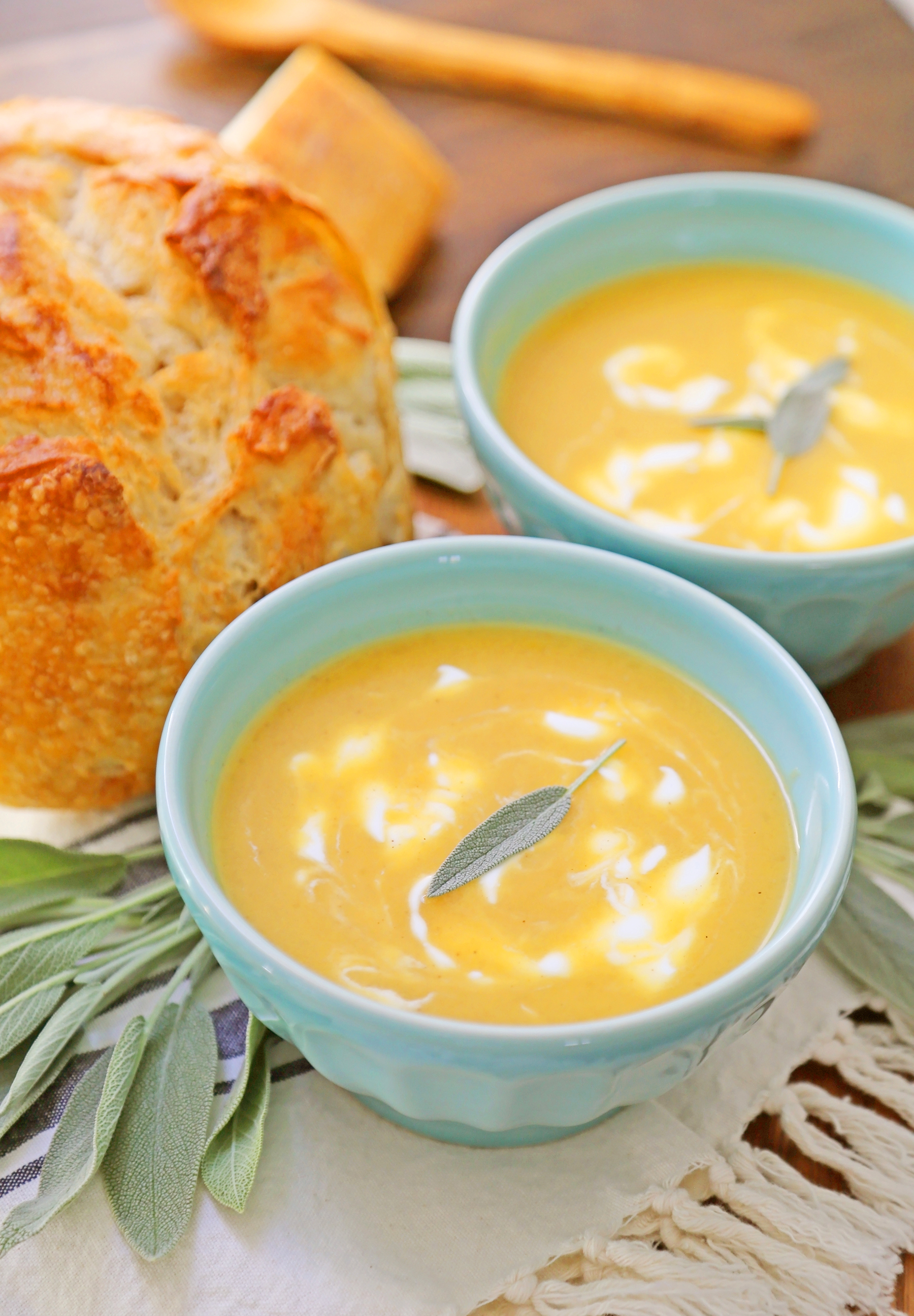 Enjoy this scrumptious squash soup tonight! The ingredients are simple, with fantastic fall flavor that warms to the bone.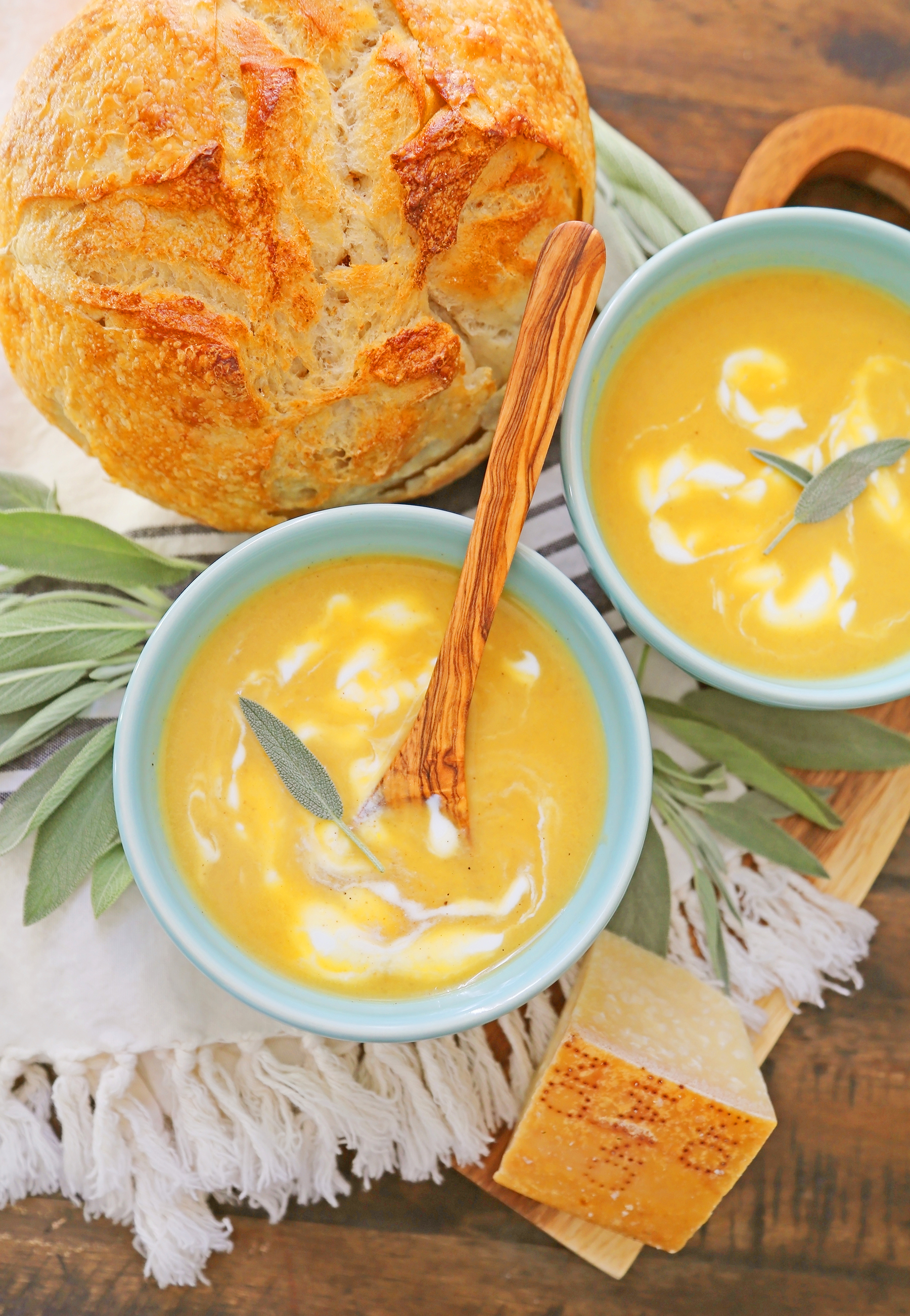 Creamy Butternut Squash Soup
Ingredients
1 tablespoon olive oil, plus more for drizzling
1/2 cup chopped onion
3 garlic cloves, pressed or minced
1 (16 oz.) package frozen butternut squash, or 3 cups cubed, cooked fresh squash
1 teaspoon kosher salt
1 teaspoon maple syrup
1/4 teaspoon ground nutmeg
1/4 teaspoon ground black pepper
4 cups (32 oz.) vegetable broth
2 Tablespoons heavy cream
For serving (optional):
Sour cream
Fresh sage leaves
Crusty bread
Grated Parmesan cheese
Fresh chives
Instructions
In a large pot, warm olive oil over medium heat. Add onion. Cook, stirring often, until onions turn soft and golden, 3-4 minutes. Add garlic. Cook 'til fragrant, about 1 minute, stirring frequently.
Stir in butternut squash, salt, maple syrup, nutmeg, pepper and vegetable broth. Transfer to a blender and puree 'til smooth. Or, blend with an immersion blender. Cook on a low simmer for about 10 minutes.
Taste and stir in more salt and pepper, if necessary. Stir in cream just before serving.
Pour it into serving bowls. Top with sour cream and fresh sage, if desired.
Enjoy!

Want to receive our latest recipes straight to your email inbox? Click here to subscribe!