Crispy, tender lemon-roasted chicken with artichokes and mushrooms makes an easy, elegant dinner. So mouthwatering with a salad and lemon orzo, potatoes or garlic bread!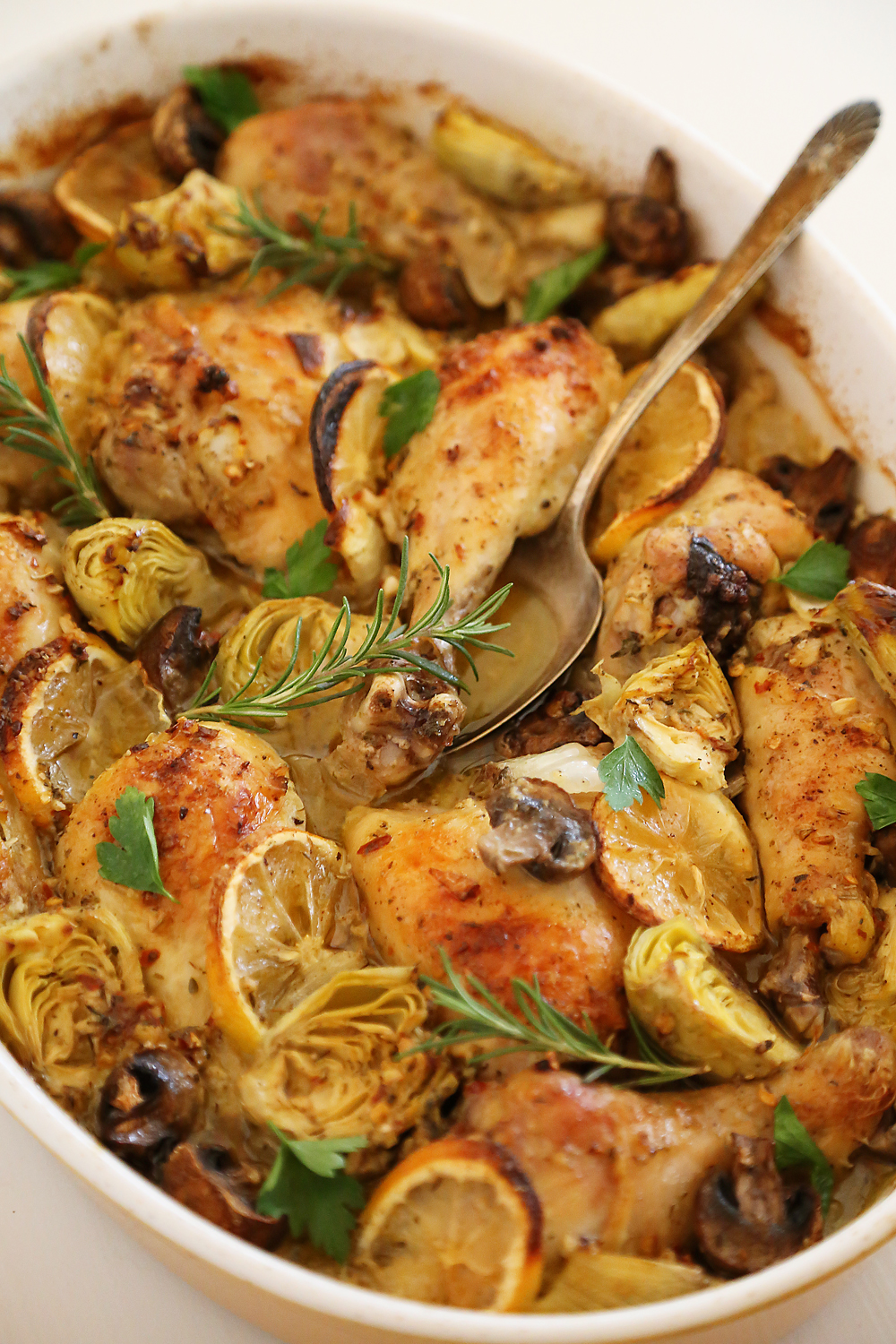 Every week, I cook up some variation of roasted chicken. But, sometimes, the same garlic-and-herb mixture can grow stale, and I crave more of the zesty Mediterranean flavors we love! I like to pretend I have the time and energy to eat like a Greek goddess anyway. You know, all olives and crusty bread and freshly caught fish. In reality, I usually eat a breakfast and lunch of who-knows-what as fast as I can, while tending to whatever baby needs.
However, the rushed pace of the day, and whatever is on my plate, makes our evening meals all the more special. Baby is in bed, and hubs and I get to just chat about our days while enjoying something delicious. It's great.
Whether for weeknights or a special dinners in, we're often oven-roasting some variation of this outrageously scrumptious, tangy and tender lemon chicken. Because it is just SO good. And it falls apart with every forkful. And those juices. Oh, those juices!
Can you tell we can't get enough?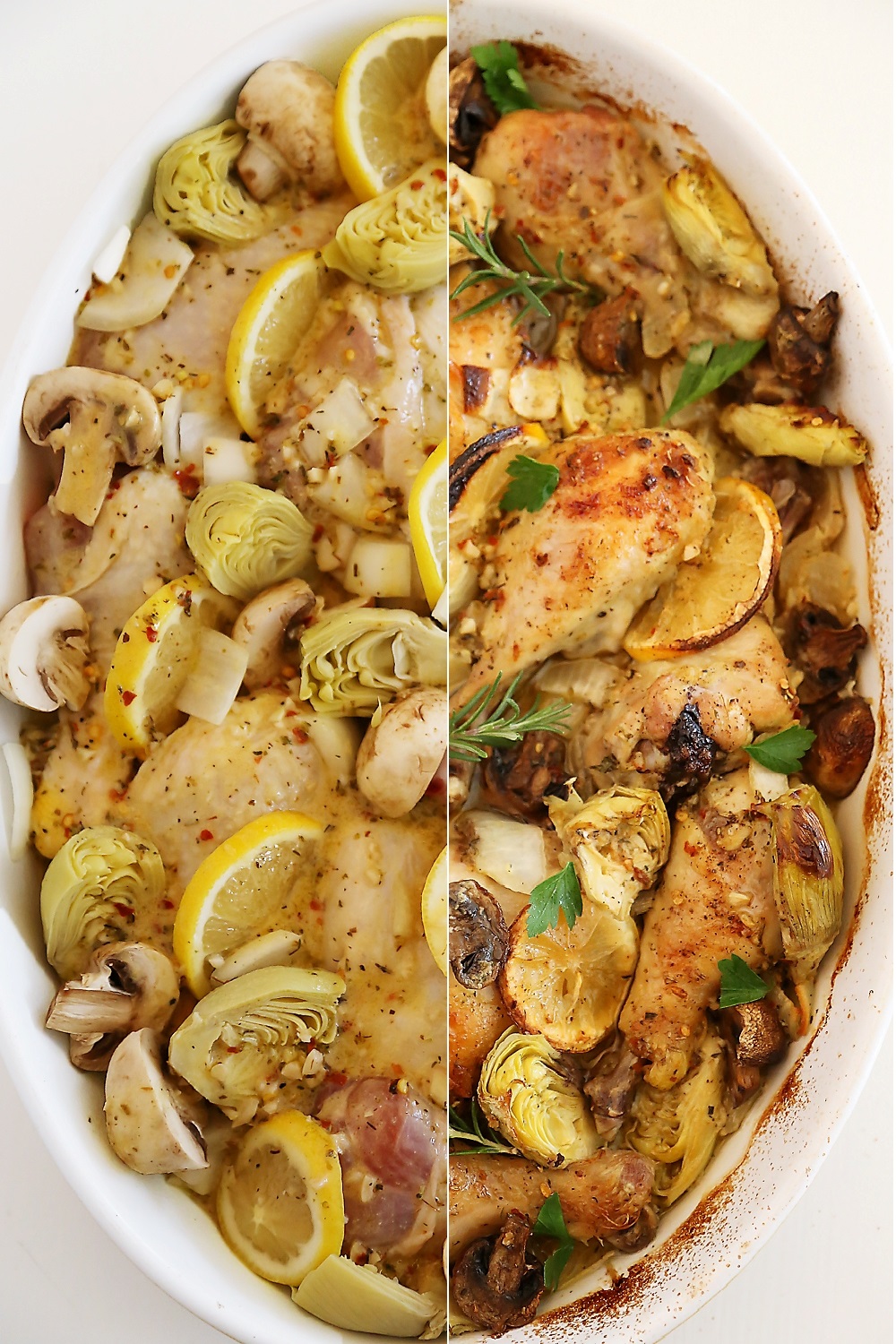 It couldn't be more easy, either. Simply toss a mixture of chicken parts (thighs and legs work best) in a large baking dish, and arrange your artichokes, onions, mushrooms and lemon slices around the chicken. Now, here's what makes this dish great: The marinade! I like to combine a mixture of olive oil, Dijon mustard, wine or chicken broth, seasonings and red wine vinegar. Holland House Red Wine Vinegar is a longtime favorite. I love this vinegar, y'all! It adds a tangy boost to beef dishes, chilis, and vinaigrettes for salads. It's one of the best, so if you can find it, that's your go-to.
You can marinade the chicken in this mixture up to 1 day, but no need if you want to roast it right away! Sizzle it for an hour in your oven and prepare some yummy sides. I love this with a green salad and my lemon orzo or parmesan garlic knots. Once your chicken, lemons and veggies are crispy and crackling, it's time to dig in!
Your dinner guests will love this scrumptious, golden pan full of goodness. And if you're just sharing with one special someone, you'll love having leftovers! It's even better the next day.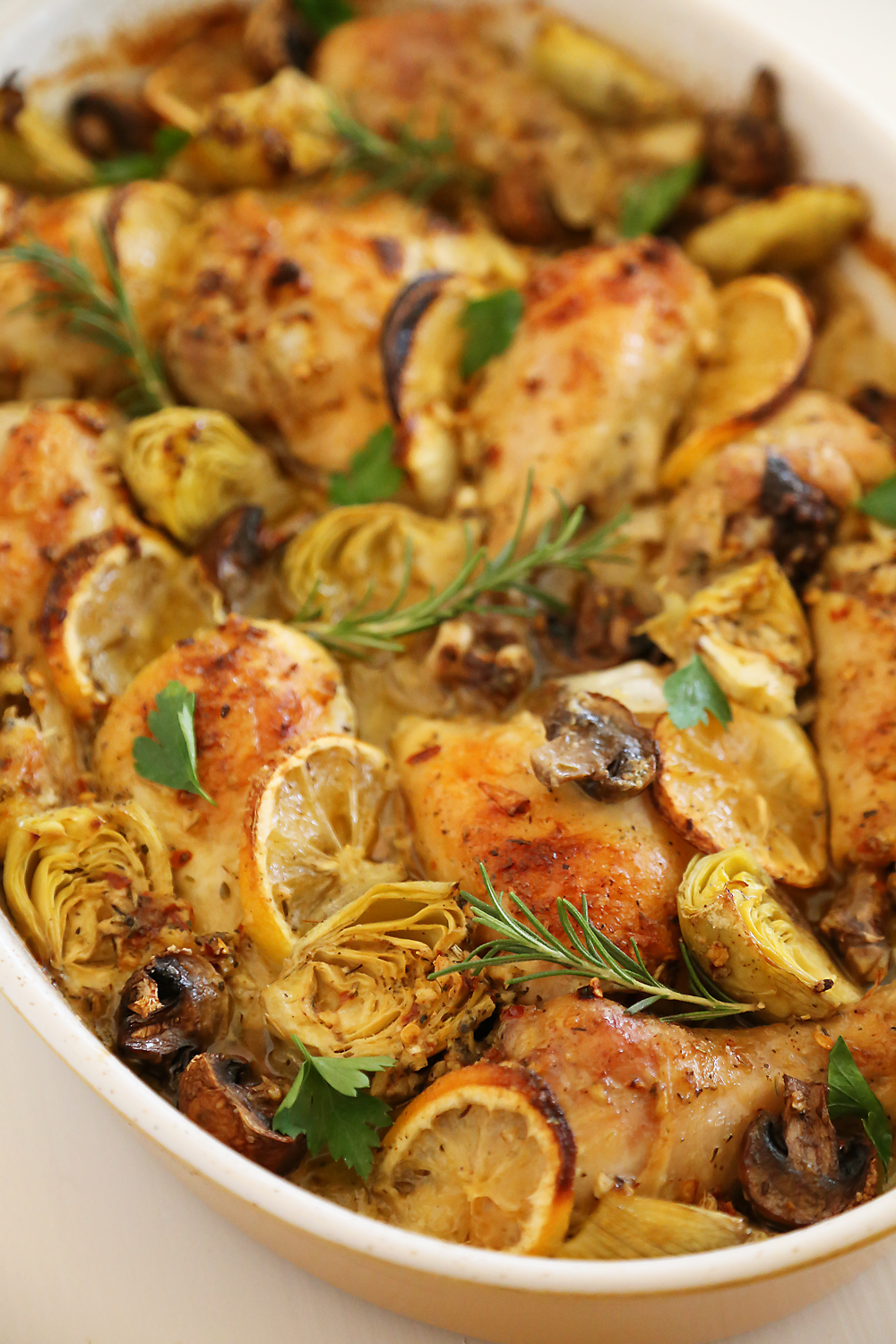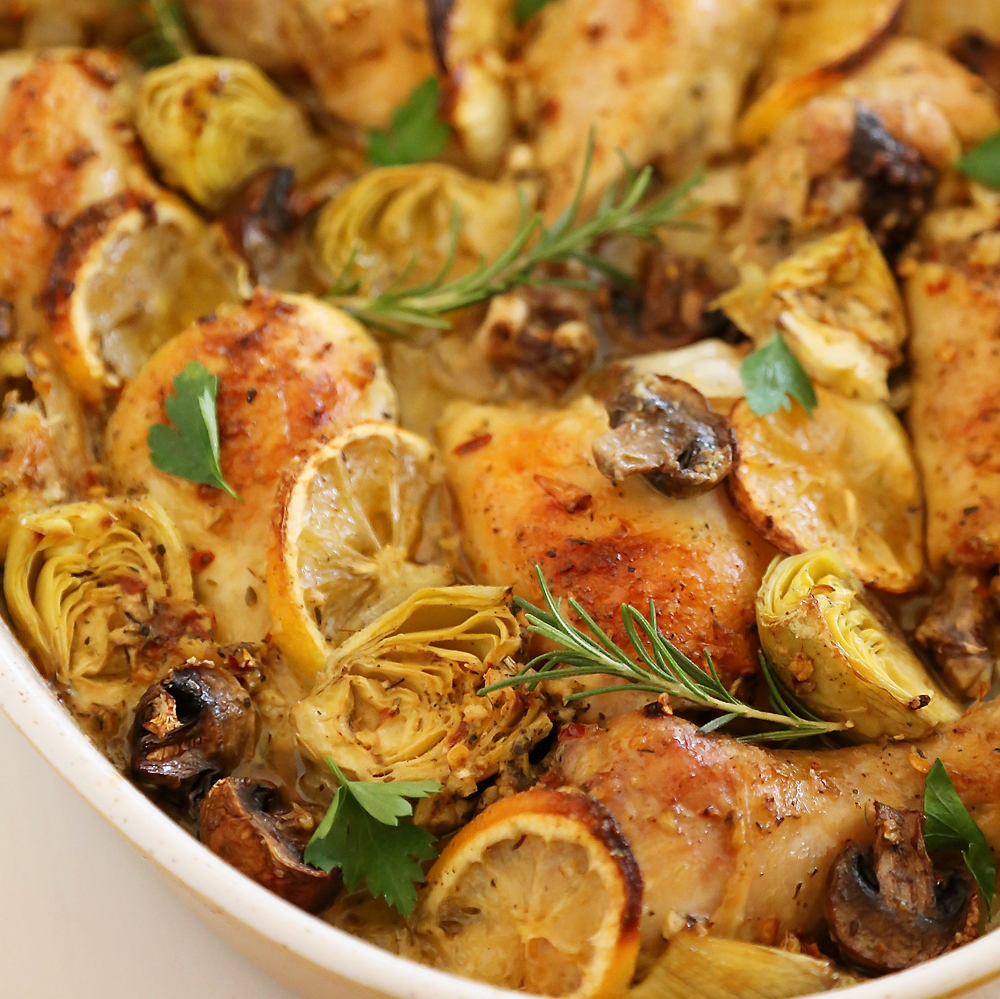 Lemon and Artichoke Oven Roasted Chicken
Ingredients
1/4 cup olive oil
1/4 cup Holland House Red Wine Vinegar
1/4 cup red or white wine, or chicken broth
3 cloves garlic, minced
2 Tablespoons Dijon or brown mustard
1 teaspoon Italian seasoning
1/2 teaspoon crushed red pepper flakes
10-12 pieces about 4 1/2 lbs. bone-in chicken parts (thighs and legs are best), pat dry
1 cup white button mushrooms, halved
1 14 oz. can or 1 cup artichoke hearts, drained and halved
1/2 medium onion, any kind, cut into chunks
1 lemon, sliced
Fresh herbs, rosemary, thyme, parsley, for garnish, optional
Instructions
Preheat oven to 400 degrees F.
In a small bowl whisk together olive oil, red wine vinegar, wine (or broth), garlic, mustard, Italian seasoning, and crushed red pepper flakes. (You can marinade the chicken in this mixture up to 1 day, though not necessary.)
Place chicken in a rimmed 13-in. x 9-in. baking dish. Place parts skin side up and spread them out evenly in the pan. Arrange mushrooms, artichokes, onion and lemon slices around the chicken. Pour olive oil mixture all over chicken and vegetables. (If you marinated the chicken in this mixture, add it all in). Sprinkle generously with salt and pepper.
Bake uncovered for about 1 hour, or until chicken is cooked and juices run clear. Remove from oven and garnish with additional chopped fresh herbs, if desired.
Enjoy!