Our favorite chicken EVER! Super crispy, juicy and tender chicken that melts in your mouth! 🤤 Satisfy those cravings easily at home with basic ingredients + just 30 minutes. 🕞 Drizzle with hot sauce and honey for a sweet, zesty kick!
My husband and I enjoy chicken grilled, baked, poached and pan-seared all the time, but once in a while we feel like being a little naughty. Ok, alotta naughty. Mom, don't go yet – you can keep reading!
Every few months we get a hankering for fried chicken that just can't be satisfied by anything but the real deal. And this, my friends, is the real deal. Crispy, tender, melt-in-your-mouth chicken with a slight spicy kick. Heaven!
All you need is a handful of basic ingredients (eggs, flour, seasonings, your favorite hot sauce), one whole chicken and a bottle of oil. For special equipment, grab your Dutch oven or deep fryer, along with a heatproof slotted spoon and, if you're using a Dutch oven, a deep fry/candy thermometer to monitor the oil temperature.
Once your scrumptious chicken is done sizzling, pop it onto a baking rack and into a warm oven to keep crisp. Most deep fryers and Dutch ovens aren't big enough to accommodate all the pieces at once, so fry them up batches for best results.
Experiment with something new and dig into this unbelievably delish fried chicken at home! You can always take the stairs tomorrow.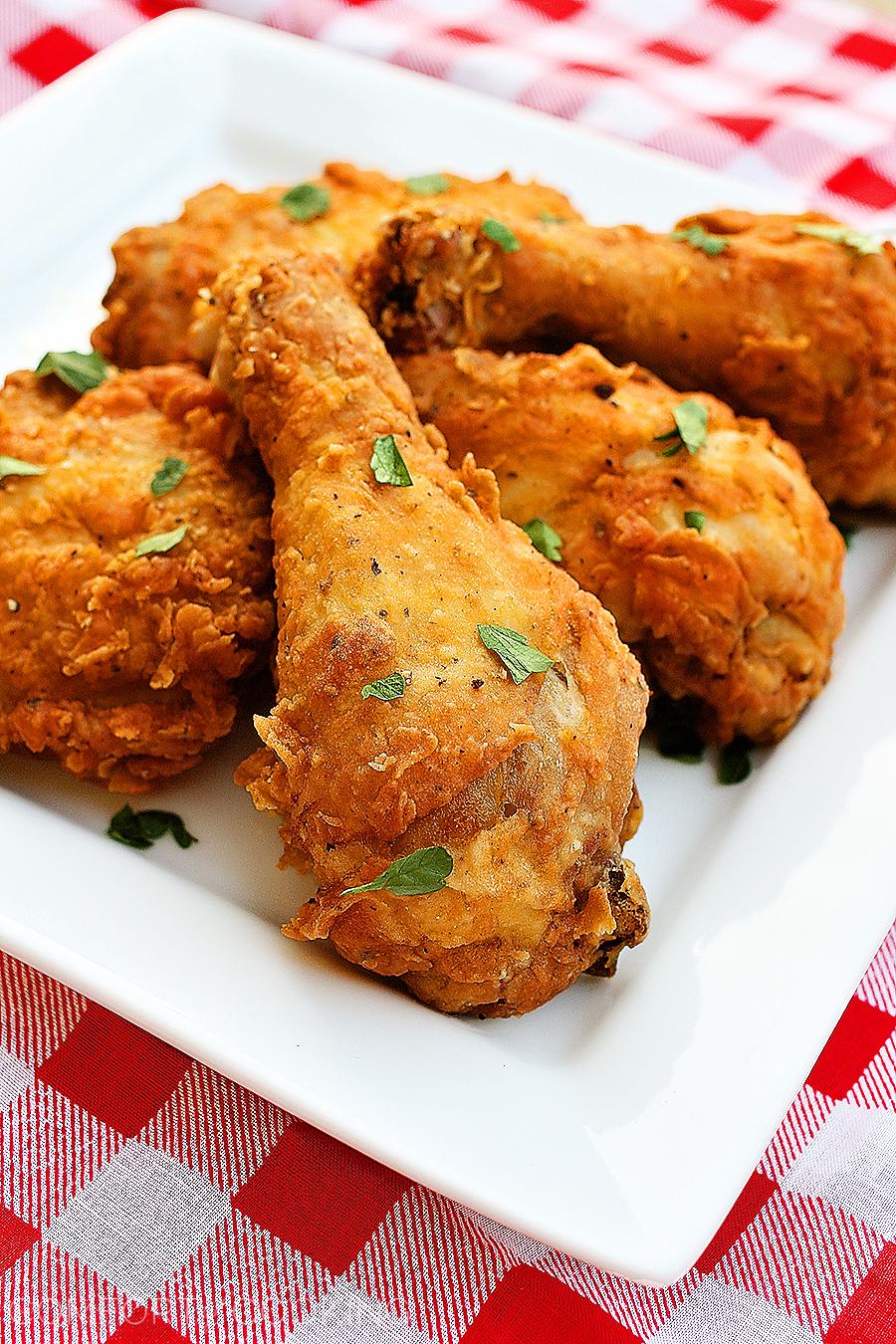 Spicy Southern Fried Chicken
Ingredients
3 large eggs
1/3 cup water
1 cup hot sauce, recommended: Frank's Red Hot
2 cups self-rising flour or all-purpose flour + 2 teaspoons baking powder
1 teaspoon freshly ground black pepper
1 1/2 teaspoons salt
1/2 teaspoon garlic powder
1 1 to 2 1/2-pound chicken, cut into pieces (skin removed)
Vegetable oil or peanut oil, for frying
Special equipment needed:
Large Dutch oven, 5.5 qt. or more or deep fryer
Deep fry/candy thermometer, if using a Dutch oven
Heatproof slotted spoon
Instructions
Prepare chicken by rinsing with cold water and patting dry. Set aside on a large plate, cutting board or pan.
In a medium size bowl, beat eggs with water. Add hot sauce. In another bowl, combine the flour, pepper, salt, and garlic powder. Dip chicken in egg mixture, then coat well in the flour mixture. (Make sure if you are using all-purpose flour that you have first added 2 teaspoons baking powder).
Preheat your oven to a warm setting of 200 degrees or less. Prepare a baking sheet topped with a cooling rack. Have this handy to transfer the cooked chicken into the oven to keep warm, if frying in batches.
Heat the oil to 350 degrees F in a deep Dutch oven or deep fryer. Do not fill the pot more than 1/2 full with oil. If using a Dutch oven, measure temperature with a candy thermometer.
Fry the chicken in the oil until brown and crisp, about 13 to 14 minutes for dark meat (thighs, wings, legs) and 8 to 10 minutes for white meat (breasts). Make sure each piece of chicken has room; you may need to split up the frying in batches. With a heatproof slotted spoon, carefully transfer cooked chicken pieces to the baking sheet, and place in the oven to keep warm.
Serve cooked chicken with additional hot sauce, if desired.
Enjoy!