Try this tasty twist on watermelon by pairing it with fresh basil, corn, feta and tomatoes for a crisp, cool salad!
The dog days of summer are just about over for the rest of the country, but here in Texas it's still mighty temperate! Actually, let's just be honest. I won't be busting out the cozy sweaters 'til November. It's gonna be temperate for a WHILE.
But, alas, there's watermelon to get me through the sticky hot days! And margaritas. And watermelon margaritas!
One way I had never thought to use watermelon is in a salad, until I noticed this recipe from Everyday Food. It's absolutely delish! Slightly sweet, crisp and cool, and totally refreshing piled with tomatoes, fresh corn, crumbly feta cheese and basil leaves. I also served this with a quick red wine vinegar and olive oil vinaigrette, which intensified the flavors even more.
Serve it by itself, or with a scrumptious plate of grilled chicken for a fast, fresh and delicious summer meal!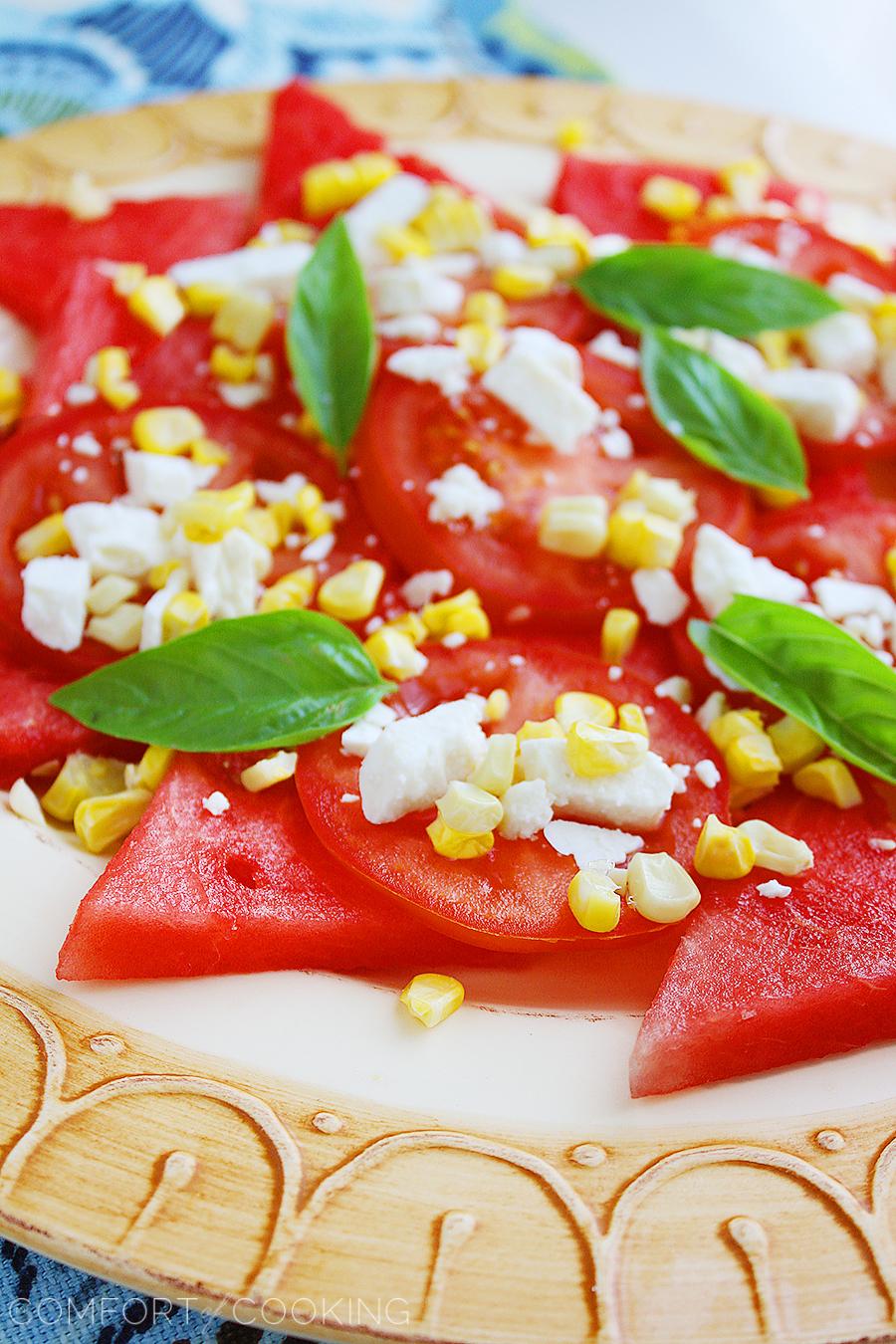 Watermelon Basil Salad with Feta & Corn
Ingredients
1/2 small seedless watermelon, sliced
3 large tomatoes, sliced
2 ears fresh corn, shucked and kernels scraped
4 oz. crumbled feta cheese
3 tablespoons olive oil
2 tablespoons red-wine vinegar
1/2 cup packed fresh basil leaves, torn
Instructions
Arrange watermelon and tomatoes on a platter. Sprinkle with fresh corn and feta cheese.
In a small bowl, whisk together oil and vinegar; season with salt and pepper. Drizzle salad with dressing, sprinkle with basil, and season with salt and pepper. Serve immediately.
Enjoy!