Is there anything in the world more refreshing than chomping into a chilly, juicy slice of fresh watermelon?
I have great memories surrounding watermelons. When I was a kid living on a farm, friends and I used to pluck them from the fields and smash them on my front steps, grabbing the fruity pink fragments and letting the juice roll down our chins. Enjoying a fresh watermelon – in any form – was the epitome of a perfect summer to me. Still is!
So, since there's just about no drink I love more than a margarita, why not combine two of my favorite things! Especially as the temperatures continue to soar in Texas, I like 'em so frozen one sip will chill you to the bone! These frozen watermelon margaritas deliver just that, along with great flavor, and can definitely help you cool down on those sticky hot summer nights.
With a pile of fresh guacamole or a pot of spicy chili, these margaritas go down extra smooth. They're a cinch to make, with only basic ingredients and a blender required. Plus, of course, a little looser inhibitions and a love of fresh, icy cold margaritas!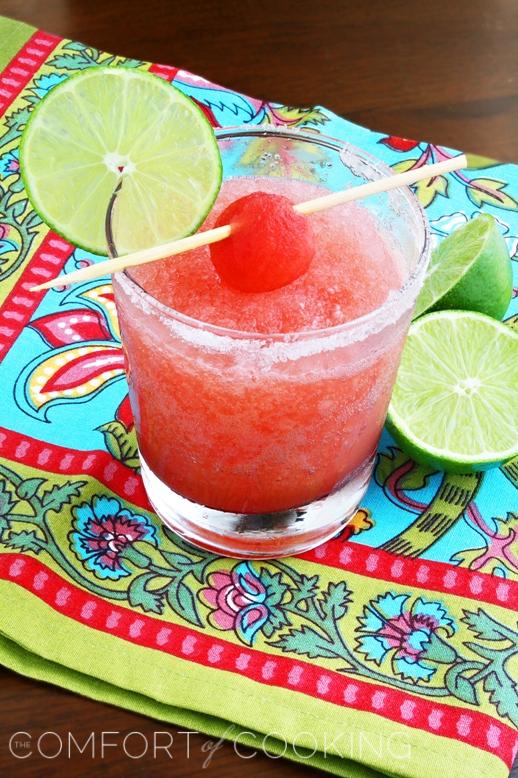 Frozen Watermelon Margaritas
Ingredients
1 1/2 cups cubed watermelon
1 cup tequila
1/2 cup lime juice
1/2 cup orange liqueur
1 to 2 tablespoons confectioners sugar
1/2 teaspoon salt
3 cups ice
Instructions
Puree all ingredients in a blender until smooth. Add more of any ingredient to achieve desired taste. Divide among glasses; garnish with lime and watermelon.
Cheers!