Packed with protein-rich black beans, brown rice and veggies, these stuffed peppers make one mouthwatering and healthy meatless meal! So zesty and full of flavor!

Stuffed peppers are one of my favorite weeknight dinners to make, because they're a simple, all-in-one meal that can include servings of protein, vegetable and starch all in one. These baked beauties are all-vegetarian (omit the cheese to make 'em vegan) and all the more delicious because of it!

With a southwestern spin using salsa, black beans, corn, cilantro and savory spices, these stuffed bell peppers are a very healthy, hearty and perfectly easy to whip up on a weeknight. Topped with slices of sharp cheddar cheese, the peppers have eye appeal as well as a nice, creamy balance to the spiciness!

I know you will enjoy these tasty stuffed peppers with a Southwestern twist as much as my husband and I did. Feel free to add cooked ground beef or chicken, but just know that this vegetarian meal has the meat-eating manivore stamp of approval!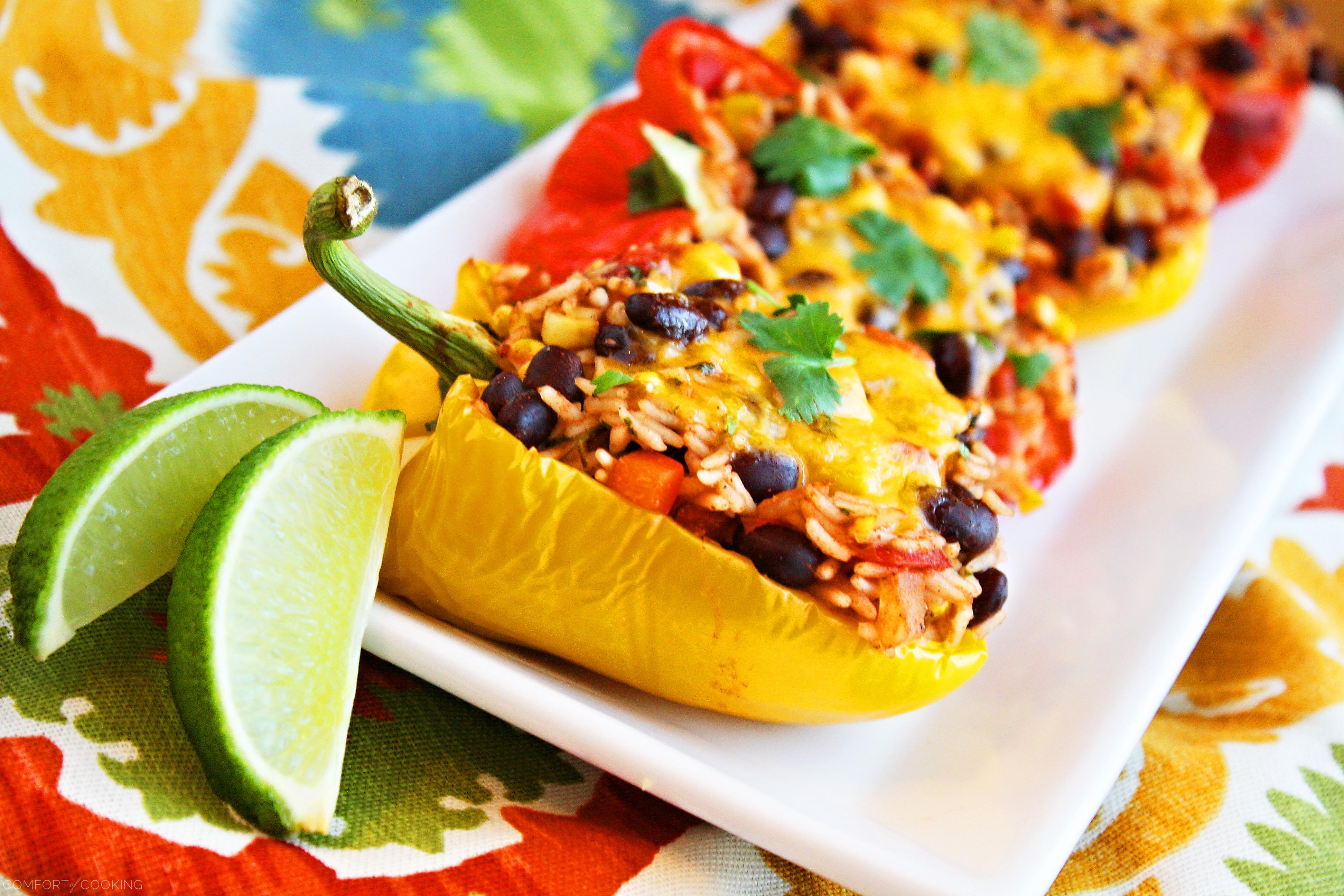 Southwestern Stuffed Bell Peppers
Ingredients
2 bell peppers, any color
3/4 cup instant brown rice
1 cup chunky-style mild salsa
1/2 cup canned black beans, rinsed and drained (optional)
1/2 cup frozen corn
1/2 teaspoon chili powder
1/4 teaspoon cumin
1/4 teaspoon salt
1/4 teaspoon pepper
4 slices sharp cheddar cheese
1 Tbsp. chopped fresh cilantro
Instructions
Cut peppers in half; remove seeds. Place in a shallow baking dish, cut-side down. Bake in preheated 425°F oven 15 minutes or until skins begin to bubble and peppers are just tender.
Boil 3/4 cups water in a medium-sized saucepan. Stir in rice; return to boil. Reduce heat to low; cover and simmer 5 minutes. Stir in salsa, beans and corn, and mix lightly. Add chili powder, cumin, salt and pepper.
Fill baked peppers with rice mixture; cover with foil. Bake in preheated 400°F oven for 15 minutes. Uncover and top with cheese slices. Continue baking 5 minutes or until cheese is melted and filling is hot. Sprinkle with chopped cilantro.
Enjoy!