Tender, crispy baked chicken bites in a sticky honey-Sriracha sauce make the perfect weeknight meal or party appetizer. For dinner, serve over rice or salad. For appetizers, stick with toothpicks and pass around a platter!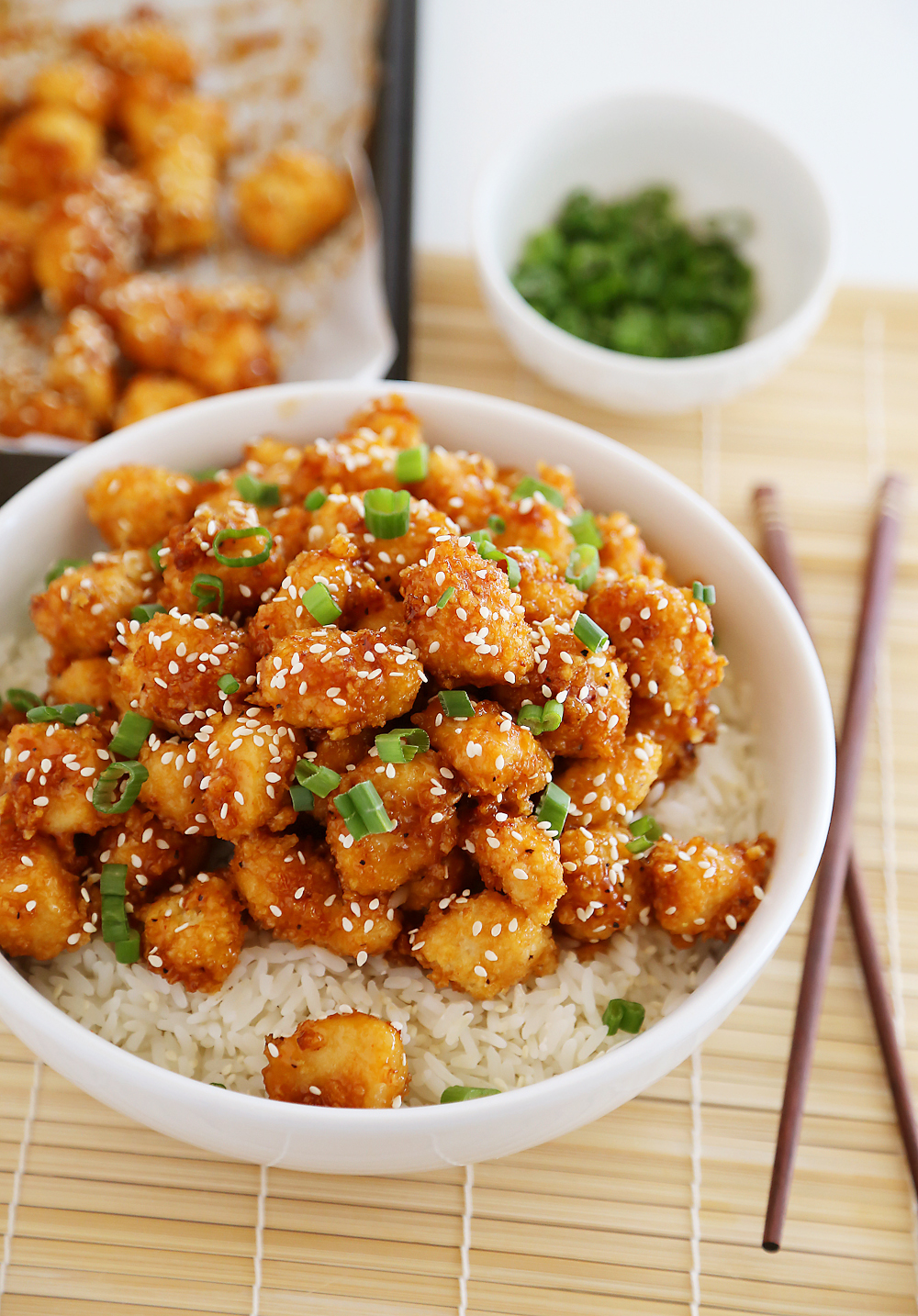 Having someone to sweep away your dishes is nice and all, but when we tire of single-serving restaurant meals, I cook a big batch of something just as delicious as dinner out!
Recreating a scrumptious, restaurant quality bowl of deliciousness is my favorite trick I've picked up since learning to cook. And this is the exact reason why you should never go out to eat with a food blogger. You won't find me straining for the perfect Instagram angles on my spaghetti. However, you will find me twirling my fork and trying to pick apart what makes that sauce just so damn good.
I'd say it's a problem, but my family isn't complaining about all the delish copycat meals!

It's even more fun to recreate a restaurant dish when it has all your favorite qualities – sweet, salty, crispy, spicy, sticky… and fun to eat (even if you're clumsy, like me) with chopsticks. What's not to love?
For the crispy chicken, all you need are 3 ingredients (chicken, egg and breadcrumbs). Just coat the chicken in egg then crumbs, and let those little nuggets crisp up in a hot oven. While they bake, prepare your sweet and spicy sauce. Bubble a mixture of honey, soy, Sriracha and garlic powder in a small pot. To thicken it up, add a slurry (cornstarch + water), then cover it up and prep your rice.
The rice isn't necessary (you could also serve these as scrumptious lettuce wraps!), but it soaks up all the sticky sauce from the chicken and makes this dish so irresistible.
A little sliced scallions sprinkled on top, and your colorful, crazy delicious dinner is served!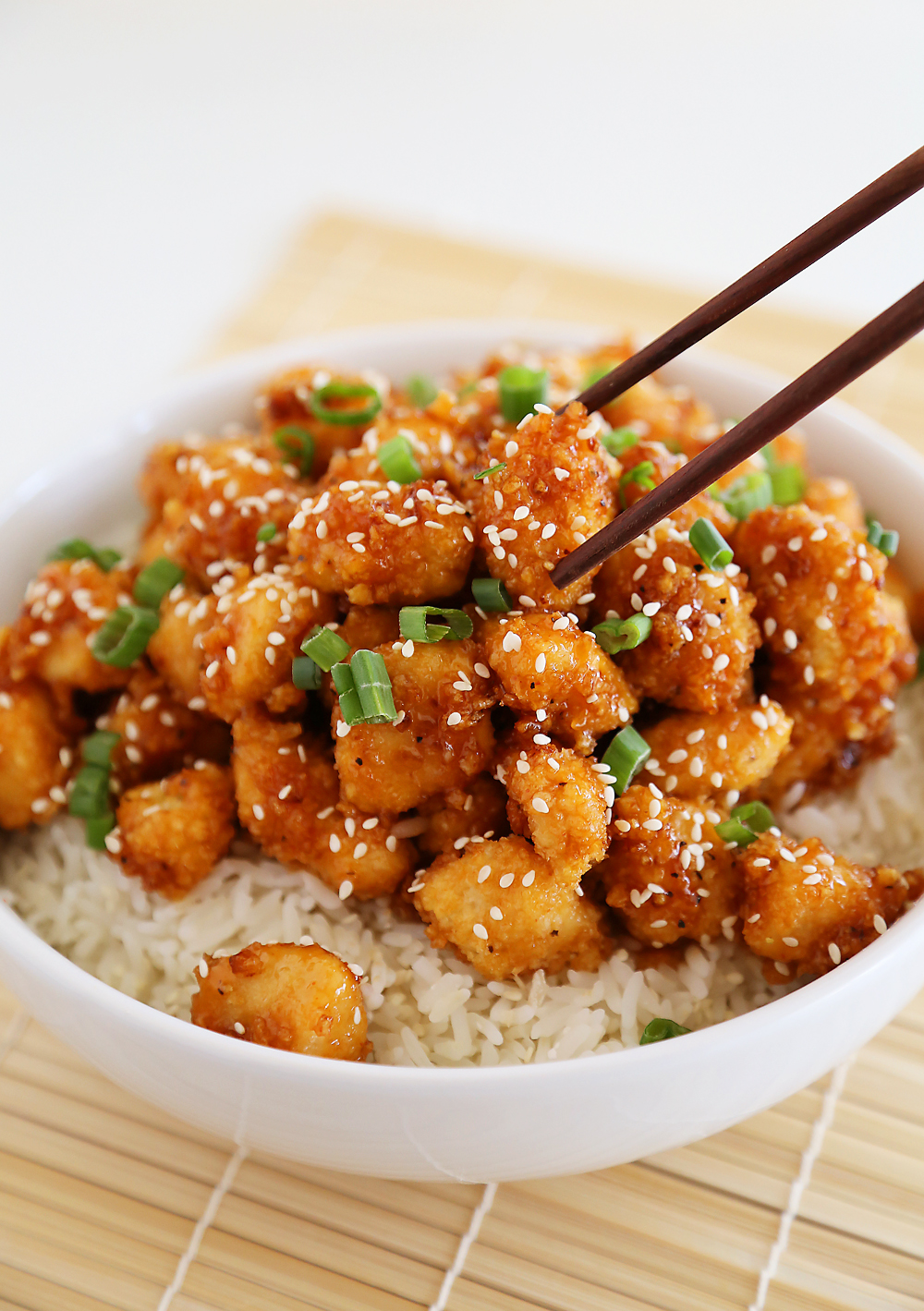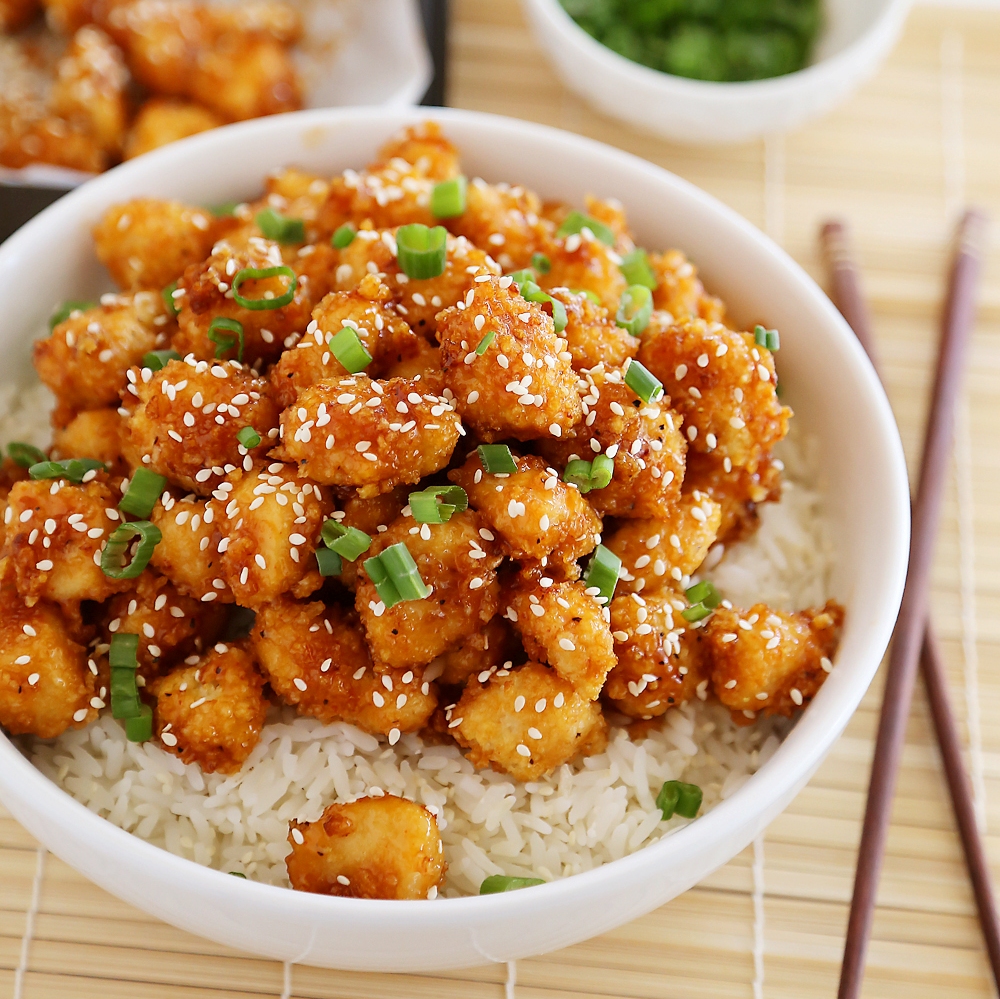 Crispy Baked Honey Garlic Chicken
Ingredients
For the Honey-Garlic Sauce:
1 pound boneless skinless chicken breasts, cut into 1-inch chunks
2 large eggs, beaten
1 cup panko breadcrumbs
1/3 cup honey
2 Tablespoons soy sauce
1 Tablespoon Sriracha sauce
1/2 teaspoon garlic powder
1/3 cup warm water
1 Tablespoon cornstarch
For serving
2 green onions, thinly sliced
2 teaspoons sesame seeds
Instructions
Preheat oven to 400 degrees F. Lightly grease a large baking sheet, or cover with parchment paper.
In separate shallow dishes, place beaten eggs and panko breadcrumbs. In batches, dip chicken into eggs (shaking off excess), then coat in crumbs, pressing to coat.
Place pieces on baking sheet. Bake until golden brown and crisp, about 15 minutes.
Meanwhile, in a medium saucepan set to medium-high heat, whisk honey, soy sauce, Sriracha and garlic powder. In a small bowl, combine cornstarch and 1/3 cup water. Stir mixture into saucepan until thickened, about 1-2 minutes. Pour over chicken and gently toss to combine.
Serve immediately over rice, topped with green onions and sesame seeds, if desired.
Enjoy!