Super soft, fluffy pumpkin pancakes made easily with everyday ingredients! You will love the fall flavors of cinnamon, ginger, and nutmeg in these cozy pancakes with crisp edges. Top with butter and maple syrup for an irresistible Sunday morning stack!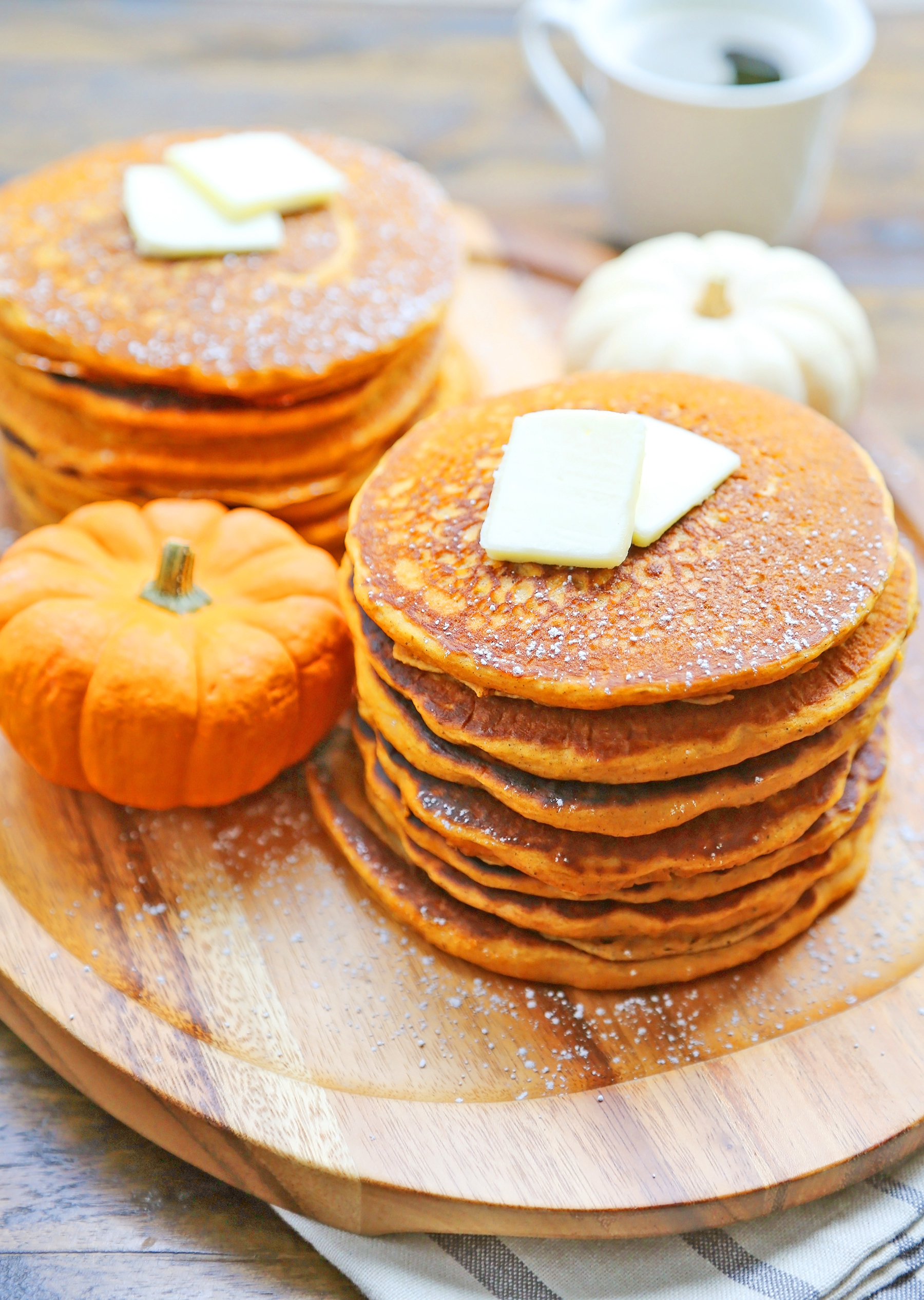 These warm, spiced pancakes have been a fall staple in my family for years! Every bite is light and fluffy, with crisp edges and wonderful pumpkin flavor. These pancakes dish up some serious melt-in-your-mouth goodness with a drizzle of maple syrup and melted butter.
Using everyday ingredients and a hint of spice, these pancakes come together easily in under 20 minutes!
The steps are simple:
1. Mix your wet ingredients.
2. Mix your dry ingredients, then combine with wet ingredients.
3. Fry your pancakes on a hot griddle or frying pan.
4. Flip when the edges turn golden brown, and bubbles form and pop.
5. Serve warm with butter and maple syrup, and enjoy!
Keep reading for full ingredient list + recipe, below
Pumpkin pancakes store easily in your refrigerator for a few days. Or, add a square of waxed paper between each pancake, place in a resealable bag or container, and freeze for up to 1 month. Pop a pancake out of your freezer and into your microwave for a quick morning breakfast.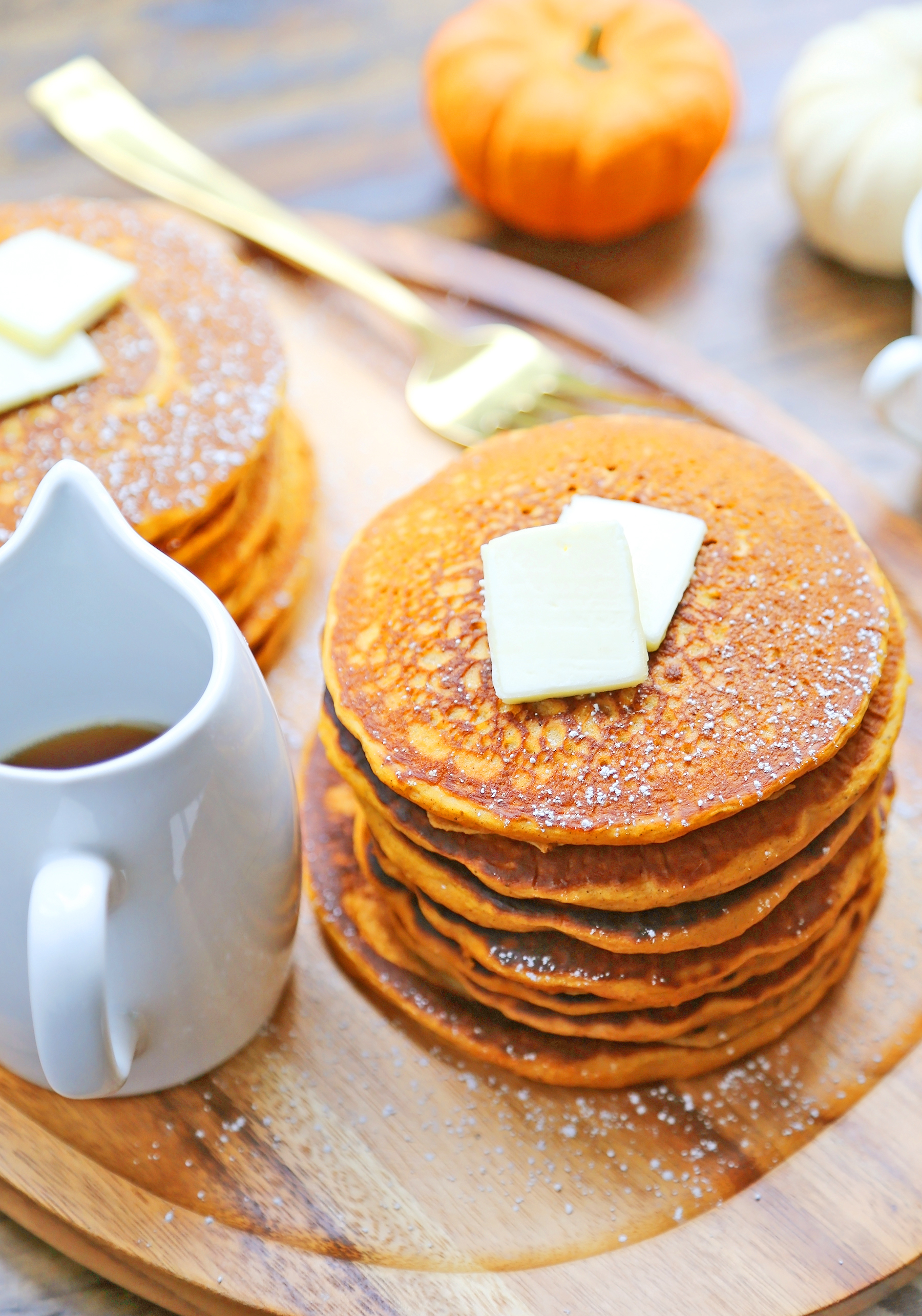 We just love these on a brisk, cozy Sunday morning! Nothing eases us into the beautiful autumn season like a stack of scrumptious pumpkin pancakes, hot coffee and good company to share them with.
Want more delicious pancake recipes? Try these!
• Banana and Blueberry Pancakes with Cinnamon-Vanilla Butter
• Fluffy Buttermilk Pancakes
• Fluffy Chocolate Banana Pancakes
• Whole Wheat Peanut Butter-Banana Pancakes
• Crispy Scallion Potato Pancakes
Enjoy frying up a stack of pumpkin spice pancakes on a fall weekend! With salted butter and a drizzle of pure maple syrup, there is nothing better to wake up to.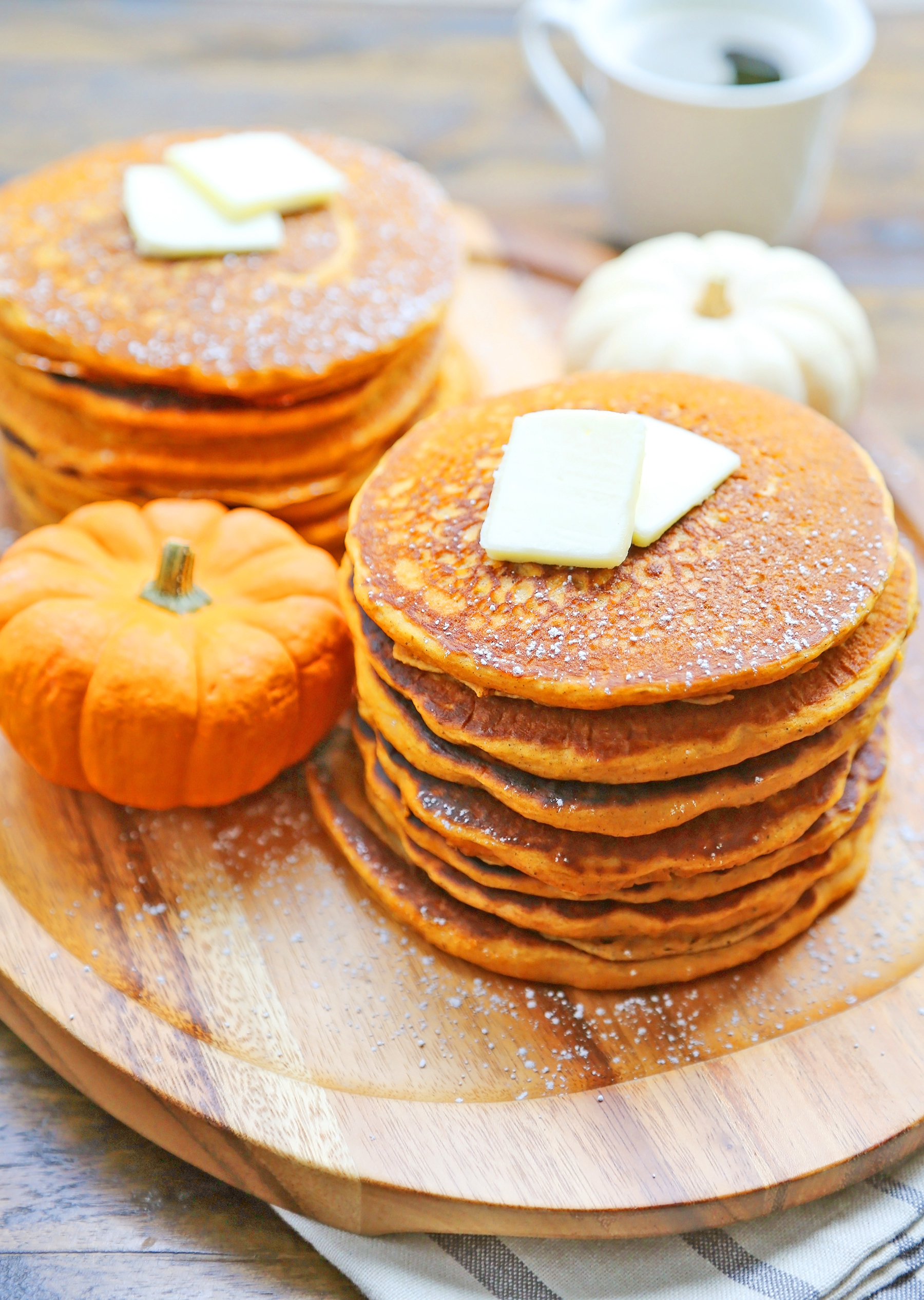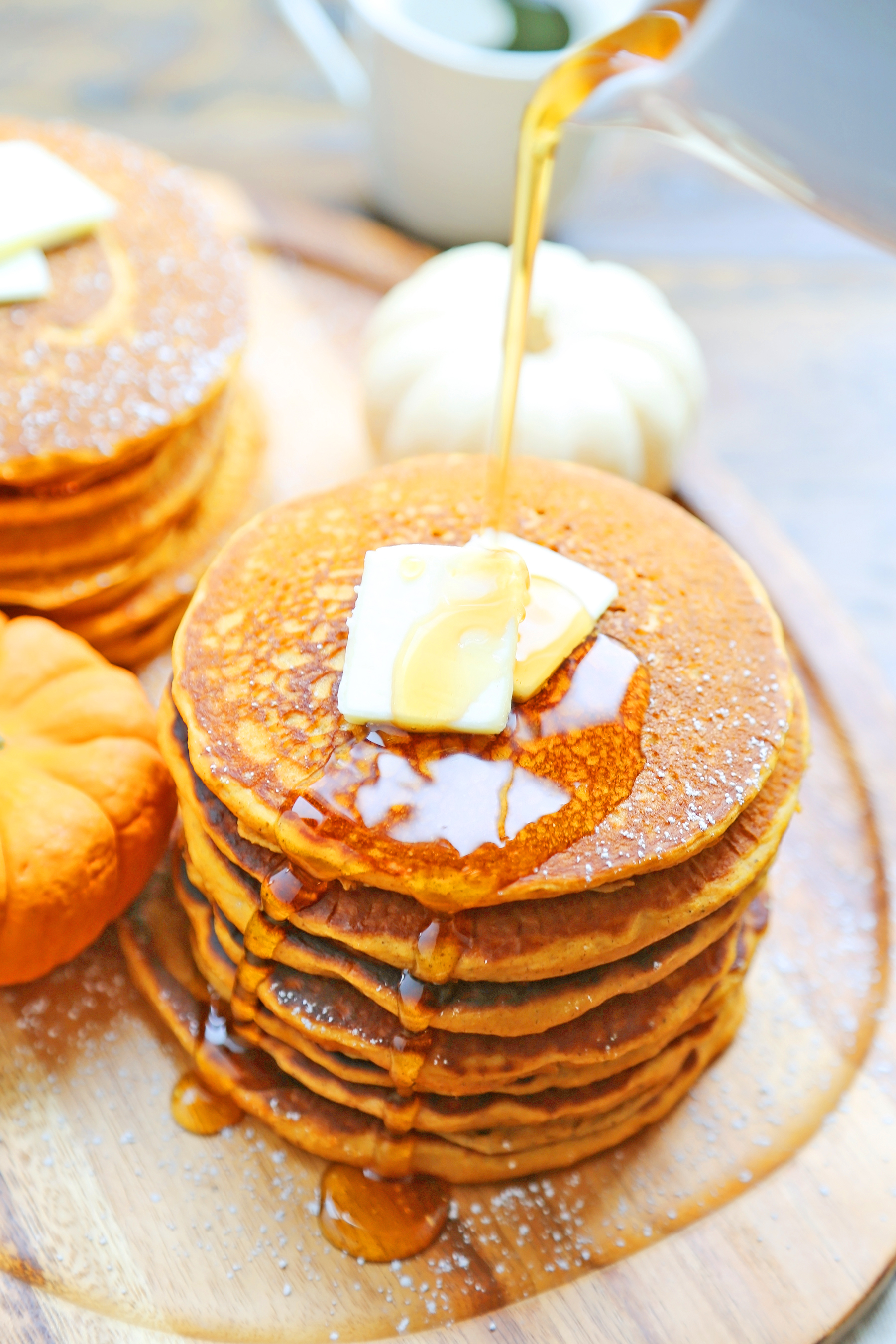 Fluffy Pumpkin Spice Pancakes
Ingredients
1 3/4 cups buttermilk
1 cup pumpkin puree
1 egg + 1 egg white
2 tablespoons vegetable oil
2 cups all-purpose flour
1/4 cup brown sugar
2 teaspoons baking powder
1 teaspoon baking soda
1 teaspoon ground cinnamon
1/2 teaspoon ground ginger
1/2 teaspoon ground nutmeg
1/4 teaspoon ground cloves
For serving (optional):
Instructions
In a large bowl, mix buttermilk, pumpkin, eggs and oil.
In a separate bowl, whisk remaining ingredients. Mix thoroughly into pumpkin mixture. Add extra buttermilk, if the batter is too thick.
Heat a lightly oiled griddle or frying pan over medium high heat. Scoop batter onto the griddle. Flip when bubbles form, and when a lifted edge is golden brown.
Serve warm with maple syrup and butter.
Enjoy!

Want to receive our latest recipes straight to your email inbox? Click here to subscribe!