Bake a batch of mini puff pastry quiche for Mother's Day, or for a special spring brunch any weekend!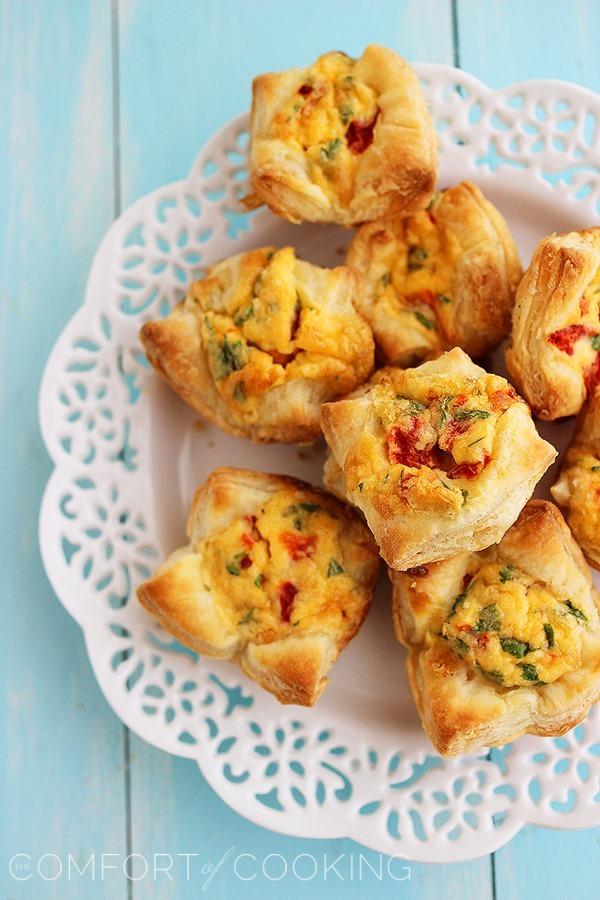 It's sometimes tough to live such a far distance from my family. Especially on days like Mother's Day, I wish I could just make a big pot of coffee and sit down to a warm home-cooked brunch with my mom. I know she would love that so much more than any necklace or perfume!
These mini quiche may look small, but they pack major flavor. With roasted red peppers and fresh herbs, every bite is lil' bit of bliss! Not only are they ridiculously easy, but they're perfect for every one of life's little occasions, big or small!
Make these beautiful little bites for your mom this Mother's Day, or anyone special in your life. They'll love these perfectly crispy, pillowy soft puff pastry quiche for brunch, and you will too!
For lots more breakfast and brunch recipes, click here. You can also see my tips, below, on how to keep springtime entertaining quick and easy!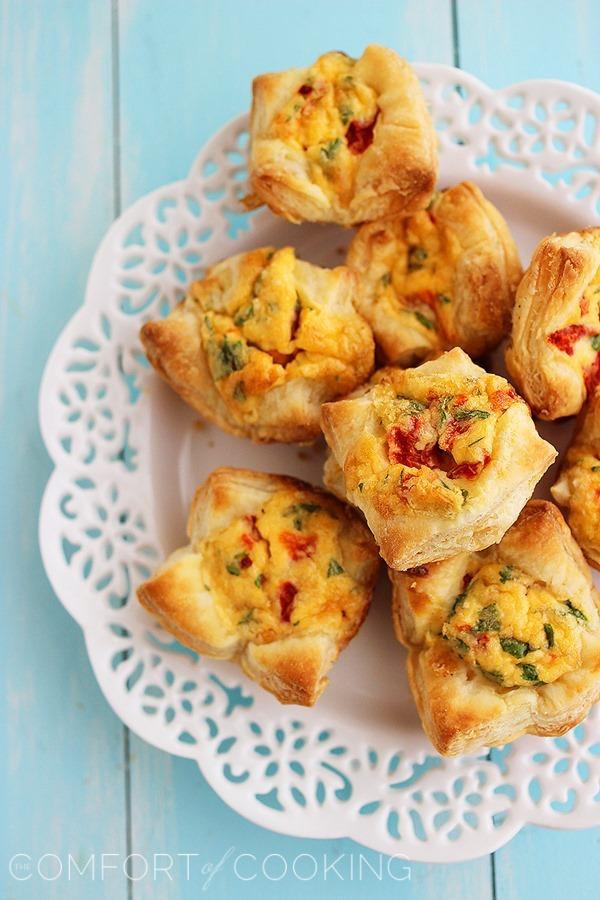 Mini Puff Pastry Quiche
Ingredients
Nonstick cooking spray
2 large eggs
1/2 cup heavy cream
1 Tablespoon chopped fresh herbs, parsley, basil, chives, etc.
2 Tablespoons roasted red peppers, chopped
1/4 teaspoon kosher salt
1/8 teaspoon freshly cracked pepper
1/8 teaspoon McCormick crushed red pepper flakes
1/2 sheet frozen puff pastry, thawed
Instructions
Preheat oven to 400 degrees F. Lightly coat cups of a mini muffin pan with cooking spray.
In a medium bowl, whisk all ingredients together up until puff pastry.
On a lightly floured surface, unfold pastry sheet and roll into a 12-inch square. Cut into about 20 (2-inch squares) and press each square into a mini muffin pan cup. Spoon about 1 tablespoon egg mixture into each cup.
Bake for 12-14 minutes, or until the filling is set and quiches are golden brown. Let cool in pans for 2 minutes before removing to a serving platter.
Enjoy!
______________________________________________________
Springtime Entertaining Tips
MAKE PREP A SNAP
The trick to making brunch as effortless as possible is to opt for make-ahead or simple dishes. Look for an easy casseroles or coffee cakes, which allow you to prepare everything in advance, or salads, which can be made while catching up with guests.
BRING IN SPRING
With airy accents like fresh flowers and white linens, any spring party can feel effortlessly elegant. Also try pitchers full of lemons, clementines and limes for a colorful, unexpected burst of color!
BETTER BUTTER
Whip up an easy but impressive flavored butter by mixing one stick of butter with 1/4 cup jam or honey and 1/4 teaspoon pure lemon or orange extract. For a more savory option, mix one stick of butter with 1 teaspoon each of garlic powder, Italian seasoning and ground mustard.